Archive for September, 2016
photo credit: crimsong19
Building Community: One Grocery Trip at a Time
With Aaron, my son with the label of autism, every trip to the grocery is an adventure.
Before we go, I usually do an ecological assessment (click here) and use some of the skills Aaron learned in his functional curriculum when he was in school.
Establishing Routines
Over the years and with lots of practice, I know what Aaron likes and dislikes. I try to make the shopping trip a good experience for both of us.
We try to go in the morning when the store isn't crowded. We've developed a system where I walk in front of the cart making sure there is no person or display in the way. Aaron then follows pushing the cart with both hands on the handle.
Aaron is really good at following and knows to stop when I stop. He seldom bumps other people or the displays. This is a skill we have worked on for years and practice every week. I am really proud Aaron can do this.
We usually go to the same store.
That way Aaron is familiar with the physical space and layout. He knows the grapes and carrots are on the right front, the bread is in the right back, and after we pick up the milk and yogurt on the far left we will head to the checkout lanes. We usually only buy about ten items so the wait in line is short. We try to build a routine and structure into the experience.
We try to build a relationship with the store personnel.
This store was only a mile from where Aaron went to high school but in the suburbs we rarely see anyone we know. One of the baggers used to be in the special education program. She does a good job and always says hello. Some of the regular shoppers talk to her by name. She is one of our special ed. success stories and has been employed for over 10 years.
But I never know what's going to happen.
Yesterday we went to the grocery near Tommy's house because we wanted to let his dog out for him. Even though it was the same chain we always go to, the store was set up differently. STRESS.
I thought noon on a Sunday would be okay, but it was packed and everyone was in a hurry because the football game was due to begin at 1 PM and the only way to survive a football game is with lots of beer and snacks. STRESS. STRESS.
Being ready for surprises
Aaron did pretty well. We got our groceries and went to the car. I was putting the bags in the trunk when Aaron started pounding on the roof of the car next to us. He's never done that before.
The young man was getting his two young daughters out of the passenger side. He looked up and yelled, "Hey, stop that!"
Quickly I grabbed Aaron and was about to get him into his seat when Aaron pushed me away and again pounded on the top of the car. This time the guy came over to our side of the car.
I started to apologize when the guy said, "Aaron, is that you?"
Aaron gave him a side-ways glance.
I was stunned and didn't quite know what to say. I looked at the guy and he looked at me, and he repeated, "Is that Aaron?"
There wasn't much room in the space between the two cars. I took a deep breath and turned Aaron toward the young man. "Aaron do you know him?"
Instead of punching Aaron, the man gave Aaron a high-five.
I fumbled out a, "How do you know Aaron?" and the young man said they went to high school together. He said he used to come into Aaron's class and take him to the gym. He said he and Aaron used to eat lunch together.
He touched Aaron's arm and guided him over to the other side of his car and introduced Aaron to his two children who were about 5 and 3 years old. He told them Aaron was a friend from school and then had Aaron give them each a high-five.
Aaron was strangely quiet. He patted the younger child on the head and said, "Ahh."
I thanked the man for saying hello. He said his name was Todd and he asked a couple questions about where Aaron lived.
We both talked about how Aaron must have recognized him and since he didn't have any words, he used the pounding on the car to get attention. We both thought that was very clever of Aaron.
Finding More than Groceries
When we worked so hard for inclusion for Aaron in the public schools, we dreamed that Aaron would have a community of people who knew and accepted him. People who could see his gifts and strengths.
Every once in a while we have a unique success story that makes all that hard work worth it.
We've never expected big monumental experiences. This magic moment where Todd remembers Aaron and thinks enough of him to want to introduce him to his children–that's big enough.
YOUR TURN
I hope you will check out a couple of the other blog articles and share your thoughts.
Do you have any community experiences to share? Any magic moments?
Do you think the future will be better for adults with disabilities because of inclusion in the schools?
Keep Climbing: Onward and Upward
All the Best,
Mary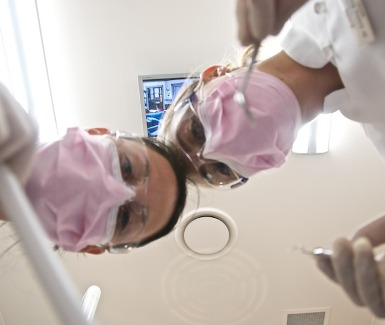 When Aaron was in high school he needed to get his wisdom teeth pulled. Sounds normal, right? You, me and most people get our wisdom teeth pulled.
The difference between you, me, most people and Aaron is Aaron has autism. That makes a huge difference in the choice of dentists, hygienists, insurance…pain, suffering and good oral hygiene.
Over the years, Aaron has had some great dentists and some not-so-great. Some great hygienists and…hygienists who refused to put their fingers in his mouth. One dentist wouldn't let Aaron in his waiting room. I've written about the "retarded teeth" episode.
Like most people I asked my friends for recommendations and was directed to Dr. G. for the wisdom teeth. We stuck.
Fifteen years later Aaron is still going to Dr. G., even though he is a pediatric dentist. The advantage of a pediatric dentist is he does not rely on the patient for any information and works quickly. Dentists and Doctors who work with adults usually ask their patients if they are having any trouble and expect them to participate in examinations. Young children and people with disabilities who don't use words are a lot alike.
Normalization–Yes; Age-appropriate–No.
Dr. G has a "normal" practice. He works with lots of children and a handful of people with disabilities. While this meets the definition of "normalization" or "social role valorization," this would not meet the definition of age-appropriate–Aaron is 36 years old.
How the Doctor Visit Works
Last week Aaron had his bi-yearly visit for a check-up and cleaning. Tom, my husband, takes Aaron (I'm too squeamish).
We have learned the best time for an appointment is the last appointment before lunch. This way, there are only a handful of other patients, the waiting room is less chaotic, and if Aaron runs over, there is some flexibility. We also schedule a day when Kathy, the dental hygienist, is working.
Full Circle
Kathy has worked with Aaron for many years but this year, a new hygienist was assisting her. Turns out this new hygienist was one of Dr. G and Kathy's former patients. She grew up watching Dr. G and Kathy, became a dental assistant and now is working in their office. Full Circle.
Inclusive Dental Care | Autistic Dental Care–NOT!
Kathy used the same techniques she uses with all her patients. The trick is she individualizes the care based on the individual needs of the patient.
Individualized Dental Plan
As Kathy worked she explained what she was doing to Aaron, Tom, and the new assistant—between verses of camp songs! So, "I'm using these cotton squares to absorb the fluid so Aaron doesn't swallow and gag…Eeeeye, eeeeye, Ohhh. And on his farm he had a cow…"
Kathy and everyone in the office, including the other hygienists, the patients and their parents all sing during the dental cleanings. She'll be comin' round the mountain, Wheels on the bus, If you're happy and you know it…
Aaron loves it. This helps him relax, plus it builds a community among all the people in the room.
This isn't the dreaded trip to the dentist I had when I was a kid, this is just a trip to the dentist with some fun people. And, the most interesting thing is ALL the other kids and parents love it too. Aaron often makes strange noises, somehow having a familiar song and such an accepting environment makes everything okay.
The amazing results are Kathy gets Aaron's teeth cleaned thoroughly, she even flosses his teeth.
This is ASTOUNDING!
If you polled a group of 50 school psychologists 100% of them would say flossing Aaron's teeth was impossible. You see this would NOT fit in any scientific venue. There would not be a big enough sample of patients, there would not be replication or any guarantee this would work in other dental offices. There would not be a lot of people just like Aaron, or like Kathy or Dr. G.. So, scientific methods are not applicable, this is not predictable. It just works.
Other tricks we learned from Dr. G, Kathy and the other people in the dentist's office:

1. Use a sealer on the teeth. Aaron got his first sealant applied when they first came out over 15 years ago. The sealant has held up. Aaron has had no cavities in all that time.

2. Aaron goes into the hospital and Dr. G does a deep cleaning when needed. In 15 years, Aaron has had this procedure two times. It requires him to be put under, so it is serious.

3. Dr. G especially looks for gum disease at each visit.

4. He does not recommend an electric toothbrush for Aaron.

5. He does give a report card to Aaron on his dental hygiene.

6. We take this report card to Aaron's ISP meeting and incorporate the teeth brushing into Aaron's goals. Now, we know Aaron doesn't brush his teeth—so this is mainly for the staff. But by incorporating it into the record keeping, there is some accountability for staff.

7. I'm sure Kathy and the others have all kinds of technical hints i.e. Because of Aaron's balance issues, they adjust the chair for Aaron's comfort—rather than theirs….
Dr. G.
As far as we know, Dr. G does not get paid for working with Aaron. We give the office staff Aaron's medical card, but Dr. G has shared it is not worth his time to file the paperwork.
Kathy and the other hygienists always tell us it is their pleasure to work with Aaron. And they make us believe it. They make us feel Aaron is an important member of their caring community.
They make us feel welcome. We feel no one could pay them for the love and extra attention they give to Aaron. It is a special gift indeed.
I think they use Aaron to train their staff. Who knows whether that new hygienist may one day be doing Aaron or someone else's teeth? I like to think Aaron is teaching them? Maybe they think, my god, if we can floss Aaron's teeth—we can do anyone! Or, maybe it is a point of pride that they are damn good hygienists!
I think it is because they are just good people who care about other people. They are good hygienists with everyone–not just Aaron.
In return, as Aaron's parents we cherish them and their gift.
State Cutbacks
When the state was going to reduce the dental visits from 2 times a year to once a year for people on medical cards, I wrote a letter to the state and called Ohio Legal Rights. The state cut back, reinstated, and then I think the current status is cut back again to one time a year.
Since Dr. G is so generous, we have had the luxury of taking Aaron twice a year. And we know we are blessed. Aaron has a great smile, his teeth and gums are healthy. We are lucky.
Tom and I also hassle the residential staff about brushing Aaron's teeth. I've written before about how the caregivers don't think this is necessary. So we make sure the staff knows this is a big deal and we will follow-through if Aaron's teeth are not clean.
Every office visit, we also always bring all the dental staff flowers or a plant, we send thank you cards and tell them how wonderful they are. Kathy always gives Aaron a hug. And it always chokes us up.
Bill F.
Wolf Wolfensberger wrote an article about Bill F. I will never forget. Wolfensberger is a professor at Syracuse University who is famous for his theory of Normalization, Social Role Valorization and Citizen Advocacy.
In his article, Bill F. is a man with an intellectual disability who actually died because he was not given dentures that fit. This started a cycle of him not being about to eat well, manage his diabetes, which led to him becoming frail, which led to him falling, which meant he was put into a nursing home and lost his apartment and independence…. And died—all because he didn't get the dental care he needed.
The other part of the Bill F story is about the role of advocates, friends, citizens who just cared about Bill and tried to get him help. These citizen advocates (here is an article from the MN Governor's DD Planning Council site) gave Bill the dignity of being a friend and person. Not a client, not a patient, not a person with mental retardation who they were going to save or offer their charity. These citizen advocates cared about Bill the person.
I like to think Dr. G, Kathy and the other staff are not just doing their jobs when they treat Aaron. They have proven, time and again, they care about Aaron. He is more than just the patient in the 11:00 slot.
I think Aaron gives them something rare, something that makes them feel proud and humbled that they can be with him.
So, AHHHHHH indeed. Dr. G, Kathy and all people who work to give good dental care and sooo much more–Thanks We Love You. You make our mouths and hearts smile!
Keep Climbing: Onward and Upward
All my best,
Mary
Comments:
If you liked this post, please add your thoughts, share it on Twitter, Facebook… and other social media.
What do you think about the government cutting back dental services for people with disabilities? Does it make a difference if they only get their teeth cleaned once a year? Would they have extra reasons for needing check-ups twice a year? Is this discrimination? Are dental services for people with disabilities a waste of taxpayer dollars?
PS. You are allowed to disagree with me, a different viewpoint, helps us learn and find solutions.
Wolfensberger, W. (1989, December). Bill F.: Signs of the times read from the life of one mentally retarded man. Mental Retardation, 27(6), 369-373.
Aaron, Tom and I made our get-away-from-moving trip was to Clifty Falls State Park in Indiana. The weather was perfect, the ride up the Ohio was perfect, Aaron was perfect. Whew!
When your child has a severe disability and doesn't talk with words, you look for ways to measure his happiness and enjoyment by other non-verbal signs.
Over the years, Tom and I have decided it is by the number of times Aaron crosses his leg.
I caught two on film (do they still call digital, film?)
Check it out:
NOTE: I'm congratulating myself for figuring out how to download, edit and post my pics in under two hours. I'm a slow learner, but I'm learning. Now, with another hour or so, I might be able to figure out how to put the pictures side-by-side. Or not?
More about the trip tomorrow in Smokey the Bear and Aaron.
Keep Climbing: Onward and Upward.
All the Best,
Mary
Check out my challenge partner Alison Golden of The Secret Life of a Warrior Woman: (click here)
Comments:
Where do you like to go to get away?
How do your children communicate without words?
Hi Everyone. Getting ready for a vacation? Thought you might like to read about the family trip that changed our lives.
Oh Beautiful for spacious skies…
From the moment I was pregnant, my husband Tom dreamed of the day he could retrace his childhood trip out west. He glowed in the memories of mom, dad and kids studying the maps on the kitchen table, packing the lunch meat sandwiches in the cooler, and repeating the rest-stop conspiracy of Dad throwing the baseball high over his boys' heads so they would chase the ball and use up some of that stored energy. The year our son Aaron was ten and his brother Tommy turned nine, faithful to Ulrich family tradition, we headed west. The main difference between my husband's family, and ours, was that Aaron has autism.
Preparing for the trip
Aaron didn't start walking until he was five, and even at ten was not completely independent in the bathroom. So how were we going to follow his needed routines for toileting, understand Aaron's wants without the use of words or signs, watch his balance issues, and especially, cope with unpredictable behaviors? How were we going to manage twenty-one days of camping, sleeping, eating, and interacting with strangers in strange places? How were we going to survive–much less enjoy–visiting eleven National Parks and Monuments, twelve states, Mexico, and traveling five thousand miles?
Certainly, we were not the first family to attempt a western vacation with a child with complex needs, but we also knew we were not going to be "typical" tourists. Tom and I briefly considered leaving Aaron with a friend or in summer camp, but we decided this dream vacation included our "whole family." We would make it work.
Adaptations and Accommodations
Using our teaching and parenting skills, we designed adaptations and accommodations for the trip. In previous years we camped in state parks and all shared a big tent. Aaron had a terrible time sleeping on the ground in such close quarters and often our sleeping bags got soaked in rain storms, so for this adventure we decided to buy a pop-up camper. Our pediatrician recommended some medication to help Aaron relax and sleep at night. We planned to follow Aaron's schedule for meals, breaks, and sleep. We would only visit restaurants at non-peak hours, choose corner tables, avoid long waits, and skip most museums. We installed a child-proof lock on the car door and had a suitcase of games, music and snacks. Tommy and Aaron's jobs on the trip were to crank up the camper each night and help carry the water buckets–jobs that were successful in our previous trips.
Oh Beautiful for pilgrim feet…
Like the pioneers of old, and Tom's family a generation earlier, at dawn our family set out from Cincinnati with Tommy's version of a "Colorado or Bust" sign taped to the windshield, driving not oxen-pulling-a-Prairie-Schooner, but a brown-station-wagon-pulling-a-pop-up-camper. We were confident we could handle any of the challenges we knew would come. We would enjoy our family-time and see the beauty of America. And fortunately, instead of mud and rock trails, we had interstate roads and could travel sixty MPH.
We Americans like to brag about being the melting pot and/or salad bowl of the world, a nation that values brotherhood and diversity.
Even with our best preparation, instead of a three-week vacation, this became a three-week teaching excursion. It seems the human America was not quite ready for us.
At home we were surrounded by people who know us; they saw the beauty in Aaron and our family. With the strangers we met on our journey, we had both negative and positive interactions.
Transformational Experiences, day after day

As if we had a disease, one family packed up their tent and moved it to a site on the other side of the campground, and a pregnant woman crossed the street so she wouldn't have to pass us.
One evening Aaron was enjoying the loud echoes that he could make in the campground bathhouse, and a young boy ran out screaming, "The Hulk, the Hulk's in there!"
An elderly man said, "We have one of 'those' in our family but he doesn't travel, he lives in a home."
"Mom, what's wrong with that boy? Does he act that way on purpose?" The mother whispered, "SHHH, he's retarded," and like we were dangerous, yanked the child's arm and dragged him away.
"Have you tried the Feingold or gluten-free diet?" or, "I know an allergist in Illinois who can get kids like that to talk." It seems many people think they have the right to offer advice. I am sure they think they are helping, but do they really think we were so desperate we needed a consultation standing in line at the grocery? We struggle with the question: Can Aaron ever be accepted just the way he is, or does he only have value if he is "fixed" or "cured"?
In Arizona, we were asked to leave a family-style restaurant because, as the manager said, "We don't serve people like him." Tom and I were shocked because Aaron was happily eating his pancakes. If he had been noisy, we would have understood, but he was acting as normal as anyone. Sobbing, I hurried Aaron to the car wondering what we were going to do a thousand miles from home. I realized this was the lowest point of the trip and saw a glimpse of the discrimination that has followed individuals of other ethnic and racial groups. The stigma of being asked to leave a restaurant because some anonymous person didn't like the way my son "looked," and the management's open prejudice presented an uncomfortable dark side of America I will never forget.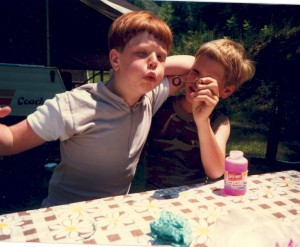 Oh Beautiful for heroes proved…
Our trip would have been devastating if only bad things happened, but we actually had some very positive experiences.
People would ask with smiles, "Where are you from?", "Where did he get that red hair?" or "How old is he?" Just ordinary questions, but kind gestures and communication starters.
A parent of a child with Down syndrome commented, "I hope the programs in Ohio are better than in Missouri."
One young girl smiled at us, "We have special kids in our school. My best friend's name is Brian, he reminds me of him."
Several children sought out seats next to Aaron and Tommy on a park swing, maybe just for a closer look, but they made eye contact and tried to make Aaron smile. Several gently pushed Aaron on the playground swings, merry-go-round, and gave him a turn kicking the soccer ball.
Aaron pinched me when we were rocking violently on a small plane sight-seeing ride over the Grand Canyon, the pilot said: "Don't worry, I've had grown men reach over and hold my arm."
At one roadside park all the visitors collectively held their breath as Aaron climbed the steps up a steep slide. Tommy guided him to the top where after much arm-flapping and nervous hand-biting, Aaron finally let go. As the wind struck his face and he barreled down the slide, Aaron's expression was one of absolute joy. Everyone in the park clapped and cheered. This was not just a glorious moment for Aaron; this was a glorious moment for every person in the park.
In a swimming pool in Arizona, a life guard got in the water during her break and showed Aaron how to swim on his back.
On a train ride in Silverton, CO a little girl moved into the seat next to Aaron and taught him an adapted version of the game Connect Four.
A waiter in Mexico brought Aaron an extra pack of crackers while we waited for our meal and tried to entertain him by singing Old McDonald in broken English. He even helped cut up Aaron's food. His empathy and understanding crossed national and language barriers.
Universal Design and Inclusion
In the National Parks we found many examples of universal design: accessible water fountains, paved paths, and self-guided tours enabled us to partially participate in the park activities. Several of the campground managers gave us campsites close to the restrooms. At Carlsbad Caverns, New Mexico there were benches and a bypass for the steep climbs. A small work crew with disabilities in Grand Canyon National Park did yard work, and a waitress at Canyon De Chelly used sign language to take an order from a customer. These inclusive accommodations not only made it easier on us, they actually made us feel welcome.
Survival means Adapting to the Environment
We were ambitious. We flew above the Grand Canyon and went down in the caves of New Mexico. We had a lovely lunch at the Broadmore Hotel with water goblets and doilies, but were asked to leave a family style restaurant. We drove to the top of Pike's Peak and the whole family climbed the ladders of Mesa Verde's Cliff Palace. We saw Native Americans adapt and survive their desert environment by seeing the value of every living plant and creature. We tasted jelly and saw sewing needles made from a cactus. We heard wolves howling, and we howled back singing every song we knew around the campfire. We took pictures and made memories that will last a lifetime. And perhaps like the Native Americans who live in the desert, we were learning how to adapt to our environment.
Lessons from the Road
We were physically and emotionally exhausted. Many amazing things happened that brought our family closer together. At the same time, though, I feel Tom, Tommy, Aaron and I crossed the line.
We could no longer think of ourselves as a family with one member who happened to have a disability; we were truly a "disabled family."
I am not trying to be shocking or dramatic. We just had to concede that most of the general public did not seem to have the motivation, information or skills to assimilate us into their version of a "typical family."
We also learned we had no anonymity; we stood out even in the largest group. Five hundred people came to see the bats fly out of Carlsbad Caverns, but because of Aaron's shout when the bats emerged; four hundred ninety-nine people were looking at us.
We learned that celebrating the diversity of the landscape of America includes seeing the beauty of the diversity of its people.
Planting Appleseeds
Our experiences reinforced our commitment to the inclusion of people with disabilities to live, work, recreate, and go to school with their neighbors, brothers and sisters. We cherished the positive experiences; the children we met gave us so much hope for the next generation of Americans, and travelers. Like Johnny Appleseed on his trips out west, we tried to drop positive seeds that other pioneer families will nurture and see bear fruit. Perhaps a future Kodak moment for our country will include not only the beautiful American landscapes, but people like Aaron and our family.
Better than "The Buck Stops Here"
One last story: In Missouri, inside the Truman Memorial Museum with its high ceilings and big rooms, Aaron started, "vocalizing." Oh, how it echoed. The guard came up to us and said either Aaron would have to be quiet or leave. Tom started to go, when another tourist came running from across the room. He looked the guard right in the eye and said, "How dare you speak to them like that. That young man is a citizen of this country and has a right to be here. Harry Truman was a strong supporter of the ordinary person. He, of all people would want them to be here."
As we pulled the car into our driveway, Tom and I were wondering if it was worth it. Would we ever take another road-trip? But like always, our children showed us the way. As he was running into the house to be the first person in the bathroom, Tommy called over his shoulder, "Next year I want to go to Florida!"
And crown thy good with brotherhood, from sea to shining sea!
Add your voice:
Be sure to leave a comment and let me know about your travel adventures. Is it harder when you are away from home and your typical routine?
Keep Climbing: Onward and Upward
All the best,
Mary
–
Copyright Ulrich 2000-2013
Original Work do not copy without Permission