Archive for November, 2016
St. Nick and the Batman Socks
In Christmas 1981, Cincinnati Public Schools was involved in two class-action lawsuits. Our family was caught up in both of them.
The first concerned the right of Aaron, our then seven year old son, who had an IQ below fifty and the labels of autism and intellectual disability, to be able to attend public school instead of a segregated handicapped-only school, "with his own kind."
The second lawsuit was about racial segregation and the development of "magnet schools" to bring together children of different races, socio-economic backgrounds, and learning styles. We voluntarily enrolled our youngest son, Tommy, age five, into Sands' Montessori School in the inner city to promote desegregation.
While the lawyers thought the two cases were different, our family knew they were both about building an inclusive community, valuing diversity, and learning from each other.
One of our first lessons about diversity came on St. Nick's Feastday, Dec. 6th.
In true German tradition, the evening before St. Nick's Feastday, Tommy wrote letters to Santa for both himself and Aaron, tucked them inside their shoes and placed them outside their bedroom door.
The next morning, Tommy was thrilled to find St. Nick left a note asking him to help spread the spirit of Christmas, be nice to his mother (ah-hem), a couple of candy bars and a pair of Batman socks.
Tommy was always shy. But he was so excited to show off his Batman socks he strutted in front of the mirror, decided his pants covered too much of the socks, and tucked his pants legs inside his socks. Batman socks ruled!
I of course, thought this was darling, took pictures for his Kindergarten scrapbook and drove him to school thinking I was one terrific mom, er, St. Nick.
Tommy joined his class, and I was hanging out with the school secretaries when Tommy's teacher called into the office asking me to come to the kindergarten room. Over the PA I could hear Tommy sobbing and the rest of the children clearly agitated.
It took a couple of minutes to sort out the details, but apparently Tommy had proudly shown his Batman socks at Show and Tell.
What he learned was no one else in the class had ever heard of St. Nick. And what was worse, St. Nick did not pick up anyone else's note to Santa. So using sophisticated kindergarten logic, that meant no one–except Tommy–was going to get anything for Christmas.
Further, Tommy felt terrible he hadn't told them about St. Nick. He reckoned this mess was all his fault. He was "not spreading Christmas cheer" as he had been told in St. Nick's message, so Santa would be mad at him and not give him anything either.
Tommy's tear-streaked face would have been bad enough, but he was curled under a desk in the corner with his bare feet hanging out. His Batman socks were inside-out in the garbage can.
Well, this was clearly a kindergarten disaster of monumental proportions. Tommy's caring teacher and I exchanged those adult looks that said we were supposed to fix this. We settled the children.
I brought Tommy back into the circle, held him in my lap and reassured two other children who were sitting nearby.
Mr. Leedom read Marcia Brown's story, Stone Soup.
Stone Soup
Stone SoupThe moral of the story is if we think in terms of "gifts" instead of "scarcity," and if we see the unique beauty in our differences, customs and traditions, we will all have a richer life.
Community Building
After the teacher finished the story, I fumbled out a few words about our class being a community just like the people in the story.
Sometimes our family or religious traditions are not familiar to everyone. Just like each of the families in the story Stone Soup, our class was full of families that could contribute special stories and traditions to celebrate the holidays.
(Kindergartners are very generous in allowing grown-ups to tell stories to make themselves feel better.)
I told them St. Nick came to our house because we were of German descent. I asked if anyone else had other traditions around the holidays and one student told the story of Kwanzaa, another about Hanukkah. I reassured everyone they needed to talk with their families about their holiday traditions, but that if Santa brought them gifts last year, he would surely bring them gifts this year.
As I looked around the circle at these children I had come to love, it dawned on me this was not the all-white, German Catholic, middle-class community school in which I had grown up.
This was exactly the kind of learning experience we wished for our sons.
Intellectually, I knew this was why we chose this school. This sharing was the gift of diversity and inclusion.
But this was more. This experience was a transformational moment for me, Tommy and perhaps some of the students.
Community Building Mix
The next day I brought in the ingredients for our own version of Stone Soup— "Building Community Snack Mix" and gave each of the students a Batman sticker.
For more information click on the community building mix.
Batman Socks Rule!
Tommy did get his Batman socks out of the garbage can. He wore them all kindergarten and into first grade until they were faded and had a hole in the heel. The Batman socks are part of his childhood legacy.
New St. Nick Traditions
Each year, for the last thirty years, we have placed the worn, torn Batman socks on our Christmas tree.
Now Tommy has a little girl of his own.
I want to wait a couple Christmases. But when our grandbaby goes to Kindergarten, the Batman socks are again going back to Tommy for his St. Nick's Day present.
Hopefully, the story of "St. Nick and the Batman Socks" will become a cherished tradition to share with his daughter…and will continue to teach about diversity, community building and inclusion.
Comments:
Do you have any St. Nick or holiday traditions that are unique to your family? Do you have any school memories about lessons in diversity, community building or inclusion? Do you have other ideas on how to build community during the holidays?
Keep Climbing: Onward and Upward
All the best, Mary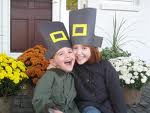 Hi Everyone,
On Thanksgiving, I wanted to thank each of you for being part of our Climbing Every Mountain community.
It's been an exciting experience to meet new friends and connect with people who care about people with disabilities.
More people are subscribing to the "Get Notice of New Posts" in the upper left hand corner of the website. More people are retweeting and sharing the social media love.
Now, there are over one hundred and twenty articles or posts, hundreds of comments, and visitors from over ten countries. Inch by inch…. I've been reposting some of the "evergreen content" but hope to have new articles for the new year.
But sometimes we need to live in the NOW.
The last couple posts have been about dreams for the future (click here), and rants about the past (click here).
So NOW: I want to ask each of you to concentrate on TODAY and the people who bring you joy.
Right Now! Just for today, we accept that everything is just the way it is supposed to be.
Sure, we can begin the climb up the mountain again tomorrow, but for today we can feel good about who we are and the people we love.
This might be considered heresy for an advocate: But there are many wonderful things we don't need to change.
I am so thankful for my husband Tom, who even though he thinks there are only space aliens on the web, he still loves me. After 46 years he is still my best friend.
I also want to thank my wonderful children and family: Aaron, Tommy, Ana, Isabella and Vivian–I hope I haven't embarrassed you too much. You do give me amazing memories and stories and teach me what life is all about.
Gift: A Song about Autism
It is hard to always look at "the silver lining," see "the sunny side" or "the glass half full." So, on this Thanksgiving Day, give yourself a gift and "listen to the music."
Through My Eyes is a song about what it feels like to have autism. I thought this was beautiful and hope you will too. Enjoy!
Happy Thanksgiving.
Keep Climbing: Onward and Upward
All my best, Mary
Here is one of our most popular posts. Relax and make an individualized ENJOYMENT plan for your best holiday ever.
Mary
Mom's I.E.P. for the Holidays: Individualized Enjoyment Plan
Want to enjoy the holidays?
Of Course.
Easy as I.E.P.
Don't laugh. I.E.P.'s were developed because they are good planning tools. Some people are intimidated or challenged by the I.E.P. in Special Education. One way to demystify the I.E.P. process is to use it in our everyday lives. So, stick with me for a minute while we look at how this can work in real life.
Let's use the Individualized Education Plan to create a holiday planning guide.
The first part is to create your Dream Plan of what you want. Then we plug in the basic parts of the I.E.P.: Evaluation, Annual Goals, Short term objectives, Related Services, Placement, and circle back to the Evaluation for the next I.E.P. for next year.
Dreaming of YOUR perfect holiday
Everyone's perfect holiday looks different: Grandma's turkey feast, or make that a roast goose, or Uncle Bob's ham and sweet potatoes, or a vegetarian, or Kosher, or vegan, or gluten-free …
Everyone has different expectations, traditions, time and money constraints. So forget the Women's magazines, forget what your Mother-in-law wants, forget what happens on the Food Channel and Martha Stewart show.
We don't care about "Everybody."
The beauty of the I.E.P. is it is individualized. It is for You. Not your mother, your children, your boss…YOU! This is YOUR moment, your freedom, just YOU–what do you want?
Action Step 1: Visualize a Dream Holiday
Take a deep breath and picture a smiling yourself surrounded by your favorite people, doing what you really want to do. Ahhhhh.
Are you skiing down a mountain? Are you sitting by the fireplace listening to Bing Crosby? or Lady Antebellum? ….
What would make this a joyous holiday for you–with just the right balance of work and relaxation?
What were the strengths and weaknesses of previous holidays?
Do you want to start any new "You" traditions, new family traditions?
Define your dream plan (see related post)
Feel empowered to do it YOUR WAY. This is your holiday gift to yourself. You deserve it!
Don't you feel better already? This holiday is going to be the best.
Dream Plan:

1. Take a sheet of paper and fold it into four squares: Wants, Needs, Likes, and Dislikes.

2. Fill in the boxes based on YOUR Individualized choices.

If you are feeling pressure because others are trying to get you to do something you don't want to do, be polite but tell them to make their own IEP. 🙂 Empower yourself! I know this is hard for me and most Moms.

3. Circle your five top priorities and they will become your goals.

For example: Want live tree. Need family to be together for dinner. Loved shopping with Aunt Ruth. Hated the last minute rush….

One Priority goal: Need family to be together for dinner.
Making a decision is the first step. What do YOU want? What would bring YOU joy?
EVALUATION:
Since there is no standardized tool to measure the
holidays–no HFA (Holiday Fun Assessment) or HQ (Happiness Quotient)–we will create an informal evaluation tool based on ecological assessments.
GOALS:
–
LONG TERM GOAL I: To have a traditional, homemade turkey dinner with family members on Christmas Day.
Do we want to raise the turkey and grow the corn for the stuffing? Serve the strawberry preserves from your summer garden? Do we want to skip the preparation and order in? Or go out to eat? So many choices?
If we decide to keep this as one of our goals, then we must break down our long-term goal into measurable, observable steps.
Mom decides she wants to cook the Christmas dinner and eat at home.
SHORT TERM OBJECTIVES:
"Short term objectives are merely small steps that enable us to get from where we are now to where we want to be by a certain date."
A. Mom will finalize the menu by December 10.

B. Mom will make the list and complete the shopping by December 15.

C. Mom will prepare the dinner by December 25.
Each of these short-term objectives can be "task analyzed" and broken down into smaller parts.
We know these are important steps to reaching our goal so they must be completed with 100% accuracy. (75% completion of the meal may leave some family members hungry.)
Goal Two:
LONG TERM GOAL II: To have the gifts wrapped and under the tree by December 24.

SHORT TERM OBJECTIVES:

A. Mom will purchase all supplies by December 10.
B. Mom will supervise the gift-wrapping by December 15.

Task Analysis example:

Mom will supervise:

1. Billy will cut the paper.

2. Dad will wrap and tape the gifts.

3. Susie will add the bow.

4. Tommy will place the presents under the tree.
Notice in the Task Analysis, family members with different skill levels can all partially participate.
RELATED SERVICES:
—"Developmental, corrective and other supportive services to enable you to reach your goals."
To achieve Goal IC –"Mom will prepare the food by December 25"—Mom will need the following supportive services:

Consultant: Grandma has the expertise to bake and bring perfect pumpkin pies.

Consultant: Aunt Jane will come early to help in the kitchen.

Community Resource: We will purchase the local bakery's famous dinner rolls.
PLACEMENT:
Now that we have written our IEP we must determine the least restrictive environment for accomplishing our goals.
We could cook and wrap the presents at Aunt Sara's and bring
everything home, but to meet Mom's goals on this particular IEP, her own home is the least restrictive environment.
Remember any IEP can be revised or modified at any time. For instance, if Paula Deen wants to invite my family for a holiday dinner, I would change these goals in one butterfat minute.
Happy Holidays
I hope using the I.E.P. process not only makes it easier to understand, but I hope it can be a tool for you to have a magical holiday season.
Well, what do you think?
1. Do you better understand the IEP process?
2. Would this process be useful for everyone?
3. Does anyone raise turkeys?
Keep Climbing: Onward and Upward
All my best,
Mary
Other posts you might enjoy:
Celebrating St. Nick and two special sons.
Thanksgiving Week: Day 1
I love the story of Thanksgiving. It is a story of inclusion (click here) and interdependence.
A group of pioneer families risk it all and travel to a strange land. They gratefully accept the help of the Native Americans who look different, speak a different language, have different cultural and religious beliefs. At first they are fearful of the differences, eventually they peacefully trade, share and learn from each other. The Native Americans welcome them into this new people and environment. But the Native Americans save the pilgrims from starvation (yea, corn, pumpkins, turkeys…) and disease (yea, the cranberry). Both groups still value their own cultural beliefs and traditions, but as neighbors they become an interdependent community which shares the hard work and sacrifice. Then, after a successful harvest, they do what every culture since the beginning of time does, they are thankful and celebrate.
As an early childhood teacher and special education professional I looked for ways to teach about cooperation, collaboration, and community. I looked for ways to include my students with special needs into the "normalized" (click here) holiday school programs and activities. I looked for ways to differentiate the curriculum so even the students with the most severe disabilities could partially participate.
Inclusion success stories for ALL children:
White Gifts for the Food Bank:
The entire school sponsored a "white gift" program for Thanksgiving. Each child brought in a non-perishable food item for the local food bank. The children decorated and wrapped the gifts in white tissue paper and put them into donated laundry baskets to distribute.
Thanksgiving Day Program:
I paraphrased and adapted the songs and dances so everyone could participate. We used the songs below in both large whole school programs and our individual class programs.
Bringing in the Community:
These were always crowd favorites. We would sing the songs, have someone dress up like a turkey and strut around. (One time it was the principal, one time a favorite music/gym teacher, sometimes a parent or a student from the high school drama club.) The turkey also lead the rhythm band for a couple songs. When we had a music teacher, she taught the rhythm band, after the cutbacks the teacher did it.
Each student made a picture for their families. If they were able, they wrote and read a sentence of what they were thankful for to the group. If the student couldn't read, write or talk, they had a picture or the actual object they were thankful for (A picture of their family or a grandparent, a flower…) They might use a tape recorder, or ask their friends to say it with them.
For the grand finale, the class would line-dance to the traditional music of Turkey in the Straw and Old Joe Clark (the gym teacher helped teach the dances).
Finally, we ask the parents, brothers – sisters to join in for the Turkey in the Straw square and Old Joe Clark square dance classics.
The students created and colored/painted the programs, created unique tickets if we had limited seating, and they collected the tickets at the door. The words to all the songs were in the program so the children and parents could read and sing them together at home.
Refreshments:
The day before the program we had everyone bring in a piece of fruit for each person who was coming, the class made fruit salad, corn bread and cookies for the refreshments. Extra parents volunteered the day we made the fruit salad, corn bread and cookies. We had about 6 different kinds of fruit and vegetable peelers. We set up "stations" with a parent as supervisor of each station. Everyone participated, or partially participated according to their abilities.
Disabilities were not the issue, it was how can this person participate.
Decorations:
The students decorated the room and bulletin boards. We made several large murals of fruit cornacopeia, or a farm or grocery fruit and vegetable stand, or garden….
During our group story time, we used poster board to plan what we would do, and who would be responsible. We divided up the chores. The children chose how they wanted to do it. We usually combined the farm,Thanksgiving, food and/or autumn thematic units so the bulletin boards and room were decorated at least a week ahead of time. All learning activities focused on the thematic unit, were tied to standardized goals and IEP goals.
Children Giving the Tour:
Before the program, the students gave their parents and guests a tour of the classroom explaining what we were doing, what they were learning.
After the program, the parents got to take all their child's work home to show grandma and grandpa or other friends on Thanksgiving day.
On Thanksgiving Day
Many families told us the whole family sang the songs and some used the "On Thanksgiving" song as part of the grace at Thanksgiving dinner. It really was a nice way of bringing the families into our program and letting the children be the experts and teach the songs, games to their families.
SONGS:
Ole Mr. Turkey
Who's that struttin' round lookin' mighty perky?
Looks like it might be old Mister Turkey.
Strut Mr. Turkey that's a fancy way to walk
Strut Mr. Turkey that's a fancy way to walk.
Gobble, Gobble, Gobble
I'm a mighty fine turkey and I sing a fine song,
GOBBLE GOBBLE GOBBLE, GOBBLE, GOBBLE, GOBBLE
I strut around the barnyard all the day long and my head goes
BOBBLE BOBBLE BOBBLE.
TUNE: FRIERE JACQUES – Round
(In our school program, I took a song the children knew, rewrote the words, and chose one child to be the "conductor" for each part of the round. Another time in a whole school program, three different classes each sang a different part of the round.)
On Thanksgiving, on Thanksgiving
We are glad, we are glad.
For all the special blessings, all the special blessings
That we have, that we have.
(repeat 3 times)
TUNE: Turkey in the Straw
(I paraphrased the words so we could act it out.)
Oh, a turkey is a bird, just as proud as can be.
He struts around with his tail in the breeze.
He makes gobble noises at everyone he sees.
But thanksgiving is coming, and that's not make-believe!
RUN TURKEY, HIDE TURKEY
Turkey in the straw, turkey in the hay,
Where oh where will the turkey be
When the table is set Thanksgiving Day? (rub tummy)
In Winter
(Transition verse- putting on coats, getting in line….)
In winter when it's cold and snows
I have to wear a lot of clothes.
If only I were like a bear
I wouldn't have all this to wear.
Whatever weather she is in,
She grows her coat right on her skin.
Comments:
What are some of your memories? How did the teacher include ALL students, including the students with disabilities in their activities? What were some of the lessons of that first Thanksgiving that apply to building community and celebrating diversity?
Keep Climbing: Onward and Upward
All my best,
Mary