Archive for the 'Ulrich Family' Category
Hi Everyone. Getting ready for a vacation? Thought you might like to read about our family trip that changed our lives.
Oh Beautiful for spacious skies…
From the moment I was pregnant, my husband Tom dreamed of the day he could retrace his childhood trip out west. He glowed in the memories of mom, dad and kids studying the maps on the kitchen table, packing the lunch meat sandwiches in the cooler, and repeating the rest-stop conspiracy of Dad throwing the baseball high over his boys' heads so they would chase the ball and use up some of that stored energy. The year our son Aaron was ten and his brother Tommy turned nine, faithful to Ulrich family tradition, we headed west. The main difference between my husband's family, and ours, was that Aaron has autism.
Preparing for the trip
Aaron didn't start walking until he was five, and even at ten was not completely independent in the bathroom. So how were we going to follow his needed routines for toileting, understand Aaron's wants without the use of words or signs, watch his balance issues, and especially, cope with unpredictable behaviors? How were we going to manage twenty-one days of camping, sleeping, eating, and interacting with strangers in strange places? How were we going to survive–much less enjoy–visiting eleven National Parks and Monuments, twelve states, Mexico, and traveling five thousand miles?
Certainly, we were not the first family to attempt a western vacation with a child with complex needs, but we also knew we were not going to be "typical" tourists. Tom and I briefly considered leaving Aaron with a friend or in summer camp, but we decided this dream vacation included our "whole family." We would make it work.
Adaptations and Accommodations
Using our teaching and parenting skills, we designed adaptations and accommodations for the trip. In previous years we camped in state parks and all shared a big tent. Aaron had a terrible time sleeping on the ground in such close quarters and often our sleeping bags got soaked in rain storms, so for this adventure we decided to buy a pop-up camper. Our pediatrician recommended some medication to help Aaron relax and sleep at night. We planned to follow Aaron's schedule for meals, breaks, and sleep. We would only visit restaurants at non-peak hours, choose corner tables, avoid long waits, and skip most museums. We installed a child-proof lock on the car door and had a suitcase of games, music and snacks. Tommy and Aaron's jobs on the trip were to crank up the camper each night and help carry the water buckets–jobs that were successful in our previous trips.
Oh Beautiful for pilgrim feet…
Like the pioneers of old, and Tom's family a generation earlier, at dawn our family set out from Cincinnati with Tommy's version of a "Colorado or Bust" sign taped to the windshield, driving not oxen-pulling-a-Prairie-Schooner, but a brown-station-wagon-pulling-a-pop-up-camper. We were confident we could handle any of the challenges we knew would come. We would enjoy our family-time and see the beauty of America. And fortunately, instead of mud and rock trails, we had interstate roads and could travel sixty MPH.
We Americans like to brag about being the melting pot and/or salad bowl of the world, a nation that values brotherhood and diversity.
Even with our best preparation, instead of a three-week vacation, this became a three-week teaching excursion. It seems the human America was not quite ready for us.
At home we were surrounded by people who know us; they saw the beauty in Aaron and our family. With the strangers we met on our journey, we had both negative and positive interactions.
Transformational Experiences, day after day

As if we had a disease, one family packed up their tent and moved it to a site on the other side of the campground, and a pregnant woman crossed the street so she wouldn't have to pass us.
One evening Aaron was enjoying the loud echoes that he could make in the campground bathhouse, and a young boy ran out screaming, "The Hulk, the Hulk's in there!"
An elderly man said, "We have one of 'those' in our family but he doesn't travel, he lives in a home."
"Mom, what's wrong with that boy? Does he act that way on purpose?" The mother whispered, "SHHH, he's retarded," and like we were dangerous, yanked the child's arm and dragged him away.
"Have you tried the Feingold or gluten-free diet?" or, "I know an allergist in Illinois who can get kids like that to talk." It seems many people think they have the right to offer advice. I am sure they think they are helping, but do they really think we were so desperate we needed a consultation standing in line at the grocery? We struggle with the question: Can Aaron ever be accepted just the way he is, or does he only have value if he is "fixed" or "cured"?
In Arizona, we were asked to leave a family-style restaurant because, as the manager said, "We don't serve people like him." Tom and I were shocked because Aaron was happily eating his pancakes. If he had been noisy, we would have understood, but he was acting as normal as anyone. Sobbing, I hurried Aaron to the car wondering what we were going to do a thousand miles from home. I realized this was the lowest point of the trip and saw a glimpse of the discrimination that has followed individuals of other ethnic and racial groups. The stigma of being asked to leave a restaurant because some anonymous person didn't like the way my son "looked," and the management's open prejudice presented an uncomfortable dark side of America I will never forget.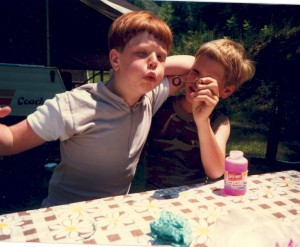 Oh Beautiful for heroes proved…
Our trip would have been devastating if only bad things happened, but we actually had some very positive experiences.
People would ask with smiles, "Where are you from?", "Where did he get that red hair?" or "How old is he?" Just ordinary questions, but kind gestures and communication starters.
A parent of a child with Down syndrome commented, "I hope the programs in Ohio are better than in Missouri."
One young girl smiled at us, "We have special kids in our school. My best friend's name is Brian, he reminds me of him."
Several children sought out seats next to Aaron and Tommy on a park swing, maybe just for a closer look, but they made eye contact and tried to make Aaron smile. Several gently pushed Aaron on the playground swings, merry-go-round, and gave him a turn kicking the soccer ball.
Aaron pinched me when we were rocking violently on a small plane sight-seeing ride over the Grand Canyon, the pilot said: "Don't worry, I've had grown men reach over and hold my arm."
At one roadside park all the visitors collectively held their breath as Aaron climbed the steps up a steep slide. Tommy guided him to the top where after much arm-flapping and nervous hand-biting, Aaron finally let go. As the wind struck his face and he barreled down the slide, Aaron's expression was one of absolute joy. Everyone in the park clapped and cheered. This was not just a glorious moment for Aaron; this was a glorious moment for every person in the park.
In a swimming pool in Arizona, a life guard got in the water during her break and showed Aaron how to swim on his back.
On a train ride in Silverton, CO a little girl moved into the seat next to Aaron and taught him an adapted version of the game Connect Four.
A waiter in Mexico brought Aaron an extra pack of crackers while we waited for our meal and tried to entertain him by singing Old McDonald in broken English. He even helped cut up Aaron's food. His empathy and understanding crossed national and language barriers.
Universal Design and Inclusion
In the National Parks we found many examples of universal design: accessible water fountains, paved paths, and self-guided tours enabled us to partially participate in the park activities. Several of the campground managers gave us campsites close to the restrooms. At Carlsbad Caverns, New Mexico there were benches and a bypass for the steep climbs. A small work crew with disabilities in Grand Canyon National Park did yard work, and a waitress at Canyon De Chelly used sign language to take an order from a customer. These inclusive accommodations not only made it easier on us, they actually made us feel welcome.
Survival means Adapting to the Environment
We were ambitious. We flew above the Grand Canyon and went down in the caves of New Mexico. We had a lovely lunch at the Broadmore Hotel with water goblets and doilies, but were asked to leave a family style restaurant. We drove to the top of Pike's Peak and the whole family climbed the ladders of Mesa Verde's Cliff Palace. We saw Native Americans adapt and survive their desert environment by seeing the value of every living plant and creature. We tasted jelly and saw sewing needles made from a cactus. We heard wolves howling, and we howled back singing every song we knew around the campfire. We took pictures and made memories that will last a lifetime. And perhaps like the Native Americans who live in the desert, we were learning how to adapt to our environment.
Lessons from the Road
We were physically and emotionally exhausted. Many amazing things happened that brought our family closer together. At the same time, though, I feel Tom, Tommy, Aaron and I crossed the line.
We could no longer think of ourselves as a family with one member who happened to have a disability; we were truly a "disabled family."
I am not trying to be shocking or dramatic. We just had to concede that most of the general public did not seem to have the motivation, information or skills to assimilate us into their version of a "typical family."
We also learned we had no anonymity; we stood out even in the largest group. Five hundred people came to see the bats fly out of Carlsbad Caverns, but because of Aaron's shout when the bats emerged; four hundred ninety-nine people were looking at us.
We learned that celebrating the diversity of the landscape of America includes seeing the beauty of the diversity of its people.
Planting Appleseeds
Our experiences reinforced our commitment to the inclusion of people with disabilities to live, work, recreate, and go to school with their neighbors, brothers and sisters. We cherished the positive experiences; the children we met gave us so much hope for the next generation of Americans, and travelers. Like Johnny Appleseed on his trips out west, we tried to drop positive seeds that other pioneer families will nurture and see bear fruit. Perhaps a future Kodak moment for our country will include not only the beautiful American landscapes, but people like Aaron and our family.
Better than "The Buck Stops Here"
One last story: In Missouri, inside the Truman Memorial Museum with its high ceilings and big rooms, Aaron started, "vocalizing." Oh, how it echoed. The guard came up to us and said either Aaron would have to be quiet or leave. Tom started to go, when another tourist came running from across the room. He looked the guard right in the eye and said, "How dare you speak to them like that. That young man is a citizen of this country and has a right to be here. Harry Truman was a strong supporter of the ordinary person. He, of all people would want them to be here."
As we pulled the car into our driveway, Tom and I were wondering if it was worth it. Would we ever take another road-trip? But like always, our children showed us the way. As he was running into the house to be the first person in the bathroom, Tommy called over his shoulder, "Next year I want to go to Florida!"
And crown thy good with brotherhood, from sea to shining sea!
Add your voice:
Be sure to leave a comment and let me know about your travel adventures. Is it harder when you are away from home and your typical routine?
Keep Climbing: Onward and Upward
All the best,
Mary
–
Copyright Ulrich 2000-2013
Original Work do not copy without Permission
In our Introduction to Exceptionalities class I am starting with a look at point of view.

Proust says, "The real voyage of discovery is not in seeing new lands, but in seeing with new eyes." I am encouraging the students to take a risk and try to see with new eyes.

I'm repeating this post on my view on Autism.
I hope this short piece will show them a personal view they may not get anywhere else.
According to the Google stats, this is one of my most popular posts. I hope it is helping people make sense of all this.
Can I love Aaron and hate autism?
If I say, "I love my child, but hate cancer or heart disease…" many people would say that is okay.
If I say, "I love my son, Aaron. I hate autism." some people say that is NOT okay.
So, call me a villain, ignorant, hypocrite, politically incorrect, or whatever–but I refuse to celebrate autism–I refuse to give autism that power.
I gladly celebrate the diversity of individuals. This diversity makes our world stronger and a more interesting place to live.

I love individuals who have autism, just the way they are.

But–I will not celebrate autism like it is a good thing.
World Autism Awareness Day April 2
The United Nations designated April 2 as World Autism Awareness Day. April 2nd next year is already designated too.
Are you going to wear blue? Will blue lights in the Empire State Building, or on the Jesus statue in Rio, or the top of a pyramid in Egypt really mean anything?
Is this like a birthday party? Something we celebrate every year? Send up the blue balloons? Paint your face blue?
I found some of the World Awareness Day press curious: "In fact a world without Autism would be a lesser world." New Zealand: United Nations declare day to celebrate autism
I think wearing black would send a better message. Autism Awareness should send a plea for action NOW. We need help and resources NOW.
So, the United Nations has established April 2 as World Autism Awareness Day. Great! Let's talk about autism.
What causes Autism?
Well, no one knows for sure. The "experts" have narrowed the cause down to: environmental, biological, sensory, abuse and neglect, genetic, chemical, neurological, food…and the ever popular–it's the parent's fault.
So the short answer is, who knows?
Yesterday someone told me our children have autism because they don't get enough eggs. Just add that to the list. They might be right.
I recently read a study (2013) that blames the grandparents. They conceived the parents late in life.
Don't you love scientists–probably funded with the autism awareness fundraising, eh?
Dr. Anne Donnellan spent her career working with families and people with autism. She often says, "The more theories, the more proof that we don't know." She also gives her version of circular logic in Disability World.
Circular Logic
Parent: My child keeps flapping their hands.

Doctor: Ah, that is because your child has autism.

Parent: How do you know?

Doctor: Because your child flaps their hands.
Is Autism the Greatest Gift?
Some advocates want you to think autism is the greatest thing ever. They talk about the special abilities of people on the autism spectrum and say it is only because of autism they have these talents.
Hummmm. Is that so?
Sure Temple Grandin, with a glance, can tell how many nails are needed to build a livestock yard–but is that only possible because of her autism?
Rainman could count the number of toothpicks on the floor. Is it possible there is someone else in the history of the world that could also do that?
Are we again caught in circular logic?
Parent: My child can count the number of nails or toothpicks.

Doctor: Ah, that is because your child has autism.

Parent: How do you know?

Doctor: Because your child can count the number of nails or toothpicks.
There are some people with the label of autism who can tell you the day of the week for every calendar year in recorded time.
I can't. Probably you can't. But, is it possible there is at least one other human being without the label of autism who can?
The Guiness Record books are full of typical folks who can do all sorts of incredible tasks.
Hurry, quick. Do we now need to give those persons the label of autism?
There are some who are going back to past genius' and claiming they must have been autistic…Mozart must have had autism. Disney perserverated on those mouse pictures–he must have had autism….
Couldn't Temple Grandin and Donna Williams just talented people? Isn't it demeaning to say, "No, the individual Temple Grandin has nothing to do with it, it is only because she has autism."
Is it possible the statistical increases in the number of people with autism is partly due to our current scientific paradigm of labeling and sorting people? And some people promoting "autistic envy"? The new figures are 1-50. One child in every fifty–and all we are doing is having Autism Awareness Day at the Philadelphia Zoo?
What is normal?
Well, turns out we don't really know that either. Plus, we could say "normal" changes every year in every culture.
Sure we have tests, but anyone who studies IQ or other quantitative or quantitative measures will point out the flaws.
Multiple Intelligences| Howard Gardner
Howard Gardner, studied people with autism who were labeled as autistic savants (actually "idiot savants" was the term used at the time). He was able to identify at least eight different kinds of "gifts or intelligences." Now, in every school in the world (that uses best practice) his theory of multiple intelligences helps all children learn. Gardner says each of us has all these eight intelligences, some are just more developed than others.
This is one of the side benefits of autism. Without the diagnosis of autism, the scientific community might have had a harder time making this discovery. Science needs large groups.
Could it be we all have gifts and traits of genius, gifts and traits that could be labeled as autistic? Are we all a little autistic? Are none of us "autistic" in the pure definition of wanting to be apart.
Stinkin' Thinkin'
So, what's the deal about autism? Can't we just celebrate individual diversity?
If we really believe autism is a tremendous gift, then it would be logical for each parent to wish their child would have autism. Right?
I once went to a conference for people with Down syndrome. Everyone kept talking about how people with Down syndrome were the happiest people in the world–how glad they were to have their child in their family. They used examples like, "They will always believe in Santa." "They are pleased when I fix them chocolate milk."…
Using circular logic:
Parent: I want my child to be happy.

Doctor: Children with Down syndrome are happy.

Parent: Then I want my child to have Down syndrome.

So, if we want our children to be happy maybe we should try to figure out how to add an extra chromosome to every baby's DNA.
If autism makes us gifted, maybe we should be researching how to make 100% of the population have autism–add autism magic to our babies' lives.
This kind of thinking is just nuts, yet it is common in each area of disability. Stick around Disability World and you will hear people yearn to have the courage of people with cystic fibrosis and muscular dystrophy, be sexy like people with cerebral palsy….
Okay, I understand some advocates are probably hyperventilating at this point. How dare I talk this way about people with autism and Down syndrome?

The person who gets joy in Santa, or in having chocolate milk is an individual. Each individual person–even if they have a label– is different.
We can love the individual–not the disability.
As family members, friends and as self-advocates, we can value the individual person's talents, gifts, joys and sorrows. We can see them in the context of their environments–but, we don't have to give all the power and credit to the label of disability. The individual should get the power and credit. They are the ones who are who they are.
I can love my Aaron–I don't have to love autism.
I can see Aaron's gifts and talents–I don't have to think they are only because he has the label of autism.
Aaron is a loving person who makes kissing noises as I turn out the light. He smiles when I pull on the toes of his socks. He gives me hugs when I walk past him. He is patient as I try to figure out what he wants. He concentrates on his books and loves pictures. He gets excited when I come in a room. I love when he relaxes in his bath. I love when he initiates a song or going to the bathroom. I love when he figures out how to eat the cheese off my sandwich….
Aaron is unique. He adds his own version of diversity to the human family. He is a great son, brother, uncle, friend… just the way he is.
Autism sucks. Aaron doesn't.
Autism affects each person differently.
In Aaron's case, Autism means he can't talk with words. It means he is 38 years old and can't always tell when he needs to go to the bathroom. It means he has trouble making friends. It means he yells in public restaurants. It means he chews on his clothes and books and the car seats. It means he has motor difficulties and has trouble walking–crossing from the rug to a tile floor. It means he is always afraid of falling and losing his balance. It means he bites his hand to calm himself. It means it takes him a long time to learn things. It means he will forget them if he doesn't practice them every day. It means he likes music, but not loud noises. It means he likes to be moving (in cars, buses, boats, planes…) It means he likes to swim, but not bend over. It means he can't tie his shoes or dress himself independently…it means he cannot be left unsupervised even for a minute.
That all sucks.
I wish it was easier for him. I wish it were easier for me to help him.
But all those difficulties don't mean I don't love Aaron with every fiber of my being.
Each day for the last 38 years, I work to get Aaron the support he needs to live, work and recreate in his community. To allow him to be the best person he can be–For him to be able to make choices and have opportunities he wants.
There is a difference.
Dream Plans for Aaron Ulrich
I am adding our dream plan for Aaron. You can click on each of them and see I am NOT trying to cure Aaron. I am NOT trying to make him a different person. I love and respect him as the person he is.
I am NOT trying to make him the person I want him to be.
The first one we wrote in 1981 when he was 6 years old. Dream 2: 1989 The next Dream 3: 1998. And, Dream 4: 2010.
Every day Aaron teaches me about courage, love, and tolerance. But he knows he can count on me, my husband, and his brother. He knows Annie, his caregiver will do her best to look out for him. He wants a new housemate, like his former housemate Jack who will be there for him. He knows his grandma and extended family including Ana and his niece love him just the way he is.
And until our dying breaths, we will do our best to make his life happy.
No, I'm not going to inject Aaron with an extra chromosome to make sure he is happy. No, I'm not going to give this thing we call "autism" supernatural powers to dominate his life.
But I will give him opportunities to make choices about his life as best he can–in spite of "autism."
Yes, I can Love Aaron and Hate Autism.
Autism Awareness Day Marching On
Celebrate each wonderful individual person you meet in this video.
Keep Climbing: Onward and Upward.
All my best,
Mary
Comments:
Are you sitting there thinking, "how can this mother be an advocate for people with autism?" Do these words make you upset? Do you agree? Do you think "Disability World" thinks different than "The World"? Can we separate the individual from the label?
Related Article:
Here is another article about Autism Awareness Day asking people to do more than just wear blue.
Helen Otten, my mom, died April 3 at the age of almost 93. I'm posting this in her memory. I'm also reminded of the importance of family.
The twelfth day of Christmas is Jan. 6th–Little Christmas, The Feast of the Magi.
Actually, it's all the Magi's fault. They are the ones credited with giving the first gifts.
Based on the number of people in line at the return desks last week, I'd say many people had problems with their gifts. (Actually I could see Mary and Joseph thinking the gold was useful, they could buy a wagon or better donkey, but what were they supposed to do with Frankincense and Myrrh. Myrrh–really????)
I know it is supposed to be the "thought that counts," but it really is much more. Gifts are a whole cultural phenomenon.
My mother is 89.
Recently she's had hip replacement surgery and has trouble shopping for herself.
Two months before Christmas she told me she wanted slippers. Slippers it is. I don't have to guess her gift. And this is great…EXCEPT
Every day for the next month she would call me on the phone (usually at 6 AM because that is when she wakes up and is thinking about slippers) and define what kind of slippers. They had to have rubber soles so she could wear them outside if she wanted. And this is great…EXCEPT
She couldn't tell me her size. It seems some Large slippers are size 8-9, some Larges are size 9-10. And the manufacture, design, model, production all make a difference.
I went to three different stores and brought her "Pair number one" on Thanksgiving. She didn't even try them on. Which actually made it easier to exchange them, which is great…EXCEPT
She really wanted black. But none of the stores made black slippers. So, I picked out some navy size 8's and 9's and 10's, and some pink (everything she owns is pink) in a size 8-9, and 9-10. And I figured I'd give her a choice. Which was great…EXCEPT
She decided she wanted slippers that weren't slip-ons. "Only the devil would make slippers with open backs" and she has had slippers that covered her whole foot, well–her whole life. And, she thinks she has ugly toes, so–none of those slippers with toe cut-outs. So, I boxed up and returned the slippers. And it was great…EXCEPT
The next three stores didn't have black or whole foot slippers. But they did have navy.
You know where this is going, right?
Yep, I rebought her the same slippers (that she wouldn't even try on) from the first round. She opened them on Christmas and said they were perfect.
So, it makes you wonder.
Was the gift really about slippers at all?
Grandma and the Thong
The picture above is from a previous Christmas. My sister Martha worked in a lingerie store and gave each of the girl cousins a pair of thongs. They thought they were nice. Certainly something practical they could use. EXCEPT
She also gave one to Grandma.
The gift became an urban legend in our family. It brought down the house.
Even though mom didn't even recognize the thong as underwear—it was the shared experience with her grandkids that made it the perfect gift.
Which again makes me wonder about gifts.
Aaron's Christmas Gift and Charity
This Christmas Aaron went to a Christmas Party sponsored by a local non-profit. These are kind folks. Many of the people with severe disabilities are the poorest people in the county and don't even have family members who can give them gifts. So, this is not only a nice gesture, it is an opportunity for these poor souls to get a little something extra.
This year the non-profit got items donated by local businesses to give as gifts. Over 150 adults with disabilities came to the Christmas Party and Dance.
There are so few recreation opportunities, many of the people put on their best clothes and showed up early. Many more wanted to come, but there was little transportation and they depend on staff–who didn't want to bother.
At the party, even though they arrived early, there were only chairs for 100 people. So Aaron and Jack, his roommate, had to stand and hold their coats.
Since Aaron has balance problems, and couldn't understand why he couldn't sit down (people were guarding their chairs) he started biting his hand and pinching others. Not good behavior at a party.
Their staff person made the sensible decision to leave (even more people were coming in the already over-crowded room). Aaron and Jack were each given a "gift bag" at the exit. Which was nice… EXCEPT
The gift bag had a pair of donated slippers. Yea! I would be laughing too, slippers… EXCEPT
The slippers were size 11.
Aaron wears a size 9.
Now, no one with balance issues is safe wearing a pair of slippers two sizes too big. And, unlike my mother, these slippers were charity—donated. So there was no gift card or receipt, most people had no dutiful daughter, family or staff who cared to make an exchange.
And, Aaron couldn't understand why anyone would give him slippers he couldn't use. So he just carried the slippers around the house—making me crazy that good, kind people could be so dumb. After all who is the "intellectually challenged" person here? Did they think they wouldn't notice the slippers didn't fit? Or all people wear size 11?
Is "Just getting something to open" the point? Even if they can't use it?
What is Charity?

If you plan a charitable event and are giving gifts:

Don't

Don't just arbitrarily pass out slippers, or coats, or T-shirts with misspelled words.

Don't give radios with no batteries—because they want to use the radio that minute and staff often won't be bothered with batteries.

Don't give them things you couldn't sell or are broken.

Don't make your interaction a one-time-event.

Do

Do have a party with chairs and refreshments for everyone.

Do get to know people as individuals

Do think about what YOU would want to get

Do think about normalization, age-appropriate entertainment and gifts.

Do think about transportation and staff and family members
Do consider that the shared experience, like Grandma getting the Thong, may be the best gift ever—no excepts.
Keep Climbing: Onward and Upward
All my best,
Mary
Comments:
Okay, best/worst gift stories? Am I just being an ungrateful jerk? What is the role of charity? Is it appropriate to give broken, torn things to Goodwill/charity? Only 258 shopping days until Christmas????
Going to the family reunion, or not?
part 3.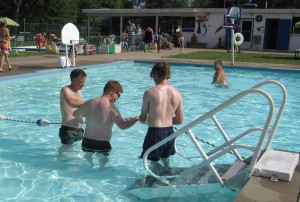 Absolutely gorgeous day for a family reunion at the swim club, mid 80s, no clouds, not even any bugs to speak of. This is my third post about Going to the family reunion, or not? In post one (click here) I talked about planning and doing an evaluation of what my son Aaron, who has the label of autism, would need in terms of modifications and accommodations to feel welcome and included. In part two, (click here) I wrote about the layers of social systems that are part of each family. Today in part 3, I'm going to talk about the actual activities and events that happened.
Informal Support Systems
Tommy (Aaron's brother), Ana, Baby Isabella and Ana's parents from Brazil arrived about the same time we were unloading the coolers, so they helped me carry the stuff and guide Aaron through the parking lot. My husband, Tom had to work so he had to miss this year. If Tommy's family wasn't here to help, Aaron and I wouldn't have gone. I figure there were about 60 relatives ranging from my mom age 88 to Baby Isabella, one year.
Aaron started repeating his, "You Okay?" routine, and everyone came over and gave him a high 5, patted him on the back, or laughed and said, "Yes, Aaron we're okay." They were welcoming Aaron on his own terms. Sometimes Aaron looked at them; sometimes he didn't. He said, "You okay?" about one time every other second. So that's a lot of "You okays." Everyone just took it in stride and went back to what they were doing.
Setting up the routine

In past family reunions, everyone swam and then ate about 6pm. So we arrived about 4PM to find everyone eating. Oops.
Even though we split an Arby's sandwich on the way to the swim club, if everyone else is eating, you can bet Aaron is going to want to get a plate ASAP. I introduced Ana's family the best I could, but getting Aaron settled and fitting in the social setting was priority one.
Almost immediately, Aunt Ann started putting melon balls on Aaron's plate. Some male relative who I didn't even know had the brats and metts ready to go, so with a little help, Aaron was happy as an ant at a picnic—aarhh. How Aaron melded into the group in the first ten minutes makes all the difference.
While Aaron was busy eating, the rest of the family settled in, made introductions and even though Ana's parents' first language is Portuguese, everyone was excited that they were here for a visit. Various Aunts, Uncles, Cousins, second cousins and relatives I swear I've never seen before, were all very gracious. Ana's parents are just naturally friendly and their English is incredible. (They learned it by watching American movies and taking English classes in high school.)
As soon as Aaron finished eating, Aunt Ann cleaned up Aaron's spot. Uncle Steve and Tommy offered to take Aaron swimming. I didn't even have to ask. They helped him put on sunscreen, take a quick trip to the bathroom and then just whisked him off (of course Aaron doesn't really whisk anywhere).
Terri, my cousin who organized the whole event, told us that the neighborhood swim club was just given a ramp by the Jewish Community Center when they built a new facility. (Note to self: next year do not take off Aaron's shoes until he gets to the ramp—the sidewalk was too hot and he had trouble walking to the ramp.)
Aaron, Tommy, and Uncle Steve went in the big pool. Ana, her parents and the baby went to the baby pool. I took pictures and held my breath. Aaron had a couple tough moments, but he calmed himself by biting his hand and then was fine.
I got to talk with a couple people, and watched everyone playing in the water. Aaron can swim pretty well. He does this sort of dolphin movement and though he doesn't close his mouth he can swim from one side of the pool to the other. The lifeguard watched Aaron and his team the first couple minutes and then when everything looked in control, he relaxed and just concentrated on the entire pool as usual. After about a half an hour, other relatives and Ana's parents joined everyone in the big pool. Baby Isabella had a great time meeting new cousins and playmates. The toys went in and out of the pool, the kids stood up, fell down—all was well with the world, just a sunny day in paradise.
Everyone caught up on the recent engagements, school arrangements, camping trip, new babies… all the gossip and family changes. Ana made a Flan dessert which was a big hit. Someone brought about five of those blue ice containers and put them together like a cold plate—instead of hot plate—and I thought that was very clever. Everyone ate, traded stories, pictures, and just had a great time.
Uncle Ed
Uncle Ed's memorial dinner was the next day, but my cousin Dan, who is a Bishop, came and ask about how Aaron was doing. How was Tom doing? (When someone in the family isn't there, they are missed.) We got to tell the story of how Tommy surprised us by moving back to Cincinnati last year… it was just normal, everyday family talk.
Because of people helping out with Aaron, it was an enjoyable day. We left after 4 hours, just long enough.
Worth the price of admission:
My favorite moment: One of the dad's was holding his two year old baby in his lap. The baby had an angelic face and a devilish grin. They were relaxing after a swim when the baby suddenly reached up and grabbed the hair under his dad's arm. OUCH! His dad—I mean you could hear him gasp and see his eyes tear up-couldn't reach his son's hands. Every time he tried to lower his arm, the hair was pulled tighter. We were all laughing so hard everyone's body was shaking up and down in their seats. Grandma looked like she would need oxygen. The more dad tried to pull the baby's fist away, the tighter he squeezed.
I thought the life guard was going to blow the whistle from all the hoots and hollers. It was a memorable moment that will become an urban legend in our family as the repetitions help the story grow. (Remember, Mark Twain said to never let the truth get in the way of a great story.)
Summary:
All our planning worked. Aaron and all of us had a great time. He belonged. We all had a chance to reconnect to all these people who are connected by blood, but now are also connected by new memories.
Moral of the story: shave your armpits before going to family reunions:)
Did you ever think of all the modifications and accommodations we just naturally make for babies, seniors, people with disabilities? Baby bottles need to be kept cold and then heated, Grandma likes soft foods, Uncle Charlie always likes a ball game on a radio or TV– we make these kinds of modifications all the time just because we want to make the people we love happy and comfortable.
And what about us regular folk, we also use modifications and adapt environments and "things" all the time. We bring our lawn chairs, sun screen, ball gloves to protect our hands… we like our hotdogs with… spicy mustard, or ketchup, or sauerkraut or well done or on buns, or not …?
We don't think of these small ordinary "things" as adapting a hot dog? Because we are all normal, yet it is what we are doing.
But putting in a ramp or curb cuts–well, even if we normal folks use it, it is er, handicapped or special or an ADA adaptation.
When builders use the principles of "universal design" and blend the adaptations into the everyday way we access buildings or swim pools… then parents won't have to think of ecological assessments before they go to a family reunion, everything will already be in place.
ADA is good for all of us. i.e. Now most grocery stores have accessible entrances. Grocery carts and children's strollers and people in wheelchairs can just go through the front door. And, since it is now so common, no one even notices that the entrances have changed. They meet "universal design" for EVERYONE.
The world is becoming more accessible and just in time. Because me and all my relatives are getting older and like it or not, we will soon join the ranks of the "disabled" and our life activities will depend on all those loving people around us, and those universal designed environments.
Tell us in the Comments
What are some of the things you do to make your family reunions more inclusive? What do you think of Universal Design? Is ADA just another government example of "Big Brother" and forced rules and regulations?
Keep Climbing: ONward and Upward
All my best,
Mary