Posts Tagged 'intellectual disabilities'
Hi Everyone. Getting ready for summer vacations? Thought you might like to read about our family trip out West that changed our lives.
Oh Beautiful for spacious skies…
From the moment I was pregnant, my husband Tom dreamed of the day he could retrace his childhood trip out west. He glowed in the memories of mom, dad and kids studying the maps on the kitchen table, packing the lunch meat sandwiches in the cooler, and repeating the rest-stop conspiracy of Dad throwing the baseball high over his boys' heads so they would chase the ball and use up some of that stored energy. The year our son Aaron was ten and his brother Tommy turned nine, faithful to Ulrich family tradition, we headed west. The main difference between my husband's family, and ours, was that Aaron has autism.
Preparing for the trip
Aaron didn't start walking until he was five, and even at ten was not completely independent in the bathroom. So how were we going to follow his needed routines for toileting, understand Aaron's wants without the use of words or signs, watch his balance issues, and especially, cope with unpredictable behaviors? How were we going to manage twenty-one days of camping, sleeping, eating, and interacting with strangers in strange places? How were we going to survive–much less enjoy–visiting eleven National Parks and Monuments, twelve states, Mexico, and traveling five thousand miles?
Certainly, we were not the first family to attempt a western vacation with a child with complex needs, but we also knew we were not going to be "typical" tourists. Tom and I briefly considered leaving Aaron with a friend or in summer camp, but we decided this dream vacation included our "whole family." We would make it work.
Adaptations and Accommodations
Using our teaching and parenting skills, we designed adaptations and accommodations for the trip. In previous years we camped in state parks and all shared a big tent. Aaron had a terrible time sleeping on the ground in such close quarters and often our sleeping bags got soaked in rain storms, so for this adventure we decided to buy a pop-up camper. Our pediatrician recommended some medication to help Aaron relax and sleep at night. We planned to follow Aaron's schedule for meals, breaks, and sleep. We would only visit restaurants at non-peak hours, choose corner tables, avoid long waits, and skip most museums. We installed a child-proof lock on the car door and had a suitcase of games, music and snacks. Tommy and Aaron's jobs on the trip were to crank up the camper each night and help carry the water buckets–jobs that were successful in our previous trips.
Oh Beautiful for pilgrim feet…
Like the pioneers of old, and Tom's family a generation earlier, at dawn our family set out from Cincinnati with Tommy's version of a "Colorado or Bust" sign taped to the windshield, driving not oxen-pulling-a-Prairie-Schooner, but a brown-station-wagon-pulling-a-pop-up-camper. We were confident we could handle any of the challenges we knew would come. We would enjoy our family-time and see the beauty of America. And fortunately, instead of mud and rock trails, we had interstate roads and could travel sixty MPH.
We Americans like to brag about being the melting pot and/or salad bowl of the world, a nation that values brotherhood and diversity.
Even with our best preparation, instead of a three-week vacation, this became a three-week teaching excursion. It seems the human America was not quite ready for us.
At home we were surrounded by people who know us; they saw the beauty in Aaron and our family. With the strangers we met on our journey, we had both negative and positive interactions.
Transformational Experiences, day after day

As if we had a disease, one family packed up their tent and moved it to a site on the other side of the campground, and a pregnant woman crossed the street so she wouldn't have to pass us.
One evening Aaron was enjoying the loud echoes that he could make in the campground bathhouse, and a young boy ran out screaming, "The Hulk, the Hulk's in there!"
An elderly man said, "We have one of 'those' in our family but he doesn't travel, he lives in a home."
"Mom, what's wrong with that boy? Does he act that way on purpose?" The mother whispered, "SHHH, he's retarded," and like we were dangerous, yanked the child's arm and dragged him away.
"Have you tried the Feingold or gluten-free diet?" or, "I know an allergist in Illinois who can get kids like that to talk." It seems many people think they have the right to offer advice. I am sure they think they are helping, but do they really think we were so desperate we needed a consultation standing in line at the grocery? We struggle with the question: Can Aaron ever be accepted just the way he is, or does he only have value if he is "fixed" or "cured"?
In Arizona, we were asked to leave a family-style restaurant because, as the manager said, "We don't serve people like him." Tom and I were shocked because Aaron was happily eating his pancakes. If he had been noisy, we would have understood, but he was acting as normal as anyone. Sobbing, I hurried Aaron to the car wondering what we were going to do a thousand miles from home. I realized this was the lowest point of the trip and saw a glimpse of the discrimination that has followed individuals of other ethnic and racial groups. The stigma of being asked to leave a restaurant because some anonymous person didn't like the way my son "looked," and the management's open prejudice presented an uncomfortable dark side of America I will never forget.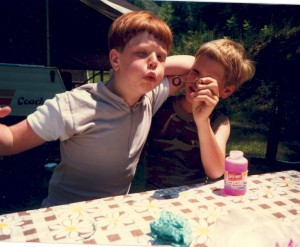 Oh Beautiful for heroes proved…
Our trip would have been devastating if only bad things happened, but we actually had some very positive experiences.
People would ask with smiles, "Where are you from?", "Where did he get that red hair?" or "How old is he?" Just ordinary questions, but kind gestures and communication starters.
A parent of a child with Down syndrome commented, "I hope the programs in Ohio are better than in Missouri."
One young girl smiled at us, "We have special kids in our school. My best friend's name is Brian, he reminds me of him."
Several children sought out seats next to Aaron and Tommy on a park swing, maybe just for a closer look, but they made eye contact and tried to make Aaron smile. Several gently pushed Aaron on the playground swings, merry-go-round, and gave him a turn kicking the soccer ball.
Aaron pinched me when we were rocking violently on a small plane sight-seeing ride over the Grand Canyon, the pilot said: "Don't worry, I've had grown men reach over and hold my arm."
At one roadside park all the visitors collectively held their breath as Aaron climbed the steps up a steep slide. Tommy guided him to the top where after much arm-flapping and nervous hand-biting, Aaron finally let go. As the wind struck his face and he barreled down the slide, Aaron's expression was one of absolute joy. Everyone in the park clapped and cheered. This was not just a glorious moment for Aaron; this was a glorious moment for every person in the park.
In a swimming pool in Arizona, a life guard got in the water during her break and showed Aaron how to swim on his back.
On a train ride in Silverton, CO a little girl moved into the seat next to Aaron and taught him an adapted version of the game Connect Four.
A waiter in Mexico brought Aaron an extra pack of crackers while we waited for our meal and tried to entertain him by singing Old McDonald in broken English. He even helped cut up Aaron's food. His empathy and understanding crossed national and language barriers.
Universal Design and Inclusion
In the National Parks we found many examples of universal design: accessible water fountains, paved paths, and self-guided tours enabled us to partially participate in the park activities. Several of the campground managers gave us campsites close to the restrooms. At Carlsbad Caverns, New Mexico there were benches and a bypass for the steep climbs. A small work crew with disabilities in Grand Canyon National Park did yard work, and a waitress at Canyon De Chelly used sign language to take an order from a customer. These inclusive accommodations not only made it easier on us, they actually made us feel welcome.
Survival means Adapting to the Environment
We were ambitious. We flew above the Grand Canyon and went down in the caves of New Mexico. We had a lovely lunch at the Broadmore Hotel with water goblets and doilies, but were asked to leave a family style restaurant. We drove to the top of Pike's Peak and the whole family climbed the ladders of Mesa Verde's Cliff Palace. We saw Native Americans adapt and survive their desert environment by seeing the value of every living plant and creature. We tasted jelly and saw sewing needles made from a cactus. We heard wolves howling, and we howled back singing every song we knew around the campfire. We took pictures and made memories that will last a lifetime. And perhaps like the Native Americans who live in the desert, we were learning how to adapt to our environment.
Lessons from the road
We were physically and emotionally exhausted. Many amazing things happened that brought our family closer together. At the same time, though, I feel Tom, Tommy, Aaron and I crossed the line.
We could no longer think of ourselves as a family with one member who happened to have a disability; we were truly a "disabled family."
I am not trying to be shocking or dramatic. We just had to concede that most of the general public did not seem to have the motivation, information or skills to assimilate us into their version of a "typical family."
We also learned we had no anonymity; we stood out even in the largest group. Five hundred people came to see the bats fly out of Carlsbad Caverns, but because of Aaron's shout when the bats emerged; four hundred ninety-nine people were looking at us.
We learned that celebrating the diversity of the landscape of America includes seeing the beauty of the diversity of its people.
Planting Appleseeds
Our experiences reinforced our commitment to the inclusion of people with disabilities to live, work, recreate, and go to school with their neighbors, brothers and sisters. We cherished the positive experiences; the children we met gave us so much hope for the next generation of Americans, and travelers. Like Johnny Appleseed on his trips out west, we tried to drop positive seeds that other pioneer families will nurture and see bear fruit. Perhaps a future Kodak moment for our country will include not only the beautiful American landscapes, but people like Aaron and our family.
Better than "The Buck Stops Here"
One last story: In Missouri, inside the Truman Memorial Museum with its high ceilings and big rooms, Aaron started, "vocalizing." Oh, how it echoed. The guard came up to us and said either Aaron would have to be quiet or leave. Tom started to go, when another tourist came running from across the room. He looked the guard right in the eye and said, "How dare you speak to them like that. That young man is a citizen of this country and has a right to be here. Harry Truman was a strong supporter of the ordinary person. He, of all people would want them to be here."
As we pulled the car into our driveway, Tom and I were wondering if it was worth it. Would we ever take another road-trip? But like always, our children showed us the way. As he was running into the house to be the first person in the bathroom, Tommy called over his shoulder, "Next year I want to go to Florida!"
And crown thy good with brotherhood, from sea to shining sea!
Add your voice:
Be sure to leave a comment and let me know about your travel adventures. Is it harder when you are away from home and your typical routine?
Keep Climbing: Onward and Upward
All the best,
Mary
To celebrate the new school year here are some of my favorite posts:

Article 1: Why Do We Go to School?

Article 2: Back to School| A New Year of Learning

Article 3: Back to School| What is Inclusion?
Functional Curriculum
When my son Aaron was in school, shopping was part of his curriculum. From the time he was ten years old he went to the bank and grocery one day a week as part of his special education school program.
This was best practice and came from the work of Drs. Lou Brown, Alison Ford, Sharon Freagon and many others. The idea of a functional curriculum for people with autism, intellectual and developmental disabilities is:

* it takes longer to learn skills, so let's make sure we teach important skills and not waste their time on dumb stuff

* it takes lots of practice, so let's give the student lots of opportunities and trials

* use it or lose it, so let's make sure the skill is something the student will need their whole life

* transition from school to adult life will be smoother

* we only teach skills that if the person didn't do it, someone else would have to do it for them

* the ability to purchase items would give the person more dignity, self-esteem, self-determination skills and choices in their life
The way it worked was each week, Mom sent in a check for $10.00 and a shopping list. The class went to the same grocery store (because each store is different). Each student cashed their check at the bank and then bought items from the list to take home.
In addition, students also planned a lunch to be made in the classroom the following day. Each would purchase a couple items for that group lunch. These items were purchased with the classroom credit card.
This functional curriculum was based on the philosophy that Aaron would go to the grocery the rest of his life. Before the school year started the IEP team decided this was a high priority skill because he would need to buy food and other items when he was an adult. If he didn't learn to purchase these items, someone else would have to buy them for him. If Aaron could purchase the items he would have more choices and say in his life and therefore a better quality of life. (Who wants someone else deciding you can only have Cheerios for breakfast all your life.)
Related Service Staff
The curriculum was designed by the IEP team including specialists and the parents. After all, who would be taking the student to the grocery on the weekends, summer, and after school. And who knew what the student liked better than their parents?
I was in the school a lot and went on many of the community training trips with Aaron and his class.
It takes a Village
The speech and language therapist helped Aaron build picture sequences of "shopping at Krogers," check-off lists with pictures for grocery lists, and learn to interact with the cashier "Thank You" and give a High 5 to the bagger….
The occupational therapist helped Aaron figure out which coin purse/wallet worked best, learn to pay with the next highest bill, learn how to take the money out of his wallet (hold wallet in left hand and take out bills with right) and after many failures of getting the change back in the wallet–it was decided Aaron should just put the change in his pocket….
The physical therapist helped Aaron figure out how to climb up and down the steps on the bus (hold on the rail with his right hand and count the steps), how to maneuver the parking lot (and yes we had an IEP goal that said with 50% accuracy), how to enter the right door–even if there are two "in" doors,
how to reach the items on the bottom shelves (hold on to the grocery cart with his left hand and reach with his right)….
Depending on the therapists schedules, they might only be involved in periodic assessments, or they could go with the class every week. This was an excellent way for the therapist got to really see Aaron in this environment and practice REAL life skills.
The teacher and assistant teachers went every week with the 6-8 students in the multi-handicapped class. She/he helped Aaron match his pictures to the actual items in the store, find his favorite items and put them in the cart, learning appropriate social skills….
After High School
Unfortunately now that Aaron is out of school, he has lost most of those skills because adult service staff refuse to take him to the store or don't have the knowledge or support they need. Here is a story about Aaron's home (click here). It is not the fault of the staff. Some of them are very loving and do a great job.
So I take him every weekend when he is home with us. Here is a story of a recent shopping trip (click here).
Aaron and I are a team and we have worked out our own system. We only shop for about 10 items and Aaron puts the items in the cart. Sometimes Aaron will grab something off the shelf and if it is anywhere close to something he might want, I'll let him buy it. ie. if it is a bag of cookies or cereal –he can keep it. If it is a box of denture tablets probably I'll tell him what it is and put it back.
Choices: Quality of Life and "If Only"
If I had the opportunity to change things in Aaron's life, it would be that adult services used a functional curriculum and adult residential services gave Aaron and others with autism and severe disabilities the opportunities to practice their skills. There is no question Aaron would not currently be LOSING these skills. There is no question these skills would enhance Aaron's self-esteem and quality of life.
The reason I could insist on these skills being taught and used when Aaron was school age was because of the federal mandate in IDEA. The Individual with Disabilities Education Act said that parents were part of the IEP team and the parents had due process if they disagreed with the school personel. There is no such mandate for Adult Services, no due process for parents and/or guardians. Plus, in Adult Services the staff does not have to be trained or have any teaching license.
As my friend Deb used to say, "When I am made Queen of the Universe" I will declare it. Until then, I'll take Aaron every weekend and give him as many functional experiences I can.
And of course, I'll dream of the day I am Queen of the Universe. *smile*
What ifs? Comments?
Any stories about your child's school experiences preparing them for the future? Any luck with using those skills in their adult life?
Anyone else want to be "Queen of the Universe"?
Keep Climbing: Onward and Upward
All my best,
Mary
Related Posts
Building Community| One grocery trip at a time
It's a Jungle out there| Inclusion in the grocery store
Every day people challenge me:
Why do I believe what I believe?
What's wrong with the Medical Model?
What's wrong with the Charity Model?
What's the big deal about "normalization" and "inclusion"?
Why is "special" not special?
Most times the conversations are stressful–the whole paradigm shift thingy. Most people don't want to take the time to understand or learn a whole new way of looking at the world. They think their view of the world is just fine, thank you very much.
As parents, we have been learning for 30-40 years, our child's whole lifetime. Our child demands we still learn every day.
For the next couple days, I'm going to be sharing some of the people who shaped my beliefs. Here is Norm Kunc.
I am hoping they can deliver the message of "normalization" far better than I ever could.
Norm Kunc changes lives.
I would spend the whole year teaching university students and teachers about the need for inclusion, normalization, self-advocacy, people first… and they would nod their heads (or scratch their heads at the crazy lady), pass their tests, and go on with the way they always did things.
Norm Kunc came to campus, spoke to these same students and in fifteen minutes–he rocked their world.
That quick–his message is that powerful.
Here is Norm and Emma Kunc's website. I'll write more about them in another post, but if you get a chance book them or attend one of their presentations. It will change your life.
Here is Norm's Credo of Support. It is not the same as hearing him in person, but the video message shows the power of words and the talents of self-advocates. When Norm introduces the video he says the words just poured out of his heart.
Here's hoping it touches your heart too.
Keep Climbing: Onward and Upward
All my best,
Mary
Talk about it!
What did you think of the Credo of Support? Do you think the message is stronger coming from self-advocates? What is your personal credo? Can you think of ways people with disabilities can give their own message?
Would you like to hear more about Norm and his wife Emma's work?
People First Controversy
Background:

There is controversy in the disability community about the use of People First or Person First language.

I've written several posts about People First language:

*Stigma and segregation caused by labels like "mental retardation" and,

*Challenge to bloggers to use People First language.

Some self-advocates on the Autism Spectrum disagree They feel parents want to deny "autistics" and "aspies" their unique voices. They say parents only want to destroy autism and cure their children.

I am proud to support Rosa's Law and advocate for People First Language. Perhaps these personal stories will explain.

I'm going to start and end with "Wheelchair Becky" but also share some stories about the past history of people with disabilities, my son Aaron, myself, and my hope for the future.
Is People First Language important for "Wheelchair Becky"?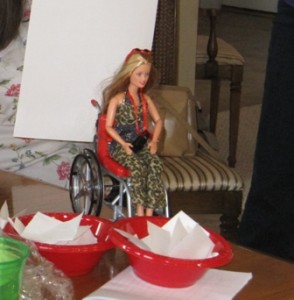 In a previous post: Building Community | Wheelchair Becky vs. Flat Stanley, I wrote about the way the Mattel Company thought "Wheelchair Becky" and "Black Barbie" would teach children about diversity and tolerance…and how it backfired.
I think People First language is part of the solution. If you disagree, that's okay. It's part of celebrating diversity.
Is People First language important for Aaron?
Aaron is my son's name.
He has been depersonalized, reified and labeled by doctors, psychologists and other professionals as autistic, cerebral palsied, DD, MR, sensory deficit, movement disorder, severe/profound….
In the precedent setting Roncker case, the school psychologist testified under oath that Neill Roncker and others (like Aaron) had such low IQs "they wouldn't know the difference between sitting next to a real person or sitting next to a rock." So segregating them in separate schools with their own kind would make no difference. She considered their education a waste of school resources. Many people still agree with her.
So, I feel strongly People First language is important. Aaron is a person first. Others can give him labels. Some are medical and diagnostic but others are cultural: brother, son, uncle, friend, neighbor….
This has nothing to do with wishing Aaron was cured. This is not denying the "autistic" culture. This has nothing to do with "disability pride." It has everything to do with survival.

People First language reinforces the moral argument that people with severe disabilities are people and have a basic right to exist. A right to breathe, to be a member of the human race, to live with our families, go to neighborhood schools and community activities–rather than live in institutions. Check out Parallels in Time history of people with disabilities It is filled with the abuse of those basic human rights. The more we know about our history, the more we understand the need to protect our rights to "life, liberty and the pursuit of happiness." This is a daily challenge as we fight for caring staff, decent living conditions, health care, opportunities to be safe and belong to our families and communities. There are many people who see only the disability–and think that means we don't need the same care and support–we are not really citizens, not really human.
Aaron is a "person" with wants, needs, likes and dislikes like everyone else. He is Aaron, that unique PERSON whom I love. He is Aaron a citizen with rights.
As I look at my life as a parent, advocate, teacher and friend to people with disabilities, I find I have excluded myself from my community. Yea, me–the advocate for inclusion.
Is Mary a Person First?
All mothers understand this conundrum. Especially when your child is so vulnerable. I've spent many years hanging around people working for the civil rights of people with disabilities i.e. Mothers of Special Children, Special Education Parent Groups, Arc, Autism National Committee, TASH…. I am a member of Disability World. Maybe not a primary consumer, but certainly a secondary consumer.
At some point, I realized I had to reclaim my own personhood. My personal resolution to rejoin the mainstream of my community included finding writers' groups.
OVRWA
Fortunately, I found the Ohio Valley Romance Writers of America (OVRWA) in my community. These talented women have become more than mentors, they have become friends. I learned almost every one of them has a PEN Name, some have more than one.
Men with Pens
Men with Pens has also been a terrific community for beginning writers and bloggers. I've met James Chartrand who also wrote about using Pen Names and Pseudonyms.
Positive Solution: Writer's Groups and Pen Names
So, it occurred to me: What if our stigmitized "Wheelchair Becky" started to include herself in these writing communities? After all, she'd graduated from the high school yearbook committee, right?
What if "Wheelchair Becky" chose her own Pen Name, became her own person, and like Flat Stanley started to integrate herself into the community?
Pen Names
Urban legend says one way to pick your Pen Name is to:
1. Write down the name of your first pet.
2. Write down the name of your street address when you
owned that pet.
I consulted with "Wheelchair Becky" and she agreed to make this into a community-building activity at the OVRWA holiday party.

Everyone wrote their pet's name and put the papers in one red dish.
Everyone wrote their street address and put the papers into another dish.

Then "Wheelchair Becky" with the help of a friend, chose one name from each dish and VOILA—

Smokey Woods was born.
How do we build an Inclusive Community?
In the tradition of Flat Stanley and many writers, Smokey Woods began to make friends and include herself into the community. Here (at the head of the table) she is toasting in the New Year with our family. (BTW: She doesn't eat much and is a cheap drunk.)
Here my precious granddaughter is playing with Smokey Woods the romance writer.
Smokey Woods is a doll, a toy. Smokey might use a wheelchair to get around, but she has a name.
My granddaughter represents the future. For Aaron, for me, for all people with disabilities. She will see people like Smokey in her classes and community. When she watches Glee on TV, she sees Artie singing and dancing. He also uses a wheelchair, but Artie has a name–and it doesn't start with "wheelchair."
Names matter. Aaron is Aaron. Mary is Mary.
I'm not promoting People First language because I am looking for a cure. I'm looking for survival and ways to prevent the abuse and segregation of the past. I'm looking for community inclusion.
For Aaron.
For myself and my family.
For all the next generation of little kids who will be learning about diversity by playing with dolls and watching TV.
I also think Mark Twain, Dr. Seuss and all the other writers who use Pen Names would approve.
Keep Climbing: Onward and Upward
All my best,
Mary and Smokey
Your Turn:
Did this make sense? Are there important reasons to use People First Language? Can we learn more about community inclusion and what it means to be a real person by looking at our language and the names we call each other? Do we need to study the past so we can move forward? In the comments please share your ideas.