Posts Tagged 'intellectual disabilities'
photo credit: horizontal.integration
Today is Jan. 1
Could this be the year of the Power of One?
We can celebrate with fireworks, silly hats, black-eyed peas and sauerkraut. We can dress in yellow (for prosperity) or white (for peace) while throwing pomegranate seeds on the roof and making wishes. But, this new year will race forward–with or without us. In 365 days, it will become the next year, and then the next …. The cosmic universe doesn't care about individual civilizations who make their own calendars. It doesn't care about individual people.
Actually, that is a comfort. I don't want to be Atlas holding the world on my shoulders. I don't want the responsibility of saving the world, that's too much.
Systems Theory–Circles of Life
Bronfenbrenner's systems theory states that what affects one part of the system affects all the parts of the systems. In previous posts on the circle of life and family reunions I've talked about his embedded systems (like Russian Dolls). The individual is in the center circle, surrounded by the family, surrounded by the community and "systems."
Inner Circle: Aaron
When Aaron, my son with the labels of autism and developmental disabilities was growing up, I made specific dream plans and goals to include him in an inclusive community.
They were audacious plans. But we had IDEA and ADA and hope. And Aaron was young and had lots of years ahead of him. I thought the values of ALL people living and working in an inclusive community would keep evolving into a more accepting world. I thought I could count on the professionals, the local, state, national agencies and organizations to help.
But those systems don't exist for adults with disabilities and/or their families.
Aaron is 42 years old. For adults there is no mandate or law saying he can get services. So we have watched as his behavior and communication have deteriorated. And, frankly, I have even had trouble envisioning a new dream plan.
This past year has been a painful experience watching the residential and vocational companies NOT want Aaron–but want his Medicaid Waiver funds.
The opportunity of a new year is to dream again. It's time to use the Power of One.
The Power of One: For Aaron
Aaron recently started a day program with Goodwill/Easter Seals five days a week and they are providing him with a one-on-one staff person three days a week. That is the brightest hope we have had for years. So YEA!
Aaron still has a great roommate and one loving caregiver who has been with them for over 7 years. YEA YEA!
And Tommy (Aaron's brother) and his family are now living near us, so our family can get together more often. YEA YEA YEA!
That is three wins. As this year ends, those are the blessings I see and celebrate.
Dream plan for Aaron:

Aaron will be happy. He will have people around him who love him. He will have choices and do interesting things. Have friends. He will be able to communicate when he wants/doesn't want something. He will be safe.
Pretty basic. Nothing specific. But again, these are audacious goals.
So, maybe everything you and I do this year will not make much of a difference in the cosmic scheme of things. But using the Power of One, I can do something to make a difference in my son's life.
In the example of Goodwill/ES, it was the Power of One times 4. Aaron's Dad, me, our Support Coordinator, and the leadership of Goodwill/ES. We kept at it, and it happened.
The Power of One: For Community
Using the Power of One, I will continue my blog,ClimbingEveryMountain.com.
I will try to entertain, encourage and give information to grow a community that cares about adults with disabilities.
Thank you for being with me on this journey. It has been an amazing first six months for Climbing Every Mountain. Together we can build a better world and community–one person at a time.
Virtual Circles
Old Bronfenbrenner wouldn't recognize his embedded systems, but today we are using the social media tools (blog, Twitter, Facebook) and reinventing his circles of love and support that will ripple out to touch the future. The people in the circles are not our next door neighbors, they might live on the other side of the world.
Is social media and technology the solution?
Chris Brogan (ChrisBrogan.com) is a social media guru who suggests the future is going to include websites, blogs, forums, videos and online communities which help us connect with like-minded folks to get the information and emotional support we need.
His new company, 501 Mission Place, is helping non-profits use social media and become more effective. Perhaps you know of a non-profit that could use some social media help.
But I wonder if it is too late for many traditional organizations.
Virtual communities are already replacing many of the antiquated national organizations which have huge overhead and an inability to help individuals.
Virtual training is replacing the large conferences, meetings and university classes. Webinars and online courses like Partners in Policymaking are the new "best practice."
Do you use the traditional phone and agencies in your community, or do you search for people and information in the virtual world of Cable TV, iPods, www, Twitter, Facebook, YouTube and …?
Summary: In this new year, we can use our individual power, the Power of One, to make a difference for our children with disabilities. We can do it by advocating directly for the people we love, and we can do it by becoming part of a virtual community like Climbing Every Mountain or other online communities.
In 2017–We're Number One!
I hope you will sign up (top left) to get notices of new posts. I hope you will add your voice and stories to the comments. I hope you will use the social media of Twitter and Facebook to invite others to join us. The way we are going to build a better world for vulnerable people is to join together. And I hope you have an amazing 2017.
Keep Climbing: Onward and Upward
All my best for a fantastic year of ones,
Mary
Use Your Power: Comments Please
How can you use the Power of One? Do you think social media can help? Do you recommend other blogs and/or virtual communities?
I'd love to read your comments and know what you are planning this year.
Celebrating St. Nick and Two Special Sons
Family Traditions:
Because of our German heritage, St. Nicholas' Feast day on Dec. 6th was the start of the Christmas season. The tradition of putting out our socks (or shoes) was always great fun.
Aaron, our son with the label of autism, and Tommy, our son with the label of normal are now 36 and 35 years old. Last post I wrote about how our holiday celebrations are evolving: St. Nick meets Disney Princesses.
Old Traditions
The first year we were married, my mother-in-law Jean, hand-made Christmas stockings for our mantle. Of course, we were living in a small apartment with no fireplace or mantle, but it began a family tradition. You know this was a long time ago because while Tom's sock was a typical crew man-sock, mine was shaped like silk hose plus garter. (Do they even make those anymore?)
To personalize the stockings, Jean lovingly sewed small schoolhouses on both of our stockings because we were teachers, adding a felt wedding ring on mine and a felt set of golf clubs on Tom's. When I was pregnant, she made an "Our Grandbaby" sock for Aaron who was going to be born in December. Later I store-bought some Christmas stockings for both my sons but glued and sewed some Christmasy trim on the socks.
Now a generation later, I captured our family's own Norman Rockwell moment—Isabella pointing to the "Our Grandbaby" stocking on our mantle.
Making New Family Traditions
Lots of families put up Christmas stockings, some find stockings that are personalized with each person's name, or hobbies, or interests like socks for dog lovers, Barbie dolls, sports fans, or ….
But, our family made the old tradition our own by adding a token of some special moment each year on St. Nick's Feastday.
Adding a Memory a Year
Throughout each year, Tom and I look for small tokens and give them to each other on St. Nick's Day.
Vacations and trips were easy. There were always ready-made patches, pins, buttons we could pick up at souvenir shops. Scouts, school events, sporting ribbons and awards also were small and could be easily attached to the socks. We even added some mementos inside the socks, like Tommy's business cards for each new job and Aaron's first pay check. Now the front, back and inside of the socks carry magic moments to remember.
Our socks have become treasured scrapbooks of our lives.
What do you think? Does this tradition meet the test of inclusion+ normalization? Are Aaron and Tommy's socks alike? Age-appropriate? Do these socks also celebrate their individual gifts and interests?
You can see Aaron's Trolley Bus pin from our trips to the Smokies, the pin from Carlsbad Bat Cave, his school bus and Lakota Pin, his prom key chain, his Boy Scout patch from Woodland Trails, a horse pin from Cincinnati Riding for the Handicapped, National Park patches where he hiked with our family…
Tommy has Boy Scout pins, school patches from the cross-country team, buttons of him looking fierce in his junior high wrestling uniform. Tommy also hiked the same easy trails in the National Parks but those patches were not the same accomplishment they were for Aaron. Tommy was proud of his week in Philmont and the more difficult mountain hikes on the Appalachian Trail with his dad…
So both Aaron and Tommy had hiking patches. The difference was the intensity, duration and difficulty of the trails.
Both were proud accomplishments.
Transition
Tommy's wife, Ana, bought Christmas stockings for their first Christmas together. Each year I give them some token to add to their sock. This year, Ana became a United States Citizen. After the ceremony the Daughters of the American Revolution passed out little flag pins. I asked for an extra one, planning to add it to her sock.
Aaron just moved into his new house, I have stockings ready for his first house decorating party, he will get a house key on his sock.
And so the tradition continues:
"The stockings were hung by the chimney with care, in hope that St. Nicholas soon would be there." (Night before Christmas)
Wishing you many happy memories this holiday season.
Keep Climbing: Onward and Upward
Best,
Mary
Comments
I hope you'll share some of your family's holiday celebrations. Is this an idea your family can adapt? Does your family celebrate St. Nick's or have some unique tradition?
Other stories you might enjoy:
Tale of Two Brothers: Sibs of People with Disabilities
Hi Everyone. Getting ready for a vacation? Thought you might like to read about the family trip that changed our lives.
Oh Beautiful for spacious skies…
From the moment I was pregnant, my husband Tom dreamed of the day he could retrace his childhood trip out west. He glowed in the memories of mom, dad and kids studying the maps on the kitchen table, packing the lunch meat sandwiches in the cooler, and repeating the rest-stop conspiracy of Dad throwing the baseball high over his boys' heads so they would chase the ball and use up some of that stored energy. The year our son Aaron was ten and his brother Tommy turned nine, faithful to Ulrich family tradition, we headed west. The main difference between my husband's family, and ours, was that Aaron has autism.
Preparing for the trip
Aaron didn't start walking until he was five, and even at ten was not completely independent in the bathroom. So how were we going to follow his needed routines for toileting, understand Aaron's wants without the use of words or signs, watch his balance issues, and especially, cope with unpredictable behaviors? How were we going to manage twenty-one days of camping, sleeping, eating, and interacting with strangers in strange places? How were we going to survive–much less enjoy–visiting eleven National Parks and Monuments, twelve states, Mexico, and traveling five thousand miles?
Certainly, we were not the first family to attempt a western vacation with a child with complex needs, but we also knew we were not going to be "typical" tourists. Tom and I briefly considered leaving Aaron with a friend or in summer camp, but we decided this dream vacation included our "whole family." We would make it work.
Adaptations and Accommodations
Using our teaching and parenting skills, we designed adaptations and accommodations for the trip. In previous years we camped in state parks and all shared a big tent. Aaron had a terrible time sleeping on the ground in such close quarters and often our sleeping bags got soaked in rain storms, so for this adventure we decided to buy a pop-up camper. Our pediatrician recommended some medication to help Aaron relax and sleep at night. We planned to follow Aaron's schedule for meals, breaks, and sleep. We would only visit restaurants at non-peak hours, choose corner tables, avoid long waits, and skip most museums. We installed a child-proof lock on the car door and had a suitcase of games, music and snacks. Tommy and Aaron's jobs on the trip were to crank up the camper each night and help carry the water buckets–jobs that were successful in our previous trips.
Oh Beautiful for pilgrim feet…
Like the pioneers of old, and Tom's family a generation earlier, at dawn our family set out from Cincinnati with Tommy's version of a "Colorado or Bust" sign taped to the windshield, driving not oxen-pulling-a-Prairie-Schooner, but a brown-station-wagon-pulling-a-pop-up-camper. We were confident we could handle any of the challenges we knew would come. We would enjoy our family-time and see the beauty of America. And fortunately, instead of mud and rock trails, we had interstate roads and could travel sixty MPH.
We Americans like to brag about being the melting pot and/or salad bowl of the world, a nation that values brotherhood and diversity.
Even with our best preparation, instead of a three-week vacation, this became a three-week teaching excursion. It seems the human America was not quite ready for us.
At home we were surrounded by people who know us; they saw the beauty in Aaron and our family. With the strangers we met on our journey, we had both negative and positive interactions.
Transformational Experiences, day after day

As if we had a disease, one family packed up their tent and moved it to a site on the other side of the campground, and a pregnant woman crossed the street so she wouldn't have to pass us.
One evening Aaron was enjoying the loud echoes that he could make in the campground bathhouse, and a young boy ran out screaming, "The Hulk, the Hulk's in there!"
An elderly man said, "We have one of 'those' in our family but he doesn't travel, he lives in a home."
"Mom, what's wrong with that boy? Does he act that way on purpose?" The mother whispered, "SHHH, he's retarded," and like we were dangerous, yanked the child's arm and dragged him away.
"Have you tried the Feingold or gluten-free diet?" or, "I know an allergist in Illinois who can get kids like that to talk." It seems many people think they have the right to offer advice. I am sure they think they are helping, but do they really think we were so desperate we needed a consultation standing in line at the grocery? We struggle with the question: Can Aaron ever be accepted just the way he is, or does he only have value if he is "fixed" or "cured"?
In Arizona, we were asked to leave a family-style restaurant because, as the manager said, "We don't serve people like him." Tom and I were shocked because Aaron was happily eating his pancakes. If he had been noisy, we would have understood, but he was acting as normal as anyone. Sobbing, I hurried Aaron to the car wondering what we were going to do a thousand miles from home. I realized this was the lowest point of the trip and saw a glimpse of the discrimination that has followed individuals of other ethnic and racial groups. The stigma of being asked to leave a restaurant because some anonymous person didn't like the way my son "looked," and the management's open prejudice presented an uncomfortable dark side of America I will never forget.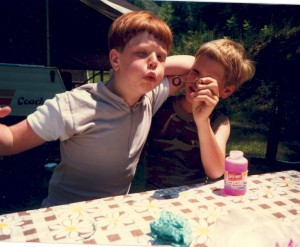 Oh Beautiful for heroes proved…
Our trip would have been devastating if only bad things happened, but we actually had some very positive experiences.
People would ask with smiles, "Where are you from?", "Where did he get that red hair?" or "How old is he?" Just ordinary questions, but kind gestures and communication starters.
A parent of a child with Down syndrome commented, "I hope the programs in Ohio are better than in Missouri."
One young girl smiled at us, "We have special kids in our school. My best friend's name is Brian, he reminds me of him."
Several children sought out seats next to Aaron and Tommy on a park swing, maybe just for a closer look, but they made eye contact and tried to make Aaron smile. Several gently pushed Aaron on the playground swings, merry-go-round, and gave him a turn kicking the soccer ball.
Aaron pinched me when we were rocking violently on a small plane sight-seeing ride over the Grand Canyon, the pilot said: "Don't worry, I've had grown men reach over and hold my arm."
At one roadside park all the visitors collectively held their breath as Aaron climbed the steps up a steep slide. Tommy guided him to the top where after much arm-flapping and nervous hand-biting, Aaron finally let go. As the wind struck his face and he barreled down the slide, Aaron's expression was one of absolute joy. Everyone in the park clapped and cheered. This was not just a glorious moment for Aaron; this was a glorious moment for every person in the park.
In a swimming pool in Arizona, a life guard got in the water during her break and showed Aaron how to swim on his back.
On a train ride in Silverton, CO a little girl moved into the seat next to Aaron and taught him an adapted version of the game Connect Four.
A waiter in Mexico brought Aaron an extra pack of crackers while we waited for our meal and tried to entertain him by singing Old McDonald in broken English. He even helped cut up Aaron's food. His empathy and understanding crossed national and language barriers.
Universal Design and Inclusion
In the National Parks we found many examples of universal design: accessible water fountains, paved paths, and self-guided tours enabled us to partially participate in the park activities. Several of the campground managers gave us campsites close to the restrooms. At Carlsbad Caverns, New Mexico there were benches and a bypass for the steep climbs. A small work crew with disabilities in Grand Canyon National Park did yard work, and a waitress at Canyon De Chelly used sign language to take an order from a customer. These inclusive accommodations not only made it easier on us, they actually made us feel welcome.
Survival means Adapting to the Environment
We were ambitious. We flew above the Grand Canyon and went down in the caves of New Mexico. We had a lovely lunch at the Broadmore Hotel with water goblets and doilies, but were asked to leave a family style restaurant. We drove to the top of Pike's Peak and the whole family climbed the ladders of Mesa Verde's Cliff Palace. We saw Native Americans adapt and survive their desert environment by seeing the value of every living plant and creature. We tasted jelly and saw sewing needles made from a cactus. We heard wolves howling, and we howled back singing every song we knew around the campfire. We took pictures and made memories that will last a lifetime. And perhaps like the Native Americans who live in the desert, we were learning how to adapt to our environment.
Lessons from the Road
We were physically and emotionally exhausted. Many amazing things happened that brought our family closer together. At the same time, though, I feel Tom, Tommy, Aaron and I crossed the line.
We could no longer think of ourselves as a family with one member who happened to have a disability; we were truly a "disabled family."
I am not trying to be shocking or dramatic. We just had to concede that most of the general public did not seem to have the motivation, information or skills to assimilate us into their version of a "typical family."
We also learned we had no anonymity; we stood out even in the largest group. Five hundred people came to see the bats fly out of Carlsbad Caverns, but because of Aaron's shout when the bats emerged; four hundred ninety-nine people were looking at us.
We learned that celebrating the diversity of the landscape of America includes seeing the beauty of the diversity of its people.
Planting Appleseeds
Our experiences reinforced our commitment to the inclusion of people with disabilities to live, work, recreate, and go to school with their neighbors, brothers and sisters. We cherished the positive experiences; the children we met gave us so much hope for the next generation of Americans, and travelers. Like Johnny Appleseed on his trips out west, we tried to drop positive seeds that other pioneer families will nurture and see bear fruit. Perhaps a future Kodak moment for our country will include not only the beautiful American landscapes, but people like Aaron and our family.
Better than "The Buck Stops Here"
One last story: In Missouri, inside the Truman Memorial Museum with its high ceilings and big rooms, Aaron started, "vocalizing." Oh, how it echoed. The guard came up to us and said either Aaron would have to be quiet or leave. Tom started to go, when another tourist came running from across the room. He looked the guard right in the eye and said, "How dare you speak to them like that. That young man is a citizen of this country and has a right to be here. Harry Truman was a strong supporter of the ordinary person. He, of all people would want them to be here."
As we pulled the car into our driveway, Tom and I were wondering if it was worth it. Would we ever take another road-trip? But like always, our children showed us the way. As he was running into the house to be the first person in the bathroom, Tommy called over his shoulder, "Next year I want to go to Florida!"
And crown thy good with brotherhood, from sea to shining sea!
Add your voice:
Be sure to leave a comment and let me know about your travel adventures. Is it harder when you are away from home and your typical routine?
Keep Climbing: Onward and Upward
All the best,
Mary
–
Copyright Ulrich 2000-2013
Original Work do not copy without Permission
In Bob Perske's memory, I'm posting some of my favorite posts about him.
On January 7, 2011, Colorado Governor Bill Ritter, Jr. issued a "posthumous pardon" to Arridy, one of the five wrongly executed people with intellectual disabilities.
BOB PERSKE:
Pastor to People with Disabilities and their Families
Bob Perske is one of the most gentle and positive people I know. He lives God's message to care for the "least of my brethern."
It might surprise people to know Bob hangs out with criminals on death row.
In a previous post I shared his "history of people with disabilities and hope for families."
Because Bob understands the history of people with disabilties, he knows FEAR was one of the main reasons for removing people from their families and locking them up in institutions, away from society. Fear is still one of the main reason people are excluded from quality lives in the community.
The world in which we live is not always safe, secure, and predictable. It does not always say "please" or "excuse me." Everyday there is a possibility of being thrown up against a situation where we may have to risk everything, even our lives. This is the real world. We must work to develop every human resource within us in order to prepare for these days (Robert Perske: "The Dignity of Risk." 1972).
Bob is still hopeful for families, but he wanted to share his recent testimony about people with intellectual disabilities who have been convicted of serious crimes they didn't commit. Crimes they confessed to because they wanted to make the police officers happy or get them to stop the interrogations. Crimes they didn't even understand.
Everyone wants people who kill, steal and rape people behind bars. Everyone wants dangerous people off the streets. Everyone wants JUSTICE for the victims. And, Everyone wants the right person convicted.
But Bob Perske and others ask:
"What if the person who confesses to the crime is a person with an intellectual disability?"
Certainly, just because a person has the label of intellectual disability doesn't make them innocent–but it also shouldn't make them vulnerable to giving false testimony in our criminal justice system.
Bob writes:
Although I did a lot of writing about kids and families earlier, deep in my heart I think they also need to be aware of futures where they can be misunderstood by interrogators and they need to be alert and ready for these grim possibilities.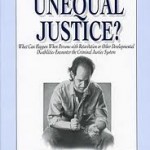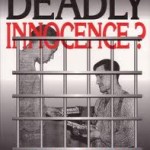 What can we do?
ELECTRONIC RECORDING OF CUSTODIAL INTERROGATIONS
Robert Perske, Citizen Advocate
Persons With Intellectual Disabilities
Rperske@aol.com; www.robertperske.com
www.friendsofrichardlapointe.com
www.friendsofjoearridy.com
CT: REGARDING SB NO. 954 AN ACT CONCERNING THE ELECTRONIC RECORDING OF CUSTODIAL INTERROGATIONS (March 9, 2011)

Dear Committee Members:

For the past 34 years, I have served as a worker and author on cases involving persons with intellectual disabilities who were coerced into confessing to major felonies they did not commit.

I am a member of The ARC of Connecticut and The ARC of the United States.

I am the author of "Perske's List: False Confessions from 75 Persons with Intellectual Disabilities."

It will be published in September's Intellectual and Developmental Disabilities, a journal of the American Association on Intellectual Disabilities. (AIIDD).

The article is 24 pages long. It shows that:

• 65 have been legally exonerated.
• 29 have been exonerated by DNA tests.
• 5 are now headed for court hearings thanks to "Innocent Project" groups.
• 5 have been so wrongly executed they will always be painful to justice-loving lawyers when they think about them.
• 1 of the five wrongly executed was Joe Arridy. On January 7, 2011, Colorado Governor Bill Ritter, Jr. issued a "posthumous pardon" to Arridy.
• I predict that Richard Lapointe of Connecticut will someday be added to this list.

The time has come when judges and juries should be helped by advanced video technology to see everything that went on in an interrogation room. Until they can do that, our justice system will be tainted.

Respectfully Submitted

Robert Perske
RESOURCES:
Check out Bob's articles, books, websites or give him a call.
Closing Thoughts:
As parents we worry about our children being victims. Few of us imagine our children as the aggressor.
What can be done to give them better protection, a more fair and equal justice? Because sometimes even the people who have confessed to being the aggressors–are Victims.
Electronic equipment seems like an easy answer to me. I would think it would help protect the rights of everyone, including the police officers.
Keep Climbing: Onward and Upward
All my best,
Mary
Discussion: These are life and death issues. Would video technology and electronic recordings of custodial hearings bring better justice to everyone? Is this worth the cost? What do you think of Bob's role as a pastor and "citizen advocate"? How can we make our children less vulnerable?