Posts Tagged 'Mary E. Ulrich'
Special Education Inclusion
Dr. Annie Abram interviewed me about Special Education Inclusion on her weekly blog talk radio program: "Ask Dr. Annie Abram."
Dr. Abram talks about "Parenting Across Generations" and has been doing several topics on autism.
Check it out. Tell me what you think in the comments section. It really has been a journey for Aaron–a person with a disability, for me–the parent of an adult with a disability, and for our family. And, the choices and decisions we made when Aaron was young definitely influence our choices and decisions now that he is an adult. In my heart I know we took the road less travelled and it demonstrated to the world that inclusion is a civil right–and Aaron is a full citizen.
Inclusive Education
Expecting Academic Achievement in General Education Curriculum
April 25, 2013
2-3:30 p.m. ET
This interactive training session provides teachers with a structured time to think and plan to enhance their students' participation in the general education curriculum. Many teams have become outstanding supporters of inclusive education. However, what are the students' goals in that setting? How much involvement do they have with the general education curriculum? What are the goals for the student's academic achievement? Have we fully considered all the ways the student can attain access to and demonstrate an understanding of the general education curriculum?
Presented by Stacey Skoning, University of Wisconsin Oshkosh, and Denise Clark, University of Wisconsin Oshkosh.
TASH Members $50 (Individual) $80 (Group)
Non Members $70 (Individual) $100 (Group)
This is an inexpensive way to get the latest information for an inservice or parent group.
Check out TASH for more information:
• Thriving in Transitions: Self-Directed Living, It's Never Too Late! (Community Living)
Thursday, May 9 @ 1 p.m. ET
• Building and Sustaining our Communities through Time Bank Exchange (Community Living)
Thursday, May 16 @ 2 p.m. ET
• An Overview of Person Centered Planning: The State of the Art (Community Living)
Thursday, May 30 @ 2 p.m. ET
———————————————————–
Free Ideas for Inclusive Classrooms
If you want inclusive ideas for your child or your classroom, Paula Kluth is the best. Sign up for her blog. Paula Kluth
As always, your thoughts matter.
Keep Climbing: Onward and Upward
All my best,
Mary
Other Blog Radio Interviews:
When Schools Say NO to Inclusion
April is Autism Awareness Month. For those who are new to our community, I thought I would reprint this post because it talks about important issues. I hope you will feel free to share your thoughts in the comments.
Can I love Aaron and hate autism?
If I say, "I love my child, but hate cancer or heart disease…" many people would say that is okay.
If I say, "I love my son, Aaron. I hate autism." some people say that is NOT okay.
So, call me a villain, ignorant, hypocrite, politically incorrect, or whatever–but I refuse to celebrate autism–I refuse to give autism that power.
I gladly celebrate the diversity of individuals. This diversity makes our world stronger and a more interesting place to live.

I love individuals who have autism, just the way they are.

But–I will not celebrate autism like it is a good thing.
World Autism Awareness Day April 2, 2013
This is the 6th year the United Nations designated April 2 as World Autism Awareness Day. April 2nd next year is already designated too.
Are you going to wear blue? Will blue lights in the Empire State Building, or on the Jesus statue in Rio, or the top of a pyramid in Egypt really mean anything?
Is this like a birthday party? Something we celebrate every year? Send up the blue balloons? Paint your face blue?
I found some of the World Awareness Day press curious: "In fact a world without Autism would be a lesser world." New Zealand: United Nations declare day to celebrate autism
I think wearing black would send a better message. Autism Awareness should send a plea for action NOW. We need help and resources NOW.
So, the United Nations has established April 2 as World Autism Awareness Day. Great! Let's talk about autism.
What causes Autism?
Well, no one knows for sure. The "experts" have narrowed the cause down to: environmental, biological, sensory, abuse and neglect, genetic, chemical, neurological, food…and the ever popular–it's the parent's fault.
So the short answer is, who knows?
Yesterday someone told me our children have autism because they don't get enough eggs. Just add that to the list. They might be right.
I recently read a study (2013) that blames the grandparents. They conceived the parents late in life.
Don't you love scientists–probably funded with the autism awareness fundraising, eh?
Dr. Anne Donnellan spent her career working with families and people with autism. She often says, "The more theories, the more proof that we don't know." She also gives her version of circular logic in Disability World.
Circular Logic
Parent: My child keeps flapping their hands.

Doctor: Ah, that is because your child has autism.

Parent: How do you know?

Doctor: Because your child flaps their hands.
Is Autism the Greatest Gift?
Some advocates want you to think autism is the greatest thing ever. They talk about the special abilities of people on the autism spectrum and say it is only because of autism they have these talents.
Hummmm. Is that so?
Sure Temple Grandin, with a glance, can tell how many nails are needed to build a livestock yard–but is that only possible because of her autism?
Rainman could count the number of toothpicks on the floor. Is it possible there is someone else in the history of the world that could also do that?
Are we again caught in circular logic?
Parent: My child can count the number of nails or toothpicks.

Doctor: Ah, that is because your child has autism.

Parent: How do you know?

Doctor: Because your child can count the number of nails or toothpicks.
There are some people with the label of autism who can tell you the day of the week for every calendar year in recorded time.
I can't. Probably you can't. But, is it possible there is at least one other human being without the label of autism who can?
The Guiness Record books are full of typical folks who can do all sorts of incredible tasks.
Hurry, quick. Do we now need to give those persons the label of autism?
There are some who are going back to past genius' and claiming they must have been autistic…Mozart must have had autism. Disney perserverated on those mouse pictures–he must have had autism….
Couldn't Temple Grandin and Donna Williams just talented people? Isn't it demeaning to say, "No, the individual Temple Grandin has nothing to do with it, it is only because she has autism."
Is it possible the statistical increases in the number of people with autism is partly due to our current scientific paradigm of labeling and sorting people? And some people promoting "autistic envy"? The new figures are 1-50. One child in every fifty–and all we are doing is having Autism Awareness Day at the Philadelphia Zoo?
What is normal?
Well, turns out we don't really know that either. Plus, we could say "normal" changes every year in every culture.
Sure we have tests, but anyone who studies IQ or other quantitative or quantitative measures will point out the flaws.
Multiple Intelligences| Howard Gardner
Howard Gardner, studied people with autism who were labeled as autistic savants (actually "idiot savants" was the term used at the time). He was able to identify at least eight different kinds of "gifts or intelligences." Now, in every school in the world (that uses best practice) his theory of multiple intelligences helps all children learn. Gardner says each of us has all these eight intelligences, some are just more developed than others.
This is one of the side benefits of autism. Without the diagnosis of autism, the scientific community might have had a harder time making this discovery. Science needs large groups.
Could it be we all have gifts and traits of genius, gifts and traits that could be labeled as autistic? Are we all a little autistic? Are none of us "autistic" in the pure definition of wanting to be apart.
Stinkin' Thinkin'
So, what's the deal about autism? Can't we just celebrate individual diversity?
If we really believe autism is a tremendous gift, then it would be logical for each parent to wish their child would have autism. Right?
I once went to a conference for people with Down syndrome. Everyone kept talking about how people with Down syndrome were the happiest people in the world–how glad they were to have their child in their family. They used examples like, "They will always believe in Santa." "They are pleased when I fix them chocolate milk."…
Using circular logic:
Parent: I want my child to be happy.

Doctor: Children with Down syndrome are happy.

Parent: Then I want my child to have Down syndrome.

So, if we want our children to be happy maybe we should try to figure out how to add an extra chromosome to every baby's DNA.
If autism makes us gifted, maybe we should be researching how to make 100% of the population have autism–add autism magic to our babies' lives.
This kind of thinking is just nuts, yet it is common in each area of disability. Stick around Disability World and you will hear people yearn to have the courage of people with cystic fibrosis and muscular dystrophy, be sexy like people with cerebral palsy….
Okay, I understand some advocates are probably hyperventilating at this point. How dare I talk this way about people with autism and Down syndrome?

The person who gets joy in Santa, or in having chocolate milk is an individual. Each individual person–even if they have a label– is different.
We can love the individual–not the disability.
As family members, friends and as self-advocates, we can value the individual person's talents, gifts, joys and sorrows. We can see them in the context of their environments–but, we don't have to give all the power and credit to the label of disability. The individual should get the power and credit. They are the ones who are who they are.
I can love my Aaron–I don't have to love autism.
I can see Aaron's gifts and talents–I don't have to think they are only because he has the label of autism.
Aaron is a loving person who makes kissing noises as I turn out the light. He smiles when I pull on the toes of his socks. He gives me hugs when I walk past him. He is patient as I try to figure out what he wants. He concentrates on his books and loves pictures. He gets excited when I come in a room. I love when he relaxes in his bath. I love when he initiates a song or going to the bathroom. I love when he figures out how to eat the cheese off my sandwich….
Aaron is unique. He adds his own version of diversity to the human family. He is a great son, brother, uncle, friend… just the way he is.
Autism sucks. Aaron doesn't.
Autism affects each person differently.
In Aaron's case, Autism means he can't talk with words. It means he is 38 years old and can't always tell when he needs to go to the bathroom. It means he has trouble making friends. It means he yells in public restaurants. It means he chews on his clothes and books and the car seats. It means he has motor difficulties and has trouble walking–crossing from the rug to a tile floor. It means he is always afraid of falling and losing his balance. It means he bites his hand to calm himself. It means it takes him a long time to learn things. It means he will forget them if he doesn't practice them every day. It means he likes music, but not loud noises. It means he likes to be moving (in cars, buses, boats, planes…) It means he likes to swim, but not bend over. It means he can't tie his shoes or dress himself independently…it means he cannot be left unsupervised even for a minute.
That all sucks.
I wish it was easier for him. I wish it were easier for me to help him.
But all those difficulties don't mean I don't love Aaron with every fiber of my being.
Each day for the last 38 years, I work to get Aaron the support he needs to live, work and recreate in his community. To allow him to be the best person he can be–For him to be able to make choices and have opportunities he wants.
There is a difference.
Dream Plans for Aaron Ulrich
I am adding our dream plan for Aaron. You can click on each of them and see I am NOT trying to cure Aaron. I am NOT trying to make him a different person. I love and respect him as the person he is.
I am NOT trying to make him the person I want him to be.
The first one we wrote in 1981 when he was 6 years old. Dream 2: 1989 The next Dream 3: 1998. And, Dream 4: 2010.
Every day Aaron teaches me about courage, love, and tolerance. But he knows he can count on me, my husband, and his brother. He knows Annie, his caregiver will do her best to look out for him. He wants a new housemate, like his former housemate Jack who will be there for him. He knows his grandma and extended family including Ana and his niece love him just the way he is.
And until our dying breaths, we will do our best to make his life happy.
No, I'm not going to inject Aaron with an extra chromosome to make sure he is happy. No, I'm not going to give this thing we call "autism" supernatural powers to dominate his life.
But I will give him opportunities to make choices about his life as best he can–in spite of "autism."
Yes, I can Love Aaron and Hate Autism.
Autism Awareness Day Marching On
Celebrate each wonderful individual person you meet in this video.
Keep Climbing: Onward and Upward.
All my best,
Mary
Comments:
Are you sitting there thinking, "how can this mother be an advocate for people with autism?" Do these words make you upset? Do you agree? Do you think "Disability World" thinks different than "The World"? Can we separate the individual from the label?
Related Article:
Here is another article about Autism Awareness Day asking people to do more than just wear blue.
Roommate Needed in Mason, Ohio
Aaron is a great guy who likes other people. He is looking for a roommate.
Aaron is 38 years old. He attended Lakota Schools and is currently in the Goodwill/Easter Seals Day Program in Lebanon.
Aaron likes to go for walks, ride the exercise bike, swim at the community center, go out to eat, listen to music, look at books, baseball cards and get involved in other inclusive activities in the community. He likes to be around other people.
He loves to go on vacations with his family and ride the trolley bus in Gatlinburg. He likes his Sunday visits with his family and playing with his niece. His family only lives a couple miles away.
Aaron doesn't talk with many words, but he finds ways of telling everyone what he wants. He repeats phrases and is noisy which could bother some people.
The ranch house is in Mason, near a local park. It is wheelchair accessible. The home is owned and maintained by the Housing Resource Group of Resident Home, so this will be a permanent residence. Aaron has lived in a house managed by this non-profit for over 11 years and we feel they do a great job. We hope he can live here for the rest of his life.
Aaron has a level 5 Medicaid Waiver which will help pay for the 24/7 staff. He needs a roommate who is also on a waiver or private pay. We are working with our Warren County Board of Developmental Disabilities.
Anyone who has lived with other people knows the importance of finding a good roommate match. Aaron would like a new friend as well as someone who could be part of his extended family.
We would love for Aaron's new roommate to be from the Mason community. We would love if another family would want to share all of our lives, so we could be a support to each other.
Aaron currently has staff who are loving and have known him for many years. They are part of our extended family and have hearts big enough to include another person.
If you know of someone who might be interested, please call me at 513-336-8271.
Comments:
It is difficult to describe Aaron. He is loving and wonderful, but a prospective roommate also needs to know Aaron is noisy and that might be an issue for some people with sensitivity to sounds. So, how can I give Aaron respect and dignity and yet be honest.
Aaron had the same roommate for 13 years. He and Jack are good friends and care about each other. Leaving Jack was one of the hardest parts about moving to a new county. Jack was a gentle man who was older than Aaron. They had their own hobbies and interests, but would go into the community together for shopping, large and small group activities and taking walks with their caregivers. Jack and Aaron had their own way of communicating and respected each other. We can only hope we will find someone like Jack, and as you know, everyone is unique. We ask your prayers.
Any suggestions greatly appreciated.
Keep Climbing: Onward and Upward
All my best,
Mary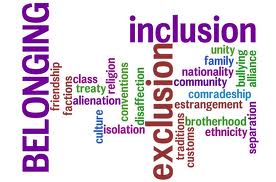 When Schools say "NO" to Inclusion
The Inclusive Class Podcast presented a panel with Tom Mihail, Paula Kluth, Torrie Dunlap, Lisa Jo Rudy, Frances Stetson, Kathleen McClaskey and myself.

The Title was: "When Schools say 'NO' to Inclusion"

Topics include Universal Design, Technology, Differentiation, Inclusive after-school and community recreation, and in the last few minutes I talked about Inclusion as a Civil Right and strategies for getting inclusion with your IEP.

Below is the supplemental material for my topic. If you have any questions please contact me.

Here is a recording of the broadcast:
So, you are sold, you have heard all the information about inclusion, you know in your soul this is what would be great for your child. You talk to the teacher, the principal, anyone who will listen and they tell you it won't work for your child, it's a passing fad, it is too expensive, it will hurt the other kids in the school...blagh, blagh, blagh.

What do you do?

Here are the 5 Points I outlined in my part of the panel:
1. Learn the History of People with Disabilities.
Legal Segregation
Society and Schools have been saying "No" to Inclusion for hundreds of years for many people, not just for people with disabilities.

1800-1900s. Institutions and Forced Segregation were common for those with the labels of mentally defective, feeble-minded, idiots, uneducable and untrainable. Individuals and Parents had no say. People who were different were removed for the health and safety of the community.

Today we still have prejudice against minorities, young women who are unmarried and pregnant, gang members, young people who are gay or lesbian, immigrants, poor, people who don't speak English, Native Americans, homeless, children of migrant workers...

Our society is more diverse every day, we need inclusion for everyone.
Parallels in Time: A history of people with disabilities
Check out the section in Parallels 2 A PLACE TO LEARN.

(Page 59-60 has the definition of Inclusion)

(p. 61 has reference to Paula Kluth and a picture of my son Aaron)
Inclusion is a Civil Right
14th Amendment:

"The 14th Amendment to the Constitution was ratified on July 9, 1868, and granted citizenship to "all persons born or naturalized in the United States," which included former slaves recently freed. In addition, it forbids states from denying any person "life, liberty or property, without due process of law" or to "deny to any person within its jurisdiction the equal protection of the laws." By directly mentioning the role of the states, the 14th Amendment greatly expanded the protection of civil rights to all Americans and is cited in more litigation than any other amendment."
Questions the Courts had to decide:
Citizenship: Is someone who has an intellectual or other disability, a person? (consider the slaves, Native Americans, women, immigrants, prisoners…)

Due Process: If you have a disability, do you have the right to due process? (consider people with physical, intellectual disabilities, people who are deaf, blind… can't read/write/talk, people who can't pass IQ tests…)

Equal Protection: If you have a disability, are you entitled to the same rights and benefits other people have? (go to school, live in community, get jobs…)
Consider the implications:
Plessy v. Ferguson (1896) Separate is equal. 50 years of Jim Crow Laws.

Brown v. Board of Education (1954) "Separate is inherently unequal."
PARC Class Action Case: A Game-changer
(Interviews with Tom Gilhool and Gunner Dybwad are also in Parallels in Time 2)

Video and transcript Tom Gilhool at Temple University:

Testimony of Tom Gilhool before the Joint Subcommittee Hearings on "the Events, Forces and Issues that Triggered Enactment of the Education of All Handicapped Children Act (EHA) of 1975" in TASH newsletter, 1996 p. 11-15.
Excerpt about PARC decree and 94-142: Teacher Training and Best Practice
The Requirement that Schools Know and "Adopt" "Effective" "Promising" Practices. Requires the delivery of an "effective" education. One, the Act (EHA) requires states and districts to see to it that all teachers, both "regular" and "special" are fully informed of and continuously trained in "promising practices" in the education of children. "Second, the Act requires every district as well as the states to "adopt promising practices' Third, the Act's requirement of "a free appropriate public education has been help by the Unites States Supreme Court to mean an education "reasonably calculated to enable the child to achieve education benefits"
Hudson v. Rowley, 458 U.S. 178, 203-04V (1982).

NOTE: Remember to NOT just look at the current regulations, go back into the Congressional Hearings before each law was enacted, the legislative history, court cases…
Other Court Cases:
"Inclusion is a right, not a special privilege for a select few" (Federal Court, Oberti v Board of Education).

You will want to quote the most relevent and recent cases.
2. Become an Expert on IDEA
The best resources I know are Partners in Policymaking's series of lessons on IDEA.

Free, online, study at your own pace.

National Dissemination Center for Children with Disabilities (ages 3-22).
3. Build Alliances
Focusing on the dignity and goodwill of the people you're working with. Build trust. Create a common vision.

Partners in Policymaking has programs in almost every state. The courses are designed for parents of young children and self-advocates. New groups start every year and are usually funded by your state DD Council. On the Partners website, find your state liaison.

NICHCY has a list of organizations and Parent Training Centers in each state. Find people both on the National, State and Local level who think like you do and can help.

National Dissemination Center for Children with Disabilities (ages 3-22).

National Organizations for Professionals often help parents and teachers. TASH helped me. I know the ARC, United Cerebral Palsy and National Down Syndrome Association have done advocacy work. I'm sure there are others.

Check out your local university. Sometimes you can find a professor or student who can help.

In our particular situation, because no group existed-we started a parent group in our local school district.

Set group goals: start an extended school program in the summer; make the buildings more accessible with universal design; start an after school Job Club and Key Club at the high school. By focusing on specific goals we were able to get local grants, publicity and see tangible results for our children.

NOTE: In hindsight, I would have made this an ad hoc committee of the School PTO or General Education Parent Organization. I would ask parents and teachers of general education students to be on this committe so it is inclusive. 20 years later, duh, it is so obvious.

Univ. of New Hampshire has great programs and resource materials.

Clay Aiken's Inclusion Project. This looks good, but I haven't tried it.
4. IEP: Educational Evaluations
The first part of the IEP process is getting evaluations of current level of functioning and setting specific individual goals.

Be creative. Don't let the school psychologist run the show.

Have your IEP team decide what kind of evaluations they need in order to have your child make educational progress in all the school environments.

There are the formal evaluations that are the traditional testing tools of the experts. And, there are the individual informal tools also designed by experts, but cannot be standardized and put into multiple choice answers.
Informal Evaluations
1. Person Centered Planning, Circle of Friends can supplement the formal evaluations and look at social relationships, before-during-after school-weekend-summer activities, this can also be used for team building, communication, transition and long term planning.
http://inclusion.com/ Where inclusion began, great tools.

2. Educational Evaluations

Educational Evaluations are usually conducted by a teacher or other educator with the appropriate teaching license.

Educational Evaluations look at an individual person in their life spaces. Aaron's evaluation started in his home, followed him on the school bus, in the classroom, in the lunch room, bathrooms, gym, after school activity and back home. The evaluation compared Aaron's current level of functioning in each environment and then made suggestions for IEP goals.

For instance, the educational evaluation shows the "individual benefit" for Aaron. Not the whole class or school, just Aaron.

The Educational Evaluation determined Aaron, with accommodations and related services, could be in an inclusive class. What supports would he need? What supports would the teacher need? How would the curriculum be differentiated? What technology? Universal design strategies could be used?

See the difference between this sort of evaluation and a traditional IQ or standardized test?
Who Pays?
The tricky part is that if the parent pays for the evaluation, and chooses their own "expert," then the school district only has to "consider" the recommendations.

If however, (at least this is how it used to be), if the parents or teacher ask for an evaluation, and the school district agrees to pay for the evaluation, then they have to use that evaluation to develop the IEP, or if they disagree, they have to get another evaluation saying the first evaluation was not appropriate, and why.

If you go to court, the educational evaluation can make all the difference. If you are writing IEP goals, the educational evaluation gives you a practical starting point for goals and objectives. (The conversation is NOT about "Should we do this?" but rather, "How do we do this?")

And, if the parent does pay for the evaluation and "prevails" in a due process hearing then the school district has to pay. Of course, it goes both ways and is risky because if the parent loses, then the parent has to pay.
How do you find an expert?
In our due process hearing we used our contacts from TASH (a national organization) and one of Lou Brown's graduate students from the University of WI-Madison. This process was repeated several years later when Aaron was in Junior High, and again when Aaron graduated.

We also used local university graduate students and county respite providers when appropriate, ie. They did independent studies to help us design an after-school program and going to the prom.

If you are going due process, find out who the expert is in the area you are challenging.

Check out professional organizations, journals, university faculty. Who is going to know how to do the job? Who is willing to testify? Who will impress the hearing officer?
5. Be BadAss Confident
Know what you believe and how far you are willing to go.
Even if you are uncertain, typically shy and withdrawn--you have to act fearless.

This is your child, This is your class, the time is NOW!

When people see you walking in the grocery or in the school you want them to see you and immediately know what you stand for: "All means All"—"Inclusion means Belonging to the Community." You have to model what you want others to do.

Build trust, convert the doubters. It can be done--and it's up to you. And, you will join the thousands of other parents and advocates who have made a difference for one child or many and have moved history and inclusion forward.
Segregation and Inclusion by Zip Code
In my opinion, this is why we need a national policy, federal laws and oversight.

Vulnerable people with disabilities and other minorities should not have to reinvent the wheel, every year, in every city and county.

Do we want individual states and school districts to make decisions about segregation and inclusion?

Would you want to live in Mississippi, Alabama, Louisiana… and I include Ohio?

Different school districts have different definitions of inclusion. I recently visited what was called an "Inclusion School." To my shock, the principal proudly told me, "Inclusion means EVERYONE in the school is on an IEP."

After we won our due process hearing, we moved to a neighboring county where the school district shared our values.

The move was the best thing we ever did.

First, after we won our due process hearing, it was like Aaron had a tatoo on his forehead that said, "Don't mess with me."
Our reputations guaranteed they took us seriously.

Second, I got elected to the County Board of Developmental Disabilities. One of the proudest days of my life was when I got to make the resolution to close the segregated county school.

Third, because the school district was good for Aaron, it was also
an excellent school district for my other son who had the label of "normal."
Bottom-up; Top-Down: Baby Steps
You can achieve Inclusion from the IEP process: bottom-up.

But it is easier to work from the top-down.

Try to get on influential committees, or find allies in leadership positions that will work for inclusion. If your school board and/or school administrators embraces the Inclusion paradigm, and understands how this will be better for all students, then you are well on your way.

Try to get inservice for staff, parents—both general and special, about inclusion, differentiated instruction and universal design.

Baby Steps:

I like to think of a yard stick. On the one end is segregation, on the other is inclusion. If I think an action, a decision, anything... is a step in the direction of inclusion--I accept it. There is always tomorrow.

Celebrate each small victory. There were many times when I had to take a deep breath and tell myself, "This is the best we can do today. Be happy."

Moving Toward Inclusion by Michael Giangreco.

Last Thoughts

I wish I had a magic wand to make it easier for each of you.

Twenty years ago, we thought this would all be figured out and our children would just be children, parents could just be parents, teachers could just be teachers.

There is an old "Up With People" song that says, "Freedom isn't free. You've got to pay the price, you've got to sacrifice for your liberty."

Wishing each of you, freedom, libety and inclusion.

I hope you will share your thoughts in the comments.

Keep Climbing: Onward and Upward
All my best,
Mary
Related Blog Posts:
Note: Since this whole website is about inclusion, almost every article tells part of the story. Some are about school issues, many are about adult issues. Here is a sampling:
Dream Plan 1 for Aaron, Normalization
Dream Plan 4: Aaron is an adult
The Race Toward Inclusion: Do you see it?
Building Community| One grocery trip at a time
Test Questions| segregation or inclusion?
The Animal School| Differentated Instruction
—