Posts Tagged 'Partners in Policymaking'
photo credit: horizontal.integration
Today is Jan. 1
Could this be the year of the Power of One?
We can celebrate with fireworks, silly hats, black-eyed peas and sauerkraut. We can dress in yellow (for prosperity) or white (for peace) while throwing pomegranate seeds on the roof and making wishes. But, this new year will race forward–with or without us. In 365 days, it will become the next year, and then the next …. The cosmic universe doesn't care about individual civilizations who make their own calendars. It doesn't care about individual people.
Actually, that is a comfort. I don't want to be Atlas holding the world on my shoulders. I don't want the responsibility of saving the world, that's too much.
Systems Theory–Circles of Life
Bronfenbrenner's systems theory states that what affects one part of the system affects all the parts of the systems. In previous posts on the circle of life and family reunions I've talked about his embedded systems (like Russian Dolls). The individual is in the center circle, surrounded by the family, surrounded by the community and "systems."
Inner Circle: Aaron
When Aaron, my son with the labels of autism and developmental disabilities was growing up, I made specific dream plans and goals to include him in an inclusive community.
They were audacious plans. But we had IDEA and ADA and hope. And Aaron was young and had lots of years ahead of him. I thought the values of ALL people living and working in an inclusive community would keep evolving into a more accepting world. I thought I could count on the professionals, the local, state, national agencies and organizations to help.
But those systems don't exist for adults with disabilities and/or their families.
Aaron is 42 years old. For adults there is no mandate or law saying he can get services. So we have watched as his behavior and communication have deteriorated. And, frankly, I have even had trouble envisioning a new dream plan.
This past year has been a painful experience watching the residential and vocational companies NOT want Aaron–but want his Medicaid Waiver funds.
The opportunity of a new year is to dream again. It's time to use the Power of One.
The Power of One: For Aaron
Aaron recently started a day program with Goodwill/Easter Seals five days a week and they are providing him with a one-on-one staff person three days a week. That is the brightest hope we have had for years. So YEA!
Aaron still has a great roommate and one loving caregiver who has been with them for over 7 years. YEA YEA!
And Tommy (Aaron's brother) and his family are now living near us, so our family can get together more often. YEA YEA YEA!
That is three wins. As this year ends, those are the blessings I see and celebrate.
Dream plan for Aaron:

Aaron will be happy. He will have people around him who love him. He will have choices and do interesting things. Have friends. He will be able to communicate when he wants/doesn't want something. He will be safe.
Pretty basic. Nothing specific. But again, these are audacious goals.
So, maybe everything you and I do this year will not make much of a difference in the cosmic scheme of things. But using the Power of One, I can do something to make a difference in my son's life.
In the example of Goodwill/ES, it was the Power of One times 4. Aaron's Dad, me, our Support Coordinator, and the leadership of Goodwill/ES. We kept at it, and it happened.
The Power of One: For Community
Using the Power of One, I will continue my blog,ClimbingEveryMountain.com.
I will try to entertain, encourage and give information to grow a community that cares about adults with disabilities.
Thank you for being with me on this journey. It has been an amazing first six months for Climbing Every Mountain. Together we can build a better world and community–one person at a time.
Virtual Circles
Old Bronfenbrenner wouldn't recognize his embedded systems, but today we are using the social media tools (blog, Twitter, Facebook) and reinventing his circles of love and support that will ripple out to touch the future. The people in the circles are not our next door neighbors, they might live on the other side of the world.
Is social media and technology the solution?
Chris Brogan (ChrisBrogan.com) is a social media guru who suggests the future is going to include websites, blogs, forums, videos and online communities which help us connect with like-minded folks to get the information and emotional support we need.
His new company, 501 Mission Place, is helping non-profits use social media and become more effective. Perhaps you know of a non-profit that could use some social media help.
But I wonder if it is too late for many traditional organizations.
Virtual communities are already replacing many of the antiquated national organizations which have huge overhead and an inability to help individuals.
Virtual training is replacing the large conferences, meetings and university classes. Webinars and online courses like Partners in Policymaking are the new "best practice."
Do you use the traditional phone and agencies in your community, or do you search for people and information in the virtual world of Cable TV, iPods, www, Twitter, Facebook, YouTube and …?
Summary: In this new year, we can use our individual power, the Power of One, to make a difference for our children with disabilities. We can do it by advocating directly for the people we love, and we can do it by becoming part of a virtual community like Climbing Every Mountain or other online communities.
In 2017–We're Number One!
I hope you will sign up (top left) to get notices of new posts. I hope you will add your voice and stories to the comments. I hope you will use the social media of Twitter and Facebook to invite others to join us. The way we are going to build a better world for vulnerable people is to join together. And I hope you have an amazing 2017.
Keep Climbing: Onward and Upward
All my best for a fantastic year of ones,
Mary
Use Your Power: Comments Please
How can you use the Power of One? Do you think social media can help? Do you recommend other blogs and/or virtual communities?
I'd love to read your comments and know what you are planning this year.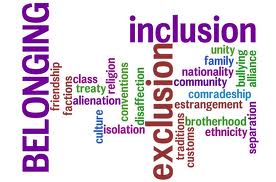 When Schools say "NO" to Inclusion
The Inclusive Class Podcast presented a panel with Tom Mihail, Paula Kluth, Torrie Dunlap, Lisa Jo Rudy, Frances Stetson, Kathleen McClaskey and myself.

The Title was: "When Schools say 'NO' to Inclusion"

Topics include Universal Design, Technology, Differentiation, Inclusive after-school and community recreation, and in the last few minutes I talked about Inclusion as a Civil Right and strategies for getting inclusion with your IEP.

Below is the supplemental material for my topic. If you have any questions please contact me.

Here is a recording of the broadcast:
So, you are sold, you have heard all the information about inclusion, you know in your soul this is what would be great for your child. You talk to the teacher, the principal, anyone who will listen and they tell you it won't work for your child, it's a passing fad, it is too expensive, it will hurt the other kids in the school...blagh, blagh, blagh.
What do you do?
Here are the 5 Points I outlined in my part of the panel:
1. Learn the History of People with Disabilities.
Legal Segregation
Society and Schools have been saying "No" to Inclusion for hundreds of years for many people, not just for people with disabilities.
1800-1900s. Institutions and Forced Segregation were common for those with the labels of mentally defective, feeble-minded, idiots, uneducable and untrainable. Individuals and Parents had no say. People who were different were removed for the health and safety of the community.
Today we still have prejudice against minorities, young women who are unmarried and pregnant, gang members, young people who are gay or lesbian, immigrants, poor, people who don't speak English, Native Americans, homeless, children of migrant workers...
Our society is more diverse every day, we need inclusion for everyone.
Parallels in Time: A history of people with disabilities
Check out the section in Parallels 2 A PLACE TO LEARN.
(Page 59-60 has the definition of Inclusion)
(p. 61 has reference to Paula Kluth and a picture of my son Aaron)
Inclusion is a Civil Right
14th Amendment:
"The 14th Amendment to the Constitution was ratified on July 9, 1868, and granted citizenship to "all persons born or naturalized in the United States," which included former slaves recently freed. In addition, it forbids states from denying any person "life, liberty or property, without due process of law" or to "deny to any person within its jurisdiction the equal protection of the laws." By directly mentioning the role of the states, the 14th Amendment greatly expanded the protection of civil rights to all Americans and is cited in more litigation than any other amendment."
Questions the Courts had to decide:
Citizenship: Is someone who has an intellectual or other disability, a person? (consider the slaves, Native Americans, women, immigrants, prisoners…)
Due Process: If you have a disability, do you have the right to due process? (consider people with physical, intellectual disabilities, people who are deaf, blind… can't read/write/talk, people who can't pass IQ tests…)
Equal Protection: If you have a disability, are you entitled to the same rights and benefits other people have? (go to school, live in community, get jobs…)
Consider the implications:
Plessy v. Ferguson (1896) Separate is equal. 50 years of Jim Crow Laws.
Brown v. Board of Education (1954) "Separate is inherently unequal."
PARC Class Action Case: A Game-changer
(Interviews with Tom Gilhool and Gunner Dybwad are also in Parallels in Time 2)
Video and transcript Tom Gilhool at Temple University:
Testimony of Tom Gilhool before the Joint Subcommittee Hearings on "the Events, Forces and Issues that Triggered Enactment of the Education of All Handicapped Children Act (EHA) of 1975" in TASH newsletter, 1996 p. 11-15.
Excerpt about PARC decree and 94-142: Teacher Training and Best Practice
The Requirement that Schools Know and "Adopt" "Effective" "Promising" Practices. Requires the delivery of an "effective" education. One, the Act (EHA) requires states and districts to see to it that all teachers, both "regular" and "special" are fully informed of and continuously trained in "promising practices" in the education of children. "Second, the Act requires every district as well as the states to "adopt promising practices' Third, the Act's requirement of "a free appropriate public education has been help by the Unites States Supreme Court to mean an education "reasonably calculated to enable the child to achieve education benefits"
Hudson v. Rowley, 458 U.S. 178, 203-04V (1982).
NOTE: Remember to NOT just look at the current regulations, go back into the Congressional Hearings before each law was enacted, the legislative history, court cases…
Other Court Cases:
"Inclusion is a right, not a special privilege for a select few" (Federal Court, Oberti v Board of Education).
You will want to quote the most relevent and recent cases.
2. Become an Expert on IDEA
The best resources I know are Partners in Policymaking's series of lessons on IDEA.
Free, online, study at your own pace.
National Dissemination Center for Children with Disabilities (ages 3-22).
3. Build Alliances
Focusing on the dignity and goodwill of the people you're working with. Build trust. Create a common vision.
Partners in Policymaking has programs in almost every state. The courses are designed for parents of young children and self-advocates. New groups start every year and are usually funded by your state DD Council. On the Partners website, find your state liaison.
NICHCY has a list of organizations and Parent Training Centers in each state. Find people both on the National, State and Local level who think like you do and can help.
National Dissemination Center for Children with Disabilities (ages 3-22).
National Organizations for Professionals often help parents and teachers. TASH helped me. I know the ARC, United Cerebral Palsy and National Down Syndrome Association have done advocacy work. I'm sure there are others.
Check out your local university. Sometimes you can find a professor or student who can help.
In our particular situation, because no group existed-we started a parent group in our local school district.
Set group goals: start an extended school program in the summer; make the buildings more accessible with universal design; start an after school Job Club and Key Club at the high school. By focusing on specific goals we were able to get local grants, publicity and see tangible results for our children.
NOTE: In hindsight, I would have made this an ad hoc committee of the School PTO or General Education Parent Organization. I would ask parents and teachers of general education students to be on this committe so it is inclusive. 20 years later, duh, it is so obvious.
Univ. of New Hampshire has great programs and resource materials.
Clay Aiken's Inclusion Project. This looks good, but I haven't tried it.
4. IEP: Educational Evaluations
The first part of the IEP process is getting evaluations of current level of functioning and setting specific individual goals.
Be creative. Don't let the school psychologist run the show.
Have your IEP team decide what kind of evaluations they need in order to have your child make educational progress in all the school environments.
There are the formal evaluations that are the traditional testing tools of the experts. And, there are the individual informal tools also designed by experts, but cannot be standardized and put into multiple choice answers.
Informal Evaluations
1. Person Centered Planning, Circle of Friends can supplement the formal evaluations and look at social relationships, before-during-after school-weekend-summer activities, this can also be used for team building, communication, transition and long term planning.
http://inclusion.com/ Where inclusion began, great tools.
2. Educational Evaluations
Educational Evaluations are usually conducted by a teacher or other educator with the appropriate teaching license.
Educational Evaluations look at an individual person in their life spaces. Aaron's evaluation started in his home, followed him on the school bus, in the classroom, in the lunch room, bathrooms, gym, after school activity and back home. The evaluation compared Aaron's current level of functioning in each environment and then made suggestions for IEP goals.
For instance, the educational evaluation shows the "individual benefit" for Aaron. Not the whole class or school, just Aaron.
The Educational Evaluation determined Aaron, with accommodations and related services, could be in an inclusive class. What supports would he need? What supports would the teacher need? How would the curriculum be differentiated? What technology? Universal design strategies could be used?
See the difference between this sort of evaluation and a traditional IQ or standardized test?
Who Pays?
The tricky part is that if the parent pays for the evaluation, and chooses their own "expert," then the school district only has to "consider" the recommendations.
If however, (at least this is how it used to be), if the parents or teacher ask for an evaluation, and the school district agrees to pay for the evaluation, then they have to use that evaluation to develop the IEP, or if they disagree, they have to get another evaluation saying the first evaluation was not appropriate, and why.
If you go to court, the educational evaluation can make all the difference. If you are writing IEP goals, the educational evaluation gives you a practical starting point for goals and objectives. (The conversation is NOT about "Should we do this?" but rather, "How do we do this?")
And, if the parent does pay for the evaluation and "prevails" in a due process hearing then the school district has to pay. Of course, it goes both ways and is risky because if the parent loses, then the parent has to pay.
How do you find an expert?
In our due process hearing we used our contacts from TASH (a national organization) and one of Lou Brown's graduate students from the University of WI-Madison. This process was repeated several years later when Aaron was in Junior High, and again when Aaron graduated.
We also used local university graduate students and county respite providers when appropriate, ie. They did independent studies to help us design an after-school program and going to the prom.
If you are going due process, find out who the expert is in the area you are challenging.
Check out professional organizations, journals, university faculty. Who is going to know how to do the job? Who is willing to testify? Who will impress the hearing officer?
5. Be BadAss Confident
Know what you believe and how far you are willing to go.
Even if you are uncertain, typically shy and withdrawn--you have to act fearless.
This is your child, This is your class, the time is NOW!
When people see you walking in the grocery or in the school you want them to see you and immediately know what you stand for: "All means All"—"Inclusion means Belonging to the Community." You have to model what you want others to do.
Build trust, convert the doubters. It can be done--and it's up to you. And, you will join the thousands of other parents and advocates who have made a difference for one child or many and have moved history and inclusion forward.
Segregation and Inclusion by Zip Code
In my opinion, this is why we need a national policy, federal laws and oversight.
Vulnerable people with disabilities and other minorities should not have to reinvent the wheel, every year, in every city and county.
Do we want individual states and school districts to make decisions about segregation and inclusion?
Would you want to live in Mississippi, Alabama, Louisiana… and I include Ohio?
Different school districts have different definitions of inclusion. I recently visited what was called an "Inclusion School." To my shock, the principal proudly told me, "Inclusion means EVERYONE in the school is on an IEP."
After we won our due process hearing, we moved to a neighboring county where the school district shared our values.
The move was the best thing we ever did.
First, after we won our due process hearing, it was like Aaron had a tatoo on his forehead that said, "Don't mess with me."
Our reputations guaranteed they took us seriously.
Second, I got elected to the County Board of Developmental Disabilities. One of the proudest days of my life was when I got to make the resolution to close the segregated county school.
Third, because the school district was good for Aaron, it was also
an excellent school district for my other son who had the label of "normal."
Bottom-up; Top-Down: Baby Steps
You can achieve Inclusion from the IEP process: bottom-up.
But it is easier to work from the top-down.
Try to get on influential committees, or find allies in leadership positions that will work for inclusion. If your school board and/or school administrators embraces the Inclusion paradigm, and understands how this will be better for all students, then you are well on your way.
Try to get inservice for staff, parents—both general and special, about inclusion, differentiated instruction and universal design.
Baby Steps:
I like to think of a yard stick. On the one end is segregation, on the other is inclusion. If I think an action, a decision, anything... is a step in the direction of inclusion--I accept it. There is always tomorrow.
Celebrate each small victory. There were many times when I had to take a deep breath and tell myself, "This is the best we can do today. Be happy."
Moving Toward Inclusion by Michael Giangreco.
Last Thoughts
I wish I had a magic wand to make it easier for each of you.
Twenty years ago, we thought this would all be figured out and our children would just be children, parents could just be parents, teachers could just be teachers.
There is an old "Up With People" song that says, "Freedom isn't free. You've got to pay the price, you've got to sacrifice for your liberty."
Wishing each of you, freedom, libety and inclusion.
I hope you will share your thoughts in the comments.

Keep Climbing: Onward and Upward
All my best,
Mary
Related Blog Posts:
Note: Since this whole website is about inclusion, almost every article tells part of the story. Some are about school issues, many are about adult issues. Here is a sampling:
Dream Plan 1 for Aaron, Normalization
Dream Plan 4: Aaron is an adult
The Race Toward Inclusion: Do you see it?
Building Community| One grocery trip at a time
Test Questions| segregation or inclusion?
The Animal School| Differentated Instruction
—
In the last post, Memorial Day and People with Disabilities I talked about how Aaron, my son who has autism, worked at a cemetery after he graduated from high school.
To the best of my recollection, this is how it worked:
The Landscaping Mobile Work Crew
Definition: Supported Employment Model: Mobile Work Crew

A small crew of persons with disabilities (up to 6) works as a distinct unit and operates as a self-contained business that generates employment for their crew members by selling a service. The crew works at several locations within the community, under the supervision of a job coach. The type of work usually includes janitorial or groundskeeping. People with disabilities work with people who do not have disabilities in a variety of settings, such as offices and apartment buildings. Supported Employment
Sometimes Cemeteries are for the living.
JOB ANOUNCEMENT: The cemetery board posts the lawn maintenance jobs for bids in the local paper.
JOB DEVELOPER:
The County Board of Developmental Disabilities (CBDD) job developer bid the job. Because of the size of the cemetery, the administration of the cemetery awarded several contracts. (For the five years I was involved, the CBDD got one of the contracts each year.)
Paid
The CBDD paid the workers minimum wage from this contract. Each member of the Mobile Work Crew was already on Medicaid/Medicare and the seasonal wages were within the limits of their SSI and SSDI requirements.
The job developer negotiated the details of the contract as well as was the contact person for any problems between the cemetery administration and the board as well as members of the mobile work crew.
Natural Supports
The cemetery provided the equipment. There was a garage-type lounge for all the crews and workers with a table and restrooms. They could mingle with the other workers from other lawn companies (non-handicapped) in the lounge. There was some natural support from the other workers who were doing the same jobs and the same sweating.
SUPERVISOR OF MOBILE WORK CREW
There were six people with disabilities and a supervisor on the crew. The supervisor was a year long salaried employee of the county board of developmental disabilities. She had experience working with people with disabilities and had been trained as a special education teacher. She had total responsibility for keeping the workers safe, happy AND getting the job done. If she needed extra help, she would go to the job developer or her other CBDD staff.
Aaron's job coach was under her supervision (because she was in charge of the whole job) but worked independently with Aaron.
TRANSPORTATION
All the adults with disabilities would be transported from their homes to the sheltered workshop. The supervisor would drive a small van, similar to the vans the other lawn service companies used, from the sheltered workshop to the cemetery and then back to the sheltered workshop for the trip home.
Inclement Weather
On days when it rained, the crew could stay home if they wanted, or hang out at the sheltered workshop. If there was work at the sheltered workshop (usually not) they were able to jump in. If there was no work they could hang out with their friends and play cornhole, bingo or whatever the activity.
JOB DESCRIPTION
Ongoing Support
Before the crew began work, the supervisor and job developer made task analyses of each of the jobs. The individuals with disabilities applied and interviewed with the supervisor. If there was a good match, the training, modifications and accommodations were added to the individual's Individual Service Plan (ISP).
OVERVIEW:
Who knew there were mowers about a foot wide which fit easily between the older tombstones? There were four mowers in this mobile crew.
There were two weed-wackers or whatever they are called. (The cords swing around and cut the weeds which the mowers miss.)
There was a "task analysis" of each job.
They were trained on the job. (They didn't practice cutting the concrete in the parking lot to get ready*smile*)
Because the job was repetitive, it was a perfect fit for many of the workers. They knew exactly what they were supposed to do, and after a short time, were independent in many parts of the job.
If any of the workers needed adaptations (shorter hours, more breaks, special gloves or boots…) these were included in their ISPs (Individual Service Plans). Therapists (Occupational Therapist, Speech/Language and Physical Therapist) were available for the initial evaluations/training, if necessary.
Establishing Routines
The supervisor would start the day with some conversation, some joking around and individual attention to each of the crew members. They would get a short break mid-morning, they brought their own bag lunch, and a mid-afternoon break. But most of the day, it was sweaty and hot and lots of hard work—serious business.
The supervisor made sure the crew members had sun-screen, hats, appropriate clothing, solid shoes (no sandals), water….
She also worked side-by-side with the workers. She made decisions to go to another section if a funeral was in progress, if the area was underwater…; she pulled weeds… and did whatever it took to make sure everyone was successful, and the finished job met the requirements of the cemetery board.
Partial Participation
Aaron, my son with the label of autism, does not have the skills to run a lawnmower or weed-wacker. He would not be able to be part of the mobile work crew of 6 workers who are mostly independent on the job once they are trained. Because Aaron was in the official "transition" from school to work, he was eligible for a job coach from Rehabilitation Services.
So, because he had the physical support of a job coach, Aaron had the opportunity to join the workforce.
Is there some job he could do at the cemetery? Could he partially participate in this work?
After doing an ecological assessment of the job, Kim (Aaron's job coach) decided Aaron could pick up the sticks before the lawn mowers came. So Aaron and she would drive a golf-cart to the area where the crew was mowing, and then they would collect sticks, dead flowers, and other stuff left on the graves, put them in a trash container tied to the back of the golf-cart and then take it to the dumpsters.
Aaron loved this job. First of all, he loved Kim, the job coach. She made him feel important, she helped him when he had trouble bending over, she helped him put the sticks in the trash container, she helped him wheel the container to the dumpster. Kim, looked at every piece of the job and asked herself, "How could Aaron at least partially participate in this job?"
Plus, Aaron loved riding in the golf-cart. When Aaron did particularly well, Kim would give him an extra long ride around the large monuments.
The side benefits were Aaron made a small amount of spending money, he paid into social security, he was out in the sunshine (with lots of sunscreen) and glowed with health, he was physically strong from all the exercise, plus the emotional benefits: he knew he was contributing, he was part of a group of people who valued his work, he could make all the noises he wanted (and wouldn't wake up the dead), he enjoyed riding in the golf cart, instead of physical therapy practicing his balance climbing steps to nowhere—he had a functional way of practicing his balance in the real world. He had a great friend and mentor in Kim. It was a terrific experience.
And, for Memorial Day, 4th of July, Veterans Day… Who was the person who put the flags on the tombstones?
It was Aaron.
Trivia too good to pass up: One of the cemetery monuments is enclosed and heated. Yes, the person who died years ago was so afraid of being "cold"–they stipulated in their will that the space above the grave would be heated (including a back-up generator in case the electricity failed.) That is a powerful "fear."
Keep Climbing: Onward and Upward
All my best,
Mary
Comments:
Have you ever seen a mobile work crew of workers and wondered how it worked? Is partial participation better than no participation? Should people with disabilities be allowed to work?
FOR MORE INFORMATION:
In my class, "Introduction to Exceptionalities," we read an article by Paul Longmore about the social construction of disabilities. The point being that the traditional "medical paradigm" points the disability finger at the person– they are defective and need to be fixed. The new paradigm of "social construction" puts the focus on the culture/society as the ones who need the fixing.

We are the culture, we are the society. And, through the courts, the legislature and individual everyday advocacy we help move society toward inclusion or back toward segregation and the medical paradigm.

Paul, like Ed Roberts, also had polio as a child. Our class watched a video on YouTube where Paul praised Ed Roberts. It reminded me of this post I wrote on the first Ed Roberts Day in California and challenged me to be courageous and follow the examples of both Ed and Paul.

And for what it's worth, not one student in either of my classes had ever heard of Jerry Lewis. I thought that was a hoot!
Ed Roberts | "Be Extraordinary!"
In the United States we celebrate the birthdays of great civil rights leaders. Two of them are Martin Luther King and Ed Roberts. Most Americans know of Dr. King's achievements but few know of Ed Roberts, the "Father of the Independent Living Movement" for people with disabilities.
Ed Roberts Honored on his Birthday, Jan. 23.
California is the first state to officially designate January 23, 2011 as Ed Roberts' Day. This is an opportunity for the media, public and private citizens to learn about Ed Roberts and the 50 million Americans living with disabilities.
But this day is about more than celebrating the life of a great American and pioneer in the civil rights movement of people with disabilities. This is a day to embrace Ed Roberts' challenge to "Be Extraordinary!"
An Ordinary Kid Transforms
Ed Roberts often joked he started his life "just an ordinary kid" who was more interested in sports than school work. That all changed.
In 1953, when Ed was fourteen, he contracted polio. Overnight he became paralyzed from the neck down and required an iron lung, which he used the rest of his life.
One of Ed's greatest talents was being able to see the possibilities, and adapt. When Ed got comfortable with his new body, he figured a baseball career was out but he knew he could still use his mind.
Ed became an Advocate for Himself and Others.
His mother, Zona Roberts, listened and helped him advocate for his own rights. When a high school administrator threatened to deny him a diploma because he couldn't take physical education and driver's education, Ed appealed to the school board and won.
He learned sometimes you adapt, but other times you fight discrimination and stand up for justice and equality.
When he entered the University of California at Berkeley (UCB), the newspaper ran an article saying, "Helpless Cripple Enters UCB." Others might think he was a "helpless cripple," but Ed knew better.
When physical barriers, like steps, prevented him from entering buildings, and other students were losing critical support services, Ed helped organize a protest which established the first student-led disability support services program at a university.
Ed got his BA and MA in Political Science. He finished all the coursework for his Doctorate (ABD) and taught at UCB for six years.
Ed Roberts paved the way for thousands of students with disabilities to go into higher education.
Ed married his college sweetheart and despite the medical doctors saying it was impossible, they had a beautiful son who was the pride of Ed's life.
Ed Roberts the "Father of Independent Living"
Who Decides? The Birth of Self-Determination.
In Ed's life, the dominant cultural view of people with disabilities was based on pity, charity, "better off dead," and segregation. These attitudes marginalized the voices of people with disabilities and made them invisible in the culture. Ed met people who thought he belonged in an institution "with his own kind."
He believed people with disabilities were "People First" who could speak for themselves and tell you what they liked, disliked, wanted, and needed. Instead of discrediting their knowledge, Ed and the Disability Rights self-advocates raised their voices and demanded to be heard.
Ed Roberts created the paradigm shift from Pity and Charity to Dignity and Self-Determination.
As I talked about in another post, Ed challenged these core attitudes of What is charity? (click here)
Accessibility
Ed fought for the first curb cut. When the city bureaucrats asked, "Why do we need curb cuts when we never see people in wheelchairs on the streets?" Ed calmly explained that was circular logic. This conversation was repeated in cities all over the country until the passage of the American's with Disabilities Act (1990) required accessibility as a civil right.
Accessibility was more than just curb cuts. Ed worked for access to technology, transportation, jobs, voting, housing, inclusion in regular schools and every part of life. With Olmstead, he advocated to free people with disabilities from nursing homes and institutions.
Universal Design
Universal Design changes the attitude of charity. Accessible buildings, transportation systems, learning and education philosophies, communication and technology were NOT just for "poor cripples" they were for everyone.
Ed also understood basic dignity and civil rights were for everyone. After all, people with disabilities cross all ethnic, race, gender and class lines. He met with leaders in the Native American, African American, Women, Seniors, and Hispanic movements.
He created a common dialogue arguing, "All men (and women) are created equal"–including those who use breathing machines, wheelchairs, Braille and communication boards.
When those first curb cuts were made, all of a sudden it was easier for people with baby strollers, bikes, people who were elderly and people making deliveries….
Temporarily Able-Bodied or the Yets
In another post I talked about Ed's concept of the Temporarily Able-Bodied (click here).
This was controversial because many people don't like to consider they can join the ranks of the disabled in a moment. But again, Ed taught us having a disability is NOT the end of the world. Disability is just a part of the human condition.
Self-Determination
Ed helped create the nation's first Center for Independent Living (CIL) which became the model for the world.
People with disabilities were taught self-help skills and personal responsibility. They learned to not be victims or eternal children, but rather to be adults and take control of their lives.
Ed was the first speaker at the Partners in Policymaking program. Like his mother Zona, he encouraged the parents expect their children to grow into independent adults. Effective Strategies for Social Change: Video of Ed Roberts Speaking at the First Partners in Policymaking Session (May 1, 1987)
Gov. Jerry Brown appointed Ed Roberts Director of the Department of Rehabilitation for the state of California in 1975. Ed supported the passage of Section 504 of the Rehabilitation Act and saw many of his ideas implemented. He served until 1983 when he co-founded the World Institute on Disability. He traveled the globe and developed a world-wide movement of, with and for people with disabilities. Ed Roberts really did change the world (as well as many airlines).
Ed died in 1995 from natural causes but his legacy continues with his son, his friends and a thankful nation. The lives of people with disabilities and ALL of us are better because of his spirit, vision and life.
In Ed's Own Words:
Text of Remarks by Ed Roberts at Section 504 Sit-in Victory Rally in San Francisco on April 30, 1977.
"We have begun to ensure a future for ourselves, and a future for the millions of young people with disabilities, who I think will find a new world as they begin to grow up. Who may not have to suffer the kinds of discrimination we have suffered in our own lives. But that if they do suffer it, they'll be strong and they'll fight back.

And that's the greatest example, that we, who are considered the weakest, the most helpless people in our society, are the strongest, and will not tolerate segregation, will not tolerate a society which sees us as less than whole people. But that we will together, with our friends, will reshape the image that this society has of us.

We are no longer asking for charity, we are demanding our rights."
Summary:
Ed Roberts was a pioneer for the civil rights of people with disabilities.
Like Martin Luther King, he had a Dream that celebrates diversity for people of all races, and abilities.
He helped us see the stigma and segregation of disability as meaningless—we are all either "disabled, or the yet to be disabled." We are all part of the human family and while we need each other, we each want self-determination in our own lives.
The journey toward inclusion continues as we replace the physical and attitudianal barriers of discrimination, segregation and the charity model with inclusion, universal design and civil rights.
Ed was extraordinary.
Be Extraordinary!
Ed Roberts couldn't walk, couldn't feed himself, couldn't dress or shave himself. He couldn't even breathe by himself. Yet look what he accomplished.
Ed continues to challenge us to see ourselves as perfect –just the way we are. He continues to inspire us with his ideas to Be Extraordinary.
We really have no excuses.

What can YOU do today to spread the word about Ed Roberts and the civil rights movement of people with disabilities?

What can YOU do today to help change physical and attitudinal barriers for ALL people?

Will YOU accept his challenge to also Be Extraordinary ?
Keep Climbing: Onward and Upward
All the Best,
Mary
Comments:
Please share your thoughts. Big or small, each action you take will spread the word.
Please take a minute and visit the MN Governor's DD Planning Council's tribute to Ed Roberts. See videos of Ed's presentations.