Posts Tagged 'residential housing'
photo credit: Creativity+ Timothy K Hamilton
Searching for a Roommate: Medicaid Waiver style| Part 6
This is Part 6 in a series of posts about moving my son Aaron, who has the label of autism, from one county to the adjoining county where we live.
Part 5 contains links to the previous posts: Cash Cows and HUD Interviews| Part 5
Note: The HUD Section 8 rent voucher pays for the rent. The Medicaid Waiver pays for the direct care staff who take care of Aaron.
Ball One in the Air: HUD
HUD Timeline:

May-July County Board of DD set up three home visits with potential housemates for Aaron.

June 30 We, Aaron's Guardians, requested to move his HUD rent voucher to W. County.

July 6 Signed HUD paperwork in the sending county.

July 15 Met with HUD counselor in the receiving county and completed paperwork.

July 16 Asked for our first 30 day extension from sending county.

Aug. 8 Asked for our second 30 day extension and now have until the end of Sept.

Oct. 31 120 days is up. Aaron loses waiver if he hasn't signed one year lease.
Typical World:
After the third step, the person has a list of landlords who will accept the Section 8 rent subsidy and it makes sense that they find a place within the 120 day timeline.
Disability World:
After the third step, the person has to begin another complicated process with the County Board of Development Disabilities, to find accessible housing for people with disabilities, match a housemate.
Ball Two in the Air: Medicaid Waiver level of Funding
The housemate must not only be able to get along with Aaron and vice versa, but there will need to be a level of service need for the 24/7 care the two people will require. Because this is funded through the Medicaid Waiver, the housemate must also have a Medicaid Waiver. (There are currently thousands of people in Ohio on the waiting list for Medicaid Waivers—so this is the tricky part.)
This is where the 120 day timeline become freakin' scary. It is not a coincidence to me that the deadline is on October 31—Halloween.
Ball Three in the Air: Housemate
Aaron has had the same housemate for over thirteen years. They have gotten along great. This was one of the reasons that, when everything else was going wrong, we stayed in the current residential setting. Aaron and Jack are pals. This will be the hardest part of leaving the old house.
Finding a good match will also be the most important and most difficult part of moving to a new house.
As I tell our story of the three houses and housemates we have visited, just remember: I COULDN'T MAKE THIS UP.
House One: rural, rural
We met with the parents of the potential roommate/housemate at Bob Evans restaurant. The meeting went well so we decided to get the two young men together the next day. Their son also has autism and just graduated from school.
The parents renovated the house and it was nice, but extremely small. The location was on the other end of the county.
I'm not sure it would even meet the minimum requirements for a HUD rental because the bathroom was so small and inaccessible. I'm talking sitting on the toilet and touching the tub with your knees. There is no way the staff person could give Aaron a shower–there is no room.
Our hearts went out to this family who were trying to do the best they could. Their son was a lovely person, but was not a good match for Aaron. Aaron sank on the couch and was biting his hands and was overwhelmed during the visit. Later when I begged Aaron to use facilitated communication and tell us anything, the only thing he typed was "bad."
A representative of a small family run residential service company was also there. She seemed nice, but she couldn't give me much information about her company other than the owner just had some family issues.
We learned the young man did not have enough funding with his Medicaid Waiver for full-time residential help, so the family brought him back to their house three days a week. This was why they were desperately seeking a roommate with a Medicaid Waiver because then the split costs would allow the two men to live in the home 24/7.
The residential services company and the county case worker come with the house–(one per house). So, when we asked about the case worker we were told the parents really liked him because he shared with them that one of the potential housemates was a convicted felon, and they were so grateful he told them (when he didn't/shouldn't have) and they could make sure their son was safe. (RED FLAG).
TAKE AWAY:

Parents are trying to problem solve the best they can to provide for their family.

They wanted to be actively involved in their son's life.

This family could afford to purchase a small house, near their home.

They could afford to renovate, furnish it and make sure it was maintained with lawn care….

They couldn't afford the residential care 24/7.

Potential housemates could be convicted felons. Case workers may/may not have to tell you.

Parents could take their child home a couple days a week if the Medicaid Waiver funding was inadequate.
When I asked the parents what their son thought of the 4
day/3 day arrangement they responded: "Well, our son gets confused, he is really excited to be in his own place and would rather stay there."
When I asked the parents what they thought of the arrangement, they said:
"We have taken care of him for over 20 years with no help. His mother couldn't work and took him to all his therapies, gave him his bath and entertained him. We never had any help, so 4 days a week is the best it's ever been."
These parents were fellow pioneers. Tom and I would have loved if it would have worked out for Aaron and their son to be roommates, but our priority is Aaron—not, would we enjoy being with these parents.
Next post, I'll talk about the second home we visited.
The bottom line is: WHO WOULD AARON WANT FOR A HOUSEMATE?
COMMENTS
Any thoughts? I love for you to share your stories in the comments and social media.
Have you ever had to blend the requirements of two/three/four agencies?
Is this useful information? OR, is this like watching your parents show slides of their summer vacation in Death Valley?—boring.
Keep Climbing: Onward and Upward.
All my best,
Mary
Related Posts: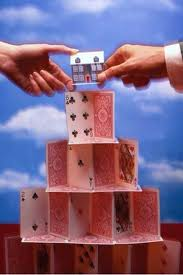 Living in a House of Cards| Non-Profits, HUD, Medicaid Waivers (Part 1)
My friend Debbie Wetzel always said the human service system was a house of cards.
As parents of people with severe disabilities, we need many agencies, many people working together to get basic services.
The right cards are usually hidden from sight. The agencies hope you don't need them, won't use them for a long time, and won't mind their card tricks.
When your child is in school, the ace up your sleeve is the opportunity to go due process, that brings some accountability. However, there are no mandates for residential or adult day services. There is no due process.
It takes a Herculean effort to hold a house of cards together. One piece falls–the whole house tumbles down.
And yet families need all the different agencies and services to try and create a decent quality of life for their vulnerable children.
Even with great transition and long range planning it is difficult to know what to do. Here is Aaron's Dream Plan number 4. (click here)
Right now Aaron's house of cards is falling down. Aaron has autism and other developmental disabilities. He is 36 years old. He has been living in a residence for almost 11 years.
It is complex and has taken a TON of work to make every card fit in place. I thought I would start Part One describing some of the pieces of our house of cards. I'm hoping someone will have ideas on how to solve our crisis.
Resident Home
Aaron and his housemate, Jack, rent the house from Resident Home, a non-profit. They have lived there for over 10 years and I think the Resident Home does a good job of keeping the house in good repair.
The house was acquired with a $10,000 grant from the state (for the down payment). Aaron qualified as the person with a developmental disability that needed a home, so it was because of Aaron that Resident Home got the grant. The house had to be located in the city limits of Hamilton, Ohio and there were other restrictions. But, it was the timing, and Aaron's eligibility that got the initial money.
Aaron signed the lease in his name.
Aaron also put $1000 of his own money into building a patio in the back yard. Tom and I take great pride in keeping the yard clean of trash, tree limbs (the lawn service won't pick them up) planting flowers, mulching, trimming shrubs….
Zoning
The house met the current zoning laws. Because there were only two people and one staff person living as a single family unit, there was no need for public hearings or zoning changes.
HUD Approval and Inspections
Resident Home had to get the house HUD approved and meet inspections a couple times a year.
I liked the idea of inspections for safety and hazards by an independent inspector. Since Aaron can't talk or tell us what is going on in the house, and the staff might not have the expertise–or the will, this provides another layer of protection to Aaron. Plus, if the resident was abusing the house, it provides a layer of protection to Resident Home.
Since Aaron will probably live in this house for the rest of his life, Resident Home has a steady tenant, almost no turnover, and guaranteed rental payment for their property investment.
When Aaron and Jack moved in, we had a room created by taking the back part of the two car garage (obviously, Aaron was never going to drive). This converted room became the permanent address for Jared, our full time caregiver. He stayed for over two years. When he moved, part-time staff slept and had an office in the room. The room has no closet (so technically isn't a bedroom according to building code) and because it was an addition, the heating and air conditioning doesn't work well. It's hot in the summer, cold in the winter. The little air conditioning unit fills the window that was added. There is no outside exit.
HUD
It took me over 3 years to figure out the HUD funding eligibility for Aaron. My brother rents HUD houses, so he helped.
Aaron was the first person with a significant disability in the state of OH. to get the subsidy. It took many meetings, and finding loopholes in the fine print. Up until Aaron got the subsidy, there were issues of two non-related people living in the same home (thanks gay rights advocates) and the fact that there was a caregiver staying in the house (thanks senior and elder care advocates).
We were told parents could own the house because there was such discrimination against people with disabilities and housing shortages. But, we were also warned that this could get tricky. Not sure where it stands in 2011. Also, initially we were told that if there were 2 people with disabilities in the house and a full time caregiver, they could apply for 3 bedrooms. Since I wasn't able to work for pay most of my life, we were grateful Resident Home was willing to buy the house.
Safety Issues–Staff Room
A bedroom with a door that locks was considered a safety issue since there have been caregivers (mostly women-some quite elderly) who are watching men (some of whom have abuse and labels of mental illness). Imagine, a woman sleeping on the living room couch with no where to go if one of the men got aggressive. Though rare, there have been some instances of abuse.
HUD Rent Formula
According to the HUD funding formula, Aaron and his housemate spend up to 1/3 of their income on rent and according to a formula (which only God could understand) HUD picks up the rest. The formula considers if it is a distressed neighborhood, county (urban, rural) whether there is a washer/dryer, stove… in the house.
The house has to be HUD approved and meet specifications like have a front door that locks and screens on the windows….
Aaron's portion of the rent comes from his HUD rent subsidy and his SSI.
SSI and SSDI
Social Security Income is a small monthly income given to people with disabilities. It depends on the person's work history and employment and other factors (known only to God) but I think Aaron's runs about $450 a month. Now, how anyone can live on $450 a month is also known only to God.
Social Security Disability Income is based on a person's work history and other requirements. It can also be based on the parent's eligability for SSI.
Amazingly, Aaron qualified for SSDI on his own. Which was good because as teachers, Tom and I didn't have social security. (I think teachers now have to pay into social security, but they didn't in the past.)
Work Study and Vocational Training
While Aaron was in Junior High and High School he participated in Work Study and summer, after-school work programs. He made a small wage plus learned great skills. He loaded pop machines, scraped gum off desks, watered flowers, cleaned windows, moved desks out of the classrooms for floor waxings, he folded towels, did laundry, picked up trash…. (He had a job coach with him.)
Because he had a disability at a young age, the number of quarters for eligibility were reduced. Every month I thank Aaron's great high school teacher for making these jobs available. Aaron gets an extra hundred dollars (I think) a month for SSDI.
Medicaid Waiver
It took me 4 years to figure out how to get Aaron a Medicaid Waiver. Aaron was one of the first people to get one in the state of Ohio and the first in Butler County. Ohio did not have the waiver until many years after other states like Minnesota.
Medicaid was set up for people in nursing homes. The "Waiver" was designed so people like Aaron wouldn't have to move into a nursing home–the money could follow them into their neighborhoods. At the time, it cost about $75,000 a year to keep Aaron in a nursing home or institution. It cost much less to be in his home community.
The Federal Government made a deal with the state of Ohio that they would pay 60% of the cost and the state would pick up 40%. Since the budget cuts, I think these formulas are changed and now the county board of developmental disabilities has to pick up most of these costs.
There are thousands of persons on the waiting lists for Medicaid Waivers. In my personal opinion, it is the strong nursing home industry lobby that is forcing Ohio to use most of its dollars for nursing homes and institutions, rather than the more economical community waivers.
If you are lucky enough to get a Medicaid waiver, you can transfer the money to another county in Ohio (if they approve it) but you CANNOT move out of state.
When we wanted to move to South Carolina or Tennessee to be closer to Aaron's brother (his future guardian), we learned we would lose Aaron's waiver and have to get on that state's waiting list.
We filled out all the paperwork for Tennessee, met with a young social worker who was just married. Basically we were told the only way we could get a waiver in Tennessee was to drop Aaron off at a street corner and say he was homeless. The interesting part of this story is that we checked back with this social worker two years later to see where Aaron was on the waiting list. She pointed to a pile of papers in her office that went floor to ceiling and said, Aaron's paperwork was somewhere in the pile. She also told us she was now divorced.
Aaron's name on the waiting list, lasted longer than the marriage of the social worker. We gave up and sold our property in Tennessee.
Too Complicated? Questions? Ideas? Comments?
If you were a parent or had a family member with a disability where would you go? What would you do? Please share your thoughts.
Keep Climbing: Onward and Upward.
All my best, Mary