Posts Tagged 'transition'
In the last post, Memorial Day and People with Disabilities I talked about how Aaron, my son who has autism, worked at a cemetery after he graduated from high school.
To the best of my recollection, this is how it worked:
The Landscaping Mobile Work Crew
Definition: Supported Employment Model: Mobile Work Crew

A small crew of persons with disabilities (up to 6) works as a distinct unit and operates as a self-contained business that generates employment for their crew members by selling a service. The crew works at several locations within the community, under the supervision of a job coach. The type of work usually includes janitorial or groundskeeping. People with disabilities work with people who do not have disabilities in a variety of settings, such as offices and apartment buildings. Supported Employment
Sometimes Cemeteries are for the living.
JOB ANOUNCEMENT: The cemetery board posts the lawn maintenance jobs for bids in the local paper.
JOB DEVELOPER:
The County Board of Developmental Disabilities (CBDD) job developer bid the job. Because of the size of the cemetery, the administration of the cemetery awarded several contracts. (For the five years I was involved, the CBDD got one of the contracts each year.)
Paid
The CBDD paid the workers minimum wage from this contract. Each member of the Mobile Work Crew was already on Medicaid/Medicare and the seasonal wages were within the limits of their SSI and SSDI requirements.
The job developer negotiated the details of the contract as well as was the contact person for any problems between the cemetery administration and the board as well as members of the mobile work crew.
Natural Supports
The cemetery provided the equipment. There was a garage-type lounge for all the crews and workers with a table and restrooms. They could mingle with the other workers from other lawn companies (non-handicapped) in the lounge. There was some natural support from the other workers who were doing the same jobs and the same sweating.
SUPERVISOR OF MOBILE WORK CREW
There were six people with disabilities and a supervisor on the crew. The supervisor was a year long salaried employee of the county board of developmental disabilities. She had experience working with people with disabilities and had been trained as a special education teacher. She had total responsibility for keeping the workers safe, happy AND getting the job done. If she needed extra help, she would go to the job developer or her other CBDD staff.
Aaron's job coach was under her supervision (because she was in charge of the whole job) but worked independently with Aaron.
TRANSPORTATION
All the adults with disabilities would be transported from their homes to the sheltered workshop. The supervisor would drive a small van, similar to the vans the other lawn service companies used, from the sheltered workshop to the cemetery and then back to the sheltered workshop for the trip home.
Inclement Weather
On days when it rained, the crew could stay home if they wanted, or hang out at the sheltered workshop. If there was work at the sheltered workshop (usually not) they were able to jump in. If there was no work they could hang out with their friends and play cornhole, bingo or whatever the activity.
JOB DESCRIPTION
Ongoing Support
Before the crew began work, the supervisor and job developer made task analyses of each of the jobs. The individuals with disabilities applied and interviewed with the supervisor. If there was a good match, the training, modifications and accommodations were added to the individual's Individual Service Plan (ISP).
OVERVIEW:
Who knew there were mowers about a foot wide which fit easily between the older tombstones? There were four mowers in this mobile crew.
There were two weed-wackers or whatever they are called. (The cords swing around and cut the weeds which the mowers miss.)
There was a "task analysis" of each job.
They were trained on the job. (They didn't practice cutting the concrete in the parking lot to get ready*smile*)
Because the job was repetitive, it was a perfect fit for many of the workers. They knew exactly what they were supposed to do, and after a short time, were independent in many parts of the job.
If any of the workers needed adaptations (shorter hours, more breaks, special gloves or boots…) these were included in their ISPs (Individual Service Plans). Therapists (Occupational Therapist, Speech/Language and Physical Therapist) were available for the initial evaluations/training, if necessary.
Establishing Routines
The supervisor would start the day with some conversation, some joking around and individual attention to each of the crew members. They would get a short break mid-morning, they brought their own bag lunch, and a mid-afternoon break. But most of the day, it was sweaty and hot and lots of hard work—serious business.
The supervisor made sure the crew members had sun-screen, hats, appropriate clothing, solid shoes (no sandals), water….
She also worked side-by-side with the workers. She made decisions to go to another section if a funeral was in progress, if the area was underwater…; she pulled weeds… and did whatever it took to make sure everyone was successful, and the finished job met the requirements of the cemetery board.
Partial Participation
Aaron, my son with the label of autism, does not have the skills to run a lawnmower or weed-wacker. He would not be able to be part of the mobile work crew of 6 workers who are mostly independent on the job once they are trained. Because Aaron was in the official "transition" from school to work, he was eligible for a job coach from Rehabilitation Services.
So, because he had the physical support of a job coach, Aaron had the opportunity to join the workforce.
Is there some job he could do at the cemetery? Could he partially participate in this work?
After doing an ecological assessment of the job, Kim (Aaron's job coach) decided Aaron could pick up the sticks before the lawn mowers came. So Aaron and she would drive a golf-cart to the area where the crew was mowing, and then they would collect sticks, dead flowers, and other stuff left on the graves, put them in a trash container tied to the back of the golf-cart and then take it to the dumpsters.
Aaron loved this job. First of all, he loved Kim, the job coach. She made him feel important, she helped him when he had trouble bending over, she helped him put the sticks in the trash container, she helped him wheel the container to the dumpster. Kim, looked at every piece of the job and asked herself, "How could Aaron at least partially participate in this job?"
Plus, Aaron loved riding in the golf-cart. When Aaron did particularly well, Kim would give him an extra long ride around the large monuments.
The side benefits were Aaron made a small amount of spending money, he paid into social security, he was out in the sunshine (with lots of sunscreen) and glowed with health, he was physically strong from all the exercise, plus the emotional benefits: he knew he was contributing, he was part of a group of people who valued his work, he could make all the noises he wanted (and wouldn't wake up the dead), he enjoyed riding in the golf cart, instead of physical therapy practicing his balance climbing steps to nowhere—he had a functional way of practicing his balance in the real world. He had a great friend and mentor in Kim. It was a terrific experience.
And, for Memorial Day, 4th of July, Veterans Day… Who was the person who put the flags on the tombstones?
It was Aaron.
Trivia too good to pass up: One of the cemetery monuments is enclosed and heated. Yes, the person who died years ago was so afraid of being "cold"–they stipulated in their will that the space above the grave would be heated (including a back-up generator in case the electricity failed.) That is a powerful "fear."
Keep Climbing: Onward and Upward
All my best,
Mary
Comments:
Have you ever seen a mobile work crew of workers and wondered how it worked? Is partial participation better than no participation? Should people with disabilities be allowed to work?
FOR MORE INFORMATION:
To celebrate the new school year here are some of my favorite posts:

Article 1: Why Do We Go to School?

Article 2: Back to School| A New Year of Learning

Article 3: Back to School| What is Inclusion?
Functional Curriculum
When my son Aaron was in school, shopping was part of his curriculum. From the time he was ten years old he went to the bank and grocery one day a week as part of his special education school program.
This was best practice and came from the work of Drs. Lou Brown, Alison Ford, Sharon Freagon and many others. The idea of a functional curriculum for people with autism, intellectual and developmental disabilities is:

* it takes longer to learn skills, so let's make sure we teach important skills and not waste their time on dumb stuff

* it takes lots of practice, so let's give the student lots of opportunities and trials

* use it or lose it, so let's make sure the skill is something the student will need their whole life

* transition from school to adult life will be smoother

* we only teach skills that if the person didn't do it, someone else would have to do it for them

* the ability to purchase items would give the person more dignity, self-esteem, self-determination skills and choices in their life
The way it worked was each week, Mom sent in a check for $10.00 and a shopping list. The class went to the same grocery store (because each store is different). Each student cashed their check at the bank and then bought items from the list to take home.
In addition, students also planned a lunch to be made in the classroom the following day. Each would purchase a couple items for that group lunch. These items were purchased with the classroom credit card.
This functional curriculum was based on the philosophy that Aaron would go to the grocery the rest of his life. Before the school year started the IEP team decided this was a high priority skill because he would need to buy food and other items when he was an adult. If he didn't learn to purchase these items, someone else would have to buy them for him. If Aaron could purchase the items he would have more choices and say in his life and therefore a better quality of life. (Who wants someone else deciding you can only have Cheerios for breakfast all your life.)
Related Service Staff
The curriculum was designed by the IEP team including specialists and the parents. After all, who would be taking the student to the grocery on the weekends, summer, and after school. And who knew what the student liked better than their parents?
I was in the school a lot and went on many of the community training trips with Aaron and his class.
It takes a Village
The speech and language therapist helped Aaron build picture sequences of "shopping at Krogers," check-off lists with pictures for grocery lists, and learn to interact with the cashier "Thank You" and give a High 5 to the bagger….
The occupational therapist helped Aaron figure out which coin purse/wallet worked best, learn to pay with the next highest bill, learn how to take the money out of his wallet (hold wallet in left hand and take out bills with right) and after many failures of getting the change back in the wallet–it was decided Aaron should just put the change in his pocket….
The physical therapist helped Aaron figure out how to climb up and down the steps on the bus (hold on the rail with his right hand and count the steps), how to maneuver the parking lot (and yes we had an IEP goal that said with 50% accuracy), how to enter the right door–even if there are two "in" doors,
how to reach the items on the bottom shelves (hold on to the grocery cart with his left hand and reach with his right)….
Depending on the therapists schedules, they might only be involved in periodic assessments, or they could go with the class every week. This was an excellent way for the therapist got to really see Aaron in this environment and practice REAL life skills.
The teacher and assistant teachers went every week with the 6-8 students in the multi-handicapped class. She/he helped Aaron match his pictures to the actual items in the store, find his favorite items and put them in the cart, learning appropriate social skills….
After High School
Unfortunately now that Aaron is out of school, he has lost most of those skills because adult service staff refuse to take him to the store or don't have the knowledge or support they need. Here is a story about Aaron's home (click here). It is not the fault of the staff. Some of them are very loving and do a great job.
So I take him every weekend when he is home with us. Here is a story of a recent shopping trip (click here).
Aaron and I are a team and we have worked out our own system. We only shop for about 10 items and Aaron puts the items in the cart. Sometimes Aaron will grab something off the shelf and if it is anywhere close to something he might want, I'll let him buy it. ie. if it is a bag of cookies or cereal –he can keep it. If it is a box of denture tablets probably I'll tell him what it is and put it back.
Choices: Quality of Life and "If Only"
If I had the opportunity to change things in Aaron's life, it would be that adult services used a functional curriculum and adult residential services gave Aaron and others with autism and severe disabilities the opportunities to practice their skills. There is no question Aaron would not currently be LOSING these skills. There is no question these skills would enhance Aaron's self-esteem and quality of life.
The reason I could insist on these skills being taught and used when Aaron was school age was because of the federal mandate in IDEA. The Individual with Disabilities Education Act said that parents were part of the IEP team and the parents had due process if they disagreed with the school personel. There is no such mandate for Adult Services, no due process for parents and/or guardians. Plus, in Adult Services the staff does not have to be trained or have any teaching license.
As my friend Deb used to say, "When I am made Queen of the Universe" I will declare it. Until then, I'll take Aaron every weekend and give him as many functional experiences I can.
And of course, I'll dream of the day I am Queen of the Universe. *smile*
What ifs? Comments?
Any stories about your child's school experiences preparing them for the future? Any luck with using those skills in their adult life?
Anyone else want to be "Queen of the Universe"?
Keep Climbing: Onward and Upward
All my best,
Mary
Related Posts
Building Community| One grocery trip at a time
It's a Jungle out there| Inclusion in the grocery store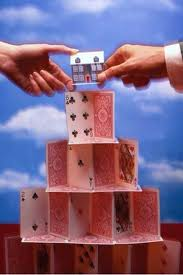 Living in a House of Cards| Non-Profits, HUD, Medicaid Waivers (Part 1)
My friend Debbie Wetzel always said the human service system was a house of cards.
As parents of people with severe disabilities, we need many agencies, many people working together to get basic services.
The right cards are usually hidden from sight. The agencies hope you don't need them, won't use them for a long time, and won't mind their card tricks.
When your child is in school, the ace up your sleeve is the opportunity to go due process, that brings some accountability. However, there are no mandates for residential or adult day services. There is no due process.
It takes a Herculean effort to hold a house of cards together. One piece falls–the whole house tumbles down.
And yet families need all the different agencies and services to try and create a decent quality of life for their vulnerable children.
Even with great transition and long range planning it is difficult to know what to do. Here is Aaron's Dream Plan number 4. (click here)
Right now Aaron's house of cards is falling down. Aaron has autism and other developmental disabilities. He is 36 years old. He has been living in a residence for almost 11 years.
It is complex and has taken a TON of work to make every card fit in place. I thought I would start Part One describing some of the pieces of our house of cards. I'm hoping someone will have ideas on how to solve our crisis.
Resident Home
Aaron and his housemate, Jack, rent the house from Resident Home, a non-profit. They have lived there for over 10 years and I think the Resident Home does a good job of keeping the house in good repair.
The house was acquired with a $10,000 grant from the state (for the down payment). Aaron qualified as the person with a developmental disability that needed a home, so it was because of Aaron that Resident Home got the grant. The house had to be located in the city limits of Hamilton, Ohio and there were other restrictions. But, it was the timing, and Aaron's eligibility that got the initial money.
Aaron signed the lease in his name.
Aaron also put $1000 of his own money into building a patio in the back yard. Tom and I take great pride in keeping the yard clean of trash, tree limbs (the lawn service won't pick them up) planting flowers, mulching, trimming shrubs….
Zoning
The house met the current zoning laws. Because there were only two people and one staff person living as a single family unit, there was no need for public hearings or zoning changes.
HUD Approval and Inspections
Resident Home had to get the house HUD approved and meet inspections a couple times a year.
I liked the idea of inspections for safety and hazards by an independent inspector. Since Aaron can't talk or tell us what is going on in the house, and the staff might not have the expertise–or the will, this provides another layer of protection to Aaron. Plus, if the resident was abusing the house, it provides a layer of protection to Resident Home.
Since Aaron will probably live in this house for the rest of his life, Resident Home has a steady tenant, almost no turnover, and guaranteed rental payment for their property investment.
When Aaron and Jack moved in, we had a room created by taking the back part of the two car garage (obviously, Aaron was never going to drive). This converted room became the permanent address for Jared, our full time caregiver. He stayed for over two years. When he moved, part-time staff slept and had an office in the room. The room has no closet (so technically isn't a bedroom according to building code) and because it was an addition, the heating and air conditioning doesn't work well. It's hot in the summer, cold in the winter. The little air conditioning unit fills the window that was added. There is no outside exit.
HUD
It took me over 3 years to figure out the HUD funding eligibility for Aaron. My brother rents HUD houses, so he helped.
Aaron was the first person with a significant disability in the state of OH. to get the subsidy. It took many meetings, and finding loopholes in the fine print. Up until Aaron got the subsidy, there were issues of two non-related people living in the same home (thanks gay rights advocates) and the fact that there was a caregiver staying in the house (thanks senior and elder care advocates).
We were told parents could own the house because there was such discrimination against people with disabilities and housing shortages. But, we were also warned that this could get tricky. Not sure where it stands in 2011. Also, initially we were told that if there were 2 people with disabilities in the house and a full time caregiver, they could apply for 3 bedrooms. Since I wasn't able to work for pay most of my life, we were grateful Resident Home was willing to buy the house.
Safety Issues–Staff Room
A bedroom with a door that locks was considered a safety issue since there have been caregivers (mostly women-some quite elderly) who are watching men (some of whom have abuse and labels of mental illness). Imagine, a woman sleeping on the living room couch with no where to go if one of the men got aggressive. Though rare, there have been some instances of abuse.
HUD Rent Formula
According to the HUD funding formula, Aaron and his housemate spend up to 1/3 of their income on rent and according to a formula (which only God could understand) HUD picks up the rest. The formula considers if it is a distressed neighborhood, county (urban, rural) whether there is a washer/dryer, stove… in the house.
The house has to be HUD approved and meet specifications like have a front door that locks and screens on the windows….
Aaron's portion of the rent comes from his HUD rent subsidy and his SSI.
SSI and SSDI
Social Security Income is a small monthly income given to people with disabilities. It depends on the person's work history and employment and other factors (known only to God) but I think Aaron's runs about $450 a month. Now, how anyone can live on $450 a month is also known only to God.
Social Security Disability Income is based on a person's work history and other requirements. It can also be based on the parent's eligability for SSI.
Amazingly, Aaron qualified for SSDI on his own. Which was good because as teachers, Tom and I didn't have social security. (I think teachers now have to pay into social security, but they didn't in the past.)
Work Study and Vocational Training
While Aaron was in Junior High and High School he participated in Work Study and summer, after-school work programs. He made a small wage plus learned great skills. He loaded pop machines, scraped gum off desks, watered flowers, cleaned windows, moved desks out of the classrooms for floor waxings, he folded towels, did laundry, picked up trash…. (He had a job coach with him.)
Because he had a disability at a young age, the number of quarters for eligibility were reduced. Every month I thank Aaron's great high school teacher for making these jobs available. Aaron gets an extra hundred dollars (I think) a month for SSDI.
Medicaid Waiver
It took me 4 years to figure out how to get Aaron a Medicaid Waiver. Aaron was one of the first people to get one in the state of Ohio and the first in Butler County. Ohio did not have the waiver until many years after other states like Minnesota.
Medicaid was set up for people in nursing homes. The "Waiver" was designed so people like Aaron wouldn't have to move into a nursing home–the money could follow them into their neighborhoods. At the time, it cost about $75,000 a year to keep Aaron in a nursing home or institution. It cost much less to be in his home community.
The Federal Government made a deal with the state of Ohio that they would pay 60% of the cost and the state would pick up 40%. Since the budget cuts, I think these formulas are changed and now the county board of developmental disabilities has to pick up most of these costs.
There are thousands of persons on the waiting lists for Medicaid Waivers. In my personal opinion, it is the strong nursing home industry lobby that is forcing Ohio to use most of its dollars for nursing homes and institutions, rather than the more economical community waivers.
If you are lucky enough to get a Medicaid waiver, you can transfer the money to another county in Ohio (if they approve it) but you CANNOT move out of state.
When we wanted to move to South Carolina or Tennessee to be closer to Aaron's brother (his future guardian), we learned we would lose Aaron's waiver and have to get on that state's waiting list.
We filled out all the paperwork for Tennessee, met with a young social worker who was just married. Basically we were told the only way we could get a waiver in Tennessee was to drop Aaron off at a street corner and say he was homeless. The interesting part of this story is that we checked back with this social worker two years later to see where Aaron was on the waiting list. She pointed to a pile of papers in her office that went floor to ceiling and said, Aaron's paperwork was somewhere in the pile. She also told us she was now divorced.
Aaron's name on the waiting list, lasted longer than the marriage of the social worker. We gave up and sold our property in Tennessee.
Too Complicated? Questions? Ideas? Comments?
If you were a parent or had a family member with a disability where would you go? What would you do? Please share your thoughts.
Keep Climbing: Onward and Upward.
All my best, Mary
To those of us who care about people with disabilities, it is always shocking to hear about media personalities attacking the vulnerable people we love.
"R" Word Slips of the Tongue
NBA star LeBron James apologized for saying "that's retarded" during a post-game press conference.
That was bad. But he apologized, and hopefully learned to never use the "r" word again.
LeBron James Under Fire For 'Retarded' Comment (click here)
Some would argue this was an example of the Politically Correct Police censuring free speech. This would be true if there wasn't a long and recorded history of discrimination against people with intellectual disabilities. Check out the Parallels in Time website if you have any doubts.
With Rosa's Law and large organizations like Special Olympics actively challenging the media personalities who use the "R" word publicly, there is a gradual shift in the public's awareness. This is a giant step to improving the image of people with disabilities.
In another post, The 'R' word| A challenge to Bloggers I asked bloggers to not use words that insult people with intellectual disabilities and gave a sample letter which made a difference in one blog.
We all make mistakes, we all can learn to be more sensitive. Sometimes our letters need to educate good people who just haven't walked in our shoes.
Purposely Insulting People with Intellectual Disabilities
BUT…when public figures purposely insult and promote segregation and prejudice against people with intellectual disabilities and think it is funny or entertaining–that is another story.
Dennis McNulty, Director, Catholic Charities Disability Services in Cleveland, Ohio alerted the Arc of Ohio with this shocking story about a local radio station:
The Rover's Morning Glory radio show was talking about how people with disabilities, using the "r" word to refer to this group of people, cannot and should not hold jobs, are incapable of learning in school (specifically people with Down syndrome) and the disc jockey cringes whenever he hears or sees them out in public. He goes as far as saying when he sees them working in the grocery store, he is disgusted.

Even worse, the radio station chose to re-broadcast this particlular show.

Please use the link below and either call or email the radio station to express your displeasure with their choice of programming.

Mr. McNulty also advises:

The only way to do anything is by associating the advertisers and the radio station DIRECTLY with the insulting behavior.

That means calling the advertisers (and getting to the top person) and making it clear your organization and its supporters, AND its nationwide reach, will tell the public that Such-and-Such company supports the insulting, belittling, and marginalization of people who have disabilities. And that WMMS stands for the insulting, etc.

Nothing else will stick. Generally the advertisers could give two hoots about this, because they are reaching a large target audience through the Rover program. WMMS could give two hoots because it is precisely that kind of humor which draws the audience in the first place. So everybody profits at the horrible expense of those who are being ridiculed.

Again, the ONLY way to have an effect is to directly link the radio station and advertisers as being SUPPORTERS of ridicule, prejudice, insult, and marginalization.

Ask the advertiser, "do you support the ridicule, prejudice, insult, and marginalization of people who have mental disabilities? You don't? Well, we think you do, and we will tell the public. Why? Because you advertise on that radio station, which has now become an outlet for the ridicule of people who have disabilities. And we will directly link YOUR company to that degrading conduct. The only way out of it is to PUBLICLY pull your advertising from WMMS and stand with us. Period.

Take action as you feel appropriate…. Please share with others.

Dennis C. McNulty, D. Min.

Director, Catholic Charities Disability Services
Now it is easy to say, "let the big organizations, or the advocates, or the parents or … take the action."
But there is a power in one person–YOU–calling or writing an email to the station. Here is the link to the station information:
http://www.wmms.com/pages/contact/
ACTION ALERT: A challenge to those who care about people with disabilities
Below is my letter to the radio station in Ohio, I'll let you know if I get a response.
If you are as concerned as I am, I encourage you to also send your email to the radio station. Click here for the link to the radio station.
Here is my email to WMMS:
May, 11, 2011

I was shocked to learn WMMS was insulting people with disabilities and their families on the air.

Many people with Down syndrome and other intellectual disabilities can live, work and go to school in their communities and for your Rover's Morning Glory radio show to say otherwise is discriminatory.

There are only two kinds of people in the world: the disabled and the "yet-to-be-disabled." Each one of you and your family members are only one accident, one illness away from having a permanent disability.

Think about it, the insults you hurl not only reflect on you, but on the whole Cleveland community.

If you live long enough—you WILL have a disability. How many of your listeners have family and friends with intellectual and other disabilities?

How many of your sponsors have children or family members with disabilities?

When you target one group of people to degrade, ostracize and alienate as being different from you, you only make yourself look petty and ridiculous. You might think that by putting down people with intellectual disabilities, you are making yourself look better—but in fact, you are degrading yourselves.

I ask you to stop this segregation tactic. People with disabilities have the legal right, and the human right to be part of the community. We will not force them into the backwards of institutions and out of the public eye.

Instead we will celebrate their gifts to our common community. We will embrace them in our human family.

WMMS would not dare insult other minority groups. Why would you pick on these vulnerable people?

You are embarrassing yourselves.

Sincerely,
Mary E. Ulrich Ed.D. and mother of Aaron, a person with an intellectual disability
Summary:
Two scenerios:
A media person says the "R" word and then apologizes.
A media person says the "R" word to increase prejudice against people with intellectual disabilities.
I'm hoping you will want to be a part of the solution and take an action step.
Email, Call, Tweet and use your social media resources to spread the word that people with disabilities are just like everyone else and these attacks will not be tolerated.
Comments:
It will only take a minute. Will you write an email to the radio station?
http://www.wmms.com/pages/contact/">Click here
What do you think about this?
Keep Climbing: Onward and Upward
All my best,
Mary