xxxxxx
xxxxxxxxx
xxxxxxxxxx
xxxxxxxxxx
xxxxxxxxxx
xxxxxxxxxx
xxxxxxxxxx
xxxx
xxx
April is Autism Awareness Month
Is Autism just the Disability du Jour?
April 2 is World Autism Awareness Day. In the US the month of April is "Autism Awareness Month."
Autism and the public service announcements are everywhere on TV:
• 1 in 88 children is now diagnosed with ASD.
• Early Childhood intervention programs help.
• People with autism can be smart.
• A child with autism can happen in any family.
• Many celebrities have children with autism.
• Shows as diverse as Desperate Housewives now have storylines about people with autism.
This is all good, right?
Gone are the days when parents were told their children were withdrawn because they were poor parents and "refrigerator mothers."
Gone are the days when, with my son Aaron, we were told, "The chances of having a child with autism were 1 in 10,000."
Gone are the days when we were told Aaron would always be in the "idiot range of mental retardation."
Gone are the days when anyone who was different was sent to the "state hospital or institution" to make the community safer.
Gone are the days when people with intellectual disabilities were given "radiation" in their oatmeal because they weren't really human and were only useful for human experiments.
Gone are the days when, there was no mandate for early intervention programs.
Gone are the days when, we segregated people with autism into separate classes, schools and institutions away from their brothers, sisters, neighbors and community…. But wait!
Gone are the days when no one knew the best educational practices and the children spent hours doing meaningless tasks focusing on "curing" the child. But wait!
As the "autism awareness" campaigns seem to focus on using fear tactics to raise more money and get more segregated "autism-only" programs, I have to wonder if this really is a good idea.
God help us if the current trends toward "autism only" programs undermine everything we have fought for and learned in the last 40 years.
Some of the things we have learned are:

All people are human and have dreams, feelings, and hopes for the future.

All people have gifts and strengths.

All people have personalities and can love.

All people can learn.

All people benefit from early childhood programs.

All people benefit from differentiated instruction and universal
design.

All people need support and to learn to be interdependent on others.

All people have the right to life, liberty and the pursuit of happiness.

All people can communicate and have important things to say.

Behaviors equal communication.

People with autism and other labels can be contributing members of society.

People with the label of autism, are not much different than the label of cerebral palsy, spina bifida, ADHD, cancer… or people who are poor, elderly, sick… er, "normal."

The real way for the general population to understand and have an "awareness" of people who are different than they are, is NOT just a television campaign or a designated month.

The best way is for everyone to have first hand experiences:

Do you know that person's name?

Do you see them in the grocery store?

Do you share time with them at Church?

Do your children go to school with them, play on their sports team?

Are they invited to your house, to birthday parties?

Do you see them working in real jobs, doing volunteer work, sharing their talents?

Do you enjoy being with them?

Do you allow them to grow up and become adults?

How can we teach self-determination and better communication?
SHOULD NOTS and SHOULDS
Autism Day, Autism Month, Autism Awareness SHOULD NOT be about spreading fear or all about a "Diagnosis."
It SHOULD be about the difference between having a disability and having a handicap?click here
Autism Awareness SHOULD be about more research, certainly. But, the research should be to ask questions, NOT to provide answers—in 2018 we don't know enough to have answers.
Did you know that Howard Gardner studied people with autism when he came up with the idea of "multiple intelligences"?
Did you know Vygotsky examined people with severe communication problems when he developed his communication ideas on "scaffolding"?
Autism Awareness SHOULD NOT be about raising more money for those parents, professionals, for-profit and non-profit groups that are on the "Autism: disability du jour" bandwagon. They are no better than speculators benefitting from a war.
Autism Awareness SHOULD NOT be about making more segregated autism-only day programs, farms, residential communities, schools, classrooms, soccer leagues and summer camps.
Who would ever think putting a group of people with communication issues together would be a good idea? What they need most is interactions with others with strong communication skills.
Autism Awareness SHOULD BE about noticing and appreciating ALL people who are part of our human community.
It SHOULD NOT be about charity, pity and sympathy but rather about giving ALL people the freedom to grow up and be the best person they can be—just as they are: able to make their own decisions; be treated as adults; made mistakes; and, loved because of who they are.
Autism Awareness SHOULD be about the concepts of "normalization" and "inclusion." It SHOULD be about looking at people in the normal lifespan, normal opportunities. Not about fixing them with lots of therapies and aversive methods of behavior control.
Certainly, I have written many times about how Aaron and others need more support and people who are trained to work with them.
Certainly, I agree there is a desperate need for help for parents of adults to be able to find resources for their children.
Certainly, I have written of what a "Dream Plan for Aaron" would look like. And that includes Awareness–But much more.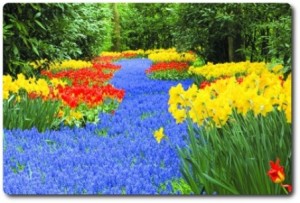 Is Diversity Beautiful?
Challenge
People with autism have taught us much about love, interdependence, talents and courage.
Can you try to get to know a person individually? Can you listen to them? Can you help them be a bigger part of your life?
If so, then April can be a month of great hope.
The earth's bounty blesses us with many different kind signs of spring. The flowering magnolias, dogwoods, apple and pear trees each add color and diversity to our world. The tulips, daffodils, crocuses each speak of the beauty of variety and remind us the earth is being reborn. Would we only want one kind of tree blossom or flower? Should we identify, diagnose and separate the trees and flowers and only celebrate the most durable or productive? Or is their beauty even in the most vulnerable blossom?
Can we appreciate and value a great diversity in nature? In people?
Maybe the most beautiful flower in the world, is really the beauty in a person.
Comments
I'm hoping you will share your comments and thoughts about people with autism? What are you doing this month to celebrate diversity in ALL people?
Keep Climbing: Onward and Upward
All my Best,
Mary