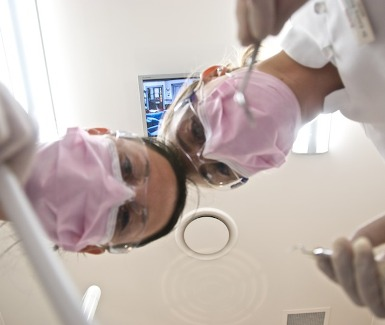 When Aaron was in high school he needed to get his wisdom teeth pulled. Sounds normal, right? You, me and most people get our wisdom teeth pulled.
The difference between you, me, most people and Aaron is Aaron has autism. That makes a huge difference in the choice of dentists, hygienists, insurance…pain, suffering and good oral hygiene. Plus we won't even talk about people who use Medical cards with Medicare and Medicaid.
Over the years, Aaron has had some great dentists and some not-so-great. Some great hygienists and…hygienists who refused to put their fingers in his mouth. One dentist wouldn't let Aaron in his waiting room. I've written about the "retarded teeth" episode.
Like most people I asked my friends for recommendations and was directed to Dr. G. for the wisdom teeth. We stuck.
Fifteen years later Aaron is still going to Dr. G., even though he is a pediatric dentist. The advantage of a pediatric dentist is he does not rely on the patient for any information and works quickly. Dentists and Doctors who work with adults usually ask their patients if they are having any trouble and expect them to participate in examinations. Young children and people with disabilities who don't use words are a lot alike.
Normalization–Yes; Age-appropriate–No.
Dr. G has a "normal" practice. He works with lots of children and a handful of people with disabilities. While this meets the definition of "normalization" or "social role valorization," this would not meet the definition of age-appropriate–Aaron is 36 years old.
How the Doctor Visit Works
Last week Aaron had his bi-yearly visit for a check-up and cleaning. Tom, my husband, takes Aaron (I'm too squeamish).
We have learned the best time for an appointment is the last appointment before lunch. This way, there are only a handful of other patients, the waiting room is less chaotic, and if Aaron runs over, there is some flexibility. We also schedule a day when Kathy, the dental hygienist, is working.
Full Circle
Kathy has worked with Aaron for many years but this year, a new hygienist was assisting her. Turns out this new hygienist was one of Dr. G and Kathy's former patients. She grew up watching Dr. G and Kathy, became a dental assistant and now is working in their office. Full Circle.
Inclusive Dental Care | Autistic Dental Care–NOT!
Kathy used the same techniques she uses with all her patients. The trick is she individualizes the care based on the individual needs of the patient.
Individualized Dental Plan
As Kathy worked she explained what she was doing to Aaron, Tom, and the new assistant—between verses of camp songs! So, "I'm using these cotton squares to absorb the fluid so Aaron doesn't swallow and gag…Eeeeye, eeeeye, Ohhh. And on his farm he had a cow…"
Kathy and everyone in the office, including the other hygienists, the patients and their parents all sing during the dental cleanings. She'll be comin' round the mountain, Wheels on the bus, If you're happy and you know it…
Aaron loves it. This helps him relax, plus it builds a community among all the people in the room.
This isn't the dreaded trip to the dentist I had when I was a kid, this is just a trip to the dentist with some fun people. And, the most interesting thing is ALL the other kids and parents love it too. Aaron often makes strange noises, somehow having a familiar song and such an accepting environment makes everything okay.
The amazing results are Kathy gets Aaron's teeth cleaned thoroughly, she even flosses his teeth.
This is ASTOUNDING!
If you polled a group of 50 school psychologists 100% of them would say flossing Aaron's teeth was impossible. You see this would NOT fit in any scientific venue. There would not be a big enough sample of patients, there would not be replication or any guarantee this would work in other dental offices. There would not be a lot of people just like Aaron, or like Kathy or Dr. G.. So, scientific methods are not applicable, this is not predictable. It just works.
Other tricks we learned from Dr. G, Kathy and the other people in the dentist's office:

1. Use a sealer on the teeth. Aaron got his first sealant applied when they first came out over 15 years ago. The sealant has held up. Aaron has had no cavities in all that time.

2. Aaron goes into the hospital and Dr. G does a deep cleaning when needed. In 15 years, Aaron has had this procedure two times. It requires him to be put under, so it is serious.

3. Dr. G especially looks for gum disease at each visit.

4. He does not recommend an electric toothbrush for Aaron.

5. He does give a report card to Aaron on his dental hygiene.

6. We take this report card to Aaron's ISP meeting and incorporate the teeth brushing into Aaron's goals. Now, we know Aaron doesn't brush his teeth—so this is mainly for the staff. But by incorporating it into the record keeping, there is some accountability for staff.

7. I'm sure Kathy and the others have all kinds of technical hints i.e. Because of Aaron's balance issues, they adjust the chair for Aaron's comfort—rather than theirs….
Dr. G.
As far as we know, Dr. G does not get paid for working with Aaron. We give the office staff Aaron's medical card, but Dr. G has shared it is not worth his time to file the paperwork.
Kathy and the other hygienists always tell us it is their pleasure to work with Aaron. And they make us believe it. They make us feel Aaron is an important member of their caring community.
They make us feel welcome. We feel no one could pay them for the love and extra attention they give to Aaron. It is a special gift indeed.
I think they use Aaron to train their staff. Who knows whether that new hygienist may one day be doing Aaron or someone else's teeth? I like to think Aaron is teaching them? Maybe they think, my god, if we can floss Aaron's teeth—we can do anyone! Or, maybe it is a point of pride that they are damn good hygienists!
I think it is because they are just good people who care about other people. They are good hygienists with everyone–not just Aaron.
In return, as Aaron's parents we cherish them and their gift.
State Cutbacks
When the state was going to reduce the dental visits from 2 times a year to once a year for people on medical cards, I wrote a letter to the state and called Ohio Legal Rights. The state cut back, reinstated, and then I think the current status is cut back again to one time a year.
Since Dr. G is so generous, we have had the luxury of taking Aaron twice a year. And we know we are blessed. Aaron has a great smile, his teeth and gums are healthy. We are lucky.
Tom and I also hassle the residential staff about brushing Aaron's teeth. I've written before about how the caregivers don't think this is necessary. So we make sure the staff knows this is a big deal and we will follow-through if Aaron's teeth are not clean.
Every office visit, we also always bring all the dental staff flowers or a plant, we send thank you cards and tell them how wonderful they are. Kathy always gives Aaron a hug. And it always chokes us up.
Bill F.
Wolf Wolfensberger wrote an article about Bill F. I will never forget. Wolfensberger is a professor at Syracuse University who is famous for his theory of Normalization, Social Role Valorization and Citizen Advocacy.
In his article, Bill F. is a man with an intellectual disability who actually died because he was not given dentures that fit. This started a cycle of him not being about to eat well, manage his diabetes, which led to him becoming frail, which led to him falling, which meant he was put into a nursing home and lost his apartment and independence…. And died—all because he didn't get the dental care he needed.
The other part of the Bill F story is about the role of advocates, friends, citizens who just cared about Bill and tried to get him help. These citizen advocates (here is an article from the MN Governor's DD Planning Council site) gave Bill the dignity of being a friend and person. Not a client, not a patient, not a person with mental retardation who they were going to save or offer their charity. These citizen advocates cared about Bill the person.
I like to think Dr. G, Kathy and the other staff are not just doing their jobs when they treat Aaron. They have proven, time and again, they care about Aaron. He is more than just the patient in the 11:00 slot.
I think Aaron gives them something rare, something that makes them feel proud and humbled that they can be with him.
So, AHHHHHH indeed. Dr. G, Kathy and all people who work to give good dental care and sooo much more–Thanks We Love You. You make our mouths and hearts smile!
Keep Climbing: Onward and Upward
All my best,
Mary
Comments:
If you liked this post, please add your thoughts, share it on Twitter, Facebook… and other social media.
What do you think about the government cutting back dental services for people with disabilities? Does it make a difference if they only get their teeth cleaned once a year? Would they have extra reasons for needing check-ups twice a year? Is this discrimination? Are dental services for people with disabilities a waste of taxpayer dollars?
PS. You are allowed to disagree with me, a different viewpoint, helps us learn and find solutions.
Wolfensberger, W. (1989, December). Bill F.: Signs of the times read from the life of one mentally retarded man. Mental Retardation, 27(6), 369-373.