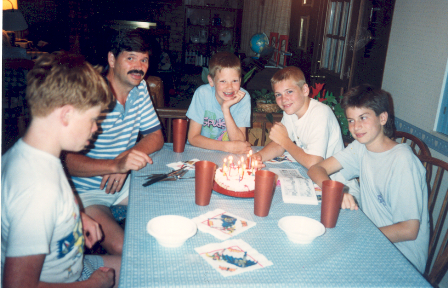 When you fail to plan, you plan to fail. R. Schuller
Dream Plan for Aaron: 1981 (Part 1) (click here) talked about Aaron when he was age 6 and Tommy age 4. In Part 2 I will talk about when Aaron was in Junior High. In 1989 Aaron was 14 and Tommy 13. In a later post, I will describe exactly how we tried to implement this dream plan. The successes and attempts that failed, er, were learning experiences.
Dream Plan for Aaron: 1989 (Part 2)
Each day Aaron will get a hug, a song, a tickle, opportunities to exercise and to help someone.
He will have choices in each activity and environment which fills his life space (community, school/work/vocational, leisure/recreation, domestic domains).
He will have the best adaptations, supplementary materials, communication system and other modifications so he can be as independent as possible.
He will at least partially participate in all of his life activities, with the constant goal of increased participation.
But the most important part of the dream is for Aaron to have people who love him, and who he can love–a strong circle of friends.
Community Connections and Networking
Aaron will have increased opportunities to be around people who are NOT PAID to be with him.
He will be part of several groups/clubs which are composed of persons with and without disabilities. These groups will be for people about his same age, who share some interest.
They will get to know each other over time, and will have many shared experiences. There will be a formal "Circle of Friends" session to outline people and goals to achieve community connections.
This networking will include each of their families and friends so there is a community of people who care about Aaron.
School Domain:
Because Aaron has the label of autism and mental retardation, we know he will learn fewer things than 99% of the population.
We know it will take him longer to learn them,
We knowhe will forget and lose skills he doesn't practice.
We know Aaron needs adaptations, modifications, etc. to even partially participate in activities; and,
We know he will need direct /indirect supervision at all times.
Aaron has been in school 13 years he has only 8 years to go:
In school, Aaron will have a functional curriculum (vocational, recreation/leisure, domestic and general community functioning) which looks at he needs in his life spaces. This will carry over in all parts of his life–all year long (including summer school).
It will be arranged around activities which are jointly decided by Aaron, his family, friends and professional team.
Vocational/Job Domain:
Aaron will continue to build his job resume. During his last year of school (age 22) Aaron will be placed on the permanent job he will continue after graduation. He will have the communication system and other adaptations he will need.
Aaron's employment may include paid and unpaid hours. It may include 4 hours/seven days each week because of Aaron's love for routine. It may include the same job (loading pop machines, emptying waste baskets….. in several sites. It may include a variety of tasks (so he doesn't get bored) and could require a co-worker with complimentary skills so Aaron and he/she could share a job.
It should be a job he likes and around people who will get to know and like him for a long period of time. The ongoing support of the Butler County Adult Supported Employment Services Division will be in place because of a well developed transition plan for vocation and independent living between the school and adult services.
Domestic Domain:
Around age 22, Aaron will move to a shelftered apartment/condo or co-op housing unit in his community (West Chester).
He will live with one or two other people with disabilities or in a foster family/shared-parenting arrangement. He will recieve supported living personnel from BC Residential Semi-independent Living Services.
Aaron will actively participate in his own shopping, cleaning, cooking, yard work and personal grooming needs. He will use the communication systems he learned in school.
The home, as close as possible, should match the lifestyle of the neighbors/community and be near his natural family.
Leisure/Recreation Domain:
Aaron will have supported recreation/leisure activities in his community and will join some community groups/clubs; tandem bike riding, bowling, YMCA, Exercise, horseback riding, swimming, etc.
Long Term Supports:
Financially, Aaron will be dependent on SSI and Medicare. An insurance trust will be set up to supplement his basic needs, activities, clothing, recreation/leisure and medial care in the case of his parents passing away.
Tommy will be Aaron's guardian and though not providing direct care, he will oversee the quality of care. This will work if the trust is large enough when the parents die.
We know 99% of people with severe disabilities are either physically, emotionally or sexually abused or neglected.
We know Aaron is especially vulnerable.
We hope to surround Aaron with people who care about him, love him and at least a few people who don't have to be paid to be around him.
We want to give him varied opportunities to make choices and be challenged to increase skills in all his environments and activities.
Though dependent in many ways, Aaron will have self esteem and confidence in the things he does– and be a contributor to his family, his extended family and society.
Judith Snow urges us to "Dream more than plan. Plans tend to become hardened–they lose the capacity to change. If you take the first step toward a dream, the dream will change as you go along. The dream will be changed by reality, but the dream will also change reality."

Beth Mount, et al. What are Learning about Circles of Support 1988.
Speak Your Mind:
When you were in Junior High, what kinds of dreams did you and your parents have? How were they alike and different than our dreams for Aaron? Could you see the evolution from the 1981 Dream Plan (Part 1) to the 1989 Dream Plan (Part 2)? What do you think Aaron's life might look like in 1998?
Keep Climbing: Onward and Upward
All my best,
Mary
Part 3 will be a list of Aaron's likes and dislikes we gave to the residential staff when Aaron moved into his own place at age 25.