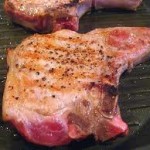 The Case of the Bleeding Pork Chop
This week I received an "incident report" from my son's adult day program–they are the ones who take care of Aaron from 9-4 each day.
The residential staff, who prepared Aaron's lunch, were written up for: "safety issue—undercooked pork leftovers in lunch."
The report read:
"For the second day in a row, Aaron was sent in with pieces of pork chops that were undercooked. The insides were pink and bleeding.

Pork must be cooked all the way through or it can make you very ill. Our concern is that these are leftovers. So he was served this raw the first time.

We cooked the pork to completely done before serving it to Aaron to insure his health and safety."
What to do?
Since Aaron is 37 years old, as his parents and guardians, over the years we have had scores of "incident reports" since he moved into a supported living home with another young man. So, no panic–but certainly there is concern. Aaron has autism and can't speak for himself, he is totally dependent on others.
The day care staff solved the immediate health and safety issue. Thankfully, they took the extra time to cook the pork chop for Aaron's lunch and he didn't go hungry or get sick.
Now, the issue becomes one of communication and prevention.
How can we get everyone to work together so this and other safety and health issues don't happen again?
Calling in the Team: Making the System Work
I called our case manager and asked her to set up a meeting to talk about pork chops, transportation, personal care and communication. The pork chop "unusual incident report" is just one of several items of concern: late arrivals, communication charts not filled out….
No one wants to go to meetings, no one wants confrontation–and everyone seems to want to point fingers.
Safety is More than Just about Cooking
It used to be illegal for one company to provide the house that Aaron rented, the residential support staff that took care of him from 4PM to 9AM and the day program staff who support him from 9AM to 4PM.
Because of current "anti-government" feelings, those restrictions were changed. Now one company can have the contracts on all three services: rent, residential and day care services–Sort of like the institutional model of old.
Fortunately, Aaron has three different companies and I think this gives him a better system of checks and balances and the day program could report the residential company and vice versa. Aaron can't be dismissed or forced to move out if the only company decides there is a problem or the parents ask too many questions.
The real health and safety issue in this story is that Aaron, and other vulnerable people, need caring professionals who are willing to advocate for him and file incident reports and communicate problems.
Separate companies make this more feasible.
The real bleeding only happens when professionals keep quiet and don't report problems and help make the system work.
HOLIDAY BONUS for Independence Day
Check out Mike Korins singing "Up to the Mountain" (a Martin Luther King song). He is an 18 year old man with the label of autism.
I agree with him that this song could also describe those of us living in a segregated and "special" Disability World who want to find an inclusive free world and go "Up to the Mountain."
P.S. Yes, some people with autism can not only talk, they can sing!
Up To The Mountain (MLK Song) Lyrics

I went up to the mountain
Because you asked me to
Up over the clouds
To where the sky was blue
I could see all around me
Everywhere
I could see all around me
Everywhere

Sometimes I feel like
I've never been nothing but tired
And I'll be walking
Till the day I expire
Sometimes I lay down
No more can I do
But then I go on again
Because you ask me to

Some days I look down
Afraid I will fall
And though the sun shines
I see nothing at all
Then I hear your sweet voice, oh
Oh, come and then go, come and then go
Telling me softly
You love me so

The peaceful valley
Just over the mountain
The peaceful valley
Few come to know
I may never get there
Ever in this lifetime
But sooner or later
It's there I will go
Sooner or later
It's there I will go
Share your thoughts:
Do you have any similiar stories? Isn't Mike Korins terrific? Do you think there are adequate checks and balances? Should one company be allowed to do all three services (rent, residential and day supports)?
Keep Climbing: Onward and Upward
All my best,
Mary
Related Posts:
America the Beautiful| Through the Autism Family Car Window
Partners in Policymaking| 25 years of Making our Government Work