Archive for the 'Adults with autism' Category
Mouth watering?
Don't these chocolate covered strawberries look delicious?
For the Holidays, or any day, what about making chocolate covered treats or gifts for the people you love?
Chocolate Covered Fun for ALL AGES and Abilities
Parents, Special Education Teachers, Directors of Day Programs and Senior Centers: Everyone is looking for activities that are fun, age-appropriate, and allow people with all ability levels to participate.
Taking your favorite snack for a chocolate dip may be the answer.
The costs will vary according to the ingredients, but pretzels and marshmallows are cheap. Of course if you want to go gourmet, hey, yum.
Partial Participation
"Partial Participation is Better than Exclusion from an Activity" (Lou Brown)
Even if the recipe says, "Easy" that doesn't mean every person can do every part of the activity.
For instance, Aaron, my son with the label of autism, wouldn't be able to set the timer on the microwave–but he can certainly dip the pretzel in the chocolate sauce and choose the kind of sprinkles for the decoration.
Aaron can't read the recipe with words, but he could follow the directions with pictures and though he can't drive to the grocery, he can partially participate by picking out the pretzels and chocolate.
When Aaron was in school and had a speech therapist, one of his goals was identifying pictures of grocery items and finding the item in the grocery aisle. When he had a physical therapist, one of his IEP goals was pushing the grocery cart without hitting anyone in the grocery store. (Not a pretend grocery store in the classroom.) When he had an occupational therapist, one of his goals was to hand the grocery clerk the money to purchase the items and put the money back in his pocket. Aaron successfully learned these skills and practiced them every week in his functional community based program and … every time our family went into the community grocery store.
There are lots of things Aaron can do to partically participate in every activity.
When Aaron is part of the group, when he does purposeful, functional activities, he develops self-esteem, he is a doer. He is not just a passive observer. If he is treated as a baby, or as someone who cannot do anything but watch, then he loses his skills and his self-esteem. The people who think they are being nice and helpful to him, are not–they are actually causing him to lose skills/self-esteem.
This is a functional activity because if Aaron doesn't go to the grocery to get the supplies someone else will have to do it.
If Aaron is actively involved in the shopping, the decorating, and gives the chocolate covered pretzels as a gift HE MADE–then this activity becomes much more than an easy activity to fill the day. It can become a learning and social enhancing experience. When he gives Grandma a package of pretzels he made, it is a joyful celebration for everyone. You should see his smile 🙂
Be Creative: Lots of Ideas
Dip White or Dark Chocolate Ideas:
Dried Fruit (apricots, raisons…)
Fresh Fruit (strawberries, cherries with stems, apples (whole or slices)…)
Pretzel Rods of any size
Marshmallows
Cookies
Graham Crackers
Candy Canes
Rice Krispie Treats
How to Make Chocolate Covered Pretzels:
Things You Might Need:
Microwave-safe glass or measuring cups
Cooking spray
Bags white and dark chips (12 oz.)
Spoon
Pot Holders
Cookie Sheet
Wax paper
Bag of pretzel rods (12 oz.) or other food
Small candies or sprinkles
–
You Tube Video Demonstration
Task Analysis or Recipe
Chocolate-Covered Pretzels with Sprinkles
Recipe courtesy Paula Deen for Food Network Magazine
Prep Time: 20 min, Inactive Prep Time: 24 hr 0 min
Cook Time: 2 min; Level: Easy
Serves: 24 pretzels
Ingredients:
• 1 12-ounce package milk chocolate chips
• 1 12-ounce package white chocolate chips
• 24 large pretzel rods
• Assorted holiday sprinkles
Directions:
Place the milk chocolate chips in a microwave-safe bowl and the white chocolate chips in another. Microwave one bowl on high for 1 minute. Remove and stir with a rubber spatula. (The chips should melt while you are stirring, but if they don't, you can continue to microwave for 15 more seconds, and then stir again.) Wash and dry the spatula. Microwave the other bowl on high for 1 minute, and stir until the chocolate is melted.
Dip one pretzel rod into the milk chocolate; use a spoon or butter knife to spread the chocolate about halfway up the rod. Twist the rod to let the excess chocolate drip off. Hold the rod over a piece of wax paper and shake sprinkles on all sides. Place the pretzel on another piece of wax paper to dry. Coat another pretzel with white chocolate and sprinkles. Repeat until you've coated all the pretzels, half with milk chocolate, half with white chocolate, and let dry completely, about 24 hours. (Cover any remaining chocolate with plastic wrap and store in the refrigerator.)
Copyright 2011 Television Food Network G.P. http://www.foodnetwork.com/recipes/paula-deen/chocolate-covered-pretzels-with-sprinkles-recipe2/index.html
All Rights Reserved
Gifts and Favors, Holiday Variations
President's Day, Halloween, Easter, 4th of July, Christmas Variations
Comments:
Does it make sense that an activity as simple as making a chocolate covered pretzel can be a learning and self-esteem project? Can teachers, parents and directors of day programs make this more? Can they blow the opportunity?
Have you any ideas on this or other projects?
Keep Climbing: Onward and Upward
All my best,
Mary
Other Related Articles:
It's a Jungle Out There| Inclusion in the Grocery Store
Language of the Heart| Heartaches and Heartsongs
Busy vs. Bored| Life Space Analysis for People with Disabilities
The Animal School| Differentiated Instruction
Test Questions| Inclusion or Segregation?
Teachers| Segregation or Inclusion
Happy Ever Afters| One For The Money
—
Jolly Ole St. Nicholas| Christmas List Disability Style
(Parody on popular Christmas carol)
In our family, December 6 is the night you leave your Christmas wish list in your shoes or stockings. The German tradition says St. Nicholas comes when you are asleep, exchanges your list for a small bag of goodies and then delivers your list to Santa.
I've shared some of our great family stories from when my sons were younger in St. Nick and the Batman socksand St. Nick| Two Special Sons.
Aaron turns 38 years old next week. So what would a Christmas wish list look like for a parent of an adult with autism and developmental disabilities?
The old kindergarten teacher in me thought you might want to sing along as I make a parody of the popular Christmas song, Jolly Ole St. Nicholas, and send my Christmas list out to virtual Santa Land.
Jolly Ole St. Nicholas, lean your ear this way.
Don't you tell a single soul what I'm goin' to say?
Christmas Eve is coming soon, now you dear ole man.
Whisper words of hope for us, reassure us if you can.

Aaron's survived the ups and downs of another shaky year,
Thank you for our family and friends who are so very dear.
We did our best to make things work, but the path's not clear.
Please St. Nick, we beg of you, hear our fervent prayer:

Aaron needs a roommate quick, one with family ties.
Someone who will be his friend, could be girl or guy.
An IO waiver would do the trick, at least a level 5.
Someone who's a gentle soul who wouldn't harm a fly.

Aaron voted for our President he knows his fate depends
On Medicare and Medicaid and the generosity of friends.
He wants to know HUD will exist for the house he now calls home.
He wants to meet his neighbors not spend his time alone.

Keep him safe and free from harm, find us staff who care.
No more elves with phony smiles, who do whatever they dare.
They're now suspended by the state and deserve lumps of coal.
Assure us our government has the resolve to fill their role.

Aaron wants a healthy life, join groups and have some fun.
He wants to swim and ride a horse before next year is done.
Aaron's mom and dad love him so, but worry night 'n day.
Dear St. Nick we count on you–Aaron's in your hands today.
Comments:
What other things would you ask St. Nick for? Any stories to share?
Did you check out the Batman socks story link, it's a good one. 🙂
Keep Climbing: Onward and upward.
All my best,
Mary
—
Related Posts about St. Nick and Christmas:
St. Nicholas meets the Disney Princesses
There's no Santa Claus| Transformational Experiences
Age Appropriate Activities for People with Disabilities| Chocolate Covered Fun.
—-
Olympics, Disabilities and Inclusion
There are many legends around the origins of the Olympics. But the main idea was countries and individuals would meet every 4 years and set aside conflicts–and this shared experience would lead toward greater understanding and fewer conflicts.
Many believe the ancient Olympic games began with a foot race.
The 2012 Olympics were held in London, England. And, a footrace is not so simple. Turns out, the definition of a "foot" was a source of conflict.
Even with later personal tragedy, The Olympics story of Oscar Pistorius from South Africa is an inspirational lesson about the inclusion of people with disabilities.
Check out this video, "The fastest man with no legs" who uses his "blade runners" to race in the finals of the Olympics.
Yes, he races in the segregated Paralympics, but also in the inclusive regular Olympics.
This is an example of inclusion, self-advocacy, the power of a supportive family and an exceptional adult with disabilities.
I think this is also an excellent example of what the Olympic Spirit is all about. The Greek founders might never have envisioned this sort of story, but I'll bet they were cheering up on Mount Olympus as Oscar became one of the fastest runners in the world.
"Unfair Advantage?"
If you have feet, you have tendons and muscles which give a "spring" to your step.
If you don't have feet, you … what—sit at home? OR…
You only have the choice of a segregated Special Olympics or Parolympics event?
As Dennis Burger says, "I always think it's ironic when officials claim an unfair advantage by a guy with a prosthetic device. Go Oscar!"
Go Natalia!
Lessons from the Olympics
Why is it that those of us who would never spend 10 seconds playing or watching ping pong, or skeet shooting, or footraces… voluntarily devote our precious time to these events on TV?
Why is it we choose to root for one team or one person?
With all the important events happening in the world, why would the evening news start out with the country's Olympic medal count?
What is the magic that draws our attention?
I think the answer has to do with the concepts of "Us" and "Them." The answer is rooted in our deep psychological need to belong.
We can wonder about the concepts of nationalism but like it or not, we are part of a tribe, a nation, we are part of "Us."
And when the collected ego of our nation wins, we win.
So we say, "Go USA" or "Go England" or "Go Canada" when we really don't care one bit about archery or who can do the backstroke.
In Maslow's famous "hierarchy of needs" belonging and having people who care about you is critical to survival–more important than how many skills you have or self-actualization. Sometimes this means being part of a tribe, sometimes being part of a family, sometimes part of a church, school or … nation.
Or, sometimes sharing a bond with someone with a disability.
So when we hear about a runner who uses blades because he has no feet, or a woman who only has one hand and is a table tennis champion—suddenly we care about them.
We switch our allegiance and transfer all our goodwill to these courageous individuals because they have a disability and are part of our TEAM INCLUSION. We don't know them personally, we aren't a part of their country, but they are part of our heart.
They prove that all our daily advocacy efforts are worth it. That the dream of inclusion can be real.
They are changing the attitudes and social consciousness of a whole generation.
And it doesn't matter if they are from South Africa or Poland or anywhere—they belong to us and our vision of an inclusive world.
Comments:
I'm hoping you and members of our Climbing Every Mountain community will also share stories of belonging, inclusion, the Olympics, and building communities.
Keep Climbing: Onward and Upward
All my best,
Mary
Related Links:
See Aimee Mullen in a previous Olympics.
Do the Words "Disability" and "Handicapped" mean the same thing?
Aaron's Inclusion on the Junior High Track Team
—
Going to the family reunion, or not?
part 3.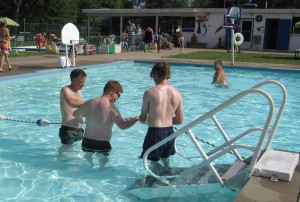 Absolutely gorgeous day for a family reunion at the swim club, mid 80s, no clouds, not even any bugs to speak of. This is my third post about Going to the family reunion, or not? In post one (click here) I talked about planning and doing an evaluation of what my son Aaron, who has the label of autism, would need in terms of modifications and accommodations to feel welcome and included. In part two, (click here) I wrote about the layers of social systems that are part of each family. Today in part 3, I'm going to talk about the actual activities and events that happened.
Informal Support Systems
Tommy (Aaron's brother), Ana, Baby Isabella and Ana's parents from Brazil arrived about the same time we were unloading the coolers, so they helped me carry the stuff and guide Aaron through the parking lot. My husband, Tom had to work so he had to miss this year. If Tommy's family wasn't here to help, Aaron and I wouldn't have gone. I figure there were about 60 relatives ranging from my mom age 88 to Baby Isabella, one year.
Aaron started repeating his, "You Okay?" routine, and everyone came over and gave him a high 5, patted him on the back, or laughed and said, "Yes, Aaron we're okay." They were welcoming Aaron on his own terms. Sometimes Aaron looked at them; sometimes he didn't. He said, "You okay?" about one time every other second. So that's a lot of "You okays." Everyone just took it in stride and went back to what they were doing.
Setting up the routine

In past family reunions, everyone swam and then ate about 6pm. So we arrived about 4PM to find everyone eating. Oops.
Even though we split an Arby's sandwich on the way to the swim club, if everyone else is eating, you can bet Aaron is going to want to get a plate ASAP. I introduced Ana's family the best I could, but getting Aaron settled and fitting in the social setting was priority one.
Almost immediately, Aunt Ann started putting melon balls on Aaron's plate. Some male relative who I didn't even know had the brats and metts ready to go, so with a little help, Aaron was happy as an ant at a picnic—aarhh. How Aaron melded into the group in the first ten minutes makes all the difference.
While Aaron was busy eating, the rest of the family settled in, made introductions and even though Ana's parents' first language is Portuguese, everyone was excited that they were here for a visit. Various Aunts, Uncles, Cousins, second cousins and relatives I swear I've never seen before, were all very gracious. Ana's parents are just naturally friendly and their English is incredible. (They learned it by watching American movies and taking English classes in high school.)
As soon as Aaron finished eating, Aunt Ann cleaned up Aaron's spot. Uncle Steve and Tommy offered to take Aaron swimming. I didn't even have to ask. They helped him put on sunscreen, take a quick trip to the bathroom and then just whisked him off (of course Aaron doesn't really whisk anywhere).
Terri, my cousin who organized the whole event, told us that the neighborhood swim club was just given a ramp by the Jewish Community Center when they built a new facility. (Note to self: next year do not take off Aaron's shoes until he gets to the ramp—the sidewalk was too hot and he had trouble walking to the ramp.)
Aaron, Tommy, and Uncle Steve went in the big pool. Ana, her parents and the baby went to the baby pool. I took pictures and held my breath. Aaron had a couple tough moments, but he calmed himself by biting his hand and then was fine.
I got to talk with a couple people, and watched everyone playing in the water. Aaron can swim pretty well. He does this sort of dolphin movement and though he doesn't close his mouth he can swim from one side of the pool to the other. The lifeguard watched Aaron and his team the first couple minutes and then when everything looked in control, he relaxed and just concentrated on the entire pool as usual. After about a half an hour, other relatives and Ana's parents joined everyone in the big pool. Baby Isabella had a great time meeting new cousins and playmates. The toys went in and out of the pool, the kids stood up, fell down—all was well with the world, just a sunny day in paradise.
Everyone caught up on the recent engagements, school arrangements, camping trip, new babies… all the gossip and family changes. Ana made a Flan dessert which was a big hit. Someone brought about five of those blue ice containers and put them together like a cold plate—instead of hot plate—and I thought that was very clever. Everyone ate, traded stories, pictures, and just had a great time.
Uncle Ed
Uncle Ed's memorial dinner was the next day, but my cousin Dan, who is a Bishop, came and ask about how Aaron was doing. How was Tom doing? (When someone in the family isn't there, they are missed.) We got to tell the story of how Tommy surprised us by moving back to Cincinnati last year… it was just normal, everyday family talk.
Because of people helping out with Aaron, it was an enjoyable day. We left after 4 hours, just long enough.
Worth the price of admission:
My favorite moment: One of the dad's was holding his two year old baby in his lap. The baby had an angelic face and a devilish grin. They were relaxing after a swim when the baby suddenly reached up and grabbed the hair under his dad's arm. OUCH! His dad—I mean you could hear him gasp and see his eyes tear up-couldn't reach his son's hands. Every time he tried to lower his arm, the hair was pulled tighter. We were all laughing so hard everyone's body was shaking up and down in their seats. Grandma looked like she would need oxygen. The more dad tried to pull the baby's fist away, the tighter he squeezed.
I thought the life guard was going to blow the whistle from all the hoots and hollers. It was a memorable moment that will become an urban legend in our family as the repetitions help the story grow. (Remember, Mark Twain said to never let the truth get in the way of a great story.)
Summary:
All our planning worked. Aaron and all of us had a great time. He belonged. We all had a chance to reconnect to all these people who are connected by blood, but now are also connected by new memories.
Moral of the story: shave your armpits before going to family reunions:)
Did you ever think of all the modifications and accommodations we just naturally make for babies, seniors, people with disabilities? Baby bottles need to be kept cold and then heated, Grandma likes soft foods, Uncle Charlie always likes a ball game on a radio or TV– we make these kinds of modifications all the time just because we want to make the people we love happy and comfortable.
And what about us regular folk, we also use modifications and adapt environments and "things" all the time. We bring our lawn chairs, sun screen, ball gloves to protect our hands… we like our hotdogs with… spicy mustard, or ketchup, or sauerkraut or well done or on buns, or not …?
We don't think of these small ordinary "things" as adapting a hot dog? Because we are all normal, yet it is what we are doing.
But putting in a ramp or curb cuts–well, even if we normal folks use it, it is er, handicapped or special or an ADA adaptation.
When builders use the principles of "universal design" and blend the adaptations into the everyday way we access buildings or swim pools… then parents won't have to think of ecological assessments before they go to a family reunion, everything will already be in place.
ADA is good for all of us. i.e. Now most grocery stores have accessible entrances. Grocery carts and children's strollers and people in wheelchairs can just go through the front door. And, since it is now so common, no one even notices that the entrances have changed. They meet "universal design" for EVERYONE.
The world is becoming more accessible and just in time. Because me and all my relatives are getting older and like it or not, we will soon join the ranks of the "disabled" and our life activities will depend on all those loving people around us, and those universal designed environments.
Tell us in the Comments
What are some of the things you do to make your family reunions more inclusive? What do you think of Universal Design? Is ADA just another government example of "Big Brother" and forced rules and regulations?
Keep Climbing: ONward and Upward
All my best,
Mary