This story is from 1981 when Aaron was 7 and Tommy 5. We were in the middle of our lawsuit against Cincinnati Public Schools to allow Aaron to be able to go to public school. Enjoy.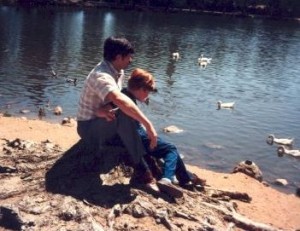 At the end of our street is a pond. Our family often takes walks down there to see the ducks and give them bread crumbs. One day last summer, an old man was down there and said: "Did you see the handicapped duck?"
Well considering I was pushing my seven year old son with a severe disability in his stroller, and considering the 24 hours a day I spend thinking about people with disabilities–this was really too much.
The friendly man went on, "Probably a frog ate his foot or maybe he caught it on the fence…"
Sure enough, there were about 40 ducks and one duck was missing his foot and about one-half of his leg. The duck hobbled toward us but when Tommy tried to pet him he scrambled for the bread crumbs with the rest and then swam away.
Before we left, we did throw him some extra bread crumbs just because we wanted him to know we were friends who understood life's little extra challenges.
I went home and joked to my friends that at least some humane society didn't come and set aside a special pond for disabled ducks, start a supplementary training program and segregated nesting area–or some exploiter didn't take him to Utah and enter him in some freak show for tourists.
We checked in once in a while over the winter, but I really was a lot more worried about people with disabilities than the ducks. We were trying to mainstream Aaron, into a public school. (This was before "inclusion" was thought possible.)
Yesterday the weather was warm so we walked to the pond and saw there were only about 15 ducks. We were only there a minute when that same man came running down full of concern. He told us someone was catching the ducks, putting them in plastic bags, throwing them into the middle of the lake and then watching them drown.
We were shocked. Who would do such a thing?
Meanwhile, the few ducks that remained came swimming toward us looking for the bread crumbs. Guess What?
The "handicapped" duck was among the survivors.
I'm not sure what this all means or why I thought to write about it, but with all the cutbacks and anything else they can think up–I think the duck gave us a message–we're going to make it. There are some mean horrible people out there, sure. But there are also wonderful people like the man who cared for the ducks. There is risk being in the community–but that is also where there is safety.
This week Aaron learned to peel his own banana, he went boating and he saw a "handicapped" duck that was smarter than the non-handicapped ducks. We also just need to get smarter.
The dream… it lives!
Quiz: For those of you who read the story about the difference between disability and handicapped (click here) and tell me. Did our duck with the one leg have a disability, a handicap, or both?
Share your Stories of Hope
What helps keep your dreams alive? Any duck or pet stories?
In the last twenty-four hours two bloggers have written about wanting to do something for the greater good of people with disabilities. Johnny B. Truant, Mr. Awesome, launched his "badass project" for good guys (click here) and Daniel Boshea, a mystery writer (click here) and parent of two kids with the labels of ASD.
I'm not sure how I feel about this.
Wait! You are wondering how I can be an advocate for people with disabilities and not just jump up and down when two caring people are trying to raise funds for people with disabilities?
Let's just say, "It's complicated."
My first fundraiser was when Tommy was an infant, Aaron was 20 months old and still not sleeping through the night. Two hours a day, I would drive them across town to Stepping Stones Center for the Handicapped. Perfect time for me to volunteer to lead the fundraiser, eh?
What pushed me into action was there were about 30 babies in the Stepping Stones program and no teacher. Sure there were amazing volunteers. But these children, who needed so much help, did not have a qualified teacher. I found that unacceptable. I could sleep in a couple years.
Community Fundraisers
The local shopping center was having their annual charity craft show. At the organizational meeting, I gave my impassioned speech, we were chosen the "designated charity" and then for the next month all the parents, grandparents, friends and neighbors of the "Tiny Tots Program" spent our free time making items for our booth. We raised about $3,000 which was then matched by the organization and an official "teacher" was hired.
Special Fundraisers
After that there were the fundraisers for The Mother's of Special Children and the Arc (formerly known as the Association for Retarded Children), and TASH (formerly known as The Association for People with Severe Handicaps) and on and on.
I met other mothers (mostly) and we had many good times, but I started asking why we had to have charity drives to fund important services other children in the community took for granted.
Regular Inclusive Fundraisers
After our court case and Aaron was finally allowed to go to public school, I got involved in the regular school PTO fundraisers. There were spaghetti dinners, White Elephant sales, Dances, Raffles, Magic Shows, Motorcycle Rides, Bake Sales, Races for… and saving boxtops, cans… It goes on and on.
I learned about inclusion (click here) and realized we didn't need a "special track team" we only needed an extra support person to help Aaron to participate in the track team events.
"Disability World" Fundraisers
This led to more committees, grant writing, working for levy's for the County Board of Mental Retardation and Developmental Disabilities as well as the regular local school district.
Other parents got to have jobs and earn money to help their families. I got to be the only non-paid person at numerous committee meetings.
Now, we did some great things that wouldn't have happened without the volunteer parents. We began an after-school club and a summer school program so our children would have something to do and not lose all the skills they gained during the school year. We started four non-profit groups and incorporated. Yes, indeedy, sleep would have to wait.
But it never ends.
It is my feeling many of these organizations spend their energy insuring their own jobs and pay and giving lip service to the support of people they are supposed to be serving.
Autism Speaks, March of Dimes… are currently under fire because one of their main reasons for existence is to raise money to wipe out people with autism and developmental disabilities. They want a cure and spend much of their funds on sending Medical Doctors to conferences and conducting research.
But what about the people who are here now? These professionals, who make good salaries, have their way paid to conferences. Parents, who volunteer, not only pay our own way–we are supposed to donate to send the doctors? Plus, their executive directors make big big bucks. When I learned what some of the executives of these charities were making–that was it.
When it is all about charity, then it is all about the person who is giving the money. When it is about a person's life and rights, it is about the person with the disabilities.
There are some large organizations who understand this, but most don't. Here's a post on my experience outside my grocery store (click here).
Everyone wants to help babies and young children
I know Aaron's life was more interesting because of my leadership and volunteer work. But now he is an adult, and there are even fewer opportunities. Babies are cute and helpless and of course we want to help. But the majority of our lives we are adults. That's 20 years as a young person and maybe 50-60 years as an adult.
So, I don't do much volunteering for charitable organizations any more.
I spend every moment of my life working directly with the people with disabilities or the caregivers on the front lines. The ones who make little more than minimum wage. The people who take Aaron to the bathroom and clean up his messes. The people who celebrate Aaron's diversity and think he's a pretty neat guy. There is no tax write-off, no non-profits. Just people who care and need resources.
Segregated Charity–charity gone wrong
I don't believe in onetime events like, "People with Disabilities Come to Church Sunday" where the church rents a ramp for the weekend (I couldn't make this up). I don't believe in Special Olympic Golf Fundraisers, when they won't let Aaron even ride in the golf cart ("Oh, honey we just raise money for these poor children, we don't actually want them on the course."–couldn't make that up either.) I don't want Girl Scouts showing up at my door saying they want to play with my child because it is Lent and they have to do penance (some day I'll share the details on that one.)
Rights–not Pity
As Joe Shapiro wrote in his classic book, "NO PITY." People with disabilities don't want to be the object of other's charity. People with disabilities have needs, but they are citizens with rights. They don't want the handicapped parking place because you are having pity on them. They want the handicapped parking place because as a citizen and consumer, they need the extra wide space so they can get out of their car. And, as an American, I'm proud our country recognizes that right to equal access.
If we really want to help people with disabilities–don't give them your dimes. Instead make room in your lives and give your love..and your friendship. That is the best gift and, I believe, closer to the Biblical definition of "charity."
Like I said, this is complicated.
Thoughts?
What are your experiences with charity models? With helping people with disabilities? What does it feel like when you are the giver? When you are the receiver? When do you feel pity? Charitable?
–
What do you see?
Every day businesses and community groups try to influence us with logos and symbols.
Did you ever look close–really close–at some of these logos? Sometimes there are hidden messages.
How many times have you seen the Amazon logo?
Have you ever noticed the A-Z arrow? I didn't.
Could this be a visual cue saying, "You can purchase everything from A to Z"? Not just books.
Business logos and commercials dominate the social media and we often take them for granted. But no doubt about it, they influence our attitudes.
Baskin Robbins
What's your first impression?
What's your second impression?
Baskin Robbins' logo reminds us they have 31 different flavors of ice cream—can't you just taste the butter pecan and chocolate chip?
Are you surprised the number 31 is right there in front of you?
Did you notice?
Tostitos
Mexican flag colors, right.
But there is a whole scene right in the middle of the logo.
Do you see two people?
They are sharing chips and between them is a table with a cup of salsa.
Now that you are aware, will you notice the embedded image on every Tostito bag of chips?
Will you tell your friends?
Your actions are helping to socially construct the meaning of their logo, the meaning of Tostito's brand–Friend to friend.
Tour de France
The most famous bike race in the world, The Tour de France logo shows an action shot of a man on a bike.
See it? The R is a man bent over the yellow wheel of a bike.
What emotions do you feel?
Bet the marketing company spent hours researching the color of the t-shirt including study groups on whether the best color was blue, red or yellow.
Perhaps this ad was donated or created by a student…or a giant ad company on Fifth Avenue.
Wolf Wolfensburger spent years teaching us to be thoughtful about the images, logos and symbols we use when we market our agencies and companies that worked with people with disabilities.

He spoke of the social construction of knowledge–we are what others say we are:

"Impairment is a normal part of life. Disability is not. That is caused by our attitudes towards people who have impairments. It's about time we accepted that wholeheartedly. Doing so is good for people who are disabled, for community and for the planet."
Final Question: What do you see?
(Martha Perske, artist)
As parents and caregivers of adults with disabilities, every day we send out messages to the world.
Our neighbors, our relatives, our children and our community are watching and learning. They are socially constructing what they see based on their experiences.
Are we spreading the message that people with disabilities over 18 years old are adults—NOT children?
Are we marketing our services in unhuman images of angels, devils, elves, giants in our company names and logos?
Does a group of people with autism walking in a store blend in, or do they draw attention to themselves?
Are adults with disabilities seen as capable employees, volunteers, contributing citizens?
Or do community members see them as needy–asking for charity, or pity?
Are we promoting inclusion and normalization?
Are we teaching others what they see? how to understand?
If this was a business, what would our logo look like and what would be the embedded message?
How are we socially constructing our environment, our world?
Your Turn:
Please share your ideas and thoughts. What message do we send on TV? in the community? What message in our personal life? What do you wish would happen?
Keep Climbing: Onward and Upward
All my best,
Mary
Related Posts:
The Race toward Inclusion| Do you see it?
–
Aimee Mullins at the TED conference
Is that a WOW or What?
TED is for the "thought leaders" of our generation. I'm so glad Aimee Mullins stood up in front of the world and talked about the words we use, the way we tell stories, our prejudices about people with disabilities and our ability to change and influence lives.
I'm thrilled she is beautiful, an accomplished athlete, and can deliver a message with the best communicators in the world. Chalk one up for our side. Aimee you did us proud.
Language
I was really struck by the definitions. Yes, even in 2010 the words "disability" and "handicap" carry such derogatory connotations. Every time I hear the traffic report and they say, "there's a disabled blocking the west lane" I just cringe.
I recently spent some time looking up the words: "retarded, moron, idiot and imbecile" and their histories (click here for related article).
Aimee talking about the negative effect these labels would have made on her when she was a young child was sobering. (See related article on the difference between handicap and disability.)
I particularly liked Aimee's references to Darwin. Our ability to adapt, change, and transform determines the "survival of the fittest".
Inclusion is our "survival of the fittest."
This is why I believe in inclusion I agree it means the difference between survival and a decent quality of life. (related article).
Inclusion is about adapting, changing and transforming. It is about blending into the normal population the same way animals learn to camouflage themselves into their environments
The medical doctor saying that she was an example of the "X" factor was my takeaway moment.
WE ARE THE X FACTOR.
If you are interested in my take on the differences between the label of "disability" and "handicapped" (click here). I would love to be able to pass this information on to Aimee. Perhaps it might help.
Come Dance With Me: Share your thoughts.

Were there any new ideas? Which of Aimee's stories did you think were the most powerful? Do you have any stories about Medical or Educational professionals? What message would you want to send to Aimee? To her parents? To the medical professionals? If you had a chance to be a thought leader, what would you talk about?
Keep Climbing: Onward and Upward
All my best, Mary