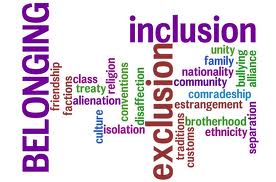 When Schools say "NO" to Inclusion
The Inclusive Class Podcast presented a panel with Tom Mihail, Paula Kluth, Torrie Dunlap, Lisa Jo Rudy, Frances Stetson, Kathleen McClaskey and myself.

The Title was: "When Schools say 'NO' to Inclusion"

Topics include Universal Design, Technology, Differentiation, Inclusive after-school and community recreation, and in the last few minutes I talked about Inclusion as a Civil Right and strategies for getting inclusion with your IEP.

Below is the supplemental material for my topic. If you have any questions please contact me.

Here is a recording of the broadcast:
So, you are sold, you have heard all the information about inclusion, you know in your soul this is what would be great for your child. You talk to the teacher, the principal, anyone who will listen and they tell you it won't work for your child, it's a passing fad, it is too expensive, it will hurt the other kids in the school...blagh, blagh, blagh.

What do you do?

Here are the 5 Points I outlined in my part of the panel:
1. Learn the History of People with Disabilities.
Legal Segregation
Society and Schools have been saying "No" to Inclusion for hundreds of years for many people, not just for people with disabilities.

1800-1900s. Institutions and Forced Segregation were common for those with the labels of mentally defective, feeble-minded, idiots, uneducable and untrainable. Individuals and Parents had no say. People who were different were removed for the health and safety of the community.

Today we still have prejudice against minorities, young women who are unmarried and pregnant, gang members, young people who are gay or lesbian, immigrants, poor, people who don't speak English, Native Americans, homeless, children of migrant workers...

Our society is more diverse every day, we need inclusion for everyone.
Parallels in Time: A history of people with disabilities
Check out the section in Parallels 2 A PLACE TO LEARN.

(Page 59-60 has the definition of Inclusion)

(p. 61 has reference to Paula Kluth and a picture of my son Aaron)
Inclusion is a Civil Right
14th Amendment:

"The 14th Amendment to the Constitution was ratified on July 9, 1868, and granted citizenship to "all persons born or naturalized in the United States," which included former slaves recently freed. In addition, it forbids states from denying any person "life, liberty or property, without due process of law" or to "deny to any person within its jurisdiction the equal protection of the laws." By directly mentioning the role of the states, the 14th Amendment greatly expanded the protection of civil rights to all Americans and is cited in more litigation than any other amendment."
Questions the Courts had to decide:
Citizenship: Is someone who has an intellectual or other disability, a person? (consider the slaves, Native Americans, women, immigrants, prisoners…)

Due Process: If you have a disability, do you have the right to due process? (consider people with physical, intellectual disabilities, people who are deaf, blind… can't read/write/talk, people who can't pass IQ tests…)

Equal Protection: If you have a disability, are you entitled to the same rights and benefits other people have? (go to school, live in community, get jobs…)
Consider the implications:
Plessy v. Ferguson (1896) Separate is equal. 50 years of Jim Crow Laws.

Brown v. Board of Education (1954) "Separate is inherently unequal."
PARC Class Action Case: A Game-changer
(Interviews with Tom Gilhool and Gunner Dybwad are also in Parallels in Time 2)

Video and transcript Tom Gilhool at Temple University:

Testimony of Tom Gilhool before the Joint Subcommittee Hearings on "the Events, Forces and Issues that Triggered Enactment of the Education of All Handicapped Children Act (EHA) of 1975" in TASH newsletter, 1996 p. 11-15.
Excerpt about PARC decree and 94-142: Teacher Training and Best Practice
The Requirement that Schools Know and "Adopt" "Effective" "Promising" Practices. Requires the delivery of an "effective" education. One, the Act (EHA) requires states and districts to see to it that all teachers, both "regular" and "special" are fully informed of and continuously trained in "promising practices" in the education of children. "Second, the Act requires every district as well as the states to "adopt promising practices' Third, the Act's requirement of "a free appropriate public education has been help by the Unites States Supreme Court to mean an education "reasonably calculated to enable the child to achieve education benefits"
Hudson v. Rowley, 458 U.S. 178, 203-04V (1982).

NOTE: Remember to NOT just look at the current regulations, go back into the Congressional Hearings before each law was enacted, the legislative history, court cases…
Other Court Cases:
"Inclusion is a right, not a special privilege for a select few" (Federal Court, Oberti v Board of Education).

You will want to quote the most relevent and recent cases.
2. Become an Expert on IDEA
The best resources I know are Partners in Policymaking's series of lessons on IDEA.

Free, online, study at your own pace.

National Dissemination Center for Children with Disabilities (ages 3-22).
3. Build Alliances
Focusing on the dignity and goodwill of the people you're working with. Build trust. Create a common vision.

Partners in Policymaking has programs in almost every state. The courses are designed for parents of young children and self-advocates. New groups start every year and are usually funded by your state DD Council. On the Partners website, find your state liaison.

NICHCY has a list of organizations and Parent Training Centers in each state. Find people both on the National, State and Local level who think like you do and can help.

National Dissemination Center for Children with Disabilities (ages 3-22).

National Organizations for Professionals often help parents and teachers. TASH helped me. I know the ARC, United Cerebral Palsy and National Down Syndrome Association have done advocacy work. I'm sure there are others.

Check out your local university. Sometimes you can find a professor or student who can help.

In our particular situation, because no group existed-we started a parent group in our local school district.

Set group goals: start an extended school program in the summer; make the buildings more accessible with universal design; start an after school Job Club and Key Club at the high school. By focusing on specific goals we were able to get local grants, publicity and see tangible results for our children.

NOTE: In hindsight, I would have made this an ad hoc committee of the School PTO or General Education Parent Organization. I would ask parents and teachers of general education students to be on this committe so it is inclusive. 20 years later, duh, it is so obvious.

Univ. of New Hampshire has great programs and resource materials.

Clay Aiken's Inclusion Project. This looks good, but I haven't tried it.
4. IEP: Educational Evaluations
The first part of the IEP process is getting evaluations of current level of functioning and setting specific individual goals.

Be creative. Don't let the school psychologist run the show.

Have your IEP team decide what kind of evaluations they need in order to have your child make educational progress in all the school environments.

There are the formal evaluations that are the traditional testing tools of the experts. And, there are the individual informal tools also designed by experts, but cannot be standardized and put into multiple choice answers.
Informal Evaluations
1. Person Centered Planning, Circle of Friends can supplement the formal evaluations and look at social relationships, before-during-after school-weekend-summer activities, this can also be used for team building, communication, transition and long term planning.
http://inclusion.com/ Where inclusion began, great tools.

2. Educational Evaluations

Educational Evaluations are usually conducted by a teacher or other educator with the appropriate teaching license.

Educational Evaluations look at an individual person in their life spaces. Aaron's evaluation started in his home, followed him on the school bus, in the classroom, in the lunch room, bathrooms, gym, after school activity and back home. The evaluation compared Aaron's current level of functioning in each environment and then made suggestions for IEP goals.

For instance, the educational evaluation shows the "individual benefit" for Aaron. Not the whole class or school, just Aaron.

The Educational Evaluation determined Aaron, with accommodations and related services, could be in an inclusive class. What supports would he need? What supports would the teacher need? How would the curriculum be differentiated? What technology? Universal design strategies could be used?

See the difference between this sort of evaluation and a traditional IQ or standardized test?
Who Pays?
The tricky part is that if the parent pays for the evaluation, and chooses their own "expert," then the school district only has to "consider" the recommendations.

If however, (at least this is how it used to be), if the parents or teacher ask for an evaluation, and the school district agrees to pay for the evaluation, then they have to use that evaluation to develop the IEP, or if they disagree, they have to get another evaluation saying the first evaluation was not appropriate, and why.

If you go to court, the educational evaluation can make all the difference. If you are writing IEP goals, the educational evaluation gives you a practical starting point for goals and objectives. (The conversation is NOT about "Should we do this?" but rather, "How do we do this?")

And, if the parent does pay for the evaluation and "prevails" in a due process hearing then the school district has to pay. Of course, it goes both ways and is risky because if the parent loses, then the parent has to pay.
How do you find an expert?
In our due process hearing we used our contacts from TASH (a national organization) and one of Lou Brown's graduate students from the University of WI-Madison. This process was repeated several years later when Aaron was in Junior High, and again when Aaron graduated.

We also used local university graduate students and county respite providers when appropriate, ie. They did independent studies to help us design an after-school program and going to the prom.

If you are going due process, find out who the expert is in the area you are challenging.

Check out professional organizations, journals, university faculty. Who is going to know how to do the job? Who is willing to testify? Who will impress the hearing officer?
5. Be BadAss Confident
Know what you believe and how far you are willing to go.
Even if you are uncertain, typically shy and withdrawn--you have to act fearless.

This is your child, This is your class, the time is NOW!

When people see you walking in the grocery or in the school you want them to see you and immediately know what you stand for: "All means All"—"Inclusion means Belonging to the Community." You have to model what you want others to do.

Build trust, convert the doubters. It can be done--and it's up to you. And, you will join the thousands of other parents and advocates who have made a difference for one child or many and have moved history and inclusion forward.
Segregation and Inclusion by Zip Code
In my opinion, this is why we need a national policy, federal laws and oversight.

Vulnerable people with disabilities and other minorities should not have to reinvent the wheel, every year, in every city and county.

Do we want individual states and school districts to make decisions about segregation and inclusion?

Would you want to live in Mississippi, Alabama, Louisiana… and I include Ohio?

Different school districts have different definitions of inclusion. I recently visited what was called an "Inclusion School." To my shock, the principal proudly told me, "Inclusion means EVERYONE in the school is on an IEP."

After we won our due process hearing, we moved to a neighboring county where the school district shared our values.

The move was the best thing we ever did.

First, after we won our due process hearing, it was like Aaron had a tatoo on his forehead that said, "Don't mess with me."
Our reputations guaranteed they took us seriously.

Second, I got elected to the County Board of Developmental Disabilities. One of the proudest days of my life was when I got to make the resolution to close the segregated county school.

Third, because the school district was good for Aaron, it was also
an excellent school district for my other son who had the label of "normal."
Bottom-up; Top-Down: Baby Steps
You can achieve Inclusion from the IEP process: bottom-up.

But it is easier to work from the top-down.

Try to get on influential committees, or find allies in leadership positions that will work for inclusion. If your school board and/or school administrators embraces the Inclusion paradigm, and understands how this will be better for all students, then you are well on your way.

Try to get inservice for staff, parents—both general and special, about inclusion, differentiated instruction and universal design.

Baby Steps:

I like to think of a yard stick. On the one end is segregation, on the other is inclusion. If I think an action, a decision, anything... is a step in the direction of inclusion--I accept it. There is always tomorrow.

Celebrate each small victory. There were many times when I had to take a deep breath and tell myself, "This is the best we can do today. Be happy."

Moving Toward Inclusion by Michael Giangreco.

Last Thoughts

I wish I had a magic wand to make it easier for each of you.

Twenty years ago, we thought this would all be figured out and our children would just be children, parents could just be parents, teachers could just be teachers.

There is an old "Up With People" song that says, "Freedom isn't free. You've got to pay the price, you've got to sacrifice for your liberty."

Wishing each of you, freedom, libety and inclusion.

I hope you will share your thoughts in the comments.

Keep Climbing: Onward and Upward
All my best,
Mary
Related Blog Posts:
Note: Since this whole website is about inclusion, almost every article tells part of the story. Some are about school issues, many are about adult issues. Here is a sampling:
Dream Plan 1 for Aaron, Normalization
Dream Plan 4: Aaron is an adult
The Race Toward Inclusion: Do you see it?
Building Community| One grocery trip at a time
Test Questions| segregation or inclusion?
The Animal School| Differentated Instruction
—
This story is from 1981 when Aaron was 7 and Tommy 5. We were in the middle of our lawsuit against Cincinnati Public Schools to allow Aaron to be able to go to public school. Enjoy.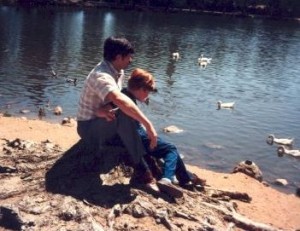 At the end of our street is a pond. Our family often takes walks down there to see the ducks and give them bread crumbs. One day last summer, an old man was down there and said: "Did you see the handicapped duck?"
Well considering I was pushing my seven year old son with a severe disability in his stroller, and considering the 24 hours a day I spend thinking about people with disabilities–this was really too much.
The friendly man went on, "Probably a frog ate his foot or maybe he caught it on the fence…"
Sure enough, there were about 40 ducks and one duck was missing his foot and about one-half of his leg. The duck hobbled toward us but when Tommy tried to pet him he scrambled for the bread crumbs with the rest and then swam away.
Before we left, we did throw him some extra bread crumbs just because we wanted him to know we were friends who understood life's little extra challenges.
I went home and joked to my friends that at least some humane society didn't come and set aside a special pond for disabled ducks, start a supplementary training program and segregated nesting area–or some exploiter didn't take him to Utah and enter him in some freak show for tourists.
We checked in once in a while over the winter, but I really was a lot more worried about people with disabilities than the ducks. We were trying to mainstream Aaron, into a public school. (This was before "inclusion" was thought possible.)
Yesterday the weather was warm so we walked to the pond and saw there were only about 15 ducks. We were only there a minute when that same man came running down full of concern. He told us someone was catching the ducks, putting them in plastic bags, throwing them into the middle of the lake and then watching them drown.
We were shocked. Who would do such a thing?
Meanwhile, the few ducks that remained came swimming toward us looking for the bread crumbs. Guess What?
The "handicapped" duck was among the survivors.
I'm not sure what this all means or why I thought to write about it, but with all the cutbacks and anything else they can think up–I think the duck gave us a message–we're going to make it. There are some mean horrible people out there, sure. But there are also wonderful people like the man who cared for the ducks. There is risk being in the community–but that is also where there is safety.
This week Aaron learned to peel his own banana, he went boating and he saw a "handicapped" duck that was smarter than the non-handicapped ducks. We also just need to get smarter.
The dream… it lives!
Quiz: For those of you who read the story about the difference between disability and handicapped (click here) and tell me. Did our duck with the one leg have a disability, a handicap, or both?
Share your Stories of Hope
What helps keep your dreams alive? Any duck or pet stories?
A Good Day!
As the number of adults with autism and developmental disabilities rise, many professionals and parents ask me what I am looking for? Will I ever be satisfied? Is it just a pipedream or can we really build an inclusive community around a person with severe disabilities? Can there be a combination of natural supports and paid supports? Does the family have to do it all? Can an adult with autism have a decent quality of life and be happy?
They tell me it doesn't really make any difference to Aaron, my son with severe disabilities and autism. Their logic says that since Aaron can't talk, and therefore can't complain, it is only the mother (me) who has these high standards and expectations and Aaron is just fine and the mother is well, you know, ….
Many times, they tell me how lucky we are… Aaron has a Medicaid Waiver when there are hundreds of people on the waiting lists; Aaron lives in a nice house close to his parents–not in an institution in another city….
The media is full of stories about desperate families of adults with autism and intellectual disabilities: abandon your child to get services — To the parents and professionals who want to give up or "re-institutionalize," Can we prove inclusion in the community can work?
Many nights these tapes play in my head over-and-over keeping me awake. I ask myself what else I can do to make Aaron's life more inclusive.I count my blessings.
We are lucky. We've worked hard to be where we are, but there is still much to do.
But last Sunday, I went to bed and smiled: "Today Aaron had a good day!"
Here is what this inclusive day looked like:

Aaron's dad picked him up at 9:30 AM from his house. He talked with K-, Aaron's long-time caregiver. K- knew when Aaron had had his last BM. K- had given Aaron his breakfast and he was dressed in his Sunday clothes—hair combed, shaved and teeth brushed. He looked like a typical 38 year old.

Aaron came to our house and immediately got his favorite books from the closet. His dad and I sat near him in the living room. Aaron put his books on the coffee table where he turned the pages in two books at one time. When he wanted more books, he went to the closet, chose his books and carried them to the table. (I know this doesn't sound like a big deal, but because of Aaron's severe motor and balance issues, this is something we have worked on for years and years.) He also went to the fridge and when I ask if he wanted the pitcher of ice tea or the juice, he pointed to the ice tea.

When he got tired of the books, he went into the kitchen, sat at the kitchen table and we ate our spaghetti lunch together. Aaron put his dishes in the sink.

At approximately noon, Tommy and Isabella (Aaron's brother and niece) came over. We all changed to our swimsuits, lathered up with sunscreen and walked to the pool at our condo.

Dad started with Aaron in the deep end and Tommy stayed close to Isabella with her floaties. Sometimes we were apart, sometimes we all played ball together and Isabella would swim between Uncle Aaron and Grandpa.

The other families each did their own thing, but we all crossed paths in a friendly community sort of way. There were about 8 other neighborhood kids and their parents in and out of the pool. They all said hello and though we didn't really know any of these neighbors (it's a big complex) they were friendly to Aaron and interacted as anyone would. I introduced myself, Tom, Aaron, Tommy and Isabella and hope we will see them again next week.

After about an hour or so, we headed back home, changed clothes and everyone had a drink and ate cheese and crackers.

Isabella wanted to play Hide and Seek in the house (her favorite place is under my desk) and Aaron and I would count to ten and then go and find her. Isabella loves to hide, but then she giggles so much it is easy to find her. Aaron enjoyed the game the first couple times, but then Isabella wanted more and more and so he just sat back on the couch with his books and watched.

About 4 o'clock, Tommy and Isabella left to meet Ana, her mom, who was getting off work; Tom, Aaron and I took a ride to the post office and grocery.

At 5:30 we took Aaron back to his house and K- and his wife were waiting for Aaron to take him to King's Island, an amusement park. We took him to the bathroom, washed his face and hands, checked his shirt and hair and again exchanged some details about how Aaron likes the Octopus and train ride and …

Aaron got in their car and they were off for the evening. Tom and I went back home.
Too much to ask?
Now, I ask you… is this really so difficult to visualize?
If it was only paid staff, Aaron's parents are dead or out-of-town, could the staff figure out how to fill up a weekend afternoon with some friendly faces and meaningful activities in the community?
Would Aaron be groomed and the staff person look at his toileting schedule so he is comfortable? Would Aaron be in status enhancing clothes that were clean and age-appropriate so he could blend into the community?
I know K- can do it, because he and his family have known Aaron for years. But I can't understand why other staff don't get it.
Aaron is currently between roommates, so right this minute, he has 1-1 staff. This is the best opportunity of his life for getting out into the community, when he gets a roommate it will be 1-2 people and much harder to take them out.
Focus on the positive
Today I have a reason to feel good about Aaron's life. We all shared a pleasant summer day. Aaron and our family did what many other families were doing all over the city. Aaron was surrounded by people who love him and care about him. We celebrated his self-determination to make choices and do activities he likes. Aaron used the skills he learned in his 22 years in school and therapy. Aaron had staff who were willing to try and give him a good time. Aaron was healthy and happy. I only saw him bite his hand one time all day. The activities were in his home community. There are future opportunities for building a network of long term support and acceptance.
And this is inclusion. This is our vision for Aaron. This is the future we hope for our son. This is all we are asking for. Carpe Diem!
COMMENTS
Come on, share what you are thinking. Am I being unreasonable to expect these kinds of days? Should I just accept "reality"? Do I just count my blessings? Do you have similar experiences? Should we go back- and re-institutionalize?
Keep Climbing: Onward and Upward
All my best,
Mary
Related Posts:
Mouth watering?
Don't these chocolate covered strawberries look delicious?
For the Holidays, or any day, what about making chocolate covered treats or gifts for the people you love?
Chocolate Covered Fun for ALL AGES and Abilities
Parents, Special Education Teachers, Directors of Day Programs and Senior Centers: Everyone is looking for activities that are fun, age-appropriate, and allow people with all ability levels to participate.
Taking your favorite snack for a chocolate dip may be the answer.
The costs will vary according to the ingredients, but pretzels and marshmallows are cheap. Of course if you want to go gourmet, hey, yum.
Partial Participation
"Partial Participation is Better than Exclusion from an Activity" (Lou Brown)
Even if the recipe says, "Easy" that doesn't mean every person can do every part of the activity.
For instance, Aaron, my son with the label of autism, wouldn't be able to set the timer on the microwave–but he can certainly dip the pretzel in the chocolate sauce and choose the kind of sprinkles for the decoration.
Aaron can't read the recipe with words, but he could follow the directions with pictures and though he can't drive to the grocery, he can partially participate by picking out the pretzels and chocolate.
When Aaron was in school and had a speech therapist, one of his goals was identifying pictures of grocery items and finding the item in the grocery aisle. When he had a physical therapist, one of his IEP goals was pushing the grocery cart without hitting anyone in the grocery store. (Not a pretend grocery store in the classroom.) When he had an occupational therapist, one of his goals was to hand the grocery clerk the money to purchase the items and put the money back in his pocket. Aaron successfully learned these skills and practiced them every week in his functional community based program and … every time our family went into the community grocery store.
There are lots of things Aaron can do to partically participate in every activity.
When Aaron is part of the group, when he does purposeful, functional activities, he develops self-esteem, he is a doer. He is not just a passive observer. If he is treated as a baby, or as someone who cannot do anything but watch, then he loses his skills and his self-esteem. The people who think they are being nice and helpful to him, are not–they are actually causing him to lose skills/self-esteem.
This is a functional activity because if Aaron doesn't go to the grocery to get the supplies someone else will have to do it.
If Aaron is actively involved in the shopping, the decorating, and gives the chocolate covered pretzels as a gift HE MADE–then this activity becomes much more than an easy activity to fill the day. It can become a learning and social enhancing experience. When he gives Grandma a package of pretzels he made, it is a joyful celebration for everyone. You should see his smile
Be Creative: Lots of Ideas
Dip White or Dark Chocolate Ideas:
Dried Fruit (apricots, raisons…)
Fresh Fruit (strawberries, cherries with stems, apples (whole or slices)…)
Pretzel Rods of any size
Marshmallows
Cookies
Graham Crackers
Candy Canes
Rice Krispie Treats
How to Make Chocolate Covered Pretzels:
Things You Might Need:
Microwave-safe glass or measuring cups
Cooking spray
Bags white and dark chips (12 oz.)
Spoon
Pot Holders
Cookie Sheet
Wax paper
Bag of pretzel rods (12 oz.) or other food
Small candies or sprinkles
–
You Tube Video Demonstration
Task Analysis or Recipe
Chocolate-Covered Pretzels with Sprinkles
Recipe courtesy Paula Deen for Food Network Magazine
Prep Time: 20 min, Inactive Prep Time: 24 hr 0 min
Cook Time: 2 min; Level: Easy
Serves: 24 pretzels
Ingredients:
• 1 12-ounce package milk chocolate chips
• 1 12-ounce package white chocolate chips
• 24 large pretzel rods
• Assorted holiday sprinkles
Directions:
Place the milk chocolate chips in a microwave-safe bowl and the white chocolate chips in another. Microwave one bowl on high for 1 minute. Remove and stir with a rubber spatula. (The chips should melt while you are stirring, but if they don't, you can continue to microwave for 15 more seconds, and then stir again.) Wash and dry the spatula. Microwave the other bowl on high for 1 minute, and stir until the chocolate is melted.
Dip one pretzel rod into the milk chocolate; use a spoon or butter knife to spread the chocolate about halfway up the rod. Twist the rod to let the excess chocolate drip off. Hold the rod over a piece of wax paper and shake sprinkles on all sides. Place the pretzel on another piece of wax paper to dry. Coat another pretzel with white chocolate and sprinkles. Repeat until you've coated all the pretzels, half with milk chocolate, half with white chocolate, and let dry completely, about 24 hours. (Cover any remaining chocolate with plastic wrap and store in the refrigerator.)
Copyright 2011 Television Food Network G.P. http://www.foodnetwork.com/recipes/paula-deen/chocolate-covered-pretzels-with-sprinkles-recipe2/index.html
All Rights Reserved
Gifts and Favors, Holiday Variations
President's Day, Halloween, Easter, 4th of July, Christmas Variations
Comments:
Does it make sense that an activity as simple as making a chocolate covered pretzel can be a learning and self-esteem project? Can teachers, parents and directors of day programs make this more? Can they blow the opportunity?
Have you any ideas on this or other projects?
Keep Climbing: Onward and Upward
All my best,
Mary
Other Related Articles:
It's a Jungle Out There| Inclusion in the Grocery Store
Language of the Heart| Heartaches and Heartsongs
Busy vs. Bored| Life Space Analysis for People with Disabilities
The Animal School| Differentiated Instruction
Test Questions| Inclusion or Segregation?
Teachers| Segregation or Inclusion
Happy Ever Afters| One For The Money