Every day people challenge me:
Why do I believe what I believe?
What's wrong with the Medical Model?
What's wrong with the Charity Model?
What's the big deal about "normalization" and "inclusion"?
Why is "special" not special?
Most times the conversations are stressful–the whole paradigm shift thingy. Most people don't want to take the time to understand or learn a whole new way of looking at the world. They think their view of the world is just fine, thank you very much.
As parents, we have been learning for 30-40 years, our child's whole lifetime. Our child demands we still learn every day.
For the next couple days, I'm going to be sharing some of the people who shaped my beliefs. Here is Norm Kunc.
I am hoping they can deliver the message of "normalization" far better than I ever could.
Norm Kunc changes lives.
I would spend the whole year teaching university students and teachers about the need for inclusion, normalization, self-advocacy, people first… and they would nod their heads (or scratch their heads at the crazy lady), pass their tests, and go on with the way they always did things.
Norm Kunc came to campus, spoke to these same students and in fifteen minutes–he rocked their world.
That quick–his message is that powerful.
Here is Norm and Emma Kunc's website. I'll write more about them in another post, but if you get a chance book them or attend one of their presentations. It will change your life.
Here is Norm's Credo of Support. It is not the same as hearing him in person, but the video message shows the power of words and the talents of self-advocates. When Norm introduces the video he says the words just poured out of his heart.
Here's hoping it touches your heart too.
Keep Climbing: Onward and Upward
All my best,
Mary
Talk about it!
What did you think of the Credo of Support? Do you think the message is stronger coming from self-advocates? What is your personal credo? Can you think of ways people with disabilities can give their own message?
Would you like to hear more about Norm and his wife Emma's work?
BACK to SCHOOL Article 2

To celebrate the new school year here are some of my favorite posts.
Article 1:

Why Do We Go to School?
Article 2:

A New Year of Learning
This is one of my favorite stories–an updated article from when Aaron was 8 years old and Tommy 6. Enjoy!
It was the weekend before school began and Cincinnati was sweltering from a week of 90 plus temperatures with over 50% humidity.
And partially because most of our neighbors don't have air conditioning, and partially because we enjoy each other's company, all the moms were sitting on the porch steps waiting for the street lights to signal the time for baths, bedtime and the end of summer.
Several of the children were busy with final rehearsal for the "Ralph Avenue" version of Snow White and the Seven Dwarfs. Erin was the wicked queen, Allison the prince charming and the younger children Eric, Patrick, Tricia, and my son Tommy were assorted other characters.
The kids ran in and out of the yards wearing their winter caps with the tassels dropping over, trying to look like dwarfs.
After a while, the large cardboard box from Allison's new stove changed from being used for the stage scenery for dwarfs to a cool hideout for cowboys.
Patrick's mother was telling us a newspaper reporter stopped by her house to do an interview with "a new kindergartner." It would be a three part series on Patrick's impressions before school began, during in January, and a third article after in June.
The poor reporter had a time of it because every time she asked Patrick (5 yrs.) about the imminent kindergarten experience, Eric (6 years and a kindergarten veteran) would give his answer, including a heated discussion about, "Who would be picked for the cookie passer?"
It was so much fun to be watching the kids and hanging out with other mothers but the beginning of school is very traumatic for me because of our continuing problems with the special education school program for my son.
Aaron has the label of autism and severe intellectual disabilities. A new year signals the beginning of another year of battle for inclusion.
But maybe because it was too hot and maybe because I was surrounded by friends, I continued to sip my ice tea and enjoy the normal conversation of my neighbors.
Patrick said his favorite football team was the Jets. His brother Michael, age 3, noting the adults' interest, announced his favorite team was "the helicopters." Jets—helicopters, why not?
Tricia's soccer team won every game last year with a very gentle and knowledgeable coach. This year they won their first game but the new coach yelled and screamed and was upsetting the team and their parents. The parents wondered if victory was worth the price?
Moments that make parenting fun
Tommy went for his school physical and when the nurse asked him to urinate into a cup he burst into tears.

I pointed to the counter and its rows of labeled cups and told him everyone—even grownups–had to do this.

Sobbing he said, "Okay—but I won't drink it."

Later he asked, "Mom, why do they need a toilet in there is everyone pees in a cup?"
My friends and I exchanged sale prices on jeans and problem solved about the best backpacks and gym shoes with shoelaces that didn't need to be tied.
We laughed, reminisced about summer and shared the thunderstorm warnings.
Eric's Mom passed out popsicles.
All this time Aaron was walking up and down following the crowd of "dwarfs" as they flitted from yard to yard. He didn't get a lot of direct attention, yet he was part of the group. For a time they all put on football helmets and Aaron went over, knocked on them to hear the funny sounds and everyone giggled. Aaron got quite excited and even though he is tactily very defensive he allowed them to place the helmet on his head, for a minute anyway.
Tommy brought out his golf clubs and soon Eric and everyone tried a few swings hitting a large flowered ball. Once Aaron was too close and thoughtfully Patrick took his arm and helped him get out of the way and Eric adapted and shortened his swing.
Then the crowd was back down the street again. This time Aaron waited for the abandoned golf club. He bent over and balanced perfectly picking the club out of the grass. He began in his own way to hit the big plastic ball around the yard. Then he too lost interest and headed back down the street to find the other children.
Four years ago, the same day we moved into our home, a group of people on the other side of town filed a lawsuit to protect their neighborhood from the "danger' of a proposed group home for people who were labeled mentally retarded. I remember my worry of meeting our new neighbors and their reactions. What would be their concerns, fears? Would they allow us into their community?
There have been awkward moments when Aaron would do something inappropriately. But then "normal" "regular" young children have their good and bad moments like the rest of mankind.
Now Aaron was just Aaron and each neighbor had worries about jobs, children, families—the usual. We were a part of their neighborhood, their community.
As the sky darkened and the parents began to gather up the toys, football helmets, golf clubs and the talk again turned toward getting the children to bed so they would be fresh for the first day of school, I couldn't help but think of how children and adults learn.
We use our creativity for Snow White costumes and playing with discarded boxes. We use our problem solving skills to find sale priced jeans to stretch our budgets. We use skill development including repetitive drill and practice for playing soccer and for picking up golf clubs out of the grass. We build on our experiences and associations whether they are jets and helicopters, cups and drinking, or how we feel about people who are different than we are. We also learn from people, some of whom are rough coaches, some parents, some newspaper writers, and some—neighbors.
School may begin tomorrow but in our neighborhood a whole lot of learning happened tonight. And perhaps, just perhaps—because Eric and Pat and Tommy will grow up with their incidental learning, experiences, associations and relationships with Aaron, the years of battles for belonging, full inclusion and citizenship will be shortened and our war for acceptance will be won.
Sometimes the make-believe lessons of Snow White overlap with the real world lessons of our family. After all, wasn't Snow White the one who sang: "No matter how your heart is grieving, if you keep on believing, the dream that you wish for will come true."
Keep believing, keep dreaming and a Happy School Year to All.
YOUR TURN
Has our dream of inclusion for all kids come true? Certainly more children now have the opportunity. Aaron, Neil Roncker, Jenni Wetzel, Julie McMahon–they were the first kids in the doors of the public schools in Greater Cincinnati. I believe with all my heart they touched the lives of their peers who are now grown and sending their own children off to school.
And some of these young parents became the doctors, teachers, bus drivers and parents of kids with special needs. Our lives really are all part of each other, all part of the circle of life. I hope this new generation feels better prepared. I hope the schools their children attend are also better prepared. I hope our communities are more welcoming to those who have differences.
What dreams are we still wishing for? What lessons are we still learning?
Comments
Please leave a comment so we can celebrate this new year of learning.
What are you thinking about as the school year begins?
Keep climbing–onward and upward.
All the best,
Mary

Related Posts:
This story is from 1981 when Aaron was 7 and Tommy 5. We were in the middle of our lawsuit against Cincinnati Public Schools to allow Aaron to be able to go to public school. Enjoy.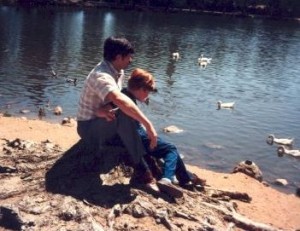 At the end of our street is a pond. Our family often takes walks down there to see the ducks and give them bread crumbs. One day last summer, an old man was down there and said: "Did you see the handicapped duck?"
Well considering I was pushing my seven year old son with a severe disability in his stroller, and considering the 24 hours a day I spend thinking about people with disabilities–this was really too much.
The friendly man went on, "Probably a frog ate his foot or maybe he caught it on the fence…"
Sure enough, there were about 40 ducks and one duck was missing his foot and about one-half of his leg. The duck hobbled toward us but when Tommy tried to pet him he scrambled for the bread crumbs with the rest and then swam away.
Before we left, we did throw him some extra bread crumbs just because we wanted him to know we were friends who understood life's little extra challenges.
I went home and joked to my friends that at least some humane society didn't come and set aside a special pond for disabled ducks, start a supplementary training program and segregated nesting area–or some exploiter didn't take him to Utah and enter him in some freak show for tourists.
We checked in once in a while over the winter, but I really was a lot more worried about people with disabilities than the ducks. We were trying to mainstream Aaron, into a public school. (This was before "inclusion" was thought possible.)
Yesterday the weather was warm so we walked to the pond and saw there were only about 15 ducks. We were only there a minute when that same man came running down full of concern. He told us someone was catching the ducks, putting them in plastic bags, throwing them into the middle of the lake and then watching them drown.
We were shocked. Who would do such a thing?
Meanwhile, the few ducks that remained came swimming toward us looking for the bread crumbs. Guess What?
The "handicapped" duck was among the survivors.
I'm not sure what this all means or why I thought to write about it, but with all the cutbacks and anything else they can think up–I think the duck gave us a message–we're going to make it. There are some mean horrible people out there, sure. But there are also wonderful people like the man who cared for the ducks. There is risk being in the community–but that is also where there is safety.
This week Aaron learned to peel his own banana, he went boating and he saw a "handicapped" duck that was smarter than the non-handicapped ducks. We also just need to get smarter.
The dream… it lives!
Quiz: For those of you who read the story about the difference between disability and handicapped (click here) and tell me. Did our duck with the one leg have a disability, a handicap, or both?
Share your Stories of Hope
What helps keep your dreams alive? Any duck or pet stories?
In the last twenty-four hours two bloggers have written about wanting to do something for the greater good of people with disabilities. Johnny B. Truant, Mr. Awesome, launched his "badass project" for good guys (click here) and Daniel Boshea, a mystery writer (click here) and parent of two kids with the labels of ASD.
I'm not sure how I feel about this.
Wait! You are wondering how I can be an advocate for people with disabilities and not just jump up and down when two caring people are trying to raise funds for people with disabilities?
Let's just say, "It's complicated."
My first fundraiser was when Tommy was an infant, Aaron was 20 months old and still not sleeping through the night. Two hours a day, I would drive them across town to Stepping Stones Center for the Handicapped. Perfect time for me to volunteer to lead the fundraiser, eh?
What pushed me into action was there were about 30 babies in the Stepping Stones program and no teacher. Sure there were amazing volunteers. But these children, who needed so much help, did not have a qualified teacher. I found that unacceptable. I could sleep in a couple years.
Community Fundraisers
The local shopping center was having their annual charity craft show. At the organizational meeting, I gave my impassioned speech, we were chosen the "designated charity" and then for the next month all the parents, grandparents, friends and neighbors of the "Tiny Tots Program" spent our free time making items for our booth. We raised about $3,000 which was then matched by the organization and an official "teacher" was hired.
Special Fundraisers
After that there were the fundraisers for The Mother's of Special Children and the Arc (formerly known as the Association for Retarded Children), and TASH (formerly known as The Association for People with Severe Handicaps) and on and on.
I met other mothers (mostly) and we had many good times, but I started asking why we had to have charity drives to fund important services other children in the community took for granted.
Regular Inclusive Fundraisers
After our court case and Aaron was finally allowed to go to public school, I got involved in the regular school PTO fundraisers. There were spaghetti dinners, White Elephant sales, Dances, Raffles, Magic Shows, Motorcycle Rides, Bake Sales, Races for… and saving boxtops, cans… It goes on and on.
I learned about inclusion (click here) and realized we didn't need a "special track team" we only needed an extra support person to help Aaron to participate in the track team events.
"Disability World" Fundraisers
This led to more committees, grant writing, working for levy's for the County Board of Mental Retardation and Developmental Disabilities as well as the regular local school district.
Other parents got to have jobs and earn money to help their families. I got to be the only non-paid person at numerous committee meetings.
Now, we did some great things that wouldn't have happened without the volunteer parents. We began an after-school club and a summer school program so our children would have something to do and not lose all the skills they gained during the school year. We started four non-profit groups and incorporated. Yes, indeedy, sleep would have to wait.
But it never ends.
It is my feeling many of these organizations spend their energy insuring their own jobs and pay and giving lip service to the support of people they are supposed to be serving.
Autism Speaks, March of Dimes… are currently under fire because one of their main reasons for existence is to raise money to wipe out people with autism and developmental disabilities. They want a cure and spend much of their funds on sending Medical Doctors to conferences and conducting research.
But what about the people who are here now? These professionals, who make good salaries, have their way paid to conferences. Parents, who volunteer, not only pay our own way–we are supposed to donate to send the doctors? Plus, their executive directors make big big bucks. When I learned what some of the executives of these charities were making–that was it.
When it is all about charity, then it is all about the person who is giving the money. When it is about a person's life and rights, it is about the person with the disabilities.
There are some large organizations who understand this, but most don't. Here's a post on my experience outside my grocery store (click here).
Everyone wants to help babies and young children
I know Aaron's life was more interesting because of my leadership and volunteer work. But now he is an adult, and there are even fewer opportunities. Babies are cute and helpless and of course we want to help. But the majority of our lives we are adults. That's 20 years as a young person and maybe 50-60 years as an adult.
So, I don't do much volunteering for charitable organizations any more.
I spend every moment of my life working directly with the people with disabilities or the caregivers on the front lines. The ones who make little more than minimum wage. The people who take Aaron to the bathroom and clean up his messes. The people who celebrate Aaron's diversity and think he's a pretty neat guy. There is no tax write-off, no non-profits. Just people who care and need resources.
Segregated Charity–charity gone wrong
I don't believe in onetime events like, "People with Disabilities Come to Church Sunday" where the church rents a ramp for the weekend (I couldn't make this up). I don't believe in Special Olympic Golf Fundraisers, when they won't let Aaron even ride in the golf cart ("Oh, honey we just raise money for these poor children, we don't actually want them on the course."–couldn't make that up either.) I don't want Girl Scouts showing up at my door saying they want to play with my child because it is Lent and they have to do penance (some day I'll share the details on that one.)
Rights–not Pity
As Joe Shapiro wrote in his classic book, "NO PITY." People with disabilities don't want to be the object of other's charity. People with disabilities have needs, but they are citizens with rights. They don't want the handicapped parking place because you are having pity on them. They want the handicapped parking place because as a citizen and consumer, they need the extra wide space so they can get out of their car. And, as an American, I'm proud our country recognizes that right to equal access.
If we really want to help people with disabilities–don't give them your dimes. Instead make room in your lives and give your love..and your friendship. That is the best gift and, I believe, closer to the Biblical definition of "charity."
Like I said, this is complicated.
Thoughts?
What are your experiences with charity models? With helping people with disabilities? What does it feel like when you are the giver? When you are the receiver? When do you feel pity? Charitable?
–