Mouth watering?
Don't these chocolate covered strawberries look delicious?
For the Holidays, or any day, what about making chocolate covered treats or gifts for the people you love?
Chocolate Covered Fun for ALL AGES and Abilities
Parents, Special Education Teachers, Directors of Day Programs and Senior Centers: Everyone is looking for activities that are fun, age-appropriate, and allow people with all ability levels to participate.
Taking your favorite snack for a chocolate dip may be the answer.
The costs will vary according to the ingredients, but pretzels and marshmallows are cheap. Of course if you want to go gourmet, hey, yum.
Partial Participation
"Partial Participation is Better than Exclusion from an Activity" (Lou Brown)
Even if the recipe says, "Easy" that doesn't mean every person can do every part of the activity.
For instance, Aaron, my son with the label of autism, wouldn't be able to set the timer on the microwave–but he can certainly dip the pretzel in the chocolate sauce and choose the kind of sprinkles for the decoration.
Aaron can't read the recipe with words, but he could follow the directions with pictures and though he can't drive to the grocery, he can partially participate by picking out the pretzels and chocolate.
When Aaron was in school and had a speech therapist, one of his goals was identifying pictures of grocery items and finding the item in the grocery aisle. When he had a physical therapist, one of his IEP goals was pushing the grocery cart without hitting anyone in the grocery store. (Not a pretend grocery store in the classroom.) When he had an occupational therapist, one of his goals was to hand the grocery clerk the money to purchase the items and put the money back in his pocket. Aaron successfully learned these skills and practiced them every week in his functional community based program and … every time our family went into the community grocery store.
There are lots of things Aaron can do to partically participate in every activity.
When Aaron is part of the group, when he does purposeful, functional activities, he develops self-esteem, he is a doer. He is not just a passive observer. If he is treated as a baby, or as someone who cannot do anything but watch, then he loses his skills and his self-esteem. The people who think they are being nice and helpful to him, are not–they are actually causing him to lose skills/self-esteem.
This is a functional activity because if Aaron doesn't go to the grocery to get the supplies someone else will have to do it.
If Aaron is actively involved in the shopping, the decorating, and gives the chocolate covered pretzels as a gift HE MADE–then this activity becomes much more than an easy activity to fill the day. It can become a learning and social enhancing experience. When he gives Grandma a package of pretzels he made, it is a joyful celebration for everyone. You should see his smile 🙂
Be Creative: Lots of Ideas
Dip White or Dark Chocolate Ideas:
Dried Fruit (apricots, raisons…)
Fresh Fruit (strawberries, cherries with stems, apples (whole or slices)…)
Pretzel Rods of any size
Marshmallows
Cookies
Graham Crackers
Candy Canes
Rice Krispie Treats
How to Make Chocolate Covered Pretzels:
Things You Might Need:
Microwave-safe glass or measuring cups
Cooking spray
Bags white and dark chips (12 oz.)
Spoon
Pot Holders
Cookie Sheet
Wax paper
Bag of pretzel rods (12 oz.) or other food
Small candies or sprinkles
–
You Tube Video Demonstration
Task Analysis or Recipe
Chocolate-Covered Pretzels with Sprinkles
Recipe courtesy Paula Deen for Food Network Magazine
Prep Time: 20 min, Inactive Prep Time: 24 hr 0 min
Cook Time: 2 min; Level: Easy
Serves: 24 pretzels
Ingredients:
• 1 12-ounce package milk chocolate chips
• 1 12-ounce package white chocolate chips
• 24 large pretzel rods
• Assorted holiday sprinkles
Directions:
Place the milk chocolate chips in a microwave-safe bowl and the white chocolate chips in another. Microwave one bowl on high for 1 minute. Remove and stir with a rubber spatula. (The chips should melt while you are stirring, but if they don't, you can continue to microwave for 15 more seconds, and then stir again.) Wash and dry the spatula. Microwave the other bowl on high for 1 minute, and stir until the chocolate is melted.
Dip one pretzel rod into the milk chocolate; use a spoon or butter knife to spread the chocolate about halfway up the rod. Twist the rod to let the excess chocolate drip off. Hold the rod over a piece of wax paper and shake sprinkles on all sides. Place the pretzel on another piece of wax paper to dry. Coat another pretzel with white chocolate and sprinkles. Repeat until you've coated all the pretzels, half with milk chocolate, half with white chocolate, and let dry completely, about 24 hours. (Cover any remaining chocolate with plastic wrap and store in the refrigerator.)
Copyright 2011 Television Food Network G.P. http://www.foodnetwork.com/recipes/paula-deen/chocolate-covered-pretzels-with-sprinkles-recipe2/index.html
All Rights Reserved
Gifts and Favors, Holiday Variations
President's Day, Halloween, Easter, 4th of July, Christmas Variations
Comments:
Does it make sense that an activity as simple as making a chocolate covered pretzel can be a learning and self-esteem project? Can teachers, parents and directors of day programs make this more? Can they blow the opportunity?
Have you any ideas on this or other projects?
Keep Climbing: Onward and Upward
All my best,
Mary
Other Related Articles:
It's a Jungle Out There| Inclusion in the Grocery Store
Language of the Heart| Heartaches and Heartsongs
Busy vs. Bored| Life Space Analysis for People with Disabilities
The Animal School| Differentiated Instruction
Test Questions| Inclusion or Segregation?
Teachers| Segregation or Inclusion
Happy Ever Afters| One For The Money
Are they adorable, or what?
Aaron and Tommy always loved Halloween. Me too. The holiday is such a great way to build an inclusive community.
There were some segregated, handicap only Halloween parties for just kids with autism and developmental disabilities, but I wanted Aaron to be part of his community. With a little preparation and a lot of team effort it worked.
When Aaron was 8 and Tommy 6 years old we lived in a great neighborhood with lots of kids (click here for related story) and Halloween was something special.
In the picture above, check out Tommy's hand. He is holding the ghosts we made and handed out for Trick or Treat.
Task Analysis: Tootsie Pop Ghosts
We took a Tootsie Pop, wrapped a white tissue around the round top, tied it with orange yarn, and with a magic marker added two eyes.
Cute, something homemade and the kids loved them.
Partial Participation
One of the most important concepts in special education is the idea of partial participation. If someone can't do the whole activity, could they at least partially participate and do some smaller part?
For instance: Aaron, Tommy and I all worked on the Tootsie Pop Ghosts for a couple evenings before Halloween.
Aaron's job was to take the tissue out of the box.
In addition, sometimes he would hold the stick of the Tootsie Roll Pop while Tommy added the tissue. My job was to tie the yarn. It was a team effort, an inclusive experience.
We each did a part of the whole project. We each partially participated.
Aaron contributed what he could do. He could pull the tissues out of the tissue box independently.
He could hold the stick with assistance, and only for about a short time. Because he was a valued team member he contributed as long as he could.
Tommy, on the other hand, could have pulled out the tissues as well as most of the rest of the tasks. But what made this activity fun was the fact we all worked together. We wanted everyone to play their part.
Tommy had more skills than Aaron, and more tasks in the activity. He got to choose when he did them, but they had to be done before Halloween Day. I could have forced him to finish all the eyes in one sitting–but then it would have been work and Mom's timeline.
Instead he got to make his own decision and chose to finish them while he watched The Transformers, Electric Company and Scooby Doo on TV–his timeline.
He finished up the ghosts by adding the eyes and jamming the stick of the finished ghost into a shoe box lid so the ghosts would "float." He chose the time, was self-motivated and had the satisfaction of seeing the job to the end.
We made enough ghosts so both Aaron and Tommy could take them to their classes at school. They were always a big hit and I think they were proud they worked on them.
Team Effort
On Halloween night, Tommy went with all his friends in a crowd of ghosts, clowns and monsters. He was gone for hours and filled his pillow sack as full as he could. One of the neighborhood mothers kept an eye out for Tommy.
Usually Aaron and I would go to the immediate neighbors while Dad manned the front door of our house.
One person could not be three places at once: with Tommy, with Aaron and at the front door. We really needed our neighbor, our community resource, to help us out.
Tips, Sensory Issues and Routines
This particular Halloween Aaron learned about doorbells. We went to each house and I would point so Aaron would know where to press and he would just smile as the ding, or ring, or buzz sounded. He had a great time. Cause and effect. Press the button–hear a funny sound.
The neighbors were always very kind and generous because they knew Aaron. If I prompted him with, "Aaron what do you say?" he would respond, "Thank you" and give them a smile. It really was a way they could get to know Aaron and we could build our community relationships.
We only went to about 10 houses because of all the excitement, plus maneuvering the steps and the dark was a lot of sensory stuff to handle. But Aaron really seemed to understand and enjoy the routine: Go to house…climb up the steps…ring the bell…get candy…say thank you…repeat.
It was a fun night.
Over-Generalization
What wasn't so fun was the next night. See, Aaron learned the routine really, really well. Too well.
So, the next day guess what? I was busy taking the groceries out of the car, when I looked up Aaron had somehow gotten to the house next door, rang the doorbell, and was waiting for some candy.
It took me longer than my neighbor to figure out what was going on. She just smiled, reached in her extras from the night before and handed Aaron a chocolate bar. I could have hugged her.
Tommy to the Rescue
Tommy thought the whole scene was hysterical. Our whole family laughed about Aaron's behavior at the dinner table but we knew we had a problem. How were we going to teach Aaron that Halloween only came one day a year? Why was it okay to do something one day–but not the next?
Tommy came up with the solution. He suggested we put away all the Halloween decorations and candy. And sure enough, it worked. Without all the reminders, Aaron moved on to other things.
Full Circle
This Halloween, Tommy will be taking his baby girl Trick or Treating for the first time. And Aaron, he will be passing out Tootsie Pop ghosts when the neighbor kids come to his house.
Trick or Treat? Comments?
Tell us some of your Halloween stories and memories? Stories of partial participation, over-generalization, community building…
Keep Climbing: Onward and Upward
All my best,
Mary
photo credit: crimsong19
Building Community: One Grocery Trip at a Time
With Aaron, my son with the label of autism, every trip to the grocery is an adventure.
Before we go, I usually do an ecological assessment (click here) and use some of the skills Aaron learned in his functional curriculum when he was in school.
Establishing Routines
Over the years and with lots of practice, I know what Aaron likes and dislikes. I try to make the shopping trip a good experience for both of us.
We try to go in the morning when the store isn't crowded. We've developed a system where I walk in front of the cart making sure there is no person or display in the way. Aaron then follows pushing the cart with both hands on the handle.
Aaron is really good at following and knows to stop when I stop. He seldom bumps other people or the displays. This is a skill we have worked on for years and practice every week. I am really proud Aaron can do this.
We usually go to the same store.
That way Aaron is familiar with the physical space and layout. He knows the grapes and carrots are on the right front, the bread is in the right back, and after we pick up the milk and yogurt on the far left we will head to the checkout lanes. We usually only buy about ten items so the wait in line is short. We try to build a routine and structure into the experience.
We try to build a relationship with the store personnel.
This store was only a mile from where Aaron went to high school but in the suburbs we rarely see anyone we know. One of the baggers used to be in the special education program. She does a good job and always says hello. Some of the regular shoppers talk to her by name. She is one of our special ed. success stories and has been employed for over 10 years.
But I never know what's going to happen.
Yesterday we went to the grocery near Tommy's house because we wanted to let his dog out for him. Even though it was the same chain we always go to, the store was set up differently. STRESS.
I thought noon on a Sunday would be okay, but it was packed and everyone was in a hurry because the football game was due to begin at 1 PM and the only way to survive a football game is with lots of beer and snacks. STRESS. STRESS.
Being ready for surprises
Aaron did pretty well. We got our groceries and went to the car. I was putting the bags in the trunk when Aaron started pounding on the roof of the car next to us. He's never done that before.
The young man was getting his two young daughters out of the passenger side. He looked up and yelled, "Hey, stop that!"
Quickly I grabbed Aaron and was about to get him into his seat when Aaron pushed me away and again pounded on the top of the car. This time the guy came over to our side of the car.
I started to apologize when the guy said, "Aaron, is that you?"
Aaron gave him a side-ways glance.
I was stunned and didn't quite know what to say. I looked at the guy and he looked at me, and he repeated, "Is that Aaron?"
There wasn't much room in the space between the two cars. I took a deep breath and turned Aaron toward the young man. "Aaron do you know him?"
Instead of punching Aaron, the man gave Aaron a high-five.
I fumbled out a, "How do you know Aaron?" and the young man said they went to high school together. He said he used to come into Aaron's class and take him to the gym. He said he and Aaron used to eat lunch together.
He touched Aaron's arm and guided him over to the other side of his car and introduced Aaron to his two children who were about 5 and 3 years old. He told them Aaron was a friend from school and then had Aaron give them each a high-five.
Aaron was strangely quiet. He patted the younger child on the head and said, "Ahh."
I thanked the man for saying hello. He said his name was Todd and he asked a couple questions about where Aaron lived.
We both talked about how Aaron must have recognized him and since he didn't have any words, he used the pounding on the car to get attention. We both thought that was very clever of Aaron.
Finding More than Groceries
When we worked so hard for inclusion for Aaron in the public schools, we dreamed that Aaron would have a community of people who knew and accepted him. People who could see his gifts and strengths.
Every once in a while we have a unique success story that makes all that hard work worth it.
We've never expected big monumental experiences. This magic moment where Todd remembers Aaron and thinks enough of him to want to introduce him to his children–that's big enough.
YOUR TURN
I hope you will check out a couple of the other blog articles and share your thoughts.
Do you have any community experiences to share? Any magic moments?
Do you think the future will be better for adults with disabilities because of inclusion in the schools?
Keep Climbing: Onward and Upward
All the Best,
Mary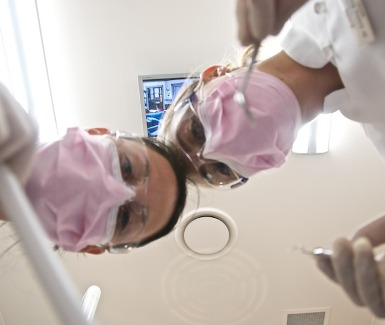 When Aaron was in high school he needed to get his wisdom teeth pulled. Sounds normal, right? You, me and most people get our wisdom teeth pulled.
The difference between you, me, most people and Aaron is Aaron has autism. That makes a huge difference in the choice of dentists, hygienists, insurance…pain, suffering and good oral hygiene.
Over the years, Aaron has had some great dentists and some not-so-great. Some great hygienists and…hygienists who refused to put their fingers in his mouth. One dentist wouldn't let Aaron in his waiting room. I've written about the "retarded teeth" episode.
Like most people I asked my friends for recommendations and was directed to Dr. G. for the wisdom teeth. We stuck.
Fifteen years later Aaron is still going to Dr. G., even though he is a pediatric dentist. The advantage of a pediatric dentist is he does not rely on the patient for any information and works quickly. Dentists and Doctors who work with adults usually ask their patients if they are having any trouble and expect them to participate in examinations. Young children and people with disabilities who don't use words are a lot alike.
Normalization–Yes; Age-appropriate–No.
Dr. G has a "normal" practice. He works with lots of children and a handful of people with disabilities. While this meets the definition of "normalization" or "social role valorization," this would not meet the definition of age-appropriate–Aaron is 36 years old.
How the Doctor Visit Works
Last week Aaron had his bi-yearly visit for a check-up and cleaning. Tom, my husband, takes Aaron (I'm too squeamish).
We have learned the best time for an appointment is the last appointment before lunch. This way, there are only a handful of other patients, the waiting room is less chaotic, and if Aaron runs over, there is some flexibility. We also schedule a day when Kathy, the dental hygienist, is working.
Full Circle
Kathy has worked with Aaron for many years but this year, a new hygienist was assisting her. Turns out this new hygienist was one of Dr. G and Kathy's former patients. She grew up watching Dr. G and Kathy, became a dental assistant and now is working in their office. Full Circle.
Inclusive Dental Care | Autistic Dental Care–NOT!
Kathy used the same techniques she uses with all her patients. The trick is she individualizes the care based on the individual needs of the patient.
Individualized Dental Plan
As Kathy worked she explained what she was doing to Aaron, Tom, and the new assistant—between verses of camp songs! So, "I'm using these cotton squares to absorb the fluid so Aaron doesn't swallow and gag…Eeeeye, eeeeye, Ohhh. And on his farm he had a cow…"
Kathy and everyone in the office, including the other hygienists, the patients and their parents all sing during the dental cleanings. She'll be comin' round the mountain, Wheels on the bus, If you're happy and you know it…
Aaron loves it. This helps him relax, plus it builds a community among all the people in the room.
This isn't the dreaded trip to the dentist I had when I was a kid, this is just a trip to the dentist with some fun people. And, the most interesting thing is ALL the other kids and parents love it too. Aaron often makes strange noises, somehow having a familiar song and such an accepting environment makes everything okay.
The amazing results are Kathy gets Aaron's teeth cleaned thoroughly, she even flosses his teeth.
This is ASTOUNDING!
If you polled a group of 50 school psychologists 100% of them would say flossing Aaron's teeth was impossible. You see this would NOT fit in any scientific venue. There would not be a big enough sample of patients, there would not be replication or any guarantee this would work in other dental offices. There would not be a lot of people just like Aaron, or like Kathy or Dr. G.. So, scientific methods are not applicable, this is not predictable. It just works.
Other tricks we learned from Dr. G, Kathy and the other people in the dentist's office:

1. Use a sealer on the teeth. Aaron got his first sealant applied when they first came out over 15 years ago. The sealant has held up. Aaron has had no cavities in all that time.

2. Aaron goes into the hospital and Dr. G does a deep cleaning when needed. In 15 years, Aaron has had this procedure two times. It requires him to be put under, so it is serious.

3. Dr. G especially looks for gum disease at each visit.

4. He does not recommend an electric toothbrush for Aaron.

5. He does give a report card to Aaron on his dental hygiene.

6. We take this report card to Aaron's ISP meeting and incorporate the teeth brushing into Aaron's goals. Now, we know Aaron doesn't brush his teeth—so this is mainly for the staff. But by incorporating it into the record keeping, there is some accountability for staff.

7. I'm sure Kathy and the others have all kinds of technical hints i.e. Because of Aaron's balance issues, they adjust the chair for Aaron's comfort—rather than theirs….
Dr. G.
As far as we know, Dr. G does not get paid for working with Aaron. We give the office staff Aaron's medical card, but Dr. G has shared it is not worth his time to file the paperwork.
Kathy and the other hygienists always tell us it is their pleasure to work with Aaron. And they make us believe it. They make us feel Aaron is an important member of their caring community.
They make us feel welcome. We feel no one could pay them for the love and extra attention they give to Aaron. It is a special gift indeed.
I think they use Aaron to train their staff. Who knows whether that new hygienist may one day be doing Aaron or someone else's teeth? I like to think Aaron is teaching them? Maybe they think, my god, if we can floss Aaron's teeth—we can do anyone! Or, maybe it is a point of pride that they are damn good hygienists!
I think it is because they are just good people who care about other people. They are good hygienists with everyone–not just Aaron.
In return, as Aaron's parents we cherish them and their gift.
State Cutbacks
When the state was going to reduce the dental visits from 2 times a year to once a year for people on medical cards, I wrote a letter to the state and called Ohio Legal Rights. The state cut back, reinstated, and then I think the current status is cut back again to one time a year.
Since Dr. G is so generous, we have had the luxury of taking Aaron twice a year. And we know we are blessed. Aaron has a great smile, his teeth and gums are healthy. We are lucky.
Tom and I also hassle the residential staff about brushing Aaron's teeth. I've written before about how the caregivers don't think this is necessary. So we make sure the staff knows this is a big deal and we will follow-through if Aaron's teeth are not clean.
Every office visit, we also always bring all the dental staff flowers or a plant, we send thank you cards and tell them how wonderful they are. Kathy always gives Aaron a hug. And it always chokes us up.
Bill F.
Wolf Wolfensberger wrote an article about Bill F. I will never forget. Wolfensberger is a professor at Syracuse University who is famous for his theory of Normalization, Social Role Valorization and Citizen Advocacy.
In his article, Bill F. is a man with an intellectual disability who actually died because he was not given dentures that fit. This started a cycle of him not being about to eat well, manage his diabetes, which led to him becoming frail, which led to him falling, which meant he was put into a nursing home and lost his apartment and independence…. And died—all because he didn't get the dental care he needed.
The other part of the Bill F story is about the role of advocates, friends, citizens who just cared about Bill and tried to get him help. These citizen advocates (here is an article from the MN Governor's DD Planning Council site) gave Bill the dignity of being a friend and person. Not a client, not a patient, not a person with mental retardation who they were going to save or offer their charity. These citizen advocates cared about Bill the person.
I like to think Dr. G, Kathy and the other staff are not just doing their jobs when they treat Aaron. They have proven, time and again, they care about Aaron. He is more than just the patient in the 11:00 slot.
I think Aaron gives them something rare, something that makes them feel proud and humbled that they can be with him.
So, AHHHHHH indeed. Dr. G, Kathy and all people who work to give good dental care and sooo much more–Thanks We Love You. You make our mouths and hearts smile!
Keep Climbing: Onward and Upward
All my best,
Mary
Comments:
If you liked this post, please add your thoughts, share it on Twitter, Facebook… and other social media.
What do you think about the government cutting back dental services for people with disabilities? Does it make a difference if they only get their teeth cleaned once a year? Would they have extra reasons for needing check-ups twice a year? Is this discrimination? Are dental services for people with disabilities a waste of taxpayer dollars?
PS. You are allowed to disagree with me, a different viewpoint, helps us learn and find solutions.
Wolfensberger, W. (1989, December). Bill F.: Signs of the times read from the life of one mentally retarded man. Mental Retardation, 27(6), 369-373.