photo credit: crimsong19
Building Community: One Grocery Trip at a Time
With Aaron, my son with the label of autism, every trip to the grocery is an adventure.
Before we go, I usually do an ecological assessment (click here) and use some of the skills Aaron learned in his functional curriculum when he was in school.
Establishing Routines
Over the years and with lots of practice, I know what Aaron likes and dislikes. I try to make the shopping trip a good experience for both of us.
We try to go in the morning when the store isn't crowded. We've developed a system where I walk in front of the cart making sure there is no person or display in the way. Aaron then follows pushing the cart with both hands on the handle.
Aaron is really good at following and knows to stop when I stop. He seldom bumps other people or the displays. This is a skill we have worked on for years and practice every week. I am really proud Aaron can do this.
We usually go to the same store.
That way Aaron is familiar with the physical space and layout. He knows the grapes and carrots are on the right front, the bread is in the right back, and after we pick up the milk and yogurt on the far left we will head to the checkout lanes. We usually only buy about ten items so the wait in line is short. We try to build a routine and structure into the experience.
We try to build a relationship with the store personnel.
This store was only a mile from where Aaron went to high school but in the suburbs we rarely see anyone we know. One of the baggers used to be in the special education program. She does a good job and always says hello. Some of the regular shoppers talk to her by name. She is one of our special ed. success stories and has been employed for over 10 years.
But I never know what's going to happen.
Yesterday we went to the grocery near Tommy's house because we wanted to let his dog out for him. Even though it was the same chain we always go to, the store was set up differently. STRESS.
I thought noon on a Sunday would be okay, but it was packed and everyone was in a hurry because the football game was due to begin at 1 PM and the only way to survive a Bengal game is with lots of beer and snacks. STRESS. STRESS.
Being ready for surprises
Aaron did pretty well. We got our groceries and went to the car. I was putting the bags in the trunk when Aaron started pounding on the roof of the car next to us. He's never done that before.
The young man was getting his two young daughters out of the passenger side. He looked up and yelled, "Hey, stop that!"
Quickly I grabbed Aaron and was about to get him into his seat when Aaron pushed me away and again pounded on the top of the car. This time the guy came over to our side of the car.
I started to apologize when the guy said, "Aaron, is that you?"
Aaron gave him a side-ways glance.
I was stunned and didn't quite know what to say. I looked at the guy and he looked at me, and he repeated, "Is that Aaron?"
There wasn't much room in the space between the two cars. I took a deep breath and turned Aaron toward the young man. "Aaron do you know him?"
Instead of punching Aaron, the man gave Aaron a high-five.
I fumbled out a, "How do you know Aaron?" and the young man said they went to high school together. He said he used to come into Aaron's class and take him to the gym. He said he and Aaron used to eat lunch together.
He touched Aaron's arm and guided him over to the other side of his car and introduced Aaron to his two children who were about 5 and 3 years old. He told them Aaron was a friend from school and then had Aaron give them each a high-five.
Aaron was strangely quiet. He patted the younger child on the head and said, "Ahh."
I thanked the man for saying hello. He said his name was Todd and he asked a couple questions about where Aaron lived.
We both talked about how Aaron must have recognized him and since he didn't have any words, he used the pounding on the car to get attention. We both thought that was very clever of Aaron.
Finding More than Groceries
When we worked so hard for inclusion for Aaron in the public schools, we dreamed that Aaron would have a community of people who knew and accepted him. People who could see his gifts and strengths.
Every once in a while we have a unique success story that makes all that hard work worth it.
We've never expected big monumental experiences. This magic moment where Todd remembers Aaron and thinks enough of him to want to introduce him to his children–that's big enough.
YOUR TURN
This is my 50th post. I hope you will check out a couple of the other articles and share your thoughts.
Do you have any experiences to share? Any magic moments?
Do you think the future will be better for adults with disabilities because of inclusion in the schools?
Keep Climbing: Onward and Upward
All the Best,
Mary
Robert and Martha Perske
At one of my first TASH (then The Association for Persons with Severe Handicaps) conferences, I heard Bob Perske speak about Hope for the Families. His book, by the same name, helped me make sense of our family's new life as parents of a son with the labels of intellectual disabilities, autism and more.
Bob Perske has been one of the pioneers for people with disabilities and their families. In Parallels of Time Bob Perske is seen pictured with giants in our field. He has written many terrific books including Circles of Friends and Unequal Justice, his current work with people with intellectual disabilities caught in the criminal justice system.
Bob is an amazing minister, speaker, writer and just great person. People with disabilities and their families are fortunate to have him in our lives. Martha, his wife, uses her talent to create pictures which spread joy and a vision of inclusion across the world.
Below is one of Martha's pictures and the introduction to Hope for the Families which I have passed along to my friends, my classes, and anyone who would read it.
Hope for Families of People with Disabilities
Not so very long ago, you and I were conditioned to perceive persons with handicaps as deviants. They were seen as…

Possessed by evil forces

Carriers of bad blood

A drag on the community's resources

The products of illicit sex

Subhuman organisms

Too ugly to be seen in public

Objects to be laughed at

A Group that would outbreed us

People with contagious sicknesses

Sexual monsters and perverts

Children who never grew up

Our parents and teachers conditioned us by what they said—or didn't say—to feel uncomfortable around hose imperfect people. We were led to believe that if we got too close to them, something evil would rub off on us.

Consequently, persons with disabilities were condemned to struggle against TWO handicaps. One was the actual handicap. The other was he additional wounding they received from our prejudices.

Wasn't the handicap itself enough? Why did we have to cripple them further?

Let me offer one theory to explain such behavior:

Once we believed fiercely that the world was becoming better and better.

And in keeping with this belief, everyone was expected ultimately to develop…

A pure heart

A brilliant mind

A beautiful body

A successful marriage

A high-status job

And live in a perfect society.

Then along came a few defenseless persons with obvious physical and mental handicaps. Their presence rattled our plans for a perfect world as a high wind rattles a loose shutter. We didn't like that, and the result was that we could not stand to have them around us.

World War II

Then something happened. One country, in an effort to create a super race, started a world war. By the time it ended, the minds of all humankind were trying to comprehend the terrible things some groups of human beings had done to other groups. All of us tried to understand what had happened in places like Buchenwald, Auschwitz, Hiroshima, Nagasaki, London, Bataan, and Corregidor.

After World War II

After World War II, our belief in the gospel of world perfection began to fall apart.

And, we were reminded of some terrible facts.

All of us have gaps in our bodies and minds.

All of us are unfinished.

Some of us can hide our deficiencies better than others.

None of us will ever achieve perfection.

Those of us who think we are closest to perfection may be most likely to drag the human race to new lows.

Today we do not know whether the world is getting better and better—we only know it is getting more complex.

And yet it is an astonishing fact that humankind's healthy interest in person with disabilities began to mushroom after the Holocaust and the Atom Bomb. One cannot help wondering if there is a connection.
Robert Perske Hope for the Families: Abingdon Press, Nashville, TN.1981. Click here for Robert Perske's website.
Today, advocates in Ohio, Wisconsin, Indiana and other places around the country are asking the legislature to preserve Medicaid and other programs for people with severe disabilities. The crucial support programs our children need to survive are at risk.
Money is always scarce, but as Bob points out, we have made progress in our values and experiences of including people in the community. We have to believe in hope and better futures for our children.
I am reminded of two quotes:
"Those who do not learn from the past are destined to repeat it."
"A measure of a society is how it treats its most vulnerable people."
As parents we understand budget cuts and are even willing to concede progress will be slow, BUT we expect progress!
If you found this interesting you might also like a related article about Remarkable Parents who Never give up.
Keep Climbing: Onward and Upward
All my best,
Mary
What's Your Take?, Be Brave and Share
Do you think our society values people who are different or have special needs? or, are we still just a drain on the system and resources? Do you think people with disabilities have two handicaps?
If you like this, please retweet and share with your community. Thanks.
Related Articles:
Bob Perske| The Song of Joe Arridy
A Comparison of the Service System and the Community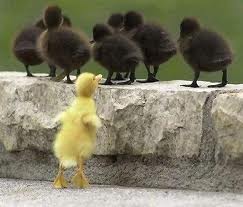 The Power of our Words
This is part 3 of a series on classic concepts to understand Normalization and Inclusion.
The first was Norm Kunc| A Credo of Support
The second was about The difference between the words "Disability" and "Handicapped."
Mayer Shevin wrote this classic poem. I'm hoping you'll add your thoughts in the comments.
"The Language of Us and Them"

By Mayer Shevin, 1987.

We like things.
They fixate on objects.

We try to make friends.
They display attention-seeking behaviors.

We take a break.
They display off-task behavior.

We stand up for ourselves.
They are non-compliant.

We have hobbies.
They self-stim.

We choose our friends wisely.
They display poor peer socialization.

We persevere.
They perseverate.

We love people.
They have dependencies on people.

We go for walks.
They run away.

We insist.
They tantrum.

We change our minds.
They are disoriented and have short attention spans.

We are talented.
They have splinter skills.

We are human.
They are…….?
What do you think?
Okay, truth time.
Have you ever used any of these phrases?
Are we really different?
Is there a legitimate reason for the We verses They? the Us and Them ways of thinking?
Are these words:
more than just semantics
more than about insiders/outsiders
more than prejudice
more than stereotyping…
and everything about survival, inclusion and being loved.
Thought Experiment
In Erving Goffman's classic book, Stigma: Notes on the Management of Spoiled Identity (1963) he talks about social stigma and how words like we/us and they/them are ways we separate and distance ourselves from other people and what is happening.
Check out this recent article about abuse, neglect and budget cuts in an institution in California.
California Watch slams State Institution | Neglect, Weak Oversight.
How do we decide if we will get involved or distance ourselves?
What makes us care, not care?
Think about how the social stigma of we, us, they and them affects adults with autism and developmental disabilities.
Think about how social stigma affects our decisions.
If you have a son or daughter, a relative or neighbor in this institution, then this story is about "us and we"–it touches our lives.
If you care about people with disabilities, this story is also about "us and we" because the next story may affect our loved one.
I hope you will share some of your thoughts and continue the discussion in the comments.
Keep Climbing: Onward and Upward
All my best,
Mary
Related Posts
Socially Constructed Attitudes| What do you see?
Test Questions| Segregation or Inclusion?
—
Tommy is in the second row. Of course, Aaron is the red head in the middle of the picture who refused to look at the camera.
My last post Teachers| Inclusion or Segregation started an interesting discussion. It reminded me of the letter I wrote to the Principal of Hopewell Junior School:
Letter to Principal on Last Day of Jr. High School
June 6, 1990

Principal, Hopewell Junior School
Lakota School District
West Chester, Ohio

Dear Dr. Taylor,

Recently my nephew, Robert, started laughing hysterically when I mentioned his cousin; Aaron was going to be on the school cross-country team. "What's Aaron going to do? Bite and push all the kids at the starting line so he can win?"

I was deeply hurt but tried to explain it wasn't all about the winning but the trying that was important. Robert was shocked! "But why would you even try if you knew you couldn't win?"

Different Kinds of Winners and Losers

I explained there were different kinds of "winning." Aaron has autism but he also has the need for belonging to a group and regular exercise. Robert stared blank-faced, and after several more minutes I changed the subject. To this gifted 14 year old, who has above-average good looks, athletic ability and intelligence, this made no sense. Sigh.

Robert, Tommy (Aaron's brother) and their peers are the people on whom Aaron will always be dependent. They are the next generation of parents, professionals, neighbors and…coaches.

The experiences and value systems they are developing in school, in the community, on the cross country teams–right this minute—will directly affecting Aaron's future.

Robert has never gone to public school, run on an inclusive cross-country team or been friends with people with physical and intellectual challenges. Obviously, even his experiences with his cousin have made little impact. I think that is a deficit in his education. It will impact his future as a member of his family and community. It's not a visible "D" on his report card, but it is an invisible "deficit" and loss in his life.

Who are the Winners and Losers?

How do you teach that the person who comes in first is not always the biggest winner? Can children learn it takes courage for not just children with challenges, but for all the boys and girls who finish near the end?

WINNERS are sometime those who RISK losing…being laughed at…coming in last.

Learning and Teaching Values

Each nation decides what is normal, average and gifted. They decide who are the winners and the losers.

Recently, we've been stunned by news accounts which demonstrate how the values in Iran, China, and Russia are different from our own. We have also witnessed incredible changes in philosophy, public opinion and policy. Values are fluid, changing and dependent on multiple factors.

Shaping those values and rights is something we do every day, consciously, or unconsciously. Sometimes value changes are dramatic like the Berlin Wall coming down–winners. Sometimes value changes are dramatic like Tiananmen Square-winners/losers depending on your point of reference.

The rights of citizens are gifts from a nation to their citizens. These rights and freedoms cannot be taken for granted.

The tragedy of having a child with a disability has nothing to do with the child, a syndrome, disease or label. The tragedy comes from the struggle with people in your family, community, country who decide if they will accept and support your family or rejected and isolate you.

Whether the differences are overlooked or emphasized. Whether the winners are only the ones who come in first.

"But Wait until Junior High"

When we went to court in 1979 (Cincinnati Public Schools) to allow Aaron to go to the public school, the doomsayers predicted, "MAYBE it would work in elementary school…But wait until Junior High!"

The teachers care only about academics, the sports are so competitive, the kids are so cruel–during lunch they will put drugs in your child's milk"

They hatefully wanted to frighten us into accepting the segregated school and a segregated life.

Last Day of Junior School

Today is our last day at Hopewell Junior School and happily those predictions are laughable. Thanks to the vision and caring of the administration, staff, teachers–especially Miss Linda Lee–and the other students in the school Aaron and his classmates have had a great experience.

They are the first class of people with significant disabilities who have been able to attend a regular public school. It has been a new experience for everyone and it has been a success.

Aaron has had many opportunities for learning functional skills which will help him live, work and participate in the community. But more importantly, he has had opportunities to be "included as a regular student."

There were some who wondered why a kid, who can hardly talk, much less sing, would practice and perform on stage with the school chorus?

Why someone who has severe balance and flexibility problems would try to participate on the cross-county and track team?

They wonder if it be would have been safer if Aaron rode the "handicapped bus" with an extra aide, instead of the regular bus with his brother?

They will never understand why we hate Special Olympics?

These parents, students and community members can't figure out what could Aaron possibly get out of an assembly, or six minutes in regular homeroom?

The answer to most of these questions then and now is really WE Don't KNOW!

The schools are changing the future

Aaron has gifts, strengths and talents and when given opportunities for learning–determination and pride. We do have observations.

Each time a schoolmate says, "Hi" and forces Aaron to give eye contact, each time a teammate said, "Go Aaron, you can make it!" or gives him a high 5–it is a victory.

Each time they see Aaron make it over a creek or down a hill we celebrate.

Every time they see him complete his vocational job stacking juice cartons in the lunchroom, sorting the silverware, filling the pop machines–it is a value enhancing experience. Aaron can learn to do jobs, that if he didn't do them, someone else would.

This year Aaron's picture is in the yearbook next to his brother's. He and Tommy's picture is in also with the athletes for Cross Country and Track. A First!

A general education high school student cared enough to help Aaron participate in a bowling league. And then, he took him to the Eighth Grade Dance whose theme was "That's What Friends are For." A First!

Aaron' name (granted it was a name stamp) was on the class t-shirt. A First!

Aaron got a school letter in cross country and track, including being in the team picture. A First!

Aaron got his first paycheck from his vocational training site, Grote bakery, allowing him to become a taxpayer. A jump-up-and-down first!

A whole lot of Learning

To me, these shifts in school philosophy, values and focus on inclusion are every bit as dramatic as the Berlin wall coming down.

In the current evolution to merge special and general education, to change special separate classes into a system of inclusive classes with support services for ALL children–the new ideas, opportunities, choices, risks and freedoms are truly exciting.

Hopewell Junior School has given Aaron and Tommy the chance to be winners. The chance to show that sometimes the biggest lessons are not just in the classroom.

Their success has been a victory.

Hopefully, in this human race, our world will become a better place because of the mix of people who grow up more fully with the experiences of community inclusion.

Thanks for your continued support. Thanks for making Hopewell—a Well of Hope.

Sincerely,

The Ulrich Family
Epilogue: 20 years later
Junior High turned out to be one of the best times in Aaron and Tommy's lives. They both had caring teachers who looked at each of their individual needs. I wish we could find out what memories the other students had of their time with Aaron and Tommy in cross-county, track, bowling, choir, gym… I bet they would have some funny stories. I wish them all well.
ps. We often think of how the students are going to grow up and be the next voters, taxpayers, citizens… but we often forget the school staff also evolves. Aaron's teacher, Miss Lee went on to become a district supervisor and Dr. Taylor, the prinicpal, is the current Superintendent of Lakota. I like to think their experiences with Aaron and Tommy influence who they are today.
Keep Climbing: Onward and Upward
All my best,
Mary
Comments:
Were kids with autism and severe disabilities included in your school? Do you have any thoughts to share? What do you think the future looks like?
A related story is What is Inclusion? plus, pictures of Aaron and Tommy at graduation.