This is Part 2 of a 3 part series:
Going to the family reunion, or not? Part 2: The Circles of Life

See Part 1: Going to the family reunion, or not?

See Part 3: Going to the family reunion? Shave your armpits.
The Circles of Life
We've all heard the quote about how the most important thing on our tombstone is NOT the date of our birth or the date of our death. The most important thing is the dash—what we did between the two dates. Our birth to death time-line is not just linear.
Our World View is Unique
We live in complex interrelated systems which give us a unique lens to view the world:
*the individual,
*our nuclear family, our extended family and friends
*our local community professionals (bus drivers, barber, doctor…)
*our organizations (churches, clubs, schools…)
*our beliefs, culture, government, and our world
Uncle Ed
My Uncle Ed was one of the most inspiring people I ever met. In our Archdiocese, he served as a priest in several of the poorer parishes. One Sunday he was actually robbed and shot for the money in the collection plate—definitely not the best neighborhood. When he could have retired, he became a missionary in Grenada where he built a school, a nursing home, and two churches. He loved everyone including those marginalized by society: people who were sick, poor, had disabilities, the young, elderly, prisoners… everyone. Always, he modeled commitment and used his special gifts of humor and basketball to spread the word of God. Another thing Uncle Ed did was lead the songfest at each family reunion.
In part one of "Going to the family reunion, or not?" I talked about preparing BEFORE going to the family reunion. Today, I want to talk about systems theory. I thought about going straight to chaos theory because if your family is anything like mine, chaos rules the day… but systems theory actually helped me make sense of the circles of life.
Bronfenbrenner's System Theory
In a systems theory perspective each individual is in a dynamic and interconnected relationship with other people and environments.

Resource: Bronfenbrenner, U. (1979). The ecology of human development. Cambridge, MA: Harvard University.
Picture nested Russian dolls where one fits inside the others. In Bronfenbrenner's social system theory the smallest system is an individual person. But everything is connected; what influences one circle influences all the others. The circle of our family's culture, traditions, likes, dislikes all influence who we are and what is valued. It is as important as the common blood or DNA.
The Micro System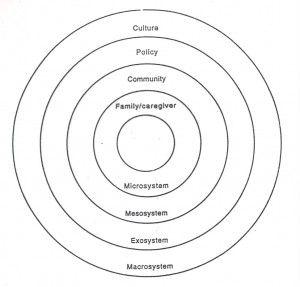 Each aunt, uncle, cousin, grandchild in my family has their own experiences and beliefs about people who are different. Based on their ages and backgrounds they could have few or many inclusive experiences. Fortunately, Aaron is a part of the family, because of his blood, he belongs. They try to see the good things in Aaron, my son who has the label of autism. When we get together for family gatherings, they each try to fit Aaron into the environments and accommodate his needs.
Some of my cousins are teachers, counselors, business owners, nurses… Some work with people with disabilities in a professional capacity while others have had personal experiences with people in their communities. My sister recently had some hip surgery and applied for a Handicapped Parking permit–as we are all aging, we are all starting to understand the ramifications of being "temporarily able bodied." Each individual and each family member shares those common experiences, but just as I am learning about growing older from my seniors and elderly relatives, many are learning about inclusion from Aaron.
Macro System
Considering people with severe disabilities have suffered abuse, neglect, and been ostracized from their family (tribe) being given the opportunity to participate with the family is a gift. I am thankful. I also hope we give positive modeling of what to do, how to act, how to accept others who are different.
Most of my relatives go out of their way to try and help Aaron in the swimming pool, bring him a drink, and help wipe up a mess if he spills something–instead of blaming him. I think some of this was learned from my Uncle Ed.
Uncle Ed always "Got it." He was a pioneer for inclusion before inclusion was a word. At our family reunions Uncle Ed always brought people from the neighborhoods where he was pastor. There would be kids of all different religions, races and cultures. He was teaching about diversity as we all got in line for the potato salad and hot-dogs, as sure as he was teaching about God and God's children. When Uncle Ed led the traditional singing, we didn't sing special religious songs only our family would know, we sang camp songs where everyone could join in: "The bear comes over the mountain" or "The food in the army, they say is mighty fine" and school fight songs.
Uncle Ed was teaching about inclusion, about belonging and the power of a face to face connection. And he lead the way to change attitudes through his embedded social systems.
The last song before the picnic ended was always, "He's got the whole world in His hands." Uncle Ed never offered to lay his hands on Aaron and ask for God's cure. He never tried to "counsel" our family about accepting God's will. He never gave a sermon on how Jesus cured the blind man. Never once did he tell me I was chosen.
But like Tom, Tommy and I were trying to model, Uncle Ed just accepted Aaron the way he is, saw his beauty and gifts. Didn't try to change him or us. In the many choruses of "He's got the whole world" we joined hands and sang about how "He's got the mothers and the fathers, the sisters and the brothers…He's got the little bitty children… and He's got Aar-on in His hands, He's got the whole world in His hands."
I know sharing pictures and snapshots of family reunions is boring as can be, but I hope this story shows why our family and extended family are such an important part of who we are. I am so thankful Uncle Ed was a part of my family, a part of my social system. I am hoping my family will also say the same about Aaron.
What about your Circles?
Does systems theory make sense to you? Who are the people/groups/clubs in your circles? How do these impact your life?
Tell us about your social systems, how is your family changing?
Keep climbing, onward and upward.
All the best,
Mary