photo credit: KlemenRobnik
As promised in Day 3 of the blogging challenge: "Turning it over to the professionals"— here is the slimy squiggly creature that crawls up necks.)
The Host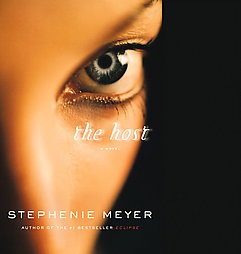 Like most people, I read The Host because it was written by Stephanie Meyer of Twilight fame. It had the great plot twists, character arcs and world building I expected. But The Host also gave me thoughtful surprises.
In The Host, an intelligent species of slimy aliens look at the chaos on earth and think it needs a complete makeover. The aliens invade Earth to bring peace, serenity, cure diseases and bring order to the rampant violence and corruption they see destroying the planet. The heroine Wanda (Wanderer) is surgically implanted in Melanie, her host's body. But Melanie is a rebel who refuses to voluntarily surrender her body and life to Wanda. (spoiler) Wanda and Melanie learn from each other. Wanda learns even though these humans live in a violent world, she and the other aliens are now violently destroying their human spirits, relationships and what makes them unique in the galaxy.
The whole story is about understanding what is human? Can do-gooders cause harm? Is chaos really okay? How can human friendships and emotions be judged? Can differences be a good thing?
The Host by Stephanie Meyer, New York: Little, Brown and Company 2008.
The Home Stagers
Our Realtor recommended we allow professional House Stagers to work their magic on our first floor. And yes, we probably had too much stuff. No, I take that back. Of course we had too much stuff.
The next week, two lovely ladies came and spent over 4 hours on just the LR/DR room and kitchen. Just like on TV, they went through the house and pulled a couple pieces of furniture–Love seat, glass coffee table, and one chair and moved everything else out.
If you are interested in seeing the final product you can see our condo on their website and BTW: it is still for sale (bet you were wondering if I would get the sales pitch in?) (click here and check it out)
The ladies removed all personal pictures and items, took down the calendar and pen, put away the rugs, grandma's china, as well as the toaster and coffeepot. You get the idea. They stripped the rooms and now ("as research suggests") have just a few pieces which are nondescript and allow the prospective buyer to see the view of the golf course–our biggest selling point and envision themselves living here with their stuff. This house is supposed to no longer be our house. It is now just a shell (the host) where we live until we can move on and claim a new home.
Aaron
Here is where I just start laughing. We purposely didn't bring Aaron home overnight for the first three weeks. We picked him up at his house, went to Tommy's house for dinner, or a restaurant, or the park, but we stayed away from this staged perfect house, which was ours–but not ours. After all, Tom and I were having a hard enough time hiding our dirty laundry in the closet, making sure the kitchen garbage can was discretely unseen in the garage, and … whoever invented glass coffee tables? That person should be sent to a far off planet.
The rose fades
After a couple weeks, living in a show room window was real old. After all, we can't keep Aaron completely out of the house. He is not really a person for crowded places. We have to live, right?
So Aaron walks in the living room, goes to the spot where his chair and books have been for the last 10 years. Of course, that spot has been cleared "to create a better walking path for the prospective buyers."
Aaron stops, pauses, and then looks at me like, "WTF, where's my chair?" So he bites his hand.
Moving on, he goes to find his usual stash of books by the fireplace. When he sees they are gone too, he says, "You okay?" (Which is his way of wanting us to ask him if he is okay, (because he clearly isn't).
When I give him some books, some ice tea and quickly redirect him to the patio he repeats, "You Okay?" for the next half an hour. I mean this literally until you think you are going to tear your ears off your head–about 30 times each minute. That is a l-o-t of, "You, Okay?"s.
Plan B
So this weekend we are taking Aaron to a state park to spend the night. We'll take him swimming and give him some extra attention. We'll be in a different setting. I think we will all enjoy the time away and the peace of mind the house will stay in its perfect condition with no humans to mess it up.
Takeaway:
1. Say a prayer we sell the house. Just got word someone will actually be viewing it. This will solve some immediate problems, though it will open others.
2. I have to wonder about the comparison about the aliens from The Host taking over the lives of their host and the way the Realtor and House Stagers have essentially taken over our lives.
3. Fortunately this is temporary. But every time I go to mark something on our non-existent calendar, or find my spaghetti pot which was considered clutter and is now in storage, I wonder.
Conclusion:
Like the questions I asked after reading The Host, I now question the Home Stagers stripping away the personal and human items to simplify, remove the clutter and chaos. Are they actually substituting more stress and chaos in our lives? As I talked about in the Day 2 and 3, do buyers want to see what is human and makes us unique so they can then add their spirit to this living space? Or is a sort of surgical removal to sterilize the environment really better?
I know what Aaron would say. I think I know what Wanda and Melanie would say.
TELL US YOUR OPINION: What do you say?

In this moving example and from other experiences in your life: What is human? Can do-gooders cause harm? Is chaos really okay? Are human friendships and emotions better than a world where everyone's emotions are the same? Can differences be a good thing?
Tomorrow: I'll be back on Monday. Right now I need to pack our stuff to go out of town so our house looks unlived in. So someone else can decide if they want to live in it. And this makes sense, why?
BTW: In my research about The Host, I found out it was made into a movie. So, I definitely want to see it, but of course our DVD player was considered clutter too and is in one of the boxes in storage. Humm, maybe the aliens have invaded.
Keep Climbing: Onward and Upward.
All the best,
Mary
————————————————-
In case you missed it:
Day 1: "Every Day for 30 Days" Blogging Challenge or "IBP" (Individual Blogging Plan) Day 1 of the 30-Day-Every-Day Blogging challenge. (click here)
Day 2: Memory Rocks: not being objective (click here).
Day 3: Turning it over to the professionals (click here)
Day 4: An Avalanche and an Aaron story (click here)
Check out what my challenge partner Alison Golden of The Secret Life of a Warrior Woman is blogging about today at http://alisongolden.com/