<
Happy Birthday ADA
Representative Tony Coelho shares the reasons he introduced The Americans With Disabilities Act in Congress in the late 80s. Tony Coelho also is a strong supporter of Partners in Policymaking.
Tony Coelho had epilepsy and used his life experiences to make a difference for thousands of people with disabilities and their families, not only in the present, but in the future.
What Can I Do?
When I get discouraged and can't solve basic day to day problems for Aaron, my son with autism, I try to look at the big picture.
ADA is only 22 years old. Think about it.
The US Constitution is over 200 years old and we still have lots of issues to resolve. 22 years is just infancy in the lifespan of the ADA civil rights legislation. So we have made progress, but there is still lots to do.
After my recent surgery I went to our local community center and joined the seniors swim hour. I was shocked to see that there was no railing going down into the pool. Since I was wobbly and certainly didn't want to fall again, I needed a railing.
I watched the other seniors (many of whom were also wobbly) hold on a low wall and scoot as best they could to enter the water. I saw one gentleman almost fall.
Now, this was my first day in the community center. I went there to try and get healthy. Meet some new friends; distance myself from "disability world."
I noticed the pool had a lift for people who needed it. The pool also had a large zero grade entrance where a person could just walk into the water without any steps. This insured no steps, but didn't solve the problem for someone who needed a railing. They did have a three step entrance on the other side of the pool that had a railing.
Technically, this pool met ADA requirements.
But all the seniors using the pool climbed down off this low wall and were in danger of falling.
When I asked the head life guard about it, she just shook her head and said, "I agree it is a problem, but no one listens to me." She suggested I could take my walker into the pool if I wanted, or she could hold my arm and assist me.
I looked at my walker and it was aluminum, but it had holes where you could adjust for height and the water would surely get in there. I could just picture my walker dripping water all through my house—so the walker in water solution wasn't going to work.
I already felt self-conscious enough, new kid and all, so I really didn't want a life-guard escorting me into the water.
We solved the problem by having one of the other seniors get into the pool and helping me with that first step. Then I was fine.
Fine, except I now had an 80 year old woman who weighed 100 pounds wet, helping me get into the pool. If either one of us had fallen, I would have squashed her like a waterbug. To say nothing to what this did to my self-esteem and confidence.
As I joined the flow of seniors exercising in the water current, I tried to ignore the whole thing and kept telling myself: "Boundaries Mary!" "Choose your battles." "Can't you be normal for once?"
I wanted to be "included" I wanted to belong. I didn't want to start off causing trouble.
I almost had myself convinced until I had to get out of the pool–Then my advocacy voice started again.
I followed the other seniors out of the water as we all tried to maneuver the low wall and the big step.
And, then you know what happened. I pulled the ADA trump card.
ADA makes a Difference, but only if you use it.
I ask to see the ADA Compliance Officer to file a complaint. The Community Center Director immediately met with me and gave me an official form.
She sincerely said she didn't know this was an issue and thought the pool met all the requirements. She said she would look into the issues I raised.
I asked if there was an alternative to filing an official complaint. She said they had a form for suggestions and concerns, so I gave her back the ADA complaint form and wrote a long description of the problem.
I figured, as long as I solved the problem, this saved her a lot of paperwork and bought me goodwill.
The Director took the issues seriously. She asked me, "What do you think will solve the problem?"
I suggested she talk with other seniors, the Life Guards, the OT and PT department which uses the pool for their clients (me included). I suggested she watch the arrival and departure of the seniors (basically an ecological assessment). I also suggested she look into the concept of Universal Design.
Good News
The Director did her job and I didn't need to use ADA.
Wait, let me reword that. I used ADA (even if it was just the threat of a compliance violation and paperwork headache.)
The new accessible pool entrance designed by the lifeguards and PT department will be installed in August. Already they have put no-slip mats in the changing areas and installed automatic doors. I feel really good about this. My advocacy worked and made a difference.
ALSO,
When I got the Fall Community Center flyer, I noticed they have a new program to "include" kids in their day programs and camps. I had nothing to do with this, but someone did. Some advocate spoke up… now current and future children will have more opportunities for inclusion.
I'm reminded of the old UP WITH PEOPLE song: "Freedom isn't Free." You have to pay a price, you have to sacrifice for your liberty.
Can you make a difference, too?
As we celebrate the anniversary of ADA. We are standing on the shoulders of those who came before us. Thank you, Tony Coelho. Thank you Justin Dart, Bob Williams and Ed Roberts and the thousands of others who worked so hard to give us a chance at a better life and future.
There are many people who don't think we need government laws. When ADA passed in 1990, I was only worried about my son Aaron. But today, I am the one using the walker and needing accommodations. Now, I also need ADA.
What can you do?
In the comments can you share your ideas? Is there some way you can make life more accessible either as a professional or as an advocate? Anything that has worked? Not worked?
Keep Climbing:
All my best,
Mary
Related Posts
-
The Minnesota Governor's Council on Developmental Disabilities (MN DD Council) does remarkable work. On this blog, I often reference the Parallels in Time (history of people with disabilities) and their Partners in Policymaking Program.
This week MNDDC announced a new FREE app called "Telling Your Story." Already it has being downloaded around the globe.

EVERYONE has a story.
EVERYONE wants to solve their problems.
EVERYONE wants to be heard.
BUT, SOME People need extra support, skills and confidence to tell others what they want and need.
"Telling Your Story" is for Everyone
Everyone knows personal stories are the most powerful way to influence policymakers and legistlaters. Stories make the rules, regulations and policies become real.
The new "Telling Your Story" app for IPads is an organizational tool to make it easier to tell those stories.
It was created to help adults with disabilities be an active part of the democratic process and find their voice, their confidence and then–their Policymaker.
The "Telling Your Story" App is easy to use and is written for self-advocates–but mom, dad, brothers, sisters, grandparents and allies can use the same template.
The simple format helps advocates compose and practice the personal story they'll present to elected public officials or other policymakers at all levels of government.
Some of the self-advocates learned to use this app in the Partners in Policymaking Program.
The app guides users through the steps:
–introducing yourself
–identifying the specific issue
–presenting a compelling personal story in text
–creating an audio recording to practice and rehearse their story
–selecting a photo they may wish to include
Budget Cuts| It's Personal
Here is an example of one self-advocate's compelling story using the new app. She is explaining how a recent budget cut affects her life and will cost the state more in the long run.
This is MY STORY:

My name is Thea Graham. I live in your district. I have been waiting all year to come to the Capitol to meet with you. I want to tell you a little about myself.

Currently, I live with my mother. She is very good to me and I love her a lot. I do know that I will not always be able to live with my mom. We have been looking at different residential support options to see what would be the best match.

I know when I move out, I will need staff to support me in using my "wise mind" since I can get upset. Staff will also need to help me with making sure that I look nice since this is very important to me. They will also need to help me drive to the doctor and help me understand what the doctor is saying about my health needs. My mom does all of this for me now.

I receive services at Merrick, Inc., a day program in Vadnais Heights. It is here that I have learned to use my "wise mind" more and more. Before I would swear, yell, and hit people when I got mad—now I use my "wise mind". This means that I "stop, calm down, think, and come up with another solution that will help resolve the situation". I do the following jobs at Merrick: pick up plastic recycling at the Maplewood Mall, package medical supplies, take Styrofoam from Culligen caps, and shred pull tabs. I love to make money and work like everyone else does. My job coach Kathy and "Christian" support at my job and they tell me I am doing a good job not only with jobs but how I handle things that come my way. Another thing that I like about Merrick is that I have learned to speak up for myself—doing so assertively not aggressively. Above is a picture of me running for office at a Wednesday morning self-advocacy group meeting. One of my role models is Rosa Parks and the difference she made on the lives of others. On Martin Luther King Day, I have been Rosa Parks showing her role in the bus boycott play. It makes me feel proud to be "Rosa Parks".

I feel that I have come a long way since coming to Merrick over 13 years ago. However, my CSSA funding for Merrick was significantly cut as of January 1st.

Instead of receiving services for 5 days per week, I only have funding for 2 days. This is a huge burden on my elderly mother who now is taking care of me the 3 days I am not able to attend Merrick, Inc. My mother is not in good health and I am worried about her.

If I am sitting at home alone, I am not making money. I am not at my job where I am relied on to do my work. I am not continuing to build on my skills to cope with being frustrated and angry.

Please hear my story and know that I can't sit at home. If I end up in crisis, it would cost the state a whole lot more than it would be maintaining my day program services. It is the proactive thing to do—it is the right thing to do.
Download Free App for IPad Here
Click Here for free "Telling Your Story" App. for IPad 2 or newer
Click Here for more information on the "Partners in Policymaking" Homepage.
——————————————————————————————————–
How can Professionals Use this App?
Many children and adults with disabilities and their families are going to need technical and emotional support for using this app.
Some will not have an IPad available. Some will need coaching or help in transcribing their words onto paper. Some will need encouragement to overcome fears and answer questions.
Transition and High School Teachers:
There could be all kinds of uses for this app. especially in a Problems of Democracy class or in any advocacy or problem solving situation. I would think the format could be adapted for completing many general education projects and assignments. This could also be part of Transition or Speech Language Communication session (social stories?). Learning to use this technology and format would make an excellent IEP/ITP goal.
University Professors:
University students in Introductory to Special Education or Geriatrics, Disability Studies, social work, legal or medical professions could use this app to interview and help support a person who struggles in Making Your Case and get their thoughts organized. This app could create cooperative learning and inclusion opportunities.
This would also be a great project for a Special Olympics Buddies, SCEC or Service Learning.
There could be research potential for all majors. Does this app empower and support vulnerable people? Does this make a difference?….
Self-Advocacy Groups:
This is a gold-mine for empowerment, self-determination, voting, citizenship and lessons on democracy. Veterans and senior citizen groups might also be interested in grants or projects for their own members.
Direct Care Workers:
I can see this being used at places of employment and leisure/recreation to help people tell their wants, needs, likes and dislikes and get a better quality of life.
What do you think?
Will this app "Telling Your Story" help children and adults with disabilities tell their own stories? Would this app make it easier for someone you care about? Do you think it is important that policymakers like school board members, county, state and national legislators hear from the people in their own voices? Tell me, will you download this app and use it?
Keep Climbing: Onward and Upward
All my best,
Mary
Related Posts:
Partners in Policymaking| 25 Years in Making the Government Work
Autism| A lot more needed than awareness
Remarkable Parents and Advocates who never give up
Communication| "A Lottery Winner in Life"
—
This is Part 2 of a 3 part series:
Going to the family reunion, or not? Part 2: The Circles of Life

See Part 1: Going to the family reunion, or not?

See Part 3: Going to the family reunion? Shave your armpits.
The Circles of Life
We've all heard the quote about how the most important thing on our tombstone is NOT the date of our birth or the date of our death. The most important thing is the dash—what we did between the two dates. Our birth to death time-line is not just linear.
Our World View is Unique
We live in complex interrelated systems which give us a unique lens to view the world:
*the individual,
*our nuclear family, our extended family and friends
*our local community professionals (bus drivers, barber, doctor…)
*our organizations (churches, clubs, schools…)
*our beliefs, culture, government, and our world
Uncle Ed
My Uncle Ed was one of the most inspiring people I ever met. In our Archdiocese, he served as a priest in several of the poorer parishes. One Sunday he was actually robbed and shot for the money in the collection plate—definitely not the best neighborhood. When he could have retired, he became a missionary in Grenada where he built a school, a nursing home, and two churches. He loved everyone including those marginalized by society: people who were sick, poor, had disabilities, the young, elderly, prisoners… everyone. Always, he modeled commitment and used his special gifts of humor and basketball to spread the word of God. Another thing Uncle Ed did was lead the songfest at each family reunion.
In part one of "Going to the family reunion, or not?" I talked about preparing BEFORE going to the family reunion. Today, I want to talk about systems theory. I thought about going straight to chaos theory because if your family is anything like mine, chaos rules the day… but systems theory actually helped me make sense of the circles of life.
Bronfenbrenner's System Theory
In a systems theory perspective each individual is in a dynamic and interconnected relationship with other people and environments.

Resource: Bronfenbrenner, U. (1979). The ecology of human development. Cambridge, MA: Harvard University.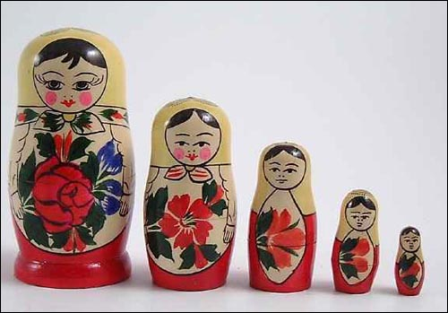 Picture nested Russian dolls where one fits inside the others. In Bronfenbrenner's social system theory the smallest system is an individual person. But everything is connected; what influences one circle influences all the others. The circle of our family's culture, traditions, likes, dislikes all influence who we are and what is valued. It is as important as the common blood or DNA.
The Micro System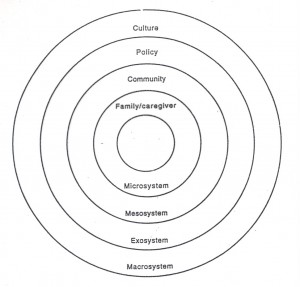 Each aunt, uncle, cousin, grandchild in my family has their own experiences and beliefs about people who are different. Based on their ages and backgrounds they could have few or many inclusive experiences. Fortunately, Aaron is a part of the family, because of his blood, he belongs. They try to see the good things in Aaron, my son who has the label of autism. When we get together for family gatherings, they each try to fit Aaron into the environments and accommodate his needs.
Some of my cousins are teachers, counselors, business owners, nurses… Some work with people with disabilities in a professional capacity while others have had personal experiences with people in their communities. My sister recently had some hip surgery and applied for a Handicapped Parking permit–as we are all aging, we are all starting to understand the ramifications of being "temporarily able bodied." Each individual and each family member shares those common experiences, but just as I am learning about growing older from my seniors and elderly relatives, many are learning about inclusion from Aaron.
Macro System
Considering people with severe disabilities have suffered abuse, neglect, and been ostracized from their family (tribe) being given the opportunity to participate with the family is a gift. I am thankful. I also hope we give positive modeling of what to do, how to act, how to accept others who are different.
Most of my relatives go out of their way to try and help Aaron in the swimming pool, bring him a drink, and help wipe up a mess if he spills something–instead of blaming him. I think some of this was learned from my Uncle Ed.
Uncle Ed always "Got it." He was a pioneer for inclusion before inclusion was a word. At our family reunions Uncle Ed always brought people from the neighborhoods where he was pastor. There would be kids of all different religions, races and cultures. He was teaching about diversity as we all got in line for the potato salad and hot-dogs, as sure as he was teaching about God and God's children. When Uncle Ed led the traditional singing, we didn't sing special religious songs only our family would know, we sang camp songs where everyone could join in: "The bear comes over the mountain" or "The food in the army, they say is mighty fine" and school fight songs.
Uncle Ed was teaching about inclusion, about belonging and the power of a face to face connection. And he lead the way to change attitudes through his embedded social systems.
The last song before the picnic ended was always, "He's got the whole world in His hands." Uncle Ed never offered to lay his hands on Aaron and ask for God's cure. He never tried to "counsel" our family about accepting God's will. He never gave a sermon on how Jesus cured the blind man. Never once did he tell me I was chosen.
But like Tom, Tommy and I were trying to model, Uncle Ed just accepted Aaron the way he is, saw his beauty and gifts. Didn't try to change him or us. In the many choruses of "He's got the whole world" we joined hands and sang about how "He's got the mothers and the fathers, the sisters and the brothers…He's got the little bitty children… and He's got Aar-on in His hands, He's got the whole world in His hands."
I know sharing pictures and snapshots of family reunions is boring as can be, but I hope this story shows why our family and extended family are such an important part of who we are. I am so thankful Uncle Ed was a part of my family, a part of my social system. I am hoping my family will also say the same about Aaron.
What about your Circles?
Does systems theory make sense to you? Who are the people/groups/clubs in your circles? How do these impact your life?
Tell us about your social systems, how is your family changing?
Keep climbing, onward and upward.
All the best,
Mary
This is the second in a series of posts to explain some of the basic ideas of inclusion and normalization.

The first was from one of my heroes Norm Kunc. Norm Kunc| What's Your Credo?

If you find these useful, I hope you will comment and then share them on Facebook, Twitter and your other social media. Thanks.
Words and labels make a big difference in our lives. How you answer this question can make all the difference for a person you love.
"Disability" or "Handicapped"?
Do the words disability and handicapped mean the same thing?
The short answer is NO. Disability and handicapped do not mean the same thing. And the differences are important.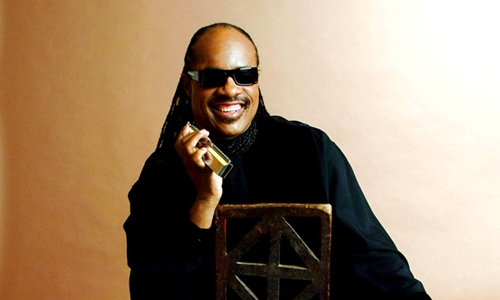 Is Stevie Wonder handicapped?
Does Stevie Wonder have a disability?

"A DISABILITY refers to a reduction of function or the absence of a particular body part or organ."
So YES, Stevie Wonder, who is blind, would qualify as a person with a disability.
A disability is usually a lifelong condition: autism, an intellectual disability (the new term for mental retardation), cerebral palsy, or being deaf or blind….
Does Stevie Wonder have a handicap?
"A HANDICAP is viewed as a disadvantage resulting from a disability that limits or prevents fulfillment."
Does being blind prevent Stevie Wonder from singing or achieving personal fulfillment as an entertainer? NO. So Stevie Wonder, though he has a disability, does not have a handicap.
Does Stevie Wonder need support? Of course. If Stevie Wonder did not have a personal assistant or any of the other modifications and adaptations he needed, then he might be handicapped.
See the difference?
Terrence Parkin swam in the 2000 and 2004 Olympics, winning a Silver Medal for South Africa. Does he have a disability? Yes, he is deaf. Does he have a handicap? Not as long as they add strobe light signals to the usual auditory buzzer to start the race. If however, the committee didn't agree to add the strobe lights, then Terrence would have been handicapped and unable to participate in the Olympic Summer Games. Being handicapped can depend on the attitudes and social construction of the culture.
Disability is socially constructed
Like many people my age, I have trouble reading small print, (Disability). If I lived in a society where there were no books, or it was against the law to teach women to read, it might not matter if my eyesight was as sharp as it was when I was younger. However, in my culture, so many people wear glasses there is no stigma attached to having the disability of poor eyesight. So, I do not have a handicap. If I use a wheelchair and the building is accessible, I can still have a disability, but I can go to the grocery, do my banking… and not be handicapped. (I hope this makes sense. We will talk more about this in a future post.)
Why is this important?
If you or someone you love has a disability, it is not the end of the world. Even though there might not be a medical miracle or cure at this time, the disability is just a disability. No one wants to be different than anyone else. No one wants to have a harder time doing things than other people, but with the right supports it is possible to have a fulfilling and satisfying life, and not be handicapped.
This is a message full of hope. Robert Schuller says, "Look at what you have left, not what you have lost." Physical, Occupational, Speech Therapists, Teachers, Counselors, as well as family members, friends and neighbors can look at their attitudes toward a person with a "disability" and rather than get stuck on something they can't fix, instead spend their energy on creating an inclusive environment that is accessible for all of us.
This is our call to action: We can each think about what we can add, subtract or change to the environment to give a person with a disability the support they need so they will never have to be handicapped.
In the comments tell me what you are thinking. Do you have a story to share? How are you making your child or loved one less handicapped?
Keep Climbing: Onward and Upward
All my best,
Mary
Reference:
Bauer and Shea (1997) Special education: A social systems perspective. Brown and Benchmark: Chicago.p. 12.
————————————————————-
Just learned from Katie Snow of Disability is Natural:
LANGUAGE CHANGE!
Thanks to the hard work of the Advocacy Leadership Network (ALN) of Hamilton County (Ohio) DD Services, the Hamilton County Board of Commissioners officially resolved that "accessible" will replace "handicapped" on all new and replacement signs in the county! ALN, composed of leaders who have disabilities, had previously been instrumental in having the phrase "mental retardation" removed from state laws in Ohio.