Archive for the 'Recommended Books + Videos' Category
Love–NOT Labels
With families, "Love" is all that matters–no matter what, unconditionally.
The love we feel for our child, our baby, our sister, brother, son, daughter can never be replaced by a medical or psychological term some professional puts on a chart. So in isolation, it shouldn't matter if the diagnostic label is "retarded" or "intellectual disability."
As we spoke about in the post Circle of Life (click here) each person and family is part of a much larger system and what affects one part of the system affects all the parts of the system.
And that is where the chosen word and label does matter–big time.
Yesterday in the related post, "Retarded"–no more (click here) I briefly wrote about Rosa's Law and showed one of the press releases/alerts sent by parents and advocacy groups to change the words, "retarded" to "intellectual disability." Some of these advocates are professionals who make their living working with people with disabilities. But like most of the legislation of the last 60 years, Rosa's Law came about through the vision and hard work of families.
If you want more information on what parents have accomplished visit Parallels in Time I (click here) and II (click here)
I was going to summarize Senator Mikulski's Statement on the Introduction of Rosa's Law (below) but since her words still make me cry, I figured you'd want to see the "primary research document". Especially check out Nick Marcellino's comments. And get the Kleenex handy.
This is just one family who went to one more meeting, talked with one more politician–but this time, with a lot of hard work and uniting allies, they changed the system. Maybe it is just a small step in the scheme of things. There are still thousands of people with intellectual disabilities and their families who do not have the services they need. But, this small step gives us all hope that our democratic system works. An individual can make a difference.
It amazes me that in an election year when politicians can't agree on anything, they unanimously voted for this law. That alone makes it memorable.
Comments Please:
What do you think about Rosa and her family? Have you ever been an advocate for change? How, When, Why? How did it feel?
How is this press release different than the one in Retarded–no more?
Keep Climbing: Onward and Upward
All the best,
Mary
Rosa Marcellino and her family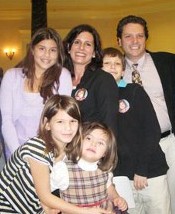 FOR IMMEDIATE RELEASE:
17-Nov-2009 CONTACT: Press Office
202-228-1122

Senator Mikulski's Statement on Introduction of Rosa's Law

WASHINGTON, D.C. – U.S. Senator Barbara A. Mikulski today introduced Rosa's Law, a bill that will eliminate the terms "mental retardation" and "mentally retarded" from the federal law books. U.S. Senator Michael B. Enzi (R-Wyo.), Ranking Member of the Health, Education, Labor and Pensions Committee, is the Republican sponsor of the bill.

Senator Mikulski's statement as delivered on the Senate floor follows:

"Today I rise to introduce legislation that I'm calling Rosa's Law. This bill began by listening to the people in my own state. It began when a mother told me a compelling story about her own daughter, her family's efforts to give her daughter an opportunity for an education and to be treated with respect and with dignity. And at the same time, it began with the advocacy of not only she and her husband, but of her entire family, including her 14 year old son Nick who testified at the Maryland General Assembly.

"As a result of their effort, I'm introducing Rosa's Law. Before I say more about the bill, I want to tell you about the family. I want to tell you about the Marcellinos, Joseph and Nina who are parents to four children – Nick, Madeleine, Gigi and Rosa. They're in the gallery now watching this and I wish you could have been with me in my office as I met with the parents and talked with the family.

"Last year, at a roundtable on special education, I met Nina Marcellino for the first time. She told me about her daughter Rosa who was labeled at her school some years ago as mentally retarded. She told me about the stigma, the pain, and the anguish it caused both Nina and her husband, Rosa's brother and sisters as well as the Rosa herself.

Nina and Joseph reached out to their local disability advocacy organization, The Arc, to see what could be done to change the law. They then reached out to a member of the Maryland General Assembly, a wonderful Representative named Ted Sophocleus. He introduced legislation in the General Assembly that would change the word 'mentally retarded' and substitute it with the phrase 'an individual with an intellectual disability.'

"That's why I stand on the Senate floor today to introduce, at the request of the family, a law on behalf of this little girl and on behalf of all of the children of the United States of America who are labeled, stigmatized and bear a burden the rest of their lives because of the language we use in the law books.

"My law changes the phrase 'mentally retarded' to 'an individual with an intellectual disability' We did this in health, education and labor policy without in any way negatively impinging upon either the educational or other benefits that these children are entitled to.

"When it came time to bring the bill before the General Assembly, the family was there. And who spoke up for Rosa? Well, her mom and dad had been speaking up for her. Her brother Nick and sisters Madeline and Gigi had been speaking up for her. This wonderful young boy, Nick, at the time 13, this is what he said to the Maryland General Assembly,

'What you call people is how you treat them. What you call my sister is how you will treat her. If you believe she's 'retarded' it invites taunting, stigma. It invites bullying and it also invites the slammed doors of being treated with respect and dignity.'

"Nick's words were far more eloquent that day than mine are today. I want to salute Nick for standing up for his sister, but I think we need to stand up for all because in changing the language, we believe that it will be start of new attitudes towards people with intellectual disabilities. Hopefully, people will associate new words with the very able and valuable people that go to school, work, play soccer or live next door.

"Eunice Shriver believed in this when she created the Special Olympics. She knew that special needs children need special attention but they can do very special things, and look what she started. I had the opportunity to talk to Rosa's mom Nina while this bill was under consideration by the Maryland General Assembly. I promised her then that if that bill passed the Maryland legislature, I would bring it to the floor of the United States Senate.

"Well, it passed unanimously. Governor O'Malley has signed it and today I stand before you introducing the legislation. It makes nominal changes to policy in federal education, health and labor law. It simply substitutes 'intellectual disability' for 'mental retardation.' This bill will neither expand nor diminish services, rights or educational opportunities. We vetted it with legal counsel. We reached out to the very wonderful advocacy groups in this field and they concur that this legislation would be acceptable.

"This is not the first time we've updated this terminology. Our laws once referred to boys and girls as 'feeble minded.' We thought we were being advanced when we changed it to 'mentally retarded' in the 1960s. Now, 40 years later, let's take another big step and change it to 'intellectual disability.'

"This bill makes language used in the federal government consistent. The President's Committee on Mental Retardation was changed by executive order so it is now the Committee on Individuals with Intellectual Disabilities. The CDC uses 'intellectual disability,' the World Health Organization uses 'intellectual disability,' so my law makes the language consistent within the federal government.

"I've always said that the best ideas come from the people. Rosa's Law is the perfect example of effective citizen advocacy. A family that pulled together for their own and in pulling together they're pulling us all along to a new way of thinking. I want to recognize the Marcellino family who is with me in the gallery and the namesake of the law Rosa's Law pictured behind me. She is also up there today.

"I also want to take the opportunity to thank my colleagues. It was indeed an honor to represent this family. I believe that in our country people have the right to be heard and that we should listen. They have a right to be represented, which I've tried to do. And now, let's try to change the law.

"It was a pleasure to work with Senators Harkin and Enzi, the Chair and Ranking Member of the HELP Committee. I have their wholehearted support. This is going to be a nonpartisan bill. We're going to check our party hats at the door and move ahead and tip our hat to these boys and girls.

"This bill is driven by a passion for social justice and a compassion for the human condition. We've done a lot to come out of the dark ages of institutionalization and exclusion when it comes to people with intellectual disabilities. I urge my colleagues to join me in a step further. Help sponsor the legislation that I offer on a bipartisan basis. Help me pass the law and know that each and every one of us makes a difference. When we work together, we can make change."
Do You Hear What I Hear?
Do You See What I See?
In 1962, the song Do You Hear What I Hear? became an instant success when its lyrics asked us to hear, see, listen and "Pray for Peace, People Everywhere." 1962 was a time of fear and uncertainty–much like 2014.
Today, as the year is coming to an end, I invite you to journey virtually to the Middle East–to the land of shepherds and millions of stars Listen and See this new version of a holiday classic.
'Tis a Season of Magic
Blake Roberts and Pastor Snoopy Botten are musicians and visual artists who have collaborated on many CDs. Both are artists who inspire us to reach for the stars.
Their magic is their vision, talent and… a speech synthesizer with DECtalk software which helps people who can't sing with words–sing with tech. Those who can't see–paint with tech.
The result is poetry in motion.
Enjoy!
Do You Hear What I Hear? |Music and Visual Art

In Blake's Words:

Dectalk is a speech synthesizer that can be programmed to sing. I like Dectalk because I enjoy making it sing. Additionally, an almost infinite number of voices can be created with it.

Snoopi is a good friend of mine whom I met on the Internet several years ago. We enjoy working together on the CDs Snoopi has produced over the past couple of years. I did all the DECtalk programming and Snoopi mixed my DECtalk file with the karoake track.

My friend Snoopi is the same Snoopi you know on Facebook.

Snoopi programs Dectalk because it lets people who can't talk sing like everyone else. I program Dectalk because I enjoy it.

I program songs at the same level of excellence as Snoopi. In fact, I am slightly better in some areas. Snoopi is the best Dectalkist in the world, I am second best. We never intended to be first and second best, we just are.

In summary, programming Dectalk is my favorite thing to do. Blake

More information about Blake and Snoopi:

Click here for http://pastorsnoopi.twigs76.com/"> for an article about this unique team.

If you would like to contact Blake Roberts go to: beroberts@hughes.net

If you would like to contact Snoopi Botten go to: http://www.dectalksings.com/ or email Snoopi at dectalk@aol.com.

The video below is about Snoopi. Imagine, he sang the National Anthem for a professional baseball game. Don't you love his confidence and spirit? His goal is to get a Grammy–and I think he will.

Keep Climbing and Singing: Onward and Upward
All my best,

Mary

What do you hear? See? Think? Want to discuss?

What did you think of Blake and Snoopi's version of "Do you hear what I hear?" Do you know anything about DECtalk? or other programs to help people with disabilities talk/sing/dance/make beautiful art? I was struck how their work makes me listen and see differently, how it helps me see "goodness and light." What about you? Do you know anyone who might also be interested in collaborating with Snoopi or Blake? Does their can-do spirit remind you of Aimee Mullins?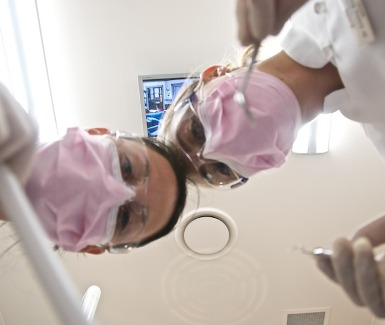 When Aaron was in high school he needed to get his wisdom teeth pulled. Sounds normal, right? You, me and most people get our wisdom teeth pulled.
The difference between you, me, most people and Aaron is Aaron has autism. That makes a huge difference in the choice of dentists, hygienists, insurance…pain, suffering and good oral hygiene.
Over the years, Aaron has had some great dentists and some not-so-great. Some great hygienists and…hygienists who refused to put their fingers in his mouth. One dentist wouldn't let Aaron in his waiting room. I've written about the "retarded teeth" episode.
Like most people I asked my friends for recommendations and was directed to Dr. G. for the wisdom teeth. We stuck.
Fifteen years later Aaron is still going to Dr. G., even though he is a pediatric dentist. The advantage of a pediatric dentist is he does not rely on the patient for any information and works quickly. Dentists and Doctors who work with adults usually ask their patients if they are having any trouble and expect them to participate in examinations. Young children and people with disabilities who don't use words are a lot alike.
Normalization–Yes; Age-appropriate–No.
Dr. G has a "normal" practice. He works with lots of children and a handful of people with disabilities. While this meets the definition of "normalization" or "social role valorization," this would not meet the definition of age-appropriate–Aaron is 36 years old.
How the Doctor Visit Works
Last week Aaron had his bi-yearly visit for a check-up and cleaning. Tom, my husband, takes Aaron (I'm too squeamish).
We have learned the best time for an appointment is the last appointment before lunch. This way, there are only a handful of other patients, the waiting room is less chaotic, and if Aaron runs over, there is some flexibility. We also schedule a day when Kathy, the dental hygienist, is working.
Full Circle
Kathy has worked with Aaron for many years but this year, a new hygienist was assisting her. Turns out this new hygienist was one of Dr. G and Kathy's former patients. She grew up watching Dr. G and Kathy, became a dental assistant and now is working in their office. Full Circle.
Inclusive Dental Care | Autistic Dental Care–NOT!
Kathy used the same techniques she uses with all her patients. The trick is she individualizes the care based on the individual needs of the patient.
Individualized Dental Plan
As Kathy worked she explained what she was doing to Aaron, Tom, and the new assistant—between verses of camp songs! So, "I'm using these cotton squares to absorb the fluid so Aaron doesn't swallow and gag…Eeeeye, eeeeye, Ohhh. And on his farm he had a cow…"
Kathy and everyone in the office, including the other hygienists, the patients and their parents all sing during the dental cleanings. She'll be comin' round the mountain, Wheels on the bus, If you're happy and you know it…
Aaron loves it. This helps him relax, plus it builds a community among all the people in the room.
This isn't the dreaded trip to the dentist I had when I was a kid, this is just a trip to the dentist with some fun people. And, the most interesting thing is ALL the other kids and parents love it too. Aaron often makes strange noises, somehow having a familiar song and such an accepting environment makes everything okay.
The amazing results are Kathy gets Aaron's teeth cleaned thoroughly, she even flosses his teeth.
This is ASTOUNDING!
If you polled a group of 50 school psychologists 100% of them would say flossing Aaron's teeth was impossible. You see this would NOT fit in any scientific venue. There would not be a big enough sample of patients, there would not be replication or any guarantee this would work in other dental offices. There would not be a lot of people just like Aaron, or like Kathy or Dr. G.. So, scientific methods are not applicable, this is not predictable. It just works.
Other tricks we learned from Dr. G, Kathy and the other people in the dentist's office:

1. Use a sealer on the teeth. Aaron got his first sealant applied when they first came out over 15 years ago. The sealant has held up. Aaron has had no cavities in all that time.

2. Aaron goes into the hospital and Dr. G does a deep cleaning when needed. In 15 years, Aaron has had this procedure two times. It requires him to be put under, so it is serious.

3. Dr. G especially looks for gum disease at each visit.

4. He does not recommend an electric toothbrush for Aaron.

5. He does give a report card to Aaron on his dental hygiene.

6. We take this report card to Aaron's ISP meeting and incorporate the teeth brushing into Aaron's goals. Now, we know Aaron doesn't brush his teeth—so this is mainly for the staff. But by incorporating it into the record keeping, there is some accountability for staff.

7. I'm sure Kathy and the others have all kinds of technical hints i.e. Because of Aaron's balance issues, they adjust the chair for Aaron's comfort—rather than theirs….
Dr. G.
As far as we know, Dr. G does not get paid for working with Aaron. We give the office staff Aaron's medical card, but Dr. G has shared it is not worth his time to file the paperwork.
Kathy and the other hygienists always tell us it is their pleasure to work with Aaron. And they make us believe it. They make us feel Aaron is an important member of their caring community.
They make us feel welcome. We feel no one could pay them for the love and extra attention they give to Aaron. It is a special gift indeed.
I think they use Aaron to train their staff. Who knows whether that new hygienist may one day be doing Aaron or someone else's teeth? I like to think Aaron is teaching them? Maybe they think, my god, if we can floss Aaron's teeth—we can do anyone! Or, maybe it is a point of pride that they are damn good hygienists!
I think it is because they are just good people who care about other people. They are good hygienists with everyone–not just Aaron.
In return, as Aaron's parents we cherish them and their gift.
State Cutbacks
When the state was going to reduce the dental visits from 2 times a year to once a year for people on medical cards, I wrote a letter to the state and called Ohio Legal Rights. The state cut back, reinstated, and then I think the current status is cut back again to one time a year.
Since Dr. G is so generous, we have had the luxury of taking Aaron twice a year. And we know we are blessed. Aaron has a great smile, his teeth and gums are healthy. We are lucky.
Tom and I also hassle the residential staff about brushing Aaron's teeth. I've written before about how the caregivers don't think this is necessary. So we make sure the staff knows this is a big deal and we will follow-through if Aaron's teeth are not clean.
Every office visit, we also always bring all the dental staff flowers or a plant, we send thank you cards and tell them how wonderful they are. Kathy always gives Aaron a hug. And it always chokes us up.
Bill F.
Wolf Wolfensberger wrote an article about Bill F. I will never forget. Wolfensberger is a professor at Syracuse University who is famous for his theory of Normalization, Social Role Valorization and Citizen Advocacy.
In his article, Bill F. is a man with an intellectual disability who actually died because he was not given dentures that fit. This started a cycle of him not being about to eat well, manage his diabetes, which led to him becoming frail, which led to him falling, which meant he was put into a nursing home and lost his apartment and independence…. And died—all because he didn't get the dental care he needed.
The other part of the Bill F story is about the role of advocates, friends, citizens who just cared about Bill and tried to get him help. These citizen advocates (here is an article from the MN Governor's DD Planning Council site) gave Bill the dignity of being a friend and person. Not a client, not a patient, not a person with mental retardation who they were going to save or offer their charity. These citizen advocates cared about Bill the person.
I like to think Dr. G, Kathy and the other staff are not just doing their jobs when they treat Aaron. They have proven, time and again, they care about Aaron. He is more than just the patient in the 11:00 slot.
I think Aaron gives them something rare, something that makes them feel proud and humbled that they can be with him.
So, AHHHHHH indeed. Dr. G, Kathy and all people who work to give good dental care and sooo much more–Thanks We Love You. You make our mouths and hearts smile!
Keep Climbing: Onward and Upward
All my best,
Mary
Comments:
If you liked this post, please add your thoughts, share it on Twitter, Facebook… and other social media.
What do you think about the government cutting back dental services for people with disabilities? Does it make a difference if they only get their teeth cleaned once a year? Would they have extra reasons for needing check-ups twice a year? Is this discrimination? Are dental services for people with disabilities a waste of taxpayer dollars?
PS. You are allowed to disagree with me, a different viewpoint, helps us learn and find solutions.
Wolfensberger, W. (1989, December). Bill F.: Signs of the times read from the life of one mentally retarded man. Mental Retardation, 27(6), 369-373.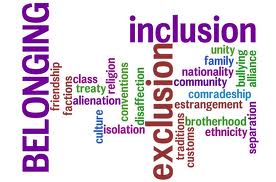 When Schools say "NO" to Inclusion
The Inclusive Class Podcast presented a panel with Tom Mihail, Paula Kluth, Torrie Dunlap, Lisa Jo Rudy, Frances Stetson, Kathleen McClaskey and myself.

The Title was: "When Schools say 'NO' to Inclusion"

Topics include Universal Design, Technology, Differentiation, Inclusive after-school and community recreation, and in the last few minutes I talked about Inclusion as a Civil Right and strategies for getting inclusion with your IEP.

Below is the supplemental material for my topic. If you have any questions please contact me.

Here is a recording of the broadcast:
So, you are sold, you have heard all the information about inclusion, you know in your soul this is what would be great for your child. You talk to the teacher, the principal, anyone who will listen and they tell you it won't work for your child, it's a passing fad, it is too expensive, it will hurt the other kids in the school...blagh, blagh, blagh.
What do you do?
Here are the 5 Points I outlined in my part of the panel:
1. Learn the History of People with Disabilities.
Legal Segregation
Society and Schools have been saying "No" to Inclusion for hundreds of years for many people, not just for people with disabilities.
1800-1900s. Institutions and Forced Segregation were common for those with the labels of mentally defective, feeble-minded, idiots, uneducable and untrainable. Individuals and Parents had no say. People who were different were removed for the health and safety of the community.
Today we still have prejudice against minorities, young women who are unmarried and pregnant, gang members, young people who are gay or lesbian, immigrants, poor, people who don't speak English, Native Americans, homeless, children of migrant workers...
Our society is more diverse every day, we need inclusion for everyone.
Parallels in Time: A history of people with disabilities
Check out the section in Parallels 2 A PLACE TO LEARN.
(Page 59-60 has the definition of Inclusion)
(p. 61 has reference to Paula Kluth and a picture of my son Aaron)
Inclusion is a Civil Right
14th Amendment:
"The 14th Amendment to the Constitution was ratified on July 9, 1868, and granted citizenship to "all persons born or naturalized in the United States," which included former slaves recently freed. In addition, it forbids states from denying any person "life, liberty or property, without due process of law" or to "deny to any person within its jurisdiction the equal protection of the laws." By directly mentioning the role of the states, the 14th Amendment greatly expanded the protection of civil rights to all Americans and is cited in more litigation than any other amendment."
Questions the Courts had to decide:
Citizenship: Is someone who has an intellectual or other disability, a person? (consider the slaves, Native Americans, women, immigrants, prisoners…)
Due Process: If you have a disability, do you have the right to due process? (consider people with physical, intellectual disabilities, people who are deaf, blind… can't read/write/talk, people who can't pass IQ tests…)
Equal Protection: If you have a disability, are you entitled to the same rights and benefits other people have? (go to school, live in community, get jobs…)
Consider the implications:
Plessy v. Ferguson (1896) Separate is equal. 50 years of Jim Crow Laws.
Brown v. Board of Education (1954) "Separate is inherently unequal."
PARC Class Action Case: A Game-changer
(Interviews with Tom Gilhool and Gunner Dybwad are also in Parallels in Time 2)
Video and transcript Tom Gilhool at Temple University:
Testimony of Tom Gilhool before the Joint Subcommittee Hearings on "the Events, Forces and Issues that Triggered Enactment of the Education of All Handicapped Children Act (EHA) of 1975" in TASH newsletter, 1996 p. 11-15.
Excerpt about PARC decree and 94-142: Teacher Training and Best Practice
The Requirement that Schools Know and "Adopt" "Effective" "Promising" Practices. Requires the delivery of an "effective" education. One, the Act (EHA) requires states and districts to see to it that all teachers, both "regular" and "special" are fully informed of and continuously trained in "promising practices" in the education of children. "Second, the Act requires every district as well as the states to "adopt promising practices' Third, the Act's requirement of "a free appropriate public education has been help by the Unites States Supreme Court to mean an education "reasonably calculated to enable the child to achieve education benefits"
Hudson v. Rowley, 458 U.S. 178, 203-04V (1982).
NOTE: Remember to NOT just look at the current regulations, go back into the Congressional Hearings before each law was enacted, the legislative history, court cases…
Other Court Cases:
"Inclusion is a right, not a special privilege for a select few" (Federal Court, Oberti v Board of Education).
You will want to quote the most relevent and recent cases.
2. Become an Expert on IDEA
The best resources I know are Partners in Policymaking's series of lessons on IDEA.
Free, online, study at your own pace.
National Dissemination Center for Children with Disabilities (ages 3-22).
3. Build Alliances
Focusing on the dignity and goodwill of the people you're working with. Build trust. Create a common vision.
Partners in Policymaking has programs in almost every state. The courses are designed for parents of young children and self-advocates. New groups start every year and are usually funded by your state DD Council. On the Partners website, find your state liaison.
NICHCY has a list of organizations and Parent Training Centers in each state. Find people both on the National, State and Local level who think like you do and can help.
National Dissemination Center for Children with Disabilities (ages 3-22).
National Organizations for Professionals often help parents and teachers. TASH helped me. I know the ARC, United Cerebral Palsy and National Down Syndrome Association have done advocacy work. I'm sure there are others.
Check out your local university. Sometimes you can find a professor or student who can help.
In our particular situation, because no group existed-we started a parent group in our local school district.
Set group goals: start an extended school program in the summer; make the buildings more accessible with universal design; start an after school Job Club and Key Club at the high school. By focusing on specific goals we were able to get local grants, publicity and see tangible results for our children.
NOTE: In hindsight, I would have made this an ad hoc committee of the School PTO or General Education Parent Organization. I would ask parents and teachers of general education students to be on this committe so it is inclusive. 20 years later, duh, it is so obvious.
Univ. of New Hampshire has great programs and resource materials.
Clay Aiken's Inclusion Project. This looks good, but I haven't tried it.
4. IEP: Educational Evaluations
The first part of the IEP process is getting evaluations of current level of functioning and setting specific individual goals.
Be creative. Don't let the school psychologist run the show.
Have your IEP team decide what kind of evaluations they need in order to have your child make educational progress in all the school environments.
There are the formal evaluations that are the traditional testing tools of the experts. And, there are the individual informal tools also designed by experts, but cannot be standardized and put into multiple choice answers.
Informal Evaluations
1. Person Centered Planning, Circle of Friends can supplement the formal evaluations and look at social relationships, before-during-after school-weekend-summer activities, this can also be used for team building, communication, transition and long term planning.
http://inclusion.com/ Where inclusion began, great tools.
2. Educational Evaluations
Educational Evaluations are usually conducted by a teacher or other educator with the appropriate teaching license.
Educational Evaluations look at an individual person in their life spaces. Aaron's evaluation started in his home, followed him on the school bus, in the classroom, in the lunch room, bathrooms, gym, after school activity and back home. The evaluation compared Aaron's current level of functioning in each environment and then made suggestions for IEP goals.
For instance, the educational evaluation shows the "individual benefit" for Aaron. Not the whole class or school, just Aaron.
The Educational Evaluation determined Aaron, with accommodations and related services, could be in an inclusive class. What supports would he need? What supports would the teacher need? How would the curriculum be differentiated? What technology? Universal design strategies could be used?
See the difference between this sort of evaluation and a traditional IQ or standardized test?
Who Pays?
The tricky part is that if the parent pays for the evaluation, and chooses their own "expert," then the school district only has to "consider" the recommendations.
If however, (at least this is how it used to be), if the parents or teacher ask for an evaluation, and the school district agrees to pay for the evaluation, then they have to use that evaluation to develop the IEP, or if they disagree, they have to get another evaluation saying the first evaluation was not appropriate, and why.
If you go to court, the educational evaluation can make all the difference. If you are writing IEP goals, the educational evaluation gives you a practical starting point for goals and objectives. (The conversation is NOT about "Should we do this?" but rather, "How do we do this?")
And, if the parent does pay for the evaluation and "prevails" in a due process hearing then the school district has to pay. Of course, it goes both ways and is risky because if the parent loses, then the parent has to pay.
How do you find an expert?
In our due process hearing we used our contacts from TASH (a national organization) and one of Lou Brown's graduate students from the University of WI-Madison. This process was repeated several years later when Aaron was in Junior High, and again when Aaron graduated.
We also used local university graduate students and county respite providers when appropriate, ie. They did independent studies to help us design an after-school program and going to the prom.
If you are going due process, find out who the expert is in the area you are challenging.
Check out professional organizations, journals, university faculty. Who is going to know how to do the job? Who is willing to testify? Who will impress the hearing officer?
5. Be BadAss Confident
Know what you believe and how far you are willing to go.
Even if you are uncertain, typically shy and withdrawn--you have to act fearless.
This is your child, This is your class, the time is NOW!
When people see you walking in the grocery or in the school you want them to see you and immediately know what you stand for: "All means All"—"Inclusion means Belonging to the Community." You have to model what you want others to do.
Build trust, convert the doubters. It can be done--and it's up to you. And, you will join the thousands of other parents and advocates who have made a difference for one child or many and have moved history and inclusion forward.
Segregation and Inclusion by Zip Code
In my opinion, this is why we need a national policy, federal laws and oversight.
Vulnerable people with disabilities and other minorities should not have to reinvent the wheel, every year, in every city and county.
Do we want individual states and school districts to make decisions about segregation and inclusion?
Would you want to live in Mississippi, Alabama, Louisiana… and I include Ohio?
Different school districts have different definitions of inclusion. I recently visited what was called an "Inclusion School." To my shock, the principal proudly told me, "Inclusion means EVERYONE in the school is on an IEP."
After we won our due process hearing, we moved to a neighboring county where the school district shared our values.
The move was the best thing we ever did.
First, after we won our due process hearing, it was like Aaron had a tatoo on his forehead that said, "Don't mess with me."
Our reputations guaranteed they took us seriously.
Second, I got elected to the County Board of Developmental Disabilities. One of the proudest days of my life was when I got to make the resolution to close the segregated county school.
Third, because the school district was good for Aaron, it was also
an excellent school district for my other son who had the label of "normal."
Bottom-up; Top-Down: Baby Steps
You can achieve Inclusion from the IEP process: bottom-up.
But it is easier to work from the top-down.
Try to get on influential committees, or find allies in leadership positions that will work for inclusion. If your school board and/or school administrators embraces the Inclusion paradigm, and understands how this will be better for all students, then you are well on your way.
Try to get inservice for staff, parents—both general and special, about inclusion, differentiated instruction and universal design.
Baby Steps:
I like to think of a yard stick. On the one end is segregation, on the other is inclusion. If I think an action, a decision, anything... is a step in the direction of inclusion--I accept it. There is always tomorrow.
Celebrate each small victory. There were many times when I had to take a deep breath and tell myself, "This is the best we can do today. Be happy."
Moving Toward Inclusion by Michael Giangreco.
Last Thoughts
I wish I had a magic wand to make it easier for each of you.
Twenty years ago, we thought this would all be figured out and our children would just be children, parents could just be parents, teachers could just be teachers.
There is an old "Up With People" song that says, "Freedom isn't free. You've got to pay the price, you've got to sacrifice for your liberty."
Wishing each of you, freedom, libety and inclusion.
I hope you will share your thoughts in the comments.

Keep Climbing: Onward and Upward
All my best,
Mary
Related Blog Posts:
Note: Since this whole website is about inclusion, almost every article tells part of the story. Some are about school issues, many are about adult issues. Here is a sampling:
Dream Plan 1 for Aaron, Normalization
Dream Plan 4: Aaron is an adult
The Race Toward Inclusion: Do you see it?
Building Community| One grocery trip at a time
Test Questions| segregation or inclusion?
The Animal School| Differentated Instruction
—