Posts Tagged 'caregivers'
Balancing my life vs. my child's: Until my dying breath…

This is going to be a tough post. I might chicken out and not even publish it. I don't want it to be a pity party: "You parents go through so much. You are Saints." God Forbid!
I am hoping this message will give other families a chance to take a breath and allow themselves a little slack. For those of you who are professionals, I hope it gives some insight into the choices families make–usually at a cost.
Families make hard choices all the time
All parents of young children, and adults who are caring for their elderly parents experience these same dilemmas. The sandwich generation is a well known problem in our culture and effects most families.
What is different for parents whose children are adults with disabilities? This intense care is usually not discussed or understood. It is not a time-limited situation where your child grows up or your parent dies.
Aaron is 39 years old and as I get older this is a growing issue. We are talking about–well, until my dying breath.
First Sign of Growing Old
I've been having lumbar back pain and had to begin a series of injections and other stuff. This is the first major medical issue I've ever had, so I have no right to complain. Plus my philosophy is that anytime a Doctor can actually "fix" a situation, I consider it a temporary problem and a medical victory.
BUT the bottom line was that for the first time ever I had to cancel Aaron's doctor appointment.
I consciously chose my needs over my child's.
I've had pain before, sure. But that has never stopped me, so why was this time different?
What was I thinking?
* There was the 50 mile round-trip drive to Aaron's Doctor, the only one I trust who takes a medical card…
* Aaron goes every three months and didn't have any major issues…
* We bring Aaron home with us every Saturday night. Whenever we take Aaron to the Doctor, we keep him both Saturday and Sunday nights and try to schedule on Monday morning…
* Monday mornings are the busiest day for the Doctor so there is always a long wait in a room full of sick people… Aaron is not a good "waiter"…
* I feel bad about the last minute cancellation to Aaron's doctor, we try to be respectful of his time. If we have to pay the $30. charge, so be it.
* I always bring flowers to the receptionist in the Doctor's office. She takes a special interest in Aaron and always gives him hugs and makes him smile. (I know, I know, amazing that I would spend energy on flowers for the receptionist–but she is one of the few people who get excited to see Aaron so that makes me happy too)…
* Going to the doctor takes a full morning…
* After the doctor visit we take Aaron out to lunch and then drop him off at his day program….
* Monday is the "community outing" day at the day program–so when they actually do what they say they are going to do (we won't go there)…that means the group may or may not be in the building when we want to drop Aaron off…
* If the day program group is not there then we have to leave Aaron with the director who just puts Aaron with a book in a separate room and ignores him, a safety worry…
* The day program has Aaron's noon medication, so the good thing is he will get his noon meds on time…
* The bad thing is I will have to be face-to-face with the director, who is a good person just has no resources. This means I will ask, "How is Aaron doing?" and the director will tell me they strongly think Aaron should be in diapers and have his meds increased… which will lead to… (let's just say) be stressful for both of us and reinforce my reputation as "EVIL Parent and Day Program Public Enemy Number 1″….
I wrote this all out in stream of consciousness because this site is about climbing every mountain and mountains always have streams– did you like that analogy?
But, like most people, I think our conscious run streams of pros and cons with every decision we make.
Second and Third Thoughts:
I accept it, but I am not proud I made the decision to think of myself first. When we took Aaron back to his house on Sunday night and I was hardly able to walk on Monday morning I knew I did the right thing. There is no way I would have been physically able to give Aaron his bath, breakfast, and go through all the steps outlined above.
So Aaron will live, I'll get better. But how soon will it be that either myself or my husband will have some serious condition where we require medical care and can't take care of Aaron?
I look at Aaron's housemate's parents. They are in their 90s. They have done an admirable job, but age has now made them just as vulnerable as their son. Soon it will be my turn.
Damn! Why is this so hard? Why do I feel Aaron's quality of life is ONLY in the hands of his family?
We are fortunate to have some good professional people in Aaron's life. But why do the thousands of dollars being given to the agencies–who are supposed to be providing Aaron care–don't care?
There is a huge difference between providing "care" and "caring".
Comments
Okay, getting old is tough for everyone, share what you are thinking. Do you think it is more intense for a family with a child with a disability? Is it harder as the child grows into an adult?
Keep Climbing: Onward and Upward
All my best,
Mary
Related Articles:
http://climbingeverymountain.com/nursing-and-caring-1945-vs-2010/
http://climbingeverymountain.com/the-circles-of-life/
http://climbingeverymountain.com/inclusion-for-moms-sisters-of-the-heart/ BTW: Lori Foster 2013 register now.
This is Part 2 of a 3 part series:
Going to the family reunion, or not? Part 2: The Circles of Life

See Part 1: Going to the family reunion, or not?

See Part 3: Going to the family reunion? Shave your armpits.
The Circles of Life
We've all heard the quote about how the most important thing on our tombstone is NOT the date of our birth or the date of our death. The most important thing is the dash—what we did between the two dates. Our birth to death time-line is not just linear.
Our World View is Unique
We live in complex interrelated systems which give us a unique lens to view the world:
*the individual,
*our nuclear family, our extended family and friends
*our local community professionals (bus drivers, barber, doctor…)
*our organizations (churches, clubs, schools…)
*our beliefs, culture, government, and our world
Uncle Ed
My Uncle Ed was one of the most inspiring people I ever met. In our Archdiocese, he served as a priest in several of the poorer parishes. One Sunday he was actually robbed and shot for the money in the collection plate—definitely not the best neighborhood. When he could have retired, he became a missionary in Grenada where he built a school, a nursing home, and two churches. He loved everyone including those marginalized by society: people who were sick, poor, had disabilities, the young, elderly, prisoners… everyone. Always, he modeled commitment and used his special gifts of humor and basketball to spread the word of God. Another thing Uncle Ed did was lead the songfest at each family reunion.
In part one of "Going to the family reunion, or not?" I talked about preparing BEFORE going to the family reunion. Today, I want to talk about systems theory. I thought about going straight to chaos theory because if your family is anything like mine, chaos rules the day… but systems theory actually helped me make sense of the circles of life.
Bronfenbrenner's System Theory
In a systems theory perspective each individual is in a dynamic and interconnected relationship with other people and environments.

Resource: Bronfenbrenner, U. (1979). The ecology of human development. Cambridge, MA: Harvard University.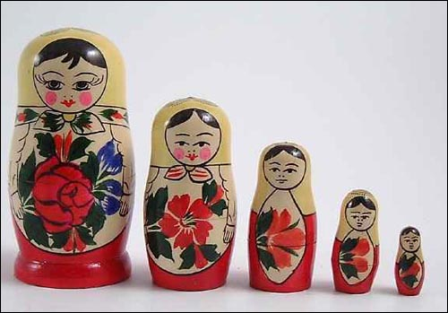 Picture nested Russian dolls where one fits inside the others. In Bronfenbrenner's social system theory the smallest system is an individual person. But everything is connected; what influences one circle influences all the others. The circle of our family's culture, traditions, likes, dislikes all influence who we are and what is valued. It is as important as the common blood or DNA.
The Micro System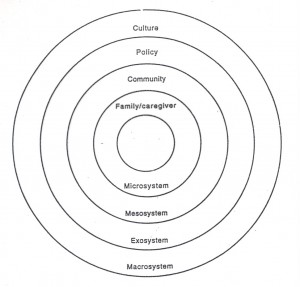 Each aunt, uncle, cousin, grandchild in my family has their own experiences and beliefs about people who are different. Based on their ages and backgrounds they could have few or many inclusive experiences. Fortunately, Aaron is a part of the family, because of his blood, he belongs. They try to see the good things in Aaron, my son who has the label of autism. When we get together for family gatherings, they each try to fit Aaron into the environments and accommodate his needs.
Some of my cousins are teachers, counselors, business owners, nurses… Some work with people with disabilities in a professional capacity while others have had personal experiences with people in their communities. My sister recently had some hip surgery and applied for a Handicapped Parking permit–as we are all aging, we are all starting to understand the ramifications of being "temporarily able bodied." Each individual and each family member shares those common experiences, but just as I am learning about growing older from my seniors and elderly relatives, many are learning about inclusion from Aaron.
Macro System
Considering people with severe disabilities have suffered abuse, neglect, and been ostracized from their family (tribe) being given the opportunity to participate with the family is a gift. I am thankful. I also hope we give positive modeling of what to do, how to act, how to accept others who are different.
Most of my relatives go out of their way to try and help Aaron in the swimming pool, bring him a drink, and help wipe up a mess if he spills something–instead of blaming him. I think some of this was learned from my Uncle Ed.
Uncle Ed always "Got it." He was a pioneer for inclusion before inclusion was a word. At our family reunions Uncle Ed always brought people from the neighborhoods where he was pastor. There would be kids of all different religions, races and cultures. He was teaching about diversity as we all got in line for the potato salad and hot-dogs, as sure as he was teaching about God and God's children. When Uncle Ed led the traditional singing, we didn't sing special religious songs only our family would know, we sang camp songs where everyone could join in: "The bear comes over the mountain" or "The food in the army, they say is mighty fine" and school fight songs.
Uncle Ed was teaching about inclusion, about belonging and the power of a face to face connection. And he lead the way to change attitudes through his embedded social systems.
The last song before the picnic ended was always, "He's got the whole world in His hands." Uncle Ed never offered to lay his hands on Aaron and ask for God's cure. He never tried to "counsel" our family about accepting God's will. He never gave a sermon on how Jesus cured the blind man. Never once did he tell me I was chosen.
But like Tom, Tommy and I were trying to model, Uncle Ed just accepted Aaron the way he is, saw his beauty and gifts. Didn't try to change him or us. In the many choruses of "He's got the whole world" we joined hands and sang about how "He's got the mothers and the fathers, the sisters and the brothers…He's got the little bitty children… and He's got Aar-on in His hands, He's got the whole world in His hands."
I know sharing pictures and snapshots of family reunions is boring as can be, but I hope this story shows why our family and extended family are such an important part of who we are. I am so thankful Uncle Ed was a part of my family, a part of my social system. I am hoping my family will also say the same about Aaron.
What about your Circles?
Does systems theory make sense to you? Who are the people/groups/clubs in your circles? How do these impact your life?
Tell us about your social systems, how is your family changing?
Keep climbing, onward and upward.
All the best,
Mary
9999999999999999999999999999999999999999999999999999999999999999999999999999999999999999999999999999999999999999999999999999999999999999999999999999999999999999999999999999999999999999999999999999999999999999999999999999999999999999999999999999999999999999999999999999999999999999999999999999999999999999999999999999999999999999999999999999999999999999999999999999999999999999999999999999999999999999999999999999999999999999999999999999999999999999999999999999999999999 April, 2012 is Autism Awareness Month
Is Autism just the Disability du Jour?
April 2 is World Autism Awareness Day and in the US, the month of April is "Autism Awareness Month."
Autism and the public service announcements are everywhere on TV:
• 1 in 88 children is now diagnosed with ASD.
• Early Childhood intervention programs help.
• People with autism can be smart.
• A child with autism can happen in any family.
• Many celebrities have children with autism.
• Shows as diverse as Desperate Housewives now have storylines about people with autism.
This is all good, right?
Gone are the days when parents were told their children were withdrawn because they were poor parents and "refrigerator mothers."
Gone are the days when, with my son Aaron, we were told, "The chances of having a child with autism were 1 in 10,000."
Gone are the days when we were told Aaron would always be in the "idiot range of mental retardation."
Gone are the days when anyone who was different was sent to the "state hospital or institution" to make the community safer.
Gone are the days when people with intellectual disabilities were given "radiation" in their oatmeal because they weren't really human and were only useful for human experiments.
Gone are the days when, there was no mandate for early intervention programs.
Gone are the days when, we segregated people with autism into separate classes, schools and institutions away from their brothers, sisters, neighbors and community…. But wait!
Gone are the days when no one knew the best educational practices and the children spent hours doing meaningless tasks focusing on "curing" the child. But wait!
As the "autism awareness" campaigns seem to focus on using fear tactics to raise more money and get more segregated "autism-only" programs, I have to wonder if this really is a good idea.
God help us if the current trends toward "autism only" programs undermine everything we have fought for and learned in the last 40 years.
Some of the things we have learned are:

All people are human and have dreams, feelings, and hopes for the future.

All people have gifts and strengths.

All people have personalities and can love.

All people can learn.

All people benefit from early childhood programs.

All people benefit from differentiated instruction and universal
design.

All people need support and to learn to be interdependent on others.

All people have the right to life, liberty and the pursuit of happiness.

All people can communicate and have important things to say.

Behaviors equal communication.

People with autism and other labels can be contributing members of society.

People with the label of autism, are not much different than the label of cerebral palsy, spina bifida, ADHD, cancer… or people who are poor, elderly, sick… er, "normal."

The real way for the general population to understand and have an "awareness" of people who are different than they are, is NOT just a television campaign or a designated month.

The best way is for everyone to have first hand experiences:

Do you know that person's name?

Do you see them in the grocery store?

Do you share time with them at Church?

Do your children go to school with them, play on their sport's team?

Are they invited to your house, to birthday parties?

Do you see them working in real jobs, doing volunteer work, sharing their talents?

Do you enjoy being with them?

Do you allow them to grow up and become adults?

How can we teach self-determination and better communication?
SHOULD NOTS and SHOULDS
Autism Day, Autism Month, Autism Awareness SHOULD NOT be about spreading fear or all about a "Diagnosis."
It SHOULD be about the difference between having a disability and having a handicap?click here
Autism Awareness SHOULD be about more research, certainly. But, the research should be to ask questions, NOT to provide answers—in 2012 we don't know enough to have answers.
Did you know that Howard Gardner studied people with autism when he came up with the idea of "multiple intelligences"?
Did you know Vygotsky examined people with severe communication problems when he developed his communication ideas on "scaffolding"?
Autism Awareness SHOULD NOT be about raising more money for those parents, professionals, for-profit and non-profit groups that are on the "Autism: disability du jour" bandwagon. They are no better than speculators benefitting from a war.
Autism Awareness SHOULD NOT be about making more segregated autism-only day programs, farms, residential communities, schools, classrooms, soccer leagues and summer camps.
Who would ever think putting a group of people with communication issues together would be a good idea? What they need most is interactions with others with strong communication skills.
Autism Awareness SHOULD BE about noticing and appreciating ALL people who are part of our human community.
It SHOULD NOT be about charity, pity and sympathy but rather about giving ALL people the freedom to grow up and be the best person they can be—just as they are: able to make their own decisions; be treated as adults; made mistakes; and, loved because of who they are.
Autism Awareness SHOULD be about the concepts of "normalization" and "inclusion." It SHOULD be about looking at people in the normal lifespan, normal opportunities. Not about fixing them with lots of therapies and aversive methods of behavior control.
Certainly, I have written many times about how Aaron and others need more support and people who are trained to work with them.
Certainly, I agree there is a desperate need for help for parents of adults to be able to find resources for their children.
Certainly, I have written of what a "Dream Plan for Aaron" would look like. And that includes Awareness–But much more.
Is Diversity Beautiful?
Challenge
People with autism have taught us much about love, interdependence, talents and courage.
Can you try to get to know a person individually? Can you listen to them? Can you help them be a bigger part of your life?
If so, then April can be a month of great hope.
The earth's bounty blesses us with many different kind signs of spring. The flowering magnolias, dogwoods, apple and pear trees each add color and diversity to our world. The tulips, daffodils, crocuses each speak of the beauty of variety and remind us the earth is being reborn. Would we only want one kind of tree blossom or flower? Should we identify, diagnose and separate the trees and flowers and only celebrate the most durable or productive? Or is their beauty even in the most vulnerable blossom?
Can we appreciate and value a great diversity in nature? In people?
Maybe the most beautiful flower in the world, is really the beauty in a person.
Comments
I'm hoping you will share your comments and thoughts about people with autism? What are you doing this month to celebrate diversity in ALL people?
Keep Climbing: Onward and Upward
All my Best,
Mary
Amazing News: A House and Roommate| Part 12
Miracles Do Happen:

Last week, a non-profit agency bought a house near our home. They will accept Aaron's HUD housing choice rent voucher.

Today, we met with a young man and his mother and we think we found a roommate match.
Miracle Triangle:
House/HUD–Roommate–Residential Staff
For those of you who have been following our journey to move Aaron, our son with the label of autism, home to our county, this is Part 12. You know how complex and difficult this has been. Here is the link to Part 11: 1st miracle| Aaron needs a Roommate| Part 11.
Even with the two miracles, don't breathe yet. But we now have two pieces of the triangle in place.
The third part of our miracle triangle is great staff. I've talked about the critical importance of staff in Caregivers: Part 1, 2, 3
But as Scarlett O'Hara says, "I'll think about that tomorrow."
Here are the details in two emails: one from early this morning (2:30 AM—mothers never sleep); the second is after our dinner meeting (9:00 PM—mothers put in long days).
Task Analysis for Monday Morning:

From: Mary E. Ulrich [mailto:marye.ulrich1@gmail.com]
Sent: Monday, September 26, 2011 2:28 AM
To: Everyone I could think of who might be part of this move
Subject: Aaron's house

Hi Everyone,

I met with the director of the non-profit on Friday. He said they closed on the new house last Monday and so we can begin the countdown to a move-in date of Nov. 1. Yea, Yea!

Thanks to the Non-Profit and the County Board of DD for making this new resource available to Aaron and our community.

So now there is much to do to be ready by Nov. 1st.

HUD

The director of the non-profit is finalizing the paperwork to become a HUD landlord in W. County. There will need to be an inspection and he is negotiating the rent…. As soon as we get Aaron's roommate, we will be applying for three people and a 3 bedroom subsidy (Aaron, roommate and caregiver.) This is what Aaron has had in our past County for the last decade, so I think this should be pretty cut and dry. It is an accommodation under ADA, but is different than the rules for HUD's definition of "caregiver."

We have received HUD extensions until Oct. 31st. It has been a lot of running around between counties, but Debbie and Wendy have both been wonderful caring professionals. Thank you for helping me figure out the system.

Notices

I need to give notice to everyone in our current county and the current provider by Oct. 1st, which is fast approaching.

I've given the notice about moving to Aaron's current landlord.

This will not come fast enough. Aaron had another "unusual incident" last week where he was not groomed for his day program. (The food he got in his hair on Monday was still there on Wednesday—the staff felt he had not had his hair washed in two days and it was dirty and grimy.) Also, Aaron is running out of transportation money to his day program.) Tom and I are taking Aaron up on Monday mornings, and usually picking him up one afternoon a week.

House Remodeling

The director of the non-profit says they closed on the house last week and will begin the remodeling shortly. They are starting with some tree trimming because of the possible danger and then will refinish the floors in the Living Room, Dining Room and move on to the bathrooms. If everything works out well with HUD and we get the caregiver's designation for the third bedroom then there may be enough rent money to justify new windows (the current windows are casement windows—inefficient and BAD). They are reluctant to begin the bathrooms until we know who the second roommate will be. This makes sense if we want to make accommodations which are specific to the person needing the bathroom.

I think this is a great way to begin because we will want to show the community we will be great neighbors and take care of the house before the rumors begin that two men with intellectual disabilities are moving in. This is what worked on Aaron's current residence and I have too many memories of Stetennius, Five Mile and other hearings from worried neighbors. It is a mature neighborhood, I don't expect any problems, but we want to make a good first impression.

Tom and I will be planting some mums and have a couple inexpensive porch chairs to make the place look lived in. The house has been vacant for a long time so a few improvements should impress the neighbors.

Potential Roommate

I am hoping to hear from the parent of the potential roommate today, and then can set up some visits. This is the next big step.

Then, I understand from the new county board, we will finally get a case manager.

Transition for Aaron

We have been driving Aaron by the house and telling him it is his new home, but I can't imagine he understands what we are talking about. I'm worried he will miss his roommate of the past 13 years and am sure he will be confused. I want to start some visits to the house as soon as possible. The more familiar he is, the easier the transition.

I'm hoping he will get to have a couple meetings with the new roommate and new staff as soon as possible.

Furnishing House

We also need to figure out how to furnish the house. I have begun to take donations from relatives. We probably have about $1000 set aside.

Tom and I furnished Aaron's first two residences. We are told that if the furnishings belong to Aaron he can take them with him, but I am uncomfortable just taking the silverware out of the drawer and telling them, "Sorry, this belongs to Aaron." We have enough problems with the current staff as it is and we don't want to cause problems for Aaron's current roommate. But, it is expensive to start a new house from scratch.

My family will be having a shower to donate items sometimes this month. I will have to coordinate with the director of the non-profit when we can get a key and get into the house and it's not a Bengal's game (if there are any Bengal fans left in Cincinnati by then).

I'm hoping we can set a corner of the garage or one bedroom to begin collecting items.

I began with a couple boxes in Aaron's current residence and the staff (without permission) gave them away. "What would you do? Case of trash vs. treasure". (I'm still VERY upset about this. Just add it to the list of why I want to get away from them ASAP.)

New Agency

Next week I will begin interviewing residential providers. They will need to hire and train staff by Nov. 1. We have met 3 different providers as we visited the 3 potential placements for Aaron. One company impressed us because it was a local company in Mason, but we are open to suggestions. Please email me ASAP. We are well aware that just because a company was good last month, doesn't make it good this month. Having caring staff will be the second most important variable, after a good roommate.

Well, we have a busy week ahead. Please say a prayer we sell our condo, it is a huge strain on us. We listed it with another agent last week. We have begun to move some of our things into our new condo.

I'm hoping by Christmas we can look at both Aaron and us in our new homes and know we are in a better places, but GEEZ, it's going to be an action packed couple of months.

Thanks to everyone for helping make this happen for Aaron. Maybe the Bengals could learn from all our teamwork

Any questions please let me know. Have a great week. Mary
About 1:00 PM, the mother of a young man who might be a prospective roommate called on the phone. That went well so we picked up Aaron at his day program and all met for dinner in a local restaurant.
Email to same group at 9PM.
Tom and I always felt one of the most important steps was finding a good roommate for Aaron. We think we have found a good match.

Aaron, Tom and I had dinner with Jim and his mother, and it went very well, so we would like to move forward.

Jim was very friendly. He is the kind of person that hugs everyone and is best friends with everyone in a couple minutes. He has a devoted mom. Aaron kept looking at Jim. I wish he could speak and tell us his thoughts, but he seemed happy. Jim likes to swim and go to King's Island—both things that Aaron liked to do in the past. Hopefully, they will be able to do many activities in the community.

By Providence, or some divine plan, or dumb luck…Tom and Jim's mother actually taught at the same school together and used to talk about their kids at lunch. Pretty amazing, eh?

So, if everything works out—drumroll please– Aaron and Jim will be roommates.

HUD

Jim's mother is going to call Wendy at the HUD office tomorrow and see what we need to do to get Jim on Aaron's list. So we will have 3 bedrooms and Aaron, Jim and the caregiver will make three. So, hurrah hurrah.

Also, yesterday the non-profit started painting rooms and beginning the process to get the house HUD approved. So we are really moving forward. It is hard to believe—this is going to happen.

Medicaid Waiver

Aaron and Jim both already have Medicaid Waivers at appropriate levels. So we can begin the transfer of Aaron's waiver to our new county and start interviewing residential providers.

Finding a good staff will make our miracle triangle complete: (House/HUD—roommate—staff).

Furnishings

My sister Janet, visiting from Kansas, had a friend donate our first items for the house. The director of the non-profit allowed us to begin to put them in the garage.
The painters were there to let us in….
Today went so well, I think I'll go buy some lottery tickets.

Thanks to everyone who is helping us climb our mountain and move forward. It takes a village….

Mary
Keep Climbing: Onward and Upward
All my best,
Mary
Comments:
Hope you'll share your thoughts and experiences. I'm happy and exhausted and I know we are only about half-way on the move-in journey. Whew! Now on to making a task analysis for tomorrow. Whew! Whew!