"Toyland, toyland, magical girl and boy land. Once you cross its borders, you can never return again." (Babes in Toyland)
There's No Santa
Aaron and Tommy got off the school bus and our world changed.
Tommy walked in the front door, threw his backpack in the corner and announced "There's no Santa Claus." Apparently, Billy and Josh minced no words on the bus ride home. And, they were third graders who knew these things.
Aaron, my son with the label of autism, went straight to the refridge.
But what is a mother to do?
I got Aaron settled with a snack and his music and then sat next to Tommy on the couch. We both were facing the Christmas tree and feeling pretty glum when he crawled into my lap. That action alone choked me with tears. Tommy was seven years old and seldom let me hold him on my lap any more–yet another reminder my baby was growing up.
His happy world was just turned upside-down.
Like all parents, I knew this moment would come. And, I wanted to send coal to Billy and Josh for ruining the fun.
I knew this was one of those rite-of-passages, a transformational moment in his young life–but darn. It seemed just yesterday he was three and running down the steps on Christmas morning, diving into the presents from Santa–darn, darn.
For a long time, we watched the reflection of the lights on the tree ornaments and didn't say anything.
It was a treasured moment but I was desperately trying to think of how to keep the magic. How could I patch up the hole of a Santa that no longer was real?
Sure we've had some close calls, i.e. St. Nick and the Batman socks. But this time, there was no going back.
Tommy finally started talking and asked some questions. He said he had suspicions because the whole Santa-goes-around-the-world-in-one-night is a little hard to believe. But, but, but.
There were the things he said: "So there's no Easter Bunny, or Tooth Fairy…?" "Was God real?"
And the things he didn't say: "Did all adults lie, trick kids and play games with them?" "Who could he now trust?"
I tried to put myself into his world and think of ways he might understand. My explanation that Santa was a make-believe superhero bombed. Later, I could talk about Jesus and the gifts of the Magi, but that seemed abstract for the current moment.
Changing Roles
I'm not sure what inspired me, but as Tommy sat in my arms with his chin on his chest, I suggested Santa was a tradition about giving.
"The Santa tradition" was a fun way for everyone to be an actor in a giant real life magic play. It didn't matter your age, it was about finding someone who needed cheering up, or needed help and giving it to them.
I told him little kids didn't understand this, but big kids like him, now got to be part of the fun by becoming a Secret Santa to others. This seemed to make sense to Tommy.
Okay, who could we surprise? Who needed some Christmas cheer?
Tommy's grandparents had just separated after a long and unhappy marriage. Grandpa had moved into a basement apartment in a not-so-great neighborhood and told the family, "This year I'm keeping it simple and not putting up a Christmas tree."
So that minute, Tommy started to plan a Christmas makeover for Grandpa's apartment. Tommy decided to become a Secret Santa.
Secret Santa
For the next few days, Tommy spent every minute making decorations, planning how to sneak into Grandpa's apartment, going shopping for supplies and a small tree….
He decided we needed cookies and put me and Aaron to work.
Age-Appropriate
Aaron was nine years old. If Tommy (two years younger) no longer believed in Santa, then it was no longer age-appropriate for Aaron to believe in Santa either. Tommy was always my measure of "normalization" for Aaron.
I know some parents who, when they are told their child has severe intellectual disabilities or Down syndrome or…console themselves, "Well, at least they will always believe in Santa Claus."
I know parents, special needs charity groups, care providers and teachers who take adults with disabilities to sit on Santa's lap at the mall. In groups. UGH!
I know some adults with disabilities who have flat-out refused to go saying it embarrassed them. I know others who do it just to please others. I know some adults with disabilities who just haven't had the guidance to know better.
The RULE for age-appropriate and normalization is: "Would a person without a disability do this?" "Will this activity add or subtract to a person's positive image in the community?"
In this case, an adult with a disability sitting on Santa's lap in the mall makes them seem like an "eternal child" not an adult who will live and work as a contributing member to the community.
This is a difficult concept for a lot of people. But this was the right move for Aaron and our family.
Grandpa's Surprise
On Christmas Eve Tommy, Aaron, Tom and I got the key to Grandpa's apartment and put on our red Santa hats. In under an hour, we decorated the tree, put holiday towels in the bathroom and kitchen, added colorful plants and pillows to his living room and his favorite snacks in the fridge. Tommy posted his drawings all over the apartment with a note next to a plate of sugar cookies:
Dear Al,

I heard you were a good boy this year.

Happy Christmas.

Love,

Secret Santa
Babes in Toyland
Tommy glowed as he locked Grandpa's door. As we got into the sleigh (er, car) we giggled, reviewed our Christmas caper, sang carols and drove out of sight.
When we stopped for burgers and fries (even Secret Santas have to eat) Tommy decided to continue wearing his Santa hat. Aaron–not so much. But my babes had transformed.
There was still Santa and giving and Christmas. But they were no longer the "Babes in Toyland."
From now on, Mom's IEP for the holidays would have to include our new roles as Secret Santas.
Over the next years, more innocence would be lost. There would be new lessons and transformations–but that is all part of growing and learning. It is all part of the magic of being a child. Being a parent. And, all part of the Santa Tradition.
Keep Climbing: Onward and Upward
All my best wishes. Ho-HO-HO. Have some fun this holiday and we'll see you next year.
Mary
Share your Santa story:
How did you find out about Santa Claus? What are some of the ways you continue the tradition of giving? Any Secret Santa stories? Any thoughts on normalization and age-appropriate?
Hi Everyone. Getting ready for a vacation? Thought you might like to read about the family trip that changed our lives.
Oh Beautiful for spacious skies…
From the moment I was pregnant, my husband Tom dreamed of the day he could retrace his childhood trip out west. He glowed in the memories of mom, dad and kids studying the maps on the kitchen table, packing the lunch meat sandwiches in the cooler, and repeating the rest-stop conspiracy of Dad throwing the baseball high over his boys' heads so they would chase the ball and use up some of that stored energy. The year our son Aaron was ten and his brother Tommy turned nine, faithful to Ulrich family tradition, we headed west. The main difference between my husband's family, and ours, was that Aaron has autism.
Preparing for the trip
Aaron didn't start walking until he was five, and even at ten was not completely independent in the bathroom. So how were we going to follow his needed routines for toileting, understand Aaron's wants without the use of words or signs, watch his balance issues, and especially, cope with unpredictable behaviors? How were we going to manage twenty-one days of camping, sleeping, eating, and interacting with strangers in strange places? How were we going to survive–much less enjoy–visiting eleven National Parks and Monuments, twelve states, Mexico, and traveling five thousand miles?
Certainly, we were not the first family to attempt a western vacation with a child with complex needs, but we also knew we were not going to be "typical" tourists. Tom and I briefly considered leaving Aaron with a friend or in summer camp, but we decided this dream vacation included our "whole family." We would make it work.
Adaptations and Accommodations
Using our teaching and parenting skills, we designed adaptations and accommodations for the trip. In previous years we camped in state parks and all shared a big tent. Aaron had a terrible time sleeping on the ground in such close quarters and often our sleeping bags got soaked in rain storms, so for this adventure we decided to buy a pop-up camper. Our pediatrician recommended some medication to help Aaron relax and sleep at night. We planned to follow Aaron's schedule for meals, breaks, and sleep. We would only visit restaurants at non-peak hours, choose corner tables, avoid long waits, and skip most museums. We installed a child-proof lock on the car door and had a suitcase of games, music and snacks. Tommy and Aaron's jobs on the trip were to crank up the camper each night and help carry the water buckets–jobs that were successful in our previous trips.
Oh Beautiful for pilgrim feet…
Like the pioneers of old, and Tom's family a generation earlier, at dawn our family set out from Cincinnati with Tommy's version of a "Colorado or Bust" sign taped to the windshield, driving not oxen-pulling-a-Prairie-Schooner, but a brown-station-wagon-pulling-a-pop-up-camper. We were confident we could handle any of the challenges we knew would come. We would enjoy our family-time and see the beauty of America. And fortunately, instead of mud and rock trails, we had interstate roads and could travel sixty MPH.
We Americans like to brag about being the melting pot and/or salad bowl of the world, a nation that values brotherhood and diversity.
Even with our best preparation, instead of a three-week vacation, this became a three-week teaching excursion. It seems the human America was not quite ready for us.
At home we were surrounded by people who know us; they saw the beauty in Aaron and our family. With the strangers we met on our journey, we had both negative and positive interactions.
Transformational Experiences, day after day

As if we had a disease, one family packed up their tent and moved it to a site on the other side of the campground, and a pregnant woman crossed the street so she wouldn't have to pass us.
One evening Aaron was enjoying the loud echoes that he could make in the campground bathhouse, and a young boy ran out screaming, "The Hulk, the Hulk's in there!"
An elderly man said, "We have one of 'those' in our family but he doesn't travel, he lives in a home."
"Mom, what's wrong with that boy? Does he act that way on purpose?" The mother whispered, "SHHH, he's retarded," and like we were dangerous, yanked the child's arm and dragged him away.
"Have you tried the Feingold or gluten-free diet?" or, "I know an allergist in Illinois who can get kids like that to talk." It seems many people think they have the right to offer advice. I am sure they think they are helping, but do they really think we were so desperate we needed a consultation standing in line at the grocery? We struggle with the question: Can Aaron ever be accepted just the way he is, or does he only have value if he is "fixed" or "cured"?
In Arizona, we were asked to leave a family-style restaurant because, as the manager said, "We don't serve people like him." Tom and I were shocked because Aaron was happily eating his pancakes. If he had been noisy, we would have understood, but he was acting as normal as anyone. Sobbing, I hurried Aaron to the car wondering what we were going to do a thousand miles from home. I realized this was the lowest point of the trip and saw a glimpse of the discrimination that has followed individuals of other ethnic and racial groups. The stigma of being asked to leave a restaurant because some anonymous person didn't like the way my son "looked," and the management's open prejudice presented an uncomfortable dark side of America I will never forget.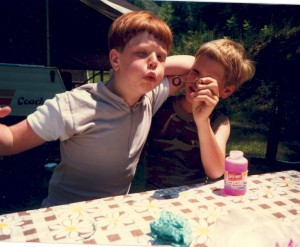 Oh Beautiful for heroes proved…
Our trip would have been devastating if only bad things happened, but we actually had some very positive experiences.
People would ask with smiles, "Where are you from?", "Where did he get that red hair?" or "How old is he?" Just ordinary questions, but kind gestures and communication starters.
A parent of a child with Down syndrome commented, "I hope the programs in Ohio are better than in Missouri."
One young girl smiled at us, "We have special kids in our school. My best friend's name is Brian, he reminds me of him."
Several children sought out seats next to Aaron and Tommy on a park swing, maybe just for a closer look, but they made eye contact and tried to make Aaron smile. Several gently pushed Aaron on the playground swings, merry-go-round, and gave him a turn kicking the soccer ball.
Aaron pinched me when we were rocking violently on a small plane sight-seeing ride over the Grand Canyon, the pilot said: "Don't worry, I've had grown men reach over and hold my arm."
At one roadside park all the visitors collectively held their breath as Aaron climbed the steps up a steep slide. Tommy guided him to the top where after much arm-flapping and nervous hand-biting, Aaron finally let go. As the wind struck his face and he barreled down the slide, Aaron's expression was one of absolute joy. Everyone in the park clapped and cheered. This was not just a glorious moment for Aaron; this was a glorious moment for every person in the park.
In a swimming pool in Arizona, a life guard got in the water during her break and showed Aaron how to swim on his back.
On a train ride in Silverton, CO a little girl moved into the seat next to Aaron and taught him an adapted version of the game Connect Four.
A waiter in Mexico brought Aaron an extra pack of crackers while we waited for our meal and tried to entertain him by singing Old McDonald in broken English. He even helped cut up Aaron's food. His empathy and understanding crossed national and language barriers.
Universal Design and Inclusion
In the National Parks we found many examples of universal design: accessible water fountains, paved paths, and self-guided tours enabled us to partially participate in the park activities. Several of the campground managers gave us campsites close to the restrooms. At Carlsbad Caverns, New Mexico there were benches and a bypass for the steep climbs. A small work crew with disabilities in Grand Canyon National Park did yard work, and a waitress at Canyon De Chelly used sign language to take an order from a customer. These inclusive accommodations not only made it easier on us, they actually made us feel welcome.
Survival means Adapting to the Environment
We were ambitious. We flew above the Grand Canyon and went down in the caves of New Mexico. We had a lovely lunch at the Broadmore Hotel with water goblets and doilies, but were asked to leave a family style restaurant. We drove to the top of Pike's Peak and the whole family climbed the ladders of Mesa Verde's Cliff Palace. We saw Native Americans adapt and survive their desert environment by seeing the value of every living plant and creature. We tasted jelly and saw sewing needles made from a cactus. We heard wolves howling, and we howled back singing every song we knew around the campfire. We took pictures and made memories that will last a lifetime. And perhaps like the Native Americans who live in the desert, we were learning how to adapt to our environment.
Lessons from the Road
We were physically and emotionally exhausted. Many amazing things happened that brought our family closer together. At the same time, though, I feel Tom, Tommy, Aaron and I crossed the line.
We could no longer think of ourselves as a family with one member who happened to have a disability; we were truly a "disabled family."
I am not trying to be shocking or dramatic. We just had to concede that most of the general public did not seem to have the motivation, information or skills to assimilate us into their version of a "typical family."
We also learned we had no anonymity; we stood out even in the largest group. Five hundred people came to see the bats fly out of Carlsbad Caverns, but because of Aaron's shout when the bats emerged; four hundred ninety-nine people were looking at us.
We learned that celebrating the diversity of the landscape of America includes seeing the beauty of the diversity of its people.
Planting Appleseeds
Our experiences reinforced our commitment to the inclusion of people with disabilities to live, work, recreate, and go to school with their neighbors, brothers and sisters. We cherished the positive experiences; the children we met gave us so much hope for the next generation of Americans, and travelers. Like Johnny Appleseed on his trips out west, we tried to drop positive seeds that other pioneer families will nurture and see bear fruit. Perhaps a future Kodak moment for our country will include not only the beautiful American landscapes, but people like Aaron and our family.
Better than "The Buck Stops Here"
One last story: In Missouri, inside the Truman Memorial Museum with its high ceilings and big rooms, Aaron started, "vocalizing." Oh, how it echoed. The guard came up to us and said either Aaron would have to be quiet or leave. Tom started to go, when another tourist came running from across the room. He looked the guard right in the eye and said, "How dare you speak to them like that. That young man is a citizen of this country and has a right to be here. Harry Truman was a strong supporter of the ordinary person. He, of all people would want them to be here."
As we pulled the car into our driveway, Tom and I were wondering if it was worth it. Would we ever take another road-trip? But like always, our children showed us the way. As he was running into the house to be the first person in the bathroom, Tommy called over his shoulder, "Next year I want to go to Florida!"
And crown thy good with brotherhood, from sea to shining sea!
Add your voice:
Be sure to leave a comment and let me know about your travel adventures. Is it harder when you are away from home and your typical routine?
Keep Climbing: Onward and Upward
All the best,
Mary
–
Copyright Ulrich 2000-2013
Original Work do not copy without Permission
Going to the family reunion, or not?
part 3.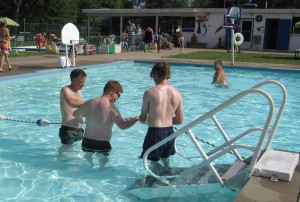 Absolutely gorgeous day for a family reunion at the swim club, mid 80s, no clouds, not even any bugs to speak of. This is my third post about Going to the family reunion, or not? In post one (click here) I talked about planning and doing an evaluation of what my son Aaron, who has the label of autism, would need in terms of modifications and accommodations to feel welcome and included. In part two, (click here) I wrote about the layers of social systems that are part of each family. Today in part 3, I'm going to talk about the actual activities and events that happened.
Informal Support Systems
Tommy (Aaron's brother), Ana, Baby Isabella and Ana's parents from Brazil arrived about the same time we were unloading the coolers, so they helped me carry the stuff and guide Aaron through the parking lot. My husband, Tom had to work so he had to miss this year. If Tommy's family wasn't here to help, Aaron and I wouldn't have gone. I figure there were about 60 relatives ranging from my mom age 88 to Baby Isabella, one year.
Aaron started repeating his, "You Okay?" routine, and everyone came over and gave him a high 5, patted him on the back, or laughed and said, "Yes, Aaron we're okay." They were welcoming Aaron on his own terms. Sometimes Aaron looked at them; sometimes he didn't. He said, "You okay?" about one time every other second. So that's a lot of "You okays." Everyone just took it in stride and went back to what they were doing.
Setting up the routine

In past family reunions, everyone swam and then ate about 6pm. So we arrived about 4PM to find everyone eating. Oops.
Even though we split an Arby's sandwich on the way to the swim club, if everyone else is eating, you can bet Aaron is going to want to get a plate ASAP. I introduced Ana's family the best I could, but getting Aaron settled and fitting in the social setting was priority one.
Almost immediately, Aunt Ann started putting melon balls on Aaron's plate. Some male relative who I didn't even know had the brats and metts ready to go, so with a little help, Aaron was happy as an ant at a picnic—aarhh. How Aaron melded into the group in the first ten minutes makes all the difference.
While Aaron was busy eating, the rest of the family settled in, made introductions and even though Ana's parents' first language is Portuguese, everyone was excited that they were here for a visit. Various Aunts, Uncles, Cousins, second cousins and relatives I swear I've never seen before, were all very gracious. Ana's parents are just naturally friendly and their English is incredible. (They learned it by watching American movies and taking English classes in high school.)
As soon as Aaron finished eating, Aunt Ann cleaned up Aaron's spot. Uncle Steve and Tommy offered to take Aaron swimming. I didn't even have to ask. They helped him put on sunscreen, take a quick trip to the bathroom and then just whisked him off (of course Aaron doesn't really whisk anywhere).
Terri, my cousin who organized the whole event, told us that the neighborhood swim club was just given a ramp by the Jewish Community Center when they built a new facility. (Note to self: next year do not take off Aaron's shoes until he gets to the ramp—the sidewalk was too hot and he had trouble walking to the ramp.)
Aaron, Tommy, and Uncle Steve went in the big pool. Ana, her parents and the baby went to the baby pool. I took pictures and held my breath. Aaron had a couple tough moments, but he calmed himself by biting his hand and then was fine.
I got to talk with a couple people, and watched everyone playing in the water. Aaron can swim pretty well. He does this sort of dolphin movement and though he doesn't close his mouth he can swim from one side of the pool to the other. The lifeguard watched Aaron and his team the first couple minutes and then when everything looked in control, he relaxed and just concentrated on the entire pool as usual. After about a half an hour, other relatives and Ana's parents joined everyone in the big pool. Baby Isabella had a great time meeting new cousins and playmates. The toys went in and out of the pool, the kids stood up, fell down—all was well with the world, just a sunny day in paradise.
Everyone caught up on the recent engagements, school arrangements, camping trip, new babies… all the gossip and family changes. Ana made a Flan dessert which was a big hit. Someone brought about five of those blue ice containers and put them together like a cold plate—instead of hot plate—and I thought that was very clever. Everyone ate, traded stories, pictures, and just had a great time.
Uncle Ed
Uncle Ed's memorial dinner was the next day, but my cousin Dan, who is a Bishop, came and ask about how Aaron was doing. How was Tom doing? (When someone in the family isn't there, they are missed.) We got to tell the story of how Tommy surprised us by moving back to Cincinnati last year… it was just normal, everyday family talk.
Because of people helping out with Aaron, it was an enjoyable day. We left after 4 hours, just long enough.
Worth the price of admission:
My favorite moment: One of the dad's was holding his two year old baby in his lap. The baby had an angelic face and a devilish grin. They were relaxing after a swim when the baby suddenly reached up and grabbed the hair under his dad's arm. OUCH! His dad—I mean you could hear him gasp and see his eyes tear up-couldn't reach his son's hands. Every time he tried to lower his arm, the hair was pulled tighter. We were all laughing so hard everyone's body was shaking up and down in their seats. Grandma looked like she would need oxygen. The more dad tried to pull the baby's fist away, the tighter he squeezed.
I thought the life guard was going to blow the whistle from all the hoots and hollers. It was a memorable moment that will become an urban legend in our family as the repetitions help the story grow. (Remember, Mark Twain said to never let the truth get in the way of a great story.)
Summary:
All our planning worked. Aaron and all of us had a great time. He belonged. We all had a chance to reconnect to all these people who are connected by blood, but now are also connected by new memories.
Moral of the story: shave your armpits before going to family reunions:)
Did you ever think of all the modifications and accommodations we just naturally make for babies, seniors, people with disabilities? Baby bottles need to be kept cold and then heated, Grandma likes soft foods, Uncle Charlie always likes a ball game on a radio or TV– we make these kinds of modifications all the time just because we want to make the people we love happy and comfortable.
And what about us regular folk, we also use modifications and adapt environments and "things" all the time. We bring our lawn chairs, sun screen, ball gloves to protect our hands… we like our hotdogs with… spicy mustard, or ketchup, or sauerkraut or well done or on buns, or not …?
We don't think of these small ordinary "things" as adapting a hot dog? Because we are all normal, yet it is what we are doing.
But putting in a ramp or curb cuts–well, even if we normal folks use it, it is er, handicapped or special or an ADA adaptation.
When builders use the principles of "universal design" and blend the adaptations into the everyday way we access buildings or swim pools… then parents won't have to think of ecological assessments before they go to a family reunion, everything will already be in place.
ADA is good for all of us. i.e. Now most grocery stores have accessible entrances. Grocery carts and children's strollers and people in wheelchairs can just go through the front door. And, since it is now so common, no one even notices that the entrances have changed. They meet "universal design" for EVERYONE.
The world is becoming more accessible and just in time. Because me and all my relatives are getting older and like it or not, we will soon join the ranks of the "disabled" and our life activities will depend on all those loving people around us, and those universal designed environments.
Tell us in the Comments
What are some of the things you do to make your family reunions more inclusive? What do you think of Universal Design? Is ADA just another government example of "Big Brother" and forced rules and regulations?
Keep Climbing: ONward and Upward
All my best,
Mary
Going to the family reunion, or not?
My cousin rented her local swim club and invited all 26 cousins and their families for our annual family reunion. She scheduled it on a Saturday when many of my cousins would be in town. She is working hard to keep our large family together, and give our children and grandchildren some of the same fun family times we had when we were growing up. Cousin Terri is offering a gift to our family.
So, will we go, or not?
Even though our son Aaron has the label of autism and developmental disabilities, we try to include him in our family activities. Now that he is almost 37 years old, we have gotten pretty good at the extra planning and preparation to make sure all turns out well.
Today I want to focus on ecological assessment. Drs. Lou Brown, Alison Ford, Anne Donnellan et al. from the University of Wisconsin Madison introduced this concept years ago and it has made a huge difference in how I look at the world. I'm not using their fancy checklists but I'm hoping to show how to analyze and gain control of the environment we are going to visit. In this case, a local swim club.
Ecological Assessment with Commentary:
Swimming:
There is a great neighborhood swim club. You've seen hundreds like it. The swim lanes, the three lifeguards, the signs telling the kids not to run…. It is the same swimming pool our family enjoyed 40 years ago when we were teeny-boppers dripping Popsicles and walking around hoping our swim suits didn't make us look fat. (Oh, to only be as "fat" as I was when I was 12.)
Aaron likes the water and is a pretty good swimmer. Last reunion, my husband Tom and my brother Steve played beach ball with him and stayed close, so he will be safe. If we lather him with sunscreen his fair skin and freckles will be protected from burning. Aaron will probably only stay in the water for about a half hour or so. The exercise will be wonderful for him and he will sleep well that night. (Because Aaron swims with his mouth open, he might swallow a lot of water and then wet the bed later that night. We will make sure he gets up a couple times at night and we do have a double mattress pad protector.)
Restroom:
There are two separate restrooms and changing facilities. They have shower curtain doors so I would be able to take Aaron in and change him. It is a typical swim club restroom, so I might have to bring in a chair so Aaron could sit down. I could change him and then he could go out to Tom while I change. We would bring Aaron in his swim suit, so we would only have to change him once. We will give him yogurt in the morning and hopefully he will have his BM before we go. I'll have an extra set of clothes in case of emergencies.
Eating:
Aaron eats most anything so the pot luck buffet will be great. Cousin Ray will grill hamburgers…. I will bring something that doesn't require any work. I'll make sure it is in a throw-away container so we won't have to worry about bringing it home—maybe some frozen fruit cups or fruit-on-skewers so everyone can grab it and not even have to worry about a spoon. Those have been big hits in the past. Or, I'll get real summer daze lazy and I'll just go buy some cookies.
Aaron will need to eat at a table. I'll bring some folding chairs. We'll try and feed him close to his usual 5:30 meal time. Between Tom and me, we can cut up his food and make sure he is comfortable. Usually he sits by Grandma, so we can make sure both of them are okay. He can have one soft drink, and I'll bring some bottled water.
Behaviors:
We'll bring some books and his baseball cards and make sure he isn't too crowded at the table. We'll make sure Aaron is in a spot where he can watch everyone and everything that is going on. When he seems tired or agitated we'll leave. We'll make sure someone is with him at all times but trade off so we can talk to some of the relatives.
Summary:
This post is to show what an ecological or environment assessment looks like. Most parents do the same thing for their babies, their children, their older family members. It's really not that different–just thinking ahead, planning and being prepared.
If we really want Aunt Lizzie there, or Great Grandma Stella then there are little things we gladly do to modify the environment and accommodate their needs. For instance, Great Grandma Stella will surely take out her teeth after dinner and they will get misplaced. So we will assign someone to make sure and put them in a safe place. (This is an urban legend in our family.)
Same with Aaron–just add, subtract, and/or change a couple extra things to make him feel comfortable.
We have been to this swim club before, if we hadn't, we would have gone a couple days before and scouted it out. Most people don't like surprises or change. It is not a coincidence that major chain stores like Krogers or WalMart are all laid out the same way. Each of us like knowing the lay-of-the-land. There is comfort in familiarity.
We still haven't decided if we are going to the family reunion or not.
Part 2 will look at the family reunion through the eyes of Social Systems Theory (don't worry, it's not as boring as it sounds). http://climbingeverymountain.com/going-to-the-family-reunion-or-not-part-2-the-circles-of-life/

In the comments below share some of the modifications and accommodations your family uses to make sure the oldest, the youngest and all the relatives in-between have their needs met at a family reunion?
Keep Climbing: Onward and Upward
All my best,
Mary