Posts Tagged 'parenting adults with autism'
This story is from 1981 when Aaron was 7 and Tommy 5. We were in the middle of our lawsuit against Cincinnati Public Schools to allow Aaron to be able to go to public school. Enjoy.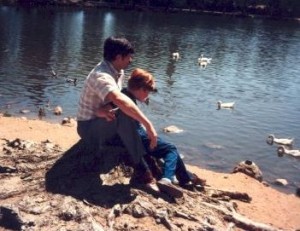 At the end of our street is a pond. Our family often takes walks down there to see the ducks and give them bread crumbs. One day last summer, an old man was down there and said: "Did you see the handicapped duck?"
Well considering I was pushing my seven year old son with a severe disability in his stroller, and considering the 24 hours a day I spend thinking about people with disabilities–this was really too much.
The friendly man went on, "Probably a frog ate his foot or maybe he caught it on the fence…"
Sure enough, there were about 40 ducks and one duck was missing his foot and about one-half of his leg. The duck hobbled toward us but when Tommy tried to pet him he scrambled for the bread crumbs with the rest and then swam away.
Before we left, we did throw him some extra bread crumbs just because we wanted him to know we were friends who understood life's little extra challenges.
I went home and joked to my friends that at least some humane society didn't come and set aside a special pond for disabled ducks, start a supplementary training program and segregated nesting area–or some exploiter didn't take him to Utah and enter him in some freak show for tourists.
We checked in once in a while over the winter, but I really was a lot more worried about people with disabilities than the ducks. We were trying to mainstream Aaron, into a public school. (This was before "inclusion" was thought possible.)
Yesterday the weather was warm so we walked to the pond and saw there were only about 15 ducks. We were only there a minute when that same man came running down full of concern. He told us someone was catching the ducks, putting them in plastic bags, throwing them into the middle of the lake and then watching them drown.
We were shocked. Who would do such a thing?
Meanwhile, the few ducks that remained came swimming toward us looking for the bread crumbs. Guess What?
The "handicapped" duck was among the survivors.
I'm not sure what this all means or why I thought to write about it, but with all the cutbacks and anything else they can think up–I think the duck gave us a message–we're going to make it. There are some mean horrible people out there, sure. But there are also wonderful people like the man who cared for the ducks. There is risk being in the community–but that is also where there is safety.
This week Aaron learned to peel his own banana, he went boating and he saw a "handicapped" duck that was smarter than the non-handicapped ducks. We also just need to get smarter.
The dream… it lives!
Quiz: For those of you who read the story about the difference between disability and handicapped (click here) and tell me. Did our duck with the one leg have a disability, a handicap, or both?
Share your Stories of Hope
What helps keep your dreams alive? Any duck or pet stories?
The Values of Inclusion: Valuable across the World
Jack Pearpoint is a true visionary. He shares his vision with others. I recommend subscribing to his Inclusion Network YouTube Videos (link below the video).
At the Down-Under Inclusion Institute, Jack showcases Heather Simmons from his trip to Sydney, Australia. "Heather summarized the simplicity and complexity of living an inclusive life in a welcoming society." Enjoy. Isn't it nice to know the ideas of inclusion are spreading around the world.
There is a content organizer below if you want to print it out and take notes.

Find more videos like this on Inclusion Network
Study Guide or Content Organizer: Print out and take notes while watching video.
The Values of Inclusion by Heather Simmons

Everyone is born "in"

All means "All"

Everyone needs to be "in"

Everyone needs to be

Everyone is ready

Everyone needs support

Everyone can learn

Everyone can contribute

Everyone can communicate

Together we are better

Additional Notes:
Any questions? Comment? Anything you would like to share about this video or others?
Keep Climbing: Onward and Upward
All my Best,
Mary
Roommate Needed in Mason, Ohio
Aaron is a great guy who likes other people. He is looking for a roommate.
Aaron is 38 years old. He attended Lakota Schools and is currently in the Goodwill/Easter Seals Day Program in Lebanon.
Aaron likes to go for walks, ride the exercise bike, swim at the community center, go out to eat, listen to music, look at books, baseball cards and get involved in other inclusive activities in the community. He likes to be around other people.
He loves to go on vacations with his family and ride the trolley bus in Gatlinburg. He likes his Sunday visits with his family and playing with his niece. His family only lives a couple miles away.
Aaron doesn't talk with many words, but he finds ways of telling everyone what he wants. He repeats phrases and is noisy which could bother some people.
The ranch house is in Mason, near a local park. It is wheelchair accessible. The home is owned and maintained by the Housing Resource Group of Resident Home, so this will be a permanent residence. Aaron has lived in a house managed by this non-profit for over 11 years and we feel they do a great job. We hope he can live here for the rest of his life.
Aaron has a level 5 Medicaid Waiver which will help pay for the 24/7 staff. He needs a roommate who is also on a waiver or private pay. We are working with our Warren County Board of Developmental Disabilities.
Anyone who has lived with other people knows the importance of finding a good roommate match. Aaron would like a new friend as well as someone who could be part of his extended family.
We would love for Aaron's new roommate to be from the Mason community. We would love if another family would want to share all of our lives, so we could be a support to each other.
Aaron currently has staff who are loving and have known him for many years. They are part of our extended family and have hearts big enough to include another person.
If you know of someone who might be interested, please call me at 513-336-8271.
Comments:
It is difficult to describe Aaron. He is loving and wonderful, but a prospective roommate also needs to know Aaron is noisy and that might be an issue for some people with sensitivity to sounds. So, how can I give Aaron respect and dignity and yet be honest.
Aaron had the same roommate for 13 years. He and Jack are good friends and care about each other. Leaving Jack was one of the hardest parts about moving to a new county. Jack was a gentle man who was older than Aaron. They had their own hobbies and interests, but would go into the community together for shopping, large and small group activities and taking walks with their caregivers. Jack and Aaron had their own way of communicating and respected each other. We can only hope we will find someone like Jack, and as you know, everyone is unique. We ask your prayers.
Any suggestions greatly appreciated.
Keep Climbing: Onward and Upward
All my best,
Mary
"Representative Payee"| SSI, SSDI
When Aaron, our son with autism and a developmental disability, moved into a house with another man, we became his legal guardian.
It was the only way to protect Aaron legally. It was the right thing to do.
One of the first decisions became who was in charge of finances–the individual, the residential provider, or the guardian.
The Individual
Certainly if your son or daughter is capable, that is the first choice. Remember, the individual can get support on their ISP (Individual Service Plan) to help.
The Residential Provider
If you are the parent of an adult with autism or other disability who is not able to handle their own finances, then this service can be written into the ISP (Individualized Service Plan) and handled by the agency or residential provider.
The residential provider cannot charge for this service, but it is one of the services in the Individual Option Medicaid Waiver.
For 13 years, my husband and I let the residential provider be the SSI and SSDI "representative payee" and handle his finances.
We added checks and balances:
In Aaron's ISP, the company would send us monthly statements by email and the County Service Coordinator checked the Residential Provider's records, so it worked great.
After all, as parents we know we won't live forever, why not put the financial system in place while we can still make sure it works.
Checks and balances plus it was less work for us–YEA!
Guardians become "Representative Payee"
Last month we fired our residential provider. This made things tricky so I decided to become the "representative payee" myself.
Here is what I've learned:
How do Guardians become "Representative Payee" for SSI, SSDI?
Go to your local Social Security Office, you cannot do this online. Allow at least an hour.

Bring:

Guardianship Document,
Your child's Social Security Card
Your Social Security Card
Your valid Driver's License with current address
The bank account number and routing number for the automatic deposit.

Sign in:

"OTHER"
You will need to have a face to face interview.
Make sure the agent changes the information for both SSI and SSDI if that is appropriate. They are two separate systems.
You will be given a contact person for your future needs.

Additional Information

You can call 1-800-772-1213 and ask for an "agent," in addition they have recorded information on the responsibilities and frequently asked questions about "representative payee."

Website:

Timelines

Timelines are based on the first of the month
i.e. Automatic social security deposits are on the first and the third of the month.

It will take a month or so to get the deposit information transferred.
Keep Climbing: Onward and Upward
All my best,
Mary
Related Posts:
HUD Tips for People with Disabilities and Families