Posts Tagged 'parents of adults with autism'
April is Autism Awareness Month. For those who are new to our community, I thought I would reprint this post because it talks about important issues. I hope you will feel free to share your thoughts in the comments.
Can I love Aaron and hate autism?
If I say, "I love my child, but hate cancer or heart disease…" many people would say that is okay.
If I say, "I love my son, Aaron. I hate autism." some people say that is NOT okay.
So, call me a villain, ignorant, hypocrite, politically incorrect, or whatever–but I refuse to celebrate autism–I refuse to give autism that power.
I gladly celebrate the diversity of individuals. This diversity makes our world stronger and a more interesting place to live.

I love individuals who have autism, just the way they are.

But–I will not celebrate autism like it is a good thing.
World Autism Awareness Day April 2, 2013
This is the 6th year the United Nations designated April 2 as World Autism Awareness Day. April 2nd next year is already designated too.
Are you going to wear blue? Will blue lights in the Empire State Building, or on the Jesus statue in Rio, or the top of a pyramid in Egypt really mean anything?
Is this like a birthday party? Something we celebrate every year? Send up the blue balloons? Paint your face blue?
I found some of the World Awareness Day press curious: "In fact a world without Autism would be a lesser world." New Zealand: United Nations declare day to celebrate autism
I think wearing black would send a better message. Autism Awareness should send a plea for action NOW. We need help and resources NOW.
So, the United Nations has established April 2 as World Autism Awareness Day. Great! Let's talk about autism.
What causes Autism?
Well, no one knows for sure. The "experts" have narrowed the cause down to: environmental, biological, sensory, abuse and neglect, genetic, chemical, neurological, food…and the ever popular–it's the parent's fault.
So the short answer is, who knows?
Yesterday someone told me our children have autism because they don't get enough eggs. Just add that to the list. They might be right.
I recently read a study (2013) that blames the grandparents. They conceived the parents late in life.
Don't you love scientists–probably funded with the autism awareness fundraising, eh?
Dr. Anne Donnellan spent her career working with families and people with autism. She often says, "The more theories, the more proof that we don't know." She also gives her version of circular logic in Disability World.
Circular Logic
Parent: My child keeps flapping their hands.

Doctor: Ah, that is because your child has autism.

Parent: How do you know?

Doctor: Because your child flaps their hands.
Is Autism the Greatest Gift?
Some advocates want you to think autism is the greatest thing ever. They talk about the special abilities of people on the autism spectrum and say it is only because of autism they have these talents.
Hummmm. Is that so?
Sure Temple Grandin, with a glance, can tell how many nails are needed to build a livestock yard–but is that only possible because of her autism?
Rainman could count the number of toothpicks on the floor. Is it possible there is someone else in the history of the world that could also do that?
Are we again caught in circular logic?
Parent: My child can count the number of nails or toothpicks.

Doctor: Ah, that is because your child has autism.

Parent: How do you know?

Doctor: Because your child can count the number of nails or toothpicks.
There are some people with the label of autism who can tell you the day of the week for every calendar year in recorded time.
I can't. Probably you can't. But, is it possible there is at least one other human being without the label of autism who can?
The Guiness Record books are full of typical folks who can do all sorts of incredible tasks.
Hurry, quick. Do we now need to give those persons the label of autism?
There are some who are going back to past genius' and claiming they must have been autistic…Mozart must have had autism. Disney perserverated on those mouse pictures–he must have had autism….
Couldn't Temple Grandin and Donna Williams just talented people? Isn't it demeaning to say, "No, the individual Temple Grandin has nothing to do with it, it is only because she has autism."
Is it possible the statistical increases in the number of people with autism is partly due to our current scientific paradigm of labeling and sorting people? And some people promoting "autistic envy"? The new figures are 1-50. One child in every fifty–and all we are doing is having Autism Awareness Day at the Philadelphia Zoo?
What is normal?
Well, turns out we don't really know that either. Plus, we could say "normal" changes every year in every culture.
Sure we have tests, but anyone who studies IQ or other quantitative or quantitative measures will point out the flaws.
Multiple Intelligences| Howard Gardner
Howard Gardner, studied people with autism who were labeled as autistic savants (actually "idiot savants" was the term used at the time). He was able to identify at least eight different kinds of "gifts or intelligences." Now, in every school in the world (that uses best practice) his theory of multiple intelligences helps all children learn. Gardner says each of us has all these eight intelligences, some are just more developed than others.
This is one of the side benefits of autism. Without the diagnosis of autism, the scientific community might have had a harder time making this discovery. Science needs large groups.
Could it be we all have gifts and traits of genius, gifts and traits that could be labeled as autistic? Are we all a little autistic? Are none of us "autistic" in the pure definition of wanting to be apart.
Stinkin' Thinkin'
So, what's the deal about autism? Can't we just celebrate individual diversity?
If we really believe autism is a tremendous gift, then it would be logical for each parent to wish their child would have autism. Right?
I once went to a conference for people with Down syndrome. Everyone kept talking about how people with Down syndrome were the happiest people in the world–how glad they were to have their child in their family. They used examples like, "They will always believe in Santa." "They are pleased when I fix them chocolate milk."…
Using circular logic:
Parent: I want my child to be happy.

Doctor: Children with Down syndrome are happy.

Parent: Then I want my child to have Down syndrome.

So, if we want our children to be happy maybe we should try to figure out how to add an extra chromosome to every baby's DNA.
If autism makes us gifted, maybe we should be researching how to make 100% of the population have autism–add autism magic to our babies' lives.
This kind of thinking is just nuts, yet it is common in each area of disability. Stick around Disability World and you will hear people yearn to have the courage of people with cystic fibrosis and muscular dystrophy, be sexy like people with cerebral palsy….
Okay, I understand some advocates are probably hyperventilating at this point. How dare I talk this way about people with autism and Down syndrome?

The person who gets joy in Santa, or in having chocolate milk is an individual. Each individual person–even if they have a label– is different.
We can love the individual–not the disability.
As family members, friends and as self-advocates, we can value the individual person's talents, gifts, joys and sorrows. We can see them in the context of their environments–but, we don't have to give all the power and credit to the label of disability. The individual should get the power and credit. They are the ones who are who they are.
I can love my Aaron–I don't have to love autism.
I can see Aaron's gifts and talents–I don't have to think they are only because he has the label of autism.
Aaron is a loving person who makes kissing noises as I turn out the light. He smiles when I pull on the toes of his socks. He gives me hugs when I walk past him. He is patient as I try to figure out what he wants. He concentrates on his books and loves pictures. He gets excited when I come in a room. I love when he relaxes in his bath. I love when he initiates a song or going to the bathroom. I love when he figures out how to eat the cheese off my sandwich….
Aaron is unique. He adds his own version of diversity to the human family. He is a great son, brother, uncle, friend… just the way he is.
Autism sucks. Aaron doesn't.
Autism affects each person differently.
In Aaron's case, Autism means he can't talk with words. It means he is 38 years old and can't always tell when he needs to go to the bathroom. It means he has trouble making friends. It means he yells in public restaurants. It means he chews on his clothes and books and the car seats. It means he has motor difficulties and has trouble walking–crossing from the rug to a tile floor. It means he is always afraid of falling and losing his balance. It means he bites his hand to calm himself. It means it takes him a long time to learn things. It means he will forget them if he doesn't practice them every day. It means he likes music, but not loud noises. It means he likes to be moving (in cars, buses, boats, planes…) It means he likes to swim, but not bend over. It means he can't tie his shoes or dress himself independently…it means he cannot be left unsupervised even for a minute.
That all sucks.
I wish it was easier for him. I wish it were easier for me to help him.
But all those difficulties don't mean I don't love Aaron with every fiber of my being.
Each day for the last 38 years, I work to get Aaron the support he needs to live, work and recreate in his community. To allow him to be the best person he can be–For him to be able to make choices and have opportunities he wants.
There is a difference.
Dream Plans for Aaron Ulrich
I am adding our dream plan for Aaron. You can click on each of them and see I am NOT trying to cure Aaron. I am NOT trying to make him a different person. I love and respect him as the person he is.
I am NOT trying to make him the person I want him to be.
The first one we wrote in 1981 when he was 6 years old. Dream 2: 1989 The next Dream 3: 1998. And, Dream 4: 2010.
Every day Aaron teaches me about courage, love, and tolerance. But he knows he can count on me, my husband, and his brother. He knows Annie, his caregiver will do her best to look out for him. He wants a new housemate, like his former housemate Jack who will be there for him. He knows his grandma and extended family including Ana and his niece love him just the way he is.
And until our dying breaths, we will do our best to make his life happy.
No, I'm not going to inject Aaron with an extra chromosome to make sure he is happy. No, I'm not going to give this thing we call "autism" supernatural powers to dominate his life.
But I will give him opportunities to make choices about his life as best he can–in spite of "autism."
Yes, I can Love Aaron and Hate Autism.
Autism Awareness Day Marching On
Celebrate each wonderful individual person you meet in this video.
Keep Climbing: Onward and Upward.
All my best,
Mary
Comments:
Are you sitting there thinking, "how can this mother be an advocate for people with autism?" Do these words make you upset? Do you agree? Do you think "Disability World" thinks different than "The World"? Can we separate the individual from the label?
Related Article:
Here is another article about Autism Awareness Day asking people to do more than just wear blue.
Olympics, Disabilities and Inclusion
There are many legends around the origins of the Olympics. But the main idea was countries and individuals would meet every 4 years and set aside conflicts–and this shared experience would lead toward greater understanding and fewer conflicts.
Many believe the ancient Olympic games began with a foot race.
The 2012 Olympics are currently being held in London, England. And a footrace is not so simple. Turns out, the definition of a "foot" is a source of conflict.
The Olympics story of Oscar Pistorius from South Africa is an inspirational lesson about the inclusion of people with disabilities.
Check out this video, "The fastest man with no legs" who uses his "blade runners" to race in the finals of the Olympics.
Yes, he races in the segregated Paralympics, but also in the inclusive regular Olympics.
This is an example of inclusion, self-advocacy, the power of a supportive family and an exceptional adult with disabilities.
I think this is also an excellent example of what the Olympic Spirit is all about. The Greek founders might never have envisioned this sort of story, but I'll bet they were cheering up on Mount Olympus as Oscar became one of the fastest runners in the world.
"Unfair Advantage?"
If you have feet, you have tendons and muscles which give a "spring" to your step.
If you don't have feet, you … what—sit at home? OR…
You only have the choice of a segregated Special Olympics or Parolympics event?
As Dennis Burger says, "I always think it's ironic when officials claim an unfair advantage by a guy with a prosthetic device. Go Oscar!"
Go Natalia!
Lessons from the Olympics
Why is it that those of us who would never spend 10 seconds playing or watching ping pong, or skeet shooting, or footraces… voluntarily devote our precious time to these events on TV?
Why is it we choose to root for one team or one person?
With all the important events happening in the world, why would the evening news start out with the country's Olympic medal count?
What is the magic that draws our attention?
I think the answer has to do with the concepts of "Us" and "Them." The answer is rooted in our deep psychological need to belong.
We can wonder about the concepts of nationalism but like it or not, we are part of a tribe, a nation, we are part of "Us."
And when the collected ego of our nation wins, we win.
So we say, "Go USA" or "Go England" or "Go Canada" when we really don't care one bit about archery or who can do the backstroke.
In Maslow's famous "hierarchy of needs" belonging and having people who care about you is critical to survival–more important than how many skills you have or self-actualization. Sometimes this means being part of a tribe, sometimes being part of a family, sometimes part of a church, school or … nation.
Or, sometimes sharing a bond with someone with a disability.
So when we hear about a runner who uses blades because he has no feet, or a woman who only has one hand and is a table tennis champion—suddenly we care about them.
We switch our allegiance and transfer all our goodwill to these courageous individuals because they have a disability and are part of our TEAM INCLUSION. We don't know them personally, we aren't a part of their country, but they are part of our heart.
They prove that all our daily advocacy efforts are worth it. That the dream of inclusion can be real.
They are changing the attitudes and social consciousness of a whole generation.
And it doesn't matter if they are from South Africa or Poland or anywhere—they belong to us and our vision of an inclusive world.
Comments:
I'm hoping you and members of our Climbing Every Mountain community will also share stories of belonging, inclusion, the Olympics, and building communities.
Keep Climbing: Onward and Upward
All my best,
Mary
Related Links:
See Aimee Mullen in a previous Olympics.
Do the Words "Disability" and "Handicapped" mean the same thing?
Aaron's Inclusion on the Junior High Track Team
–
What do you see?
Every day businesses and community groups try to influence us with logos and symbols.
Did you ever look close–really close–at some of these logos? Sometimes there are hidden messages.
How many times have you seen the Amazon logo?
Have you ever noticed the A-Z arrow? I didn't.
Could this be a visual cue saying, "You can purchase everything from A to Z"? Not just books.
Business logos and commercials dominate the social media and we often take them for granted. But no doubt about it, they influence our attitudes.
Baskin Robbins
What's your first impression?
What's your second impression?
Baskin Robbins' logo reminds us they have 31 different flavors of ice cream—can't you just taste the butter pecan and chocolate chip?
Are you surprised the number 31 is right there in front of you?
Did you notice?
Tostitos
Mexican flag colors, right.
But there is a whole scene right in the middle of the logo.
Do you see two people?
They are sharing chips and between them is a table with a cup of salsa.
Now that you are aware, will you notice the embedded image on every Tostito bag of chips?
Will you tell your friends?
Your actions are helping to socially construct the meaning of their logo, the meaning of Tostito's brand–Friend to friend.
Tour de France
The most famous bike race in the world, The Tour de France logo shows an action shot of a man on a bike.
See it? The R is a man bent over the yellow wheel of a bike.
What emotions do you feel?
Bet the marketing company spent hours researching the color of the t-shirt including study groups on whether the best color was blue, red or yellow.
Perhaps this ad was donated or created by a student…or a giant ad company on Fifth Avenue.
Wolf Wolfensburger spent years teaching us to be thoughtful about the images, logos and symbols we use when we market our agencies and companies that worked with people with disabilities.

He spoke of the social construction of knowledge–we are what others say we are:

"Impairment is a normal part of life. Disability is not. That is caused by our attitudes towards people who have impairments. It's about time we accepted that wholeheartedly. Doing so is good for people who are disabled, for community and for the planet."
Final Question: What do you see?
(Martha Perske, artist)
As parents and caregivers of adults with disabilities, every day we send out messages to the world.
Our neighbors, our relatives, our children and our community are watching and learning. They are socially constructing what they see based on their experiences.
Are we spreading the message that people with disabilities over 18 years old are adults—NOT children?
Are we marketing our services in unhuman images of angels, devils, elves, giants in our company names and logos?
Does a group of people with autism walking in a store blend in, or do they draw attention to themselves?
Are adults with disabilities seen as capable employees, volunteers, contributing citizens?
Or do community members see them as needy–asking for charity, or pity?
Are we promoting inclusion and normalization?
Are we teaching others what they see? how to understand?
If this was a business, what would our logo look like and what would be the embedded message?
How are we socially constructing our environment, our world?
Your Turn:
Please share your ideas and thoughts. What message do we send on TV? in the community? What message in our personal life? What do you wish would happen?
Keep Climbing: Onward and Upward
All my best,
Mary
Related Posts:
The Race toward Inclusion| Do you see it?
–
This is Part 2 of a 3 part series:
Going to the family reunion, or not? Part 2: The Circles of Life

See Part 1: Going to the family reunion, or not?

See Part 3: Going to the family reunion? Shave your armpits.
The Circles of Life
We've all heard the quote about how the most important thing on our tombstone is NOT the date of our birth or the date of our death. The most important thing is the dash—what we did between the two dates. Our birth to death time-line is not just linear.
Our World View is Unique
We live in complex interrelated systems which give us a unique lens to view the world:
*the individual,
*our nuclear family, our extended family and friends
*our local community professionals (bus drivers, barber, doctor…)
*our organizations (churches, clubs, schools…)
*our beliefs, culture, government, and our world
Uncle Ed
My Uncle Ed was one of the most inspiring people I ever met. In our Archdiocese, he served as a priest in several of the poorer parishes. One Sunday he was actually robbed and shot for the money in the collection plate—definitely not the best neighborhood. When he could have retired, he became a missionary in Grenada where he built a school, a nursing home, and two churches. He loved everyone including those marginalized by society: people who were sick, poor, had disabilities, the young, elderly, prisoners… everyone. Always, he modeled commitment and used his special gifts of humor and basketball to spread the word of God. Another thing Uncle Ed did was lead the songfest at each family reunion.
In part one of "Going to the family reunion, or not?" I talked about preparing BEFORE going to the family reunion. Today, I want to talk about systems theory. I thought about going straight to chaos theory because if your family is anything like mine, chaos rules the day… but systems theory actually helped me make sense of the circles of life.
Bronfenbrenner's System Theory
In a systems theory perspective each individual is in a dynamic and interconnected relationship with other people and environments.

Resource: Bronfenbrenner, U. (1979). The ecology of human development. Cambridge, MA: Harvard University.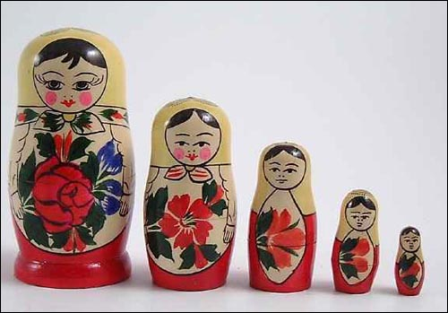 Picture nested Russian dolls where one fits inside the others. In Bronfenbrenner's social system theory the smallest system is an individual person. But everything is connected; what influences one circle influences all the others. The circle of our family's culture, traditions, likes, dislikes all influence who we are and what is valued. It is as important as the common blood or DNA.
The Micro System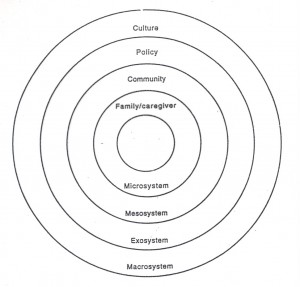 Each aunt, uncle, cousin, grandchild in my family has their own experiences and beliefs about people who are different. Based on their ages and backgrounds they could have few or many inclusive experiences. Fortunately, Aaron is a part of the family, because of his blood, he belongs. They try to see the good things in Aaron, my son who has the label of autism. When we get together for family gatherings, they each try to fit Aaron into the environments and accommodate his needs.
Some of my cousins are teachers, counselors, business owners, nurses… Some work with people with disabilities in a professional capacity while others have had personal experiences with people in their communities. My sister recently had some hip surgery and applied for a Handicapped Parking permit–as we are all aging, we are all starting to understand the ramifications of being "temporarily able bodied." Each individual and each family member shares those common experiences, but just as I am learning about growing older from my seniors and elderly relatives, many are learning about inclusion from Aaron.
Macro System
Considering people with severe disabilities have suffered abuse, neglect, and been ostracized from their family (tribe) being given the opportunity to participate with the family is a gift. I am thankful. I also hope we give positive modeling of what to do, how to act, how to accept others who are different.
Most of my relatives go out of their way to try and help Aaron in the swimming pool, bring him a drink, and help wipe up a mess if he spills something–instead of blaming him. I think some of this was learned from my Uncle Ed.
Uncle Ed always "Got it." He was a pioneer for inclusion before inclusion was a word. At our family reunions Uncle Ed always brought people from the neighborhoods where he was pastor. There would be kids of all different religions, races and cultures. He was teaching about diversity as we all got in line for the potato salad and hot-dogs, as sure as he was teaching about God and God's children. When Uncle Ed led the traditional singing, we didn't sing special religious songs only our family would know, we sang camp songs where everyone could join in: "The bear comes over the mountain" or "The food in the army, they say is mighty fine" and school fight songs.
Uncle Ed was teaching about inclusion, about belonging and the power of a face to face connection. And he lead the way to change attitudes through his embedded social systems.
The last song before the picnic ended was always, "He's got the whole world in His hands." Uncle Ed never offered to lay his hands on Aaron and ask for God's cure. He never tried to "counsel" our family about accepting God's will. He never gave a sermon on how Jesus cured the blind man. Never once did he tell me I was chosen.
But like Tom, Tommy and I were trying to model, Uncle Ed just accepted Aaron the way he is, saw his beauty and gifts. Didn't try to change him or us. In the many choruses of "He's got the whole world" we joined hands and sang about how "He's got the mothers and the fathers, the sisters and the brothers…He's got the little bitty children… and He's got Aar-on in His hands, He's got the whole world in His hands."
I know sharing pictures and snapshots of family reunions is boring as can be, but I hope this story shows why our family and extended family are such an important part of who we are. I am so thankful Uncle Ed was a part of my family, a part of my social system. I am hoping my family will also say the same about Aaron.
What about your Circles?
Does systems theory make sense to you? Who are the people/groups/clubs in your circles? How do these impact your life?
Tell us about your social systems, how is your family changing?
Keep climbing, onward and upward.
All the best,
Mary