Posts Tagged 'special needs'
Love–NOT Labels
With families, "Love" is all that matters–no matter what, unconditionally.
The love we feel for our child, our baby, our sister, brother, son, daughter can never be replaced by a medical or psychological term some professional puts on a chart. So in isolation, it shouldn't matter if the diagnostic label is "retarded" or "intellectual disability."
As we spoke about in the post Circle of Life (click here) each person and family is part of a much larger system and what affects one part of the system affects all the parts of the system.
And that is where the chosen word and label does matter–big time.
Yesterday in the related post, "Retarded"–no more (click here) I briefly wrote about Rosa's Law and showed one of the press releases/alerts sent by parents and advocacy groups to change the words, "retarded" to "intellectual disability." Some of these advocates are professionals who make their living working with people with disabilities. But like most of the legislation of the last 60 years, Rosa's Law came about through the vision and hard work of families.
If you want more information on what parents have accomplished visit Parallels in Time I (click here) and II (click here)
I was going to summarize Senator Mikulski's Statement on the Introduction of Rosa's Law (below) but since her words still make me cry, I figured you'd want to see the "primary research document". Especially check out Nick Marcellino's comments. And get the Kleenex handy.
This is just one family who went to one more meeting, talked with one more politician–but this time, with a lot of hard work and uniting allies, they changed the system. Maybe it is just a small step in the scheme of things. There are still thousands of people with intellectual disabilities and their families who do not have the services they need. But, this small step gives us all hope that our democratic system works. An individual can make a difference.
It amazes me that in an election year when politicians can't agree on anything, they unanimously voted for this law. That alone makes it memorable.
Comments Please:
What do you think about Rosa and her family? Have you ever been an advocate for change? How, When, Why? How did it feel?
How is this press release different than the one in Retarded–no more?
Keep Climbing: Onward and Upward
All the best,
Mary
Rosa Marcellino and her family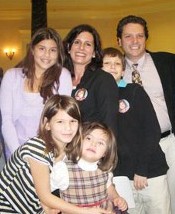 FOR IMMEDIATE RELEASE:
17-Nov-2009 CONTACT: Press Office
202-228-1122

Senator Mikulski's Statement on Introduction of Rosa's Law

WASHINGTON, D.C. – U.S. Senator Barbara A. Mikulski today introduced Rosa's Law, a bill that will eliminate the terms "mental retardation" and "mentally retarded" from the federal law books. U.S. Senator Michael B. Enzi (R-Wyo.), Ranking Member of the Health, Education, Labor and Pensions Committee, is the Republican sponsor of the bill.

Senator Mikulski's statement as delivered on the Senate floor follows:

"Today I rise to introduce legislation that I'm calling Rosa's Law. This bill began by listening to the people in my own state. It began when a mother told me a compelling story about her own daughter, her family's efforts to give her daughter an opportunity for an education and to be treated with respect and with dignity. And at the same time, it began with the advocacy of not only she and her husband, but of her entire family, including her 14 year old son Nick who testified at the Maryland General Assembly.

"As a result of their effort, I'm introducing Rosa's Law. Before I say more about the bill, I want to tell you about the family. I want to tell you about the Marcellinos, Joseph and Nina who are parents to four children – Nick, Madeleine, Gigi and Rosa. They're in the gallery now watching this and I wish you could have been with me in my office as I met with the parents and talked with the family.

"Last year, at a roundtable on special education, I met Nina Marcellino for the first time. She told me about her daughter Rosa who was labeled at her school some years ago as mentally retarded. She told me about the stigma, the pain, and the anguish it caused both Nina and her husband, Rosa's brother and sisters as well as the Rosa herself.

Nina and Joseph reached out to their local disability advocacy organization, The Arc, to see what could be done to change the law. They then reached out to a member of the Maryland General Assembly, a wonderful Representative named Ted Sophocleus. He introduced legislation in the General Assembly that would change the word 'mentally retarded' and substitute it with the phrase 'an individual with an intellectual disability.'

"That's why I stand on the Senate floor today to introduce, at the request of the family, a law on behalf of this little girl and on behalf of all of the children of the United States of America who are labeled, stigmatized and bear a burden the rest of their lives because of the language we use in the law books.

"My law changes the phrase 'mentally retarded' to 'an individual with an intellectual disability' We did this in health, education and labor policy without in any way negatively impinging upon either the educational or other benefits that these children are entitled to.

"When it came time to bring the bill before the General Assembly, the family was there. And who spoke up for Rosa? Well, her mom and dad had been speaking up for her. Her brother Nick and sisters Madeline and Gigi had been speaking up for her. This wonderful young boy, Nick, at the time 13, this is what he said to the Maryland General Assembly,

'What you call people is how you treat them. What you call my sister is how you will treat her. If you believe she's 'retarded' it invites taunting, stigma. It invites bullying and it also invites the slammed doors of being treated with respect and dignity.'

"Nick's words were far more eloquent that day than mine are today. I want to salute Nick for standing up for his sister, but I think we need to stand up for all because in changing the language, we believe that it will be start of new attitudes towards people with intellectual disabilities. Hopefully, people will associate new words with the very able and valuable people that go to school, work, play soccer or live next door.

"Eunice Shriver believed in this when she created the Special Olympics. She knew that special needs children need special attention but they can do very special things, and look what she started. I had the opportunity to talk to Rosa's mom Nina while this bill was under consideration by the Maryland General Assembly. I promised her then that if that bill passed the Maryland legislature, I would bring it to the floor of the United States Senate.

"Well, it passed unanimously. Governor O'Malley has signed it and today I stand before you introducing the legislation. It makes nominal changes to policy in federal education, health and labor law. It simply substitutes 'intellectual disability' for 'mental retardation.' This bill will neither expand nor diminish services, rights or educational opportunities. We vetted it with legal counsel. We reached out to the very wonderful advocacy groups in this field and they concur that this legislation would be acceptable.

"This is not the first time we've updated this terminology. Our laws once referred to boys and girls as 'feeble minded.' We thought we were being advanced when we changed it to 'mentally retarded' in the 1960s. Now, 40 years later, let's take another big step and change it to 'intellectual disability.'

"This bill makes language used in the federal government consistent. The President's Committee on Mental Retardation was changed by executive order so it is now the Committee on Individuals with Intellectual Disabilities. The CDC uses 'intellectual disability,' the World Health Organization uses 'intellectual disability,' so my law makes the language consistent within the federal government.

"I've always said that the best ideas come from the people. Rosa's Law is the perfect example of effective citizen advocacy. A family that pulled together for their own and in pulling together they're pulling us all along to a new way of thinking. I want to recognize the Marcellino family who is with me in the gallery and the namesake of the law Rosa's Law pictured behind me. She is also up there today.

"I also want to take the opportunity to thank my colleagues. It was indeed an honor to represent this family. I believe that in our country people have the right to be heard and that we should listen. They have a right to be represented, which I've tried to do. And now, let's try to change the law.

"It was a pleasure to work with Senators Harkin and Enzi, the Chair and Ranking Member of the HELP Committee. I have their wholehearted support. This is going to be a nonpartisan bill. We're going to check our party hats at the door and move ahead and tip our hat to these boys and girls.

"This bill is driven by a passion for social justice and a compassion for the human condition. We've done a lot to come out of the dark ages of institutionalization and exclusion when it comes to people with intellectual disabilities. I urge my colleagues to join me in a step further. Help sponsor the legislation that I offer on a bipartisan basis. Help me pass the law and know that each and every one of us makes a difference. When we work together, we can make change."
Every day we read about good people planning charity events for people with disabilities.
I'm not sure how I feel about this.
Wait! You are wondering how I can be an advocate for people with disabilities and not just jump up and down when two caring people are trying to raise funds for people with disabilities?
Let's just say, "It's complicated."
My first fundraiser was when Tommy was an infant, Aaron was 20 months old and still not sleeping through the night. Two hours a day, I would drive them across town to Stepping Stones Center for the Handicapped. Perfect time for me to volunteer to lead the fundraiser, eh?
What pushed me into action was there were about 30 babies in the Stepping Stones program and no teacher. Sure there were amazing volunteers. But these children, who needed so much help, did not have a qualified teacher. I found that unacceptable. I could sleep in a couple years.
Community Fundraisers
The local shopping center was having their annual charity craft show. At the organizational meeting, I gave my impassioned speech, we were chosen the "designated charity" and then for the next month all the parents, grandparents, friends and neighbors of the "Tiny Tots Program" spent our free time making items for our booth. We raised about $3,000 which was then matched by the organization and an official "teacher" was hired.
Special Fundraisers
After that there were the fundraisers for The Mother's of Special Children and the Arc (formerly known as the Association for Retarded Children), and TASH (formerly known as The Association for People with Severe Handicaps) and on and on.
I met other mothers (mostly) and we had many good times, but I started asking why we had to have charity drives to fund important services other children in the community took for granted.
Regular Inclusive Fundraisers
After our court case and Aaron was finally allowed to go to public school, I got involved in the regular school PTO fundraisers. There were spaghetti dinners, White Elephant sales, Dances, Raffles, Magic Shows, Motorcycle Rides, Bake Sales, Races for… and saving boxtops, cans… It goes on and on.
I learned about inclusion (click here) and realized we didn't need a "special track team" we only needed an extra support person to help Aaron to participate in the track team events.
"Disability World" Fundraisers
This led to more committees, grant writing, working for levy's for the County Board of Mental Retardation and Developmental Disabilities as well as the regular local school district.
Other parents got to have jobs and earn money to help their families. I got to be the only non-paid person at numerous committee meetings.
Now, we did some great things that wouldn't have happened without the volunteer parents. We began an after-school club and a summer school program so our children would have something to do and not lose all the skills they gained during the school year. We started four non-profit groups and incorporated. Yes, indeedy, sleep would have to wait.
But it never ends.
It is my feeling many of these organizations spend their energy insuring their own jobs and pay and giving lip service to the support of people they are supposed to be serving.
Autism Speaks, March of Dimes… are currently under fire because one of their main reasons for existence is to raise money to wipe out people with autism and developmental disabilities. They want a cure and spend much of their funds on sending Medical Doctors to conferences and conducting research.
But what about the people who are here now? These professionals, who make good salaries, have their way paid to conferences. Parents, who volunteer, not only pay our own way–we are supposed to donate to send the doctors? Plus, their executive directors make big big bucks. When I learned what some of the executives of these charities were making–that was it.
When it is all about charity, then it is all about the person who is giving the money. When it is about a person's life and rights, it is about the person with the disabilities.
There are some large organizations who understand this, but most don't. Here's a post on my experience outside my grocery store (click here).
Everyone wants to help babies and young children
I know Aaron's life was more interesting because of my leadership and volunteer work. But now he is an adult, and there are even fewer opportunities. Babies are cute and helpless and of course we want to help. But the majority of our lives we are adults. That's 20 years as a young person and maybe 50-60 years as an adult.
So, I don't do much volunteering for charitable organizations any more.
I spend every moment of my life working directly with the people with disabilities or the caregivers on the front lines. The ones who make little more than minimum wage. The people who take Aaron to the bathroom and clean up his messes. The people who celebrate Aaron's diversity and think he's a pretty neat guy. There is no tax write-off, no non-profits. Just people who care and need resources.
Segregated Charity–charity gone wrong
I don't believe in onetime events like, "People with Disabilities Come to Church Sunday" where the church rents a ramp for the weekend (I couldn't make this up). I don't believe in Special Olympic Golf Fundraisers, when they won't let Aaron even ride in the golf cart ("Oh, honey we just raise money for these poor children, we don't actually want them on the course."–couldn't make that up either.) I don't want Girl Scouts showing up at my door saying they want to play with my child because it is Lent and they have to do penance (some day I'll share the details on that one.)
Rights–not Pity
As Joe Shapiro wrote in his classic book, "NO PITY." People with disabilities don't want to be the object of other's charity. People with disabilities have needs, but they are citizens with rights. They don't want the handicapped parking place because you are having pity on them. They want the handicapped parking place because as a citizen and consumer, they need the extra wide space so they can get out of their car. And, as an American, I'm proud our country recognizes that right to equal access.
If we really want to help people with disabilities–don't give them your dimes. Instead make room in your lives and give your love..and your friendship. That is the best gift and, I believe, closer to the Biblical definition of "charity."
Like I said, this is complicated.
Thoughts?
What are your experiences with charity models? With helping people with disabilities? What does it feel like when you are the giver? When you are the receiver? When do you feel pity? Charitable?
—
photo credit: qthomasbower
In the post: Caring Community| People First Language we talked about the power of labels, negative stereotypes and the paradigm shift of looking at all people as PEOPLE First!
Today, on Valentine's Day, I am asking you to think about how you use words:
Do my words cause Heartaches?
Do my words cause Heartsongs?
What are you doing?

WHAT are you doing?

What ARE you doing?

What are YOU doing?

WHAT THE HELL ARE YOU DOING!!!!
The same words can be said in anger or with gentle concern.
The speaker, the listener, the context of the communication, as well as the intent all make a difference.
Parents, Teachers, Coworkers, Friends, Enemies… We have all been misunderstood and misinterpreted. We have all wished we could swallow what came out of our mouths–take back our words. We have all been both aggressors and victims and have given heartaches as well as heartsongs.
HEARTACHES: "What's that mess on your shirt?"
HEARTSONGS: "I see you have paint on your shirt."
————————————————————-
HEARTACHES: "NO!"
HEARTSONGS: "Let's talk about this before you decide."
————————————————————
HEARTACHES: "Get over here right now!"
HEARTSONGS: "I need you with me."
————————————————————-
HEARTACHES: "I told you so."
HEARTSONGS: "That was harder than you thought."
—————————————————————
In the comment section, let's share some ideas on how you could make each of the following examples into either a heartache, or a heartsong?
Scenarios: Heartaches or Heartsongs.
1. Sara is eating breakfast. The bus is coming in 5 minutes. She spills her juice while reaching for the cereal.
What could you say that would cause a heartache?
What could you say that would cause a heartsong?
2. Ken wants to help his friend wash the car. He accidentally squirts him with the hose.
What could you say that could cause a heartache?
What could you say that could cause a heartsong?
3. Emily comes home from work. When asked about her day, she begins to cry and says, "Jim doesn't like me."
What could you say that could cause a heartache?
What could you say that could cause a heartsong?
By speaking with your heart, you may be able to bring out the very best in people. Give them a chance to talk. Listen patiently.
And of course, there is always the quote: "I know that you believe you understand what you think I said, but I'm not sure you realize that what you heard is not what I meant." But we'll save that for another post.
I'm wishing you a day filled with heartsongs. May you have many opportunities to give them and to receive them. Spread the love.
Keep Climbing: Onward and Upward
All my love,
Mary
Comments:
Do you have any examples of heartaches, heartsongs?
Heartaches turned into heartsongs?
Use the examples above, or share some from your own experiences.
Adapted from Project Prepare, Ohio (1995)
Helen Otten, my mom, died April 3 at the age of almost 93. I'm posting this in her memory. I'm also reminded of the importance of family.
The twelfth day of Christmas is Jan. 6th–Little Christmas, The Feast of the Magi.
Actually, it's all the Magi's fault. They are the ones credited with giving the first gifts.
Based on the number of people in line at the return desks last week, I'd say many people had problems with their gifts. (Actually I could see Mary and Joseph thinking the gold was useful, they could buy a wagon or better donkey, but what were they supposed to do with Frankincense and Myrrh. Myrrh–really????)
I know it is supposed to be the "thought that counts," but it really is much more. Gifts are a whole cultural phenomenon.
My mother is 89.
Recently she's had hip replacement surgery and has trouble shopping for herself.
Two months before Christmas she told me she wanted slippers. Slippers it is. I don't have to guess her gift. And this is great…EXCEPT
Every day for the next month she would call me on the phone (usually at 6 AM because that is when she wakes up and is thinking about slippers) and define what kind of slippers. They had to have rubber soles so she could wear them outside if she wanted. And this is great…EXCEPT
She couldn't tell me her size. It seems some Large slippers are size 8-9, some Larges are size 9-10. And the manufacture, design, model, production all make a difference.
I went to three different stores and brought her "Pair number one" on Thanksgiving. She didn't even try them on. Which actually made it easier to exchange them, which is great…EXCEPT
She really wanted black. But none of the stores made black slippers. So, I picked out some navy size 8's and 9's and 10's, and some pink (everything she owns is pink) in a size 8-9, and 9-10. And I figured I'd give her a choice. Which was great…EXCEPT
She decided she wanted slippers that weren't slip-ons. "Only the devil would make slippers with open backs" and she has had slippers that covered her whole foot, well–her whole life. And, she thinks she has ugly toes, so–none of those slippers with toe cut-outs. So, I boxed up and returned the slippers. And it was great…EXCEPT
The next three stores didn't have black or whole foot slippers. But they did have navy.
You know where this is going, right?
Yep, I rebought her the same slippers (that she wouldn't even try on) from the first round. She opened them on Christmas and said they were perfect.
So, it makes you wonder.
Was the gift really about slippers at all?
Grandma and the Thong
The picture above is from a previous Christmas. My sister Martha worked in a lingerie store and gave each of the girl cousins a pair of thongs. They thought they were nice. Certainly something practical they could use. EXCEPT
She also gave one to Grandma.
The gift became an urban legend in our family. It brought down the house.
Even though mom didn't even recognize the thong as underwear—it was the shared experience with her grandkids that made it the perfect gift.
Which again makes me wonder about gifts.
Aaron's Christmas Gift and Charity
This Christmas Aaron went to a Christmas Party sponsored by a local non-profit. These are kind folks. Many of the people with severe disabilities are the poorest people in the county and don't even have family members who can give them gifts. So, this is not only a nice gesture, it is an opportunity for these poor souls to get a little something extra.
This year the non-profit got items donated by local businesses to give as gifts. Over 150 adults with disabilities came to the Christmas Party and Dance.
There are so few recreation opportunities, many of the people put on their best clothes and showed up early. Many more wanted to come, but there was little transportation and they depend on staff–who didn't want to bother.
At the party, even though they arrived early, there were only chairs for 100 people. So Aaron and Jack, his roommate, had to stand and hold their coats.
Since Aaron has balance problems, and couldn't understand why he couldn't sit down (people were guarding their chairs) he started biting his hand and pinching others. Not good behavior at a party.
Their staff person made the sensible decision to leave (even more people were coming in the already over-crowded room). Aaron and Jack were each given a "gift bag" at the exit. Which was nice… EXCEPT
The gift bag had a pair of donated slippers. Yea! I would be laughing too, slippers… EXCEPT
The slippers were size 11.
Aaron wears a size 9.
Now, no one with balance issues is safe wearing a pair of slippers two sizes too big. And, unlike my mother, these slippers were charity—donated. So there was no gift card or receipt, most people had no dutiful daughter, family or staff who cared to make an exchange.
And, Aaron couldn't understand why anyone would give him slippers he couldn't use. So he just carried the slippers around the house—making me crazy that good, kind people could be so dumb. After all who is the "intellectually challenged" person here? Did they think they wouldn't notice the slippers didn't fit? Or all people wear size 11?
Is "Just getting something to open" the point? Even if they can't use it?
What is Charity?

If you plan a charitable event and are giving gifts:

Don't

Don't just arbitrarily pass out slippers, or coats, or T-shirts with misspelled words.

Don't give radios with no batteries—because they want to use the radio that minute and staff often won't be bothered with batteries.

Don't give them things you couldn't sell or are broken.

Don't make your interaction a one-time-event.

Do

Do have a party with chairs and refreshments for everyone.

Do get to know people as individuals

Do think about what YOU would want to get

Do think about normalization, age-appropriate entertainment and gifts.

Do think about transportation and staff and family members
Do consider that the shared experience, like Grandma getting the Thong, may be the best gift ever—no excepts.
Keep Climbing: Onward and Upward
All my best,
Mary
Comments:
Okay, best/worst gift stories? Am I just being an ungrateful jerk? What is the role of charity? Is it appropriate to give broken, torn things to Goodwill/charity? Only 258 shopping days until Christmas????