Special Education Inclusion
Dr. Annie Abram interviewed me about Special Education Inclusion on her weekly blog talk radio program: "Ask Dr. Annie Abram."
Dr. Abram talks about "Parenting Across Generations" and has been doing several topics on autism.
Check it out. Tell me what you think in the comments section. It really has been a journey for Aaron–a person with a disability, for me–the parent of an adult with a disability, and for our family. And, the choices and decisions we made when Aaron was young definitely influence our choices and decisions now that he is an adult. In my heart I know we took the road less travelled and it demonstrated to the world that inclusion is a civil right–and Aaron is a full citizen.
Inclusive Education
Expecting Academic Achievement in General Education Curriculum
April 25, 2013
2-3:30 p.m. ET
This interactive training session provides teachers with a structured time to think and plan to enhance their students' participation in the general education curriculum. Many teams have become outstanding supporters of inclusive education. However, what are the students' goals in that setting? How much involvement do they have with the general education curriculum? What are the goals for the student's academic achievement? Have we fully considered all the ways the student can attain access to and demonstrate an understanding of the general education curriculum?
Presented by Stacey Skoning, University of Wisconsin Oshkosh, and Denise Clark, University of Wisconsin Oshkosh.
TASH Members $50 (Individual) $80 (Group)
Non Members $70 (Individual) $100 (Group)
This is an inexpensive way to get the latest information for an inservice or parent group.
Check out TASH for more information:
• Thriving in Transitions: Self-Directed Living, It's Never Too Late! (Community Living)
Thursday, May 9 @ 1 p.m. ET
• Building and Sustaining our Communities through Time Bank Exchange (Community Living)
Thursday, May 16 @ 2 p.m. ET
• An Overview of Person Centered Planning: The State of the Art (Community Living)
Thursday, May 30 @ 2 p.m. ET
———————————————————–
Free Ideas for Inclusive Classrooms
If you want inclusive ideas for your child or your classroom, Paula Kluth is the best. Sign up for her blog. Paula Kluth
As always, your thoughts matter.
Keep Climbing: Onward and Upward
All my best,
Mary
Other Blog Radio Interviews:
When Schools Say NO to Inclusion
Do you start out the day asking, "What is my purpose?"
Sometimes that question will motivate me. Sometimes it is whispered in anger or despair; sometimes as a prayer for direction. But I wonder how I would ask about my purpose in life– if I could not speak with my voice. Like most people, I take so much for granted.
How would I feel if no one ever listened or thought I had anything important to say?
Perhaps you have already seen these videos on YouTube, but they are new to me. In the comments I hope you will share what you think, did these videos communicate new ideas, new questions, rock your world, move you to actions?????
Being able to communicate is like winning the lottery.
We usually think about winning money when we think about winning the lottery. But what would be more precious than money?
Andrew is a 13 year old young man who has the label of autism. He is communicating by pointing a pencil to a letter stencil board made by his grandfather. Andrew and his mom have been communicating this way for over 4 years. Notice how they pass the pencil as each takes a turn communicating.
Andrew: Non verbal autism + communication Part 1
Part 1: Script
Mom (M): I thought it would be interesting if you could talk a little bit about the difference that being able to communicate has impacted your life—like if you could not communicate and now that you can communicate.

Andrew (A): Yes. Now that I am using the letter board my life is having more meaning.
Since I was a little boy what I really wanted was to be treated as a normal boy
with pieces of my sensory system out of functioning.

M: Can you talk some more about that?

A: All autistics think

What is my purpose if no one thinks I can learn?

Then my mom found I am learning more… (con't in part 2)
Part 2
Part 2: Script
A: …then she thought.

M: This is good keep going. This is really good.

A: You see all autistics have motor issues that limit their ability to communicate.

M: Keep on. You need to move your elbow, pick it up.

A: So once I had a new way to communicate

M: Keep going.

A: I felt like a kind of Lottery Winner in Life.

M: That's a good way to put it.

A: So now I'm hoping to graduate from high school and lead a fulfilling life.

M: So, if you had any words of wisdom for parents and your teachers, what would you say?

A: See each individual as a respecting individual who deserves to have an education and live in their communities as productive citizens.
.
The Right to Communicate
The right to communicate is the means by which all other rights are realized and is, in itself, a basic human right. (TASH resolution on the Right to Communicate.)
When I watch these videos, I am struck with how much we can learn from people with autism. The classic definition of autism talks about "difficulties in social interaction, social communication, and stereotypical behaviors." But as Bob Williams wrote so brilliantly in his poem "What if," maybe the difficulty in communication is our problem.
There have been many breakthroughs in communication showcased by The Wretches and Jabberers movie and new technology like the IPad and new applications.
Call to Action
My son Aaron used to type when he was in high school. Then, he graduated and his facilitator moved away and he didn't want to type with me, his mom. But now we're taking action. We hope to begin Aaron's augmented communication again this month. It's time.
We're going to be getting an IPad and some applications. If you have any advice, let me know.
Share your thoughts:
Some people still think this is all a hoax. Some people think it is a miracle.
What do you think?
What did you think of the videos of Andrew and his mom? Do you think Andrew was really communicating? Do you think Andrew is smart? Was his mom manipulating him? Is there any person you know who might be able to better communicate with some technology?
Do you agree that the right to communicate is the most basic of human rights?
If you couldn't talk, would you think being able to communicate was like winning the lottery?
Keep Climbing: Onward and Upward
All my best,
Mary
Related Posts:
Wretches and Jabberers| "A lifetime of trying to get in touch"
More than a Graduation Speech: Jeremy Sicile
Wretches and Jabberers| A jab to the heart
Wretches and Jabberers Review| A Jab to the Heart
Last Saturday, Aaron and I went to see Wretches and Jabberers. The director of Aaron's new day program at Goodwill/Easter Seals, Miss P., went with us.
The movie raised so many emotions, lessons, buried feelings and experiences I literally couldn't write or even talk about the movie for a couple days. The movie was a Jab to my heart and my memories. Here are a few of my thoughts:
Past Experiences with FC
In 1993 wrote about our story in First Hand: Personal Accounts of Breakthroughs in Facilitated Communicating (FC) edited by Anne Donnellan and recently (2011) in Real People, Regular Lives: Autism, Communication and Quality of Life by Sally Young. That is a very long story full of joy, sorrow, despair, hope and many shattered dreams.
Current Experiences with FC
The good news is when we got home from the movie, I sat with Aaron at the computer and for the first time in probably 10 years he typed with FC (Facilitated Communication).
"I OK" "Hi Mom" –just a couple letters–but it was a start.
Even better news is Miss P. said she would invite the technology people at Easter Seals to work with Aaron and see what kind of communication system we can set up.
Because Miss P. cared enough to give up her Saturday and go with us to Wretches and Jabberers, we have a common framework to begin our time together. There is no value I can put on this. It is priceless and HOPEFUL with a capital H.
Wretches and Jabberers Movie Review
There are two moments from the movie that are keeping me up at night.

1. Tracy is advocating in the Senator's office about his concerns that budget cuts will mean he will remain homeless and reduce his support services. He feels a "tidal wave of emotions."

2. At the end of the visit in Japan, Miki and Naoki Higashida say goodbye to the group and get into the elevator.
Tracy the Advocate
Most self-advocates, parents and professionals can understand Tracy's wild emotions when talking about not getting the services he needs and his fears of getting the critical support system of his facilitator and support staff cut.
Unfortunately, the US Congress announced it is cutting Medicaid by 20%–yep, rather than tax the rich they are going to cut the programs for people with disabilities, the poor and the elderly–people like Larry, Tracy and Aaron. The Arc sent this alert (click here).
The nightmares and angst Tracy felt is the same that makes me wring my hands, stay awake at night…. I join Tracy in jumping up and down in frustration.
Tracy's chance of getting enough funding so he won't have to be homeless is worse now than when the movie was filmed. God Bless Us All as we face these life/death cutbacks.
Miki and Naoki Get on Elevator
In Japan, Naoki was one of the young people who type with support. (See picture above.) His Mom, Miki, coordinates the support system for her son. She is his facilitator, his personal care attendant, his friend and companion, his teacher, his speech/language/communication partner and she has had little support.
In the US, at least for the present, we have IDEA and mandatory school programs. But things are different in Japan, different in many other cultures.
This heroic Mom has had to research Facilitated Communication and everything else. There weren't a lot of professionals in the film who were helping her. She seemed to be teaching the professionals and seemed very much alone.
As the presentation was over, and Tracy, Larry and the team were getting ready to go back to the US, the Mom gathered up her son and was getting into the elevator.
She waved, she smiled, and then… there was a moment when she choked up. I'm not sure if there was an actual tear (because my tears were filling my eyes).
There was a "look" in her eye. It said, "This meeting was wonderful. I finally found people who understand. But now it's over. They are leaving the country and Naoki and I are back to being on our own."
Parents know that "look"
Doug Biklen, one of the producers of the film, and I were on the TASH board together. For many years, I went to the TASH conferences and met fabulous leaders, educators, researchers and other parents who were working for people with severe handicaps. Together we were changing lives. We were doing important work and the lives of people with severe intellectual disabilities were full of hope and promise of an inclusive future where people could live, work, go to school, have families and friends in their home communities.
Each year, my friends and I would sell buttons, raise money, beg, borrow, and barter our way to spend a long weekend with these experts and advocates at the conference. We were up from dawn to late at night learning everything we could–picking the brains of anyone who would listen. It was exhilarating; we would gather ideas and hope. Then the conference would be over. We would give our farewell hugs, get into the elevator, and begin the trip back to our homes and the status quo of the lives we left behind. We had to become the warriors for our children. If we didn't do it, no one else would.
Because of what we experienced at the conference, we were different; we had new ideas and hope. But there was no one locally to hold our hands. There was no one who would stand by us and help. There was no one who even knew what we were talking about. Almost none of the professionals who had the power to make change were helping us. When we accomplished something for our children, the "researchers" would include us in their books and scholarly papers, but mostly we were abandoned to make things happen by ourselves.
I know the look in Naoli's Mom eyes. I have seen that look in my own eyes. I have seen the look in other parent's eyes.
Here is a short video of Larry and Tracy at the TASH conference in Denver
Conclusion
Wretches and Jabberers is a powerful movie. Be prepared to feel strong emotions. Expect to learn new things aWretches and Jabberers Movie will be shown in another 100 cities around the US. Get a ticket and let us know what you think.
Keep Climbing: Onward and Upward.
All my best,
Mary
Due to Popular Demand, Wretches and Jabberers will be seen in 100 cities:

May 12th, 2011 at 7:30PM

The first cities have been announced in our "100 Cities. One Night For Autism." Event being held on May 12th, 2011 at 7:30pm! Be sure to check out future editions of our newsletter for specific theaters and additional cities! Here is the list, in no particular order:
Derry, NH – Bijou, OR – Annapolis, MD – Birmingham, AL – Fort Collins, CO – Athens, GA – Des Moines, IA – Moundsview, MN – Asheville, NC – Allentown, PA – Greensburg, PA – Columbia, SC – Nashville, TN – Knoxville, TN – West Jordan, UT – Midlothian, VA – Eau Claire, WI – Grand Rapids, MI – Columbus, IN – Lansdale, PA – Washington, DC – Chicago, IL – Memphis, TN – Oakdale, MN – Lincoln, NE – Pickerington, OH – Sheboygan, WI – New Berlin, WI – Rothschild, WI – East Brunswick, NJ – East Windsor, NJ – West Palm Beach, FL – Dedham, MA – Farmingdale, NY – Providence, RI – Huntsville, AL – Plainfield, IN – Baton Rouge, LA – Kalamazoo, MI – Louisville, KY – Ypsilanti, MI – Toledo, OH – McCandless, PA – Fairfax, VA – Bakersfield, CA – Honolulu, HI – Lafayette, LA – Whitter, CA – Laguna Niguel, CA – Sacramento, CA – Colorado Springs, CO – Durham, NC
RELATED POSTS:
I've spent a lifetime trying to get in touch| Wretches and Jabberers (2)
The Right to Communicate (2)| We are the experts
Remarkable Parents and Advocates who Never Give Up
Please add your thoughts in the comments:
Do movies like this make people with autism more human? Like Tracy, have you ever felt, "a wave of emotion"?
The Right to Communicate
BACKGROUND

The world is a hostile place for people who can't talk with words. Many people don't listen to body language, signals or even temper tantrums. They often see "behaviors" as something to extinguish instead of a person's desperate attempt to communicate.

Behaviors = Communication

TASH, an organization of professionals, advocates and parents, passed a resolution written by Bob Williams about the right to communicate: even if it means the person takes a longer time to give their message; uses body language or augmented devices; and especially if they need another person to help facilitate the message. Here is a link to their resolution:

The right to communicate is the means by which all other rights are realized and is, in itself, a basic human right. (TASH resolution on the Right to Communicate.)

Anne McDonald – Right to Communicate

Communication falls into the same category as food, drink and shelter – it is essential for life, and without it life becomes worthless. (Anne McDonald)

I spoke about Anne McDonald in an earlier post on Climbing Every Mountain entitled: Until Eternity: Anne McDonald. Anne was a pioneer who spent 14 years in an institution–mainly because she couldn't communicate. Read her inspiring story: The Right to Communicate.
WRETCHES & JABBERERS is a poignant narrative directed by Academy Award winner Gerardine Wurzburg that follows two men with autism, Tracy Thresher and Larry Bissonnette, as they embark on a global quest to change attitudes about disability, intelligence and communication.
Larry Bissonette is an award winning advocate and "outsider" artist. For more information on the Wretches and Jabberers official blog and examples of Larry's written and visual art. Check out: Bissonette's blog and biography.
About W & J name
The origin of the film title, "Wretches & Jabberers" emerged in Finland from conversations by Larry, Tracy and Antti (a friend).
As the group had lunch at a sidewalk cafe, Antti humorously declares the world is divided into "Wretches" – those with limited speech – and "Jabberers" – those who can speak freely.

The next day at the conference, Antti asks the audience to "dispel the darkness around us poor wretches. Take us for real people. Don't sideline us."
The video Wretches & Jabberers is about the life-sustaining power of relationships–the personal connections people make through communication. It also vividly demonstrates the power of personal assistants and communication partners.
Official Trailer of W & J
Soundtrack for W & J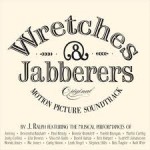 About W & J Soundtrack
This limited edition CD features 20 original songs written and produced by J. Ralph in collaboration with award winning artists: Antony, Devendra Banhart, Paul Brady, Bonnie Bramlett, Vashti Bunyan, Martin Carthy, Judy Collins, Lila Downs, Vincent Gallo, David Garza, Ben Harper, Scarlett Johannson, Nic Jones, Norah Jones, Leah Siegel, Carly Simon, Stephen Stills, Ben Taylor and Bob Weir.
All profits from the sale of this Limited Edition Soundtrack helps promote the message of W & J. and people with autism. Click here if you are interested in purchasing the soundtrack.
Sensory Friendly Films
Some people with autism have problems going to a typical theater. Some families are reluctant to take their family member for fear they will make noise and disturb other patrons and they will be embarrassed. Based on a request from a parent, the AMC Movie theatres developed a partnership with the Autism Society to promote sensory friendly film experiences in their theatres.
AMC Sensory Friendly Films:

Auditoriums show new releases without the pre-show advertisements or movie trailers.

* The house lights in the auditorium are turned up,

* The sound turned down.

* Guests are invited to get up, dance, walk, shout and sing.
WRETCHES & JABBERERS will have the AMC Sensory Friendly Films program. For a list of locations near you as well as Larry and Tracy's speaking schedules (click here).
"We are each an individual in our own way–not a label."

Life is what people make it but without community it is dark and dismal. . . . The community begins with communication."

Tracy Thresher, self-advocate and documentary film star who types and speaks to communicate (Wretches and Jabberers).
Resources:
For additional stories about people who talk in different voices and different ways visit EveryoneCommunicates.org
SPEAK UP! Add you voice in the comments.
Do you agree with Tracy that a "community begins with communication?" Are you a "Jabberer"? Will you participate in seeing the movie, buying the soundtrack, or inviting Tracy and Larry to speak?
Keep Climbing: Onward and Upward.
All my best,
Mary