People First Controversy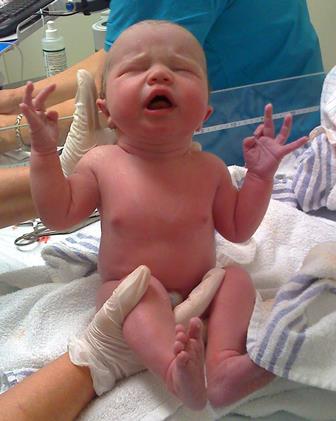 Background:

There is controversy in the disability community about the use of People First or Person First language.

I've written several posts about People First language:

*Stigma and segregation caused by labels like "mental retardation" and,

*Challenge to bloggers to use People First language.

Some self-advocates on the Autism Spectrum disagree They feel parents want to deny "autistics" and "aspies" their unique voices. They say parents only want to destroy autism and cure their children.

I am proud to support Rosa's Law and advocate for People First Language. Perhaps these personal stories will explain.

I'm going to start and end with "Wheelchair Becky" but also share some stories about the past history of people with disabilities, my son Aaron, myself, and my hope for the future.
Is People First Language important for "Wheelchair Becky"?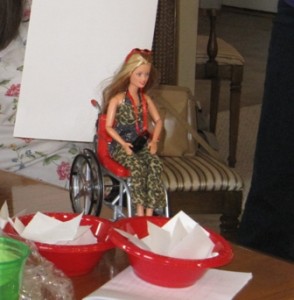 In a previous post: Building Community | Wheelchair Becky vs. Flat Stanley, I wrote about the way the Mattel Company thought "Wheelchair Becky" and "Black Barbie" would teach children about diversity and tolerance…and how it backfired.
I think People First language is part of the solution. If you disagree, that's okay. It's part of celebrating diversity.
Is People First language important for Aaron?
Aaron is my son's name.
He has been depersonalized, reified and labeled by doctors, psychologists and other professionals as autistic, cerebral palsied, DD, MR, sensory deficit, movement disorder, severe/profound….
In the precedent setting Roncker case, the school psychologist testified under oath that Neill Roncker and others (like Aaron) had such low IQs "they wouldn't know the difference between sitting next to a real person or sitting next to a rock." So segregating them in separate schools with their own kind would make no difference. She considered their education a waste of school resources. Many people still agree with her.
So, I feel strongly People First language is important. Aaron is a person first. Others can give him labels. Some are medical and diagnostic but others are cultural: brother, son, uncle, cousin, friend, neighbor, patient, consumer, ….
This has nothing to do with wishing Aaron was cured. This is not denying the "autistic" culture. This has nothing to do with "disability pride." It has everything to do with survival.

People First language reinforces the moral argument that people with severe disabilities are people and have a basic right to exist. A right to breathe, to be a member of the human race, to live with our families, go to neighborhood schools and community activities–rather than live in institutions.
Check out Parallels in Time history of people with disabilities It is filled with the abuse of those basic human rights. The more we know about our history, the more we understand the need to protect our rights to "life, liberty and the pursuit of happiness." This is a daily challenge as we fight for caring staff, decent living conditions, health care, opportunities to be safe and belong to our families and communities. There are many people who see only the disability–and think that means we don't need the same care and support–we are not really citizens, not really human.
Aaron is a "person" with wants, needs, likes and dislikes like everyone else. He is Aaron, that unique PERSON whom I love. He is Aaron a citizen with rights.
As I look at my life as a parent, advocate, teacher and friend to people with disabilities, I find I have excluded myself from my community. Yea, me–the advocate for inclusion.
Is Mary a Person First?
All mothers understand this conundrum. Especially when your child is so vulnerable. I've spent many years hanging around people working for the civil rights of people with disabilities i.e. Mothers of Special Children, Special Education Parent Groups, Arc, Autism National Committee, TASH…. I am a member of Disability World. Maybe not a primary consumer, but certainly a secondary consumer.
At some point, I realized I had to reclaim my own personhood. My personal resolution to rejoin the mainstream of my community included finding writers' groups.
OVRWA
Fortunately, I found the Ohio Valley Romance Writers of America (OVRWA) in my community. These talented women have become more than mentors, they have become friends. I learned almost every one of them has a PEN Name, some have more than one.
Men with Pens
Men with Pens has also been a terrific community for beginning writers and bloggers. I've met James Chartrand who also wrote about using Pen Names and Pseudonyms.
Positive Solution: Writer's Groups and Pen Names
So, it occurred to me: What if our stigmitized "Wheelchair Becky" started to include herself in these writing communities? After all, she'd graduated from the high school yearbook committee, right?
What if "Wheelchair Becky" chose her own Pen Name, became her own person, and like Flat Stanley started to integrate herself into the community?
Pen Names
Urban legend says one way to pick your Pen Name is to:
1. Write down the name of your first pet.
2. Write down the name of your street address when you
owned that pet.
I consulted with "Wheelchair Becky" and she agreed to make this into a community-building activity at the OVRWA holiday party.

Everyone wrote their pet's name and put the papers in one red dish.
Everyone wrote their street address and put the papers into another dish.

Then "Wheelchair Becky" with the help of a friend, chose one name from each dish and VOILA—

Smokey Woods was born.
How do we build an Inclusive Community?
In the tradition of Flat Stanley and many writers, Smokey Woods began to make friends and include herself into the community. Here (at the head of the table) she is toasting in the New Year with our family. (BTW: She doesn't eat much and is a cheap drunk.)
Here my precious granddaughter is playing with Smokey Woods the romance writer.
Smokey Woods is a doll, a toy. Smokey might use a wheelchair to get around, but she has a name.
My granddaughter represents the future. For Aaron, for me, for all people with disabilities. She will see people like Smokey in her classes and community. When she watches Glee on TV, she sees Artie singing and dancing. He also uses a wheelchair, but Artie has a name–and it doesn't start with "wheelchair."
Names matter. Aaron is Aaron. Mary is Mary.
I'm not promoting People First language because I am looking for a cure. I'm looking for survival and ways to prevent the abuse and segregation of the past. I'm looking for community inclusion.
For Aaron.
For myself and my family.
For all the next generation of little kids who will be learning about diversity by playing with dolls and watching TV.
I also think Mark Twain, Dr. Seuss and all the other writers who use Pen Names would approve.
Keep Climbing: Onward and Upward
All my best,
Mary and Smokey
Your Turn:
Did this make sense? Are there important reasons to use People First Language? Can we learn more about community inclusion and what it means to be a real person by looking at our language and the names we call each other? Do we need to study the past so we can move forward? In the comments please share your ideas.