This is the second in a series of posts to explain some of the basic ideas of inclusion and normalization.

The first was from one of my heroes Norm Kunc. Norm Kunc| What's Your Credo?

If you find these useful, I hope you will comment and then share them on Facebook, Twitter and your other social media. Thanks. Mary
Words and labels make a big difference in our lives. How you answer this question can make all the difference for a person you love.
"Disability" or "Handicapped"?
Do the words disability and handicapped mean the same thing?
The short answer is NO. Disability and handicapped do not mean the same thing. And the differences are important.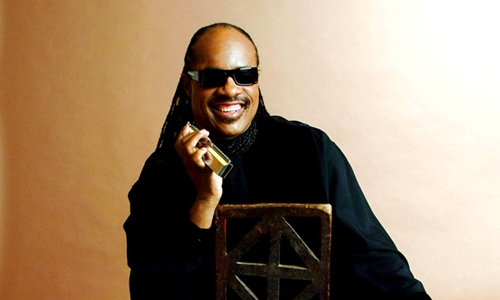 Is Stevie Wonder handicapped?
Does Stevie Wonder have a disability?

"A DISABILITY refers to a reduction of function or the absence of a particular body part or organ."
So YES, Stevie Wonder, who is blind, would qualify as a person with a disability.
A disability is usually a lifelong condition: autism, an intellectual disability (the new term for mental retardation), cerebral palsy, or being deaf or blind….
Does Stevie Wonder have a handicap?
"A HANDICAP is viewed as a disadvantage resulting from a disability that limits or prevents fulfillment."
Does being blind prevent Stevie Wonder from singing or achieving personal fulfillment as an entertainer? NO. So Stevie Wonder, though he has a disability, does not have a handicap.
Does Stevie Wonder need support? Of course. If Stevie Wonder did not have a personal assistant or any of the other modifications and adaptations he needed, then he might be handicapped.
See the difference?
Terrence Parkin swam in the 2000 and 2004 Olympics, winning a Silver Medal for South Africa. Does he have a disability? Yes, he is deaf. Does he have a handicap? Not as long as they add strobe light signals to the usual auditory buzzer to start the race. If however, the committee didn't agree to add the strobe lights, then Terrence would have been handicapped and unable to participate in the Olympic Summer Games. Being handicapped can depend on the attitudes and social construction of the culture.
Disability is socially constructed
Like many people my age, I have trouble reading small print, (Disability). If I lived in a society where there were no books, or it was against the law to teach women to read, it might not matter if my eyesight was as sharp as it was when I was younger. However, in my culture, so many people wear glasses there is no stigma attached to having the disability of poor eyesight. So, I do not have a handicap. If I use a wheelchair and the building is accessible, I can still have a disability, but I can go to the grocery, do my banking… and not be handicapped. (I hope this makes sense. We will talk more about this in a future post.)
Why is this important?
If you or someone you love has a disability, it is not the end of the world. Even though there might not be a medical miracle or cure at this time, the disability is just a disability. No one wants to be different than anyone else. No one wants to have a harder time doing things than other people, but with the right supports it is possible to have a fulfilling and satisfying life, and not be handicapped.
This is a message full of hope. Robert Schuller says, "Look at what you have left, not what you have lost." Physical, Occupational, Speech Therapists, Teachers, Counselors, as well as family members, friends and neighbors can look at their attitudes toward a person with a "disability" and rather than get stuck on something they can't fix, instead spend their energy on creating an inclusive environment that is accessible for all of us.
This is our call to action: We can each think about what we can add, subtract or change to the environment to give a person with a disability the support they need so they will never have to be handicapped.
In the comments tell me what you are thinking. Do you have a story to share? How are you making your child or loved one less handicapped?
Keep Climbing: Onward and Upward
All my best,
Mary
Reference:
Bauer and Shea (1997) Special education: A social systems perspective. Brown and Benchmark: Chicago.p. 12.
————————————————————-
Just learned from Katie Snow of Disability is Natural:
LANGUAGE CHANGE!
Thanks to the hard work of the Advocacy Leadership Network (ALN) of Hamilton County (Ohio) DD Services, the Hamilton County Board of Commissioners officially resolved that "accessible" will replace "handicapped" on all new and replacement signs in the county! ALN, composed of leaders who have disabilities, had previously been instrumental in having the phrase "mental retardation" removed from state laws in Ohio.
For anyone who buys gifts for a person with autism or a disability, here is a fun twist on the classic poem which shares some of the reasons it is so difficult to find the perfect gift.
Cindy Waeltermann, is the founder of AutismLink and gives us permission to reprint her poem on behalf of her two children who are adults with autism.
Autism Night Before Christmas

by Cindy Waeltermann

Twas the Night Before Christmas
And all through the house
The creatures were stirring
Yes, even the mouse

We tried melatonin
And gave a hot bath
But the holiday jitters
They always distract

The children were finally
All nestled in bed
When nightmares of terror
Ran through my OWN head

Did I get the right gift
The right color
And style
Would there be a tantrum
Or even, maybe, a smile?

Our relatives come
But they don't understand
The pleasure he gets
Just from flapping his hands.

"He needs discipline," they say
"Just a well-needed smack,
You must learn to parent…"
And on goes the attack

We smile and nod
Because we know deep inside
The argument is moot
Let them all take a side

We know what it's like
To live with the spectrum
The struggles and triumphs
Achievements, regressions…

But what they don't know
And what they don't see
Is the joy that we feel
Over simplicity

He said "hello"
He ate something green!
He told his first lie!
He did not cause a scene!

He peed on the potty
Who cares if he's ten,
He stopped saying the same thing
Again and again!

Others don't realize
Just how we can cope
How we bravely hang on
At the end of our rope

But what they don't see
Is the joy we can't hide
When our children with autism
Make the tiniest stride

We may look at others
Without the problems we face
With jealousy, hatred
Or even distaste,

But what they don't know
Nor sometimes do we
Is that children with autism
Bring simplicity.

We don't get excited
Over expensive things
We jump for joy
With the progress work brings

Children with autism
Try hard every day
That they make us proud
More than words can say.

They work even harder
Than you or I
To achieve something small
To reach a star in the sky

So to those who don't get it
Or can't get a clue
Take a walk in my shoes
And I'll assure you

That even 10 minutes
Into the walk
You'll look at me
With respect, even shock.

You will realize
What it is I go through
And the next time you judge
I can assure you

That you won't say a thing
You'll be quiet and learn,
Like the years that I did
When the tables were turned…….
Thanks to Trish Doerrler, a parent of a child with autism, for sharing this poem on her blog In so many words.
Hope you all have a fantastic Holiday, with lots of precious moments.
Aaron's Favorite Gifts
This year we are getting Aaron a tape/CD player because Aaron thinks listening to music is an active sport. He loves putting the tapes (yes, tapes) in and out. We can find tapes in used book stores. They are usually pretty cheap, but that is great because then when they only last a couple days, they can be replaced. The hardest part will be to get the staff to understand the batteries are rechargable and should not be thrown out.
Aaron also likes to lick and flip baseball cards. He especially likes the ones with cheerleaders:)
I wish we had a longer list. He really isn't impressed with new shirts and underwear.
Keep Climbing: Onward and Upward.
All my best,
Mary
Comments:
Which gifts work for your child? especially adults with autism or other disabilities? Are the gifts age-appropriate?
Do You Hear What I Hear?
Do You See What I See?
In 1962, the song Do You Hear What I Hear? became an instant success when its lyrics asked us to hear, see, listen and "Pray for Peace, People Everywhere." 1962 was a time of fear and uncertainty–much like 2014.
Today, as the year is coming to an end, I invite you to journey virtually to the Middle East–to the land of shepherds and millions of stars Listen and See this new version of a holiday classic.
'Tis a Season of Magic
Blake Roberts and Pastor Snoopy Botten are musicians and visual artists who have collaborated on many CDs. Both are artists who inspire us to reach for the stars.
Their magic is their vision, talent and… a speech synthesizer with DECtalk software which helps people who can't sing with words–sing with tech. Those who can't see–paint with tech.
The result is poetry in motion.
Enjoy!



Do You Hear What I Hear? |Music and Visual Art

In Blake's Words:

Dectalk is a speech synthesizer that can be programmed to sing. I like Dectalk because I enjoy making it sing. Additionally, an almost infinite number of voices can be created with it.

Snoopi is a good friend of mine whom I met on the Internet several years ago. We enjoy working together on the CDs Snoopi has produced over the past couple of years. I did all the DECtalk programming and Snoopi mixed my DECtalk file with the karoake track.

My friend Snoopi is the same Snoopi you know on Facebook.

Snoopi programs Dectalk because it lets people who can't talk sing like everyone else. I program Dectalk because I enjoy it.

I program songs at the same level of excellence as Snoopi. In fact, I am slightly better in some areas. Snoopi is the best Dectalkist in the world, I am second best. We never intended to be first and second best, we just are.

In summary, programming Dectalk is my favorite thing to do. Blake

More information about Blake and Snoopi:

Click here for http://pastorsnoopi.twigs76.com/"> for an article about this unique team.

If you would like to contact Blake Roberts go to: beroberts@hughes.net

If you would like to contact Snoopi Botten go to: http://www.dectalksings.com/ or email Snoopi at dectalk@aol.com.

The video below is about Snoopi. Imagine, he sang the National Anthem for a professional baseball game. Don't you love his confidence and spirit? His goal is to get a Grammy–and I think he will.

Keep Climbing and Singing: Onward and Upward
All my best,

Mary

What do you hear? See? Think? Want to discuss?

What did you think of Blake and Snoopi's version of "Do you hear what I hear?" Do you know anything about DECtalk? or other programs to help people with disabilities talk/sing/dance/make beautiful art? I was struck how their work makes me listen and see differently, how it helps me see "goodness and light." What about you? Do you know anyone who might also be interested in collaborating with Snoopi or Blake? Does their can-do spirit remind you of Aimee Mullins?
Celebrating St. Nick and Two Special Sons
Family Traditions:
Because of our German heritage, St. Nicholas' Feast day on Dec. 6th was the start of the Christmas season. The tradition of putting out our socks (or shoes) was always great fun.
Aaron, our son with the label of autism, and Tommy, our son with the label of normal are now 36 and 35 years old. Last post I wrote about how our holiday celebrations are evolving: St. Nick meets Disney Princesses.
Old Traditions
The first year we were married, my mother-in-law Jean, hand-made Christmas stockings for our mantle. Of course, we were living in a small apartment with no fireplace or mantle, but it began a family tradition. You know this was a long time ago because while Tom's sock was a typical crew man-sock, mine was shaped like silk hose plus garter. (Do they even make those anymore?)
To personalize the stockings, Jean lovingly sewed small schoolhouses on both of our stockings because we were teachers, adding a felt wedding ring on mine and a felt set of golf clubs on Tom's. When I was pregnant, she made an "Our Grandbaby" sock for Aaron who was going to be born in December. Later I store-bought some Christmas stockings for both my sons but glued and sewed some Christmasy trim on the socks.
Now a generation later, I captured our family's own Norman Rockwell moment—Isabella pointing to the "Our Grandbaby" stocking on our mantle.
Making New Family Traditions
Lots of families put up Christmas stockings, some find stockings that are personalized with each person's name, or hobbies, or interests like socks for dog lovers, Barbie dolls, sports fans, or ….
But, our family made the old tradition our own by adding a token of some special moment each year on St. Nick's Feastday.
Adding a Memory a Year
Throughout each year, Tom and I look for small tokens and give them to each other on St. Nick's Day.
Vacations and trips were easy. There were always ready-made patches, pins, buttons we could pick up at souvenir shops. Scouts, school events, sporting ribbons and awards also were small and could be easily attached to the socks. We even added some mementos inside the socks, like Tommy's business cards for each new job and Aaron's first pay check. Now the front, back and inside of the socks carry magic moments to remember.
Our socks have become treasured scrapbooks of our lives.
What do you think? Does this tradition meet the test of inclusion+ normalization? Are Aaron and Tommy's socks alike? Age-appropriate? Do these socks also celebrate their individual gifts and interests?
You can see Aaron's Trolley Bus pin from our trips to the Smokies, the pin from Carlsbad Bat Cave, his school bus and Lakota Pin, his prom key chain, his Boy Scout patch from Woodland Trails, a horse pin from Cincinnati Riding for the Handicapped, National Park patches where he hiked with our family…
Tommy has Boy Scout pins, school patches from the cross-country team, buttons of him looking fierce in his junior high wrestling uniform. Tommy also hiked the same easy trails in the National Parks but those patches were not the same accomplishment they were for Aaron. Tommy was proud of his week in Philmont and the more difficult mountain hikes on the Appalachian Trail with his dad…
So both Aaron and Tommy had hiking patches. The difference was the intensity, duration and difficulty of the trails.
Both were proud accomplishments.
Transition
Tommy's wife, Ana, bought Christmas stockings for their first Christmas together. Each year I give them some token to add to their sock. This year, Ana became a United States Citizen. After the ceremony the Daughters of the American Revolution passed out little flag pins. I asked for an extra one, planning to add it to her sock.
Aaron just moved into his new house, I have stockings ready for his first house decorating party, he will get a house key on his sock.
And so the tradition continues:
"The stockings were hung by the chimney with care, in hope that St. Nicholas soon would be there." (Night before Christmas)
Wishing you many happy memories this holiday season.
Keep Climbing: Onward and Upward
Best,
Mary
Comments
I hope you'll share some of your family's holiday celebrations. Is this an idea your family can adapt? Does your family celebrate St. Nick's or have some unique tradition?
Other stories you might enjoy:
Tale of Two Brothers: Sibs of People with Disabilities