Celebrating St. Nick and Two Special Sons
Family Traditions:
Because of our German heritage, St. Nicholas' Feast day on Dec. 6th was the start of the Christmas season. The tradition of putting out our socks (or shoes) was always great fun.
Aaron, our son with the label of autism, and Tommy, our son with the label of normal are now 36 and 35 years old. Last post I wrote about how our holiday celebrations are evolving: St. Nick meets Disney Princesses.
Old Traditions
The first year we were married, my mother-in-law Jean, hand-made Christmas stockings for our mantle. Of course, we were living in a small apartment with no fireplace or mantle, but it began a family tradition. You know this was a long time ago because while Tom's sock was a typical crew man-sock, mine was shaped like silk hose plus garter. (Do they even make those anymore?)
To personalize the stockings, Jean lovingly sewed small schoolhouses on both of our stockings because we were teachers, adding a felt wedding ring on mine and a felt set of golf clubs on Tom's. When I was pregnant, she made an "Our Grandbaby" sock for Aaron who was going to be born in December. Later I store-bought some Christmas stockings for both my sons but glued and sewed some Christmasy trim on the socks.
Now a generation later, I captured our family's own Norman Rockwell moment—Isabella pointing to the "Our Grandbaby" stocking on our mantle.
Making New Family Traditions
Lots of families put up Christmas stockings, some find stockings that are personalized with each person's name, or hobbies, or interests like socks for dog lovers, Barbie dolls, sports fans, or ….
But, our family made the old tradition our own by adding a token of some special moment each year on St. Nick's Feastday.
Adding a Memory a Year
Throughout each year, Tom and I look for small tokens and give them to each other on St. Nick's Day.
Vacations and trips were easy. There were always ready-made patches, pins, buttons we could pick up at souvenir shops. Scouts, school events, sporting ribbons and awards also were small and could be easily attached to the socks. We even added some mementos inside the socks, like Tommy's business cards for each new job and Aaron's first pay check. Now the front, back and inside of the socks carry magic moments to remember.
Our socks have become treasured scrapbooks of our lives.
What do you think? Does this tradition meet the test of inclusion+ normalization? Are Aaron and Tommy's socks alike? Age-appropriate? Do these socks also celebrate their individual gifts and interests?
You can see Aaron's Trolley Bus pin from our trips to the Smokies, the pin from Carlsbad Bat Cave, his school bus and Lakota Pin, his prom key chain, his Boy Scout patch from Woodland Trails, a horse pin from Cincinnati Riding for the Handicapped, National Park patches where he hiked with our family…
Tommy has Boy Scout pins, school patches from the cross-country team, buttons of him looking fierce in his junior high wrestling uniform. Tommy also hiked the same easy trails in the National Parks but those patches were not the same accomplishment they were for Aaron. Tommy was proud of his week in Philmont and the more difficult mountain hikes on the Appalachian Trail with his dad…
So both Aaron and Tommy had hiking patches. The difference was the intensity, duration and difficulty of the trails.
Both were proud accomplishments.
Transition
Tommy's wife, Ana, bought Christmas stockings for their first Christmas together. Each year I give them some token to add to their sock. This year, Ana became a United States Citizen. After the ceremony the Daughters of the American Revolution passed out little flag pins. I asked for an extra one, planning to add it to her sock.
Aaron just moved into his new house, I have stockings ready for his first house decorating party, he will get a house key on his sock.
And so the tradition continues:
"The stockings were hung by the chimney with care, in hope that St. Nicholas soon would be there." (Night before Christmas)
Wishing you many happy memories this holiday season.
Keep Climbing: Onward and Upward
Best,
Mary
Comments
I hope you'll share some of your family's holiday celebrations. Is this an idea your family can adapt? Does your family celebrate St. Nick's or have some unique tradition?
Other stories you might enjoy:
Tale of Two Brothers: Sibs of People with Disabilities
—
Jolly Ole St. Nicholas| Christmas List Disability Style
(Parody on popular Christmas carol)
In our family, December 6 is the night you leave your Christmas wish list in your shoes or stockings. The German tradition says St. Nicholas comes when you are asleep, exchanges your list for a small bag of goodies and then delivers your list to Santa.
I've shared some of our great family stories from when my sons were younger in St. Nick and the Batman socksand St. Nick| Two Special Sons.
Aaron turns 38 years old next week. So what would a Christmas wish list look like for a parent of an adult with autism and developmental disabilities?
The old kindergarten teacher in me thought you might want to sing along as I make a parody of the popular Christmas song, Jolly Ole St. Nicholas, and send my Christmas list out to virtual Santa Land.
Jolly Ole St. Nicholas, lean your ear this way.
Don't you tell a single soul what I'm goin' to say?
Christmas Eve is coming soon, now you dear ole man.
Whisper words of hope for us, reassure us if you can.

Aaron's survived the ups and downs of another shaky year,
Thank you for our family and friends who are so very dear.
We did our best to make things work, but the path's not clear.
Please St. Nick, we beg of you, hear our fervent prayer:

Aaron needs a roommate quick, one with family ties.
Someone who will be his friend, could be girl or guy.
An IO waiver would do the trick, at least a level 5.
Someone who's a gentle soul who wouldn't harm a fly.

Aaron voted for our President he knows his fate depends
On Medicare and Medicaid and the generosity of friends.
He wants to know HUD will exist for the house he now calls home.
He wants to meet his neighbors not spend his time alone.

Keep him safe and free from harm, find us staff who care.
No more elves with phony smiles, who do whatever they dare.
They're now suspended by the state and deserve lumps of coal.
Assure us our government has the resolve to fill their role.

Aaron wants a healthy life, join groups and have some fun.
He wants to swim and ride a horse before next year is done.
Aaron's mom and dad love him so, but worry night 'n day.
Dear St. Nick we count on you–Aaron's in your hands today.
Comments:
What other things would you ask St. Nick for? Any stories to share?
Did you check out the Batman socks story link, it's a good one.
Keep Climbing: Onward and upward.
All my best,
Mary
—
Related Posts about St. Nick and Christmas:
St. Nicholas meets the Disney Princesses
There's no Santa Claus| Transformational Experiences
Age Appropriate Activities for People with Disabilities| Chocolate Covered Fun.
—-
The Race Toward Inclusion| Do you see it?
I love this picture. It reminds me of many of my favorite quotes:
"The real voyage of discovery is not in seeking new lands, but in seeing with new eyes." Proust

"No one's blinder, than s/he who will not see." Kenny Rodgers' song

"The race is not only to the swift, but to s/he who keeps on running." (unknown)

"It is only with the heart that one can see rightly; what is essential is invisible to the eye." Antoine de Saint-Exupéry

Eyeballs Running Everywhere
The racing eyeballs also remind me of late at night, lying in bed when my thoughts just keep galloping around in my head.
Our world is filled with a myriad of choices, distractions, good and bad news–all begging for our eyeballs and attention.
Parents of typical kids have trouble sorting out their priorities, and much of their intense parenting ends when their kids are 21. For parents of kids with disabilities, our hardest years are after graduation.
We are supposed to be experts on everything, autism, intellectual disabilities, developmental disabilities, govenment laws and departments on local, state and federal levels, advocacy organizations…. 
We are supposed to visualize our future, our children's future.
We are supposed to foresee what will happen, so we can be prepared to protect our vulnerable children.
It makes me dizzy.
I want my bloodshot eyeballs to stop racing around trying to keep up. I want to be able to look forward to a future where my son will be okay. I want to be able to trust the professionals to do their jobs…I want to sleep in peace–(well, not the eternal kind of peace, just restful, you know sleeping through one or two nights
What about you?
Can you see the good–and ignore the distractions of failed levies, government cutbacks, negative news?
Can you watch the media focus on new segregated programs and ignore inclusive programs?
Can you envision new inclusive services in the community?
Can you discover hopeful ideas and events?
Can you anticipate next week being better? Next month? Next year? 10 years from now?
Can you believe you will have the people and resources you need?
Do you also feel dizzy?
We need to narrow our focus and concentrate on "the essential": What can we do today to move toward the inclusion of our children in society?
We can't solve all the issues of the world. But we can exercise the Power of One and do one thing today to make a more inclusive world for the person we care about. One thing. Today.
But how do we decide on that one thing? How do we filter out all the choices?
Pruning
Just like a gardener or farmer prunes the dead wood from a rose bush or apple tree, we need to teach ourselves to prune the information that bombards us everyday. We can make the choice to throw out some information, ignoring potential goldmines. If it is really a goldmine–it will still be there tomorrow. I do this by limiting the time I spend watching TV, the news, using social media like Twitter and Facebook. I don't care what Brad Pitt is doing, I don't want to hear about recent car wrecks, abused children, or floods in Asia. I can't do anything about it. If it is bad, scary, if it is going to keep my eyeballs busy while I am trying to sleep–I prune it out. The world can move on without me.
Planned Ignoring
Planned ignoring is consciously making a decision to ignore certain things. Planned Ignoring gives me time to digest and analyze the information I already know. We need to allow ourselves to "see" and "not see" as we make our priorities. This will help us reduce the overwhelm. We can stop the racing eyeballs in our minds. We can allow ourselves the luxury of closing our eyes for a moment, and find our FOCUS.
Seeing with New Eyes of Inclusion
Long ago, I decided my "voyage of discovery" was to the land of inclusion. It meant learning new ideas, shifting my paradigm, and it is based on the principle of normalization, I want my son Aaron to have as normal a life as possible (period). I can make a difference for him by seeing with my new eyes of inclusion.
What do I see? What does my loved one see?
Is this moving toward inclusion?
I have to live in the real world, so I compromise a lot. But I try to keep my vision focused on the goal: Inclusion for Aaron and others. For instance, yesterday I again had a discussion about filling out a form when we picked Aaron up at his house. Because of the principles of inclusion and normalization, I will still make up my own form, rather than use the medical model form from the agency. Six month ago I was promised this would be changed, but Herbie still lives. Herbie bits the dust">Click here.
When I first confronted the agency six months ago, I was using "pruning." I would chop out the old policy. I made phone calls, was given assurances that it would be changed.
For the last five months, I've used "planned ignoring". I kept hoping they would keep their promise to change the form. I kept signing the form I made myself. (The house staff was also using planned ignoring–and just let me do my thing.)
But now, it's time to use my "new eyes" and make one change as we journey into our annual ISP (Individualized Service Plan–the adult service version of the IEP only without the due process).
I'm predicting: The EYES will have it!
Sweet Dreams Everyone.
Keep Climbing: Onward and Upward
All my best
Mary
COMMENTS:
What do your eyeballs see? What is your vision for the future? Do you think the concepts of "pruning," "planned ignoring" and "seeing with new eyes" are useful strategies? Are some people incapable of "seeing"?
This story is from 1981 when Aaron was 7 and Tommy 5. We were in the middle of our lawsuit against Cincinnati Public Schools to allow Aaron to be able to go to public school. Enjoy.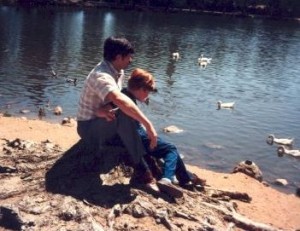 At the end of our street is a pond. Our family often takes walks down there to see the ducks and give them bread crumbs. One day last summer, an old man was down there and said: "Did you see the handicapped duck?"
Well considering I was pushing my seven year old son with a severe disability in his stroller, and considering the 24 hours a day I spend thinking about people with disabilities–this was really too much.
The friendly man went on, "Probably a frog ate his foot or maybe he caught it on the fence…"
Sure enough, there were about 40 ducks and one duck was missing his foot and about one-half of his leg. The duck hobbled toward us but when Tommy tried to pet him he scrambled for the bread crumbs with the rest and then swam away.
Before we left, we did throw him some extra bread crumbs just because we wanted him to know we were friends who understood life's little extra challenges.
I went home and joked to my friends that at least some humane society didn't come and set aside a special pond for disabled ducks, start a supplementary training program and segregated nesting area–or some exploiter didn't take him to Utah and enter him in some freak show for tourists.
We checked in once in a while over the winter, but I really was a lot more worried about people with disabilities than the ducks. We were trying to mainstream Aaron, into a public school. (This was before "inclusion" was thought possible.)
Yesterday the weather was warm so we walked to the pond and saw there were only about 15 ducks. We were only there a minute when that same man came running down full of concern. He told us someone was catching the ducks, putting them in plastic bags, throwing them into the middle of the lake and then watching them drown.
We were shocked. Who would do such a thing?
Meanwhile, the few ducks that remained came swimming toward us looking for the bread crumbs. Guess What?
The "handicapped" duck was among the survivors.
I'm not sure what this all means or why I thought to write about it, but with all the cutbacks and anything else they can think up–I think the duck gave us a message–we're going to make it. There are some mean horrible people out there, sure. But there are also wonderful people like the man who cared for the ducks. There is risk being in the community–but that is also where there is safety.
This week Aaron learned to peel his own banana, he went boating and he saw a "handicapped" duck that was smarter than the non-handicapped ducks. We also just need to get smarter.
The dream… it lives!
Quiz: For those of you who read the story about the difference between disability and handicapped (click here) and tell me. Did our duck with the one leg have a disability, a handicap, or both?
Share your Stories of Hope
What helps keep your dreams alive? Any duck or pet stories?