Posts Tagged 'Disabilities'
The Race Toward Inclusion| Do you see it?
I love this picture. It reminds me of many of my favorite quotes:
"The real voyage of discovery is not in seeking new lands, but in seeing with new eyes." Proust

"No one's blinder, than s/he who will not see." Kenny Rodgers' song

"The race is not only to the swift, but to s/he who keeps on running." (unknown)

"It is only with the heart that one can see rightly; what is essential is invisible to the eye." Antoine de Saint-Exupéry

Eyeballs Running Everywhere
The racing eyeballs also remind me of late at night, lying in bed when my thoughts just keep galloping around in my head.
Our world is filled with a myriad of choices, distractions, good and bad news–all begging for our eyeballs and attention.
Parents of typical kids have trouble sorting out their priorities, and much of their intense parenting ends when their kids are 21. For parents of kids with disabilities, our hardest years are after graduation.
We are supposed to be experts on everything, autism, intellectual disabilities, developmental disabilities, govenment laws and departments on local, state and federal levels, advocacy organizations…. 
We are supposed to visualize our future, our children's future.
We are supposed to foresee what will happen, so we can be prepared to protect our vulnerable children.
It makes me dizzy.
I want my bloodshot eyeballs to stop racing around trying to keep up. I want to be able to look forward to a future where my son will be okay. I want to be able to trust the professionals to do their jobs…I want to sleep in peace–(well, not the eternal kind of peace, just restful, you know sleeping through one or two nights 🙂
What about you?
Can you see the good–and ignore the distractions of failed levies, government cutbacks, negative news?
Can you watch the media focus on new segregated programs and ignore inclusive programs?
Can you envision new inclusive services in the community?
Can you discover hopeful ideas and events?
Can you anticipate next week being better? Next month? Next year? 10 years from now?
Can you believe you will have the people and resources you need?
Do you also feel dizzy?
We need to narrow our focus and concentrate on "the essential": What can we do today to move toward the inclusion of our children in society?
We can't solve all the issues of the world. But we can exercise the Power of One and do one thing today to make a more inclusive world for the person we care about. One thing. Today.
But how do we decide on that one thing? How do we filter out all the choices?
Pruning
Just like a gardener or farmer prunes the dead wood from a rose bush or apple tree, we need to teach ourselves to prune the information that bombards us everyday. We can make the choice to throw out some information, ignoring potential goldmines. If it is really a goldmine–it will still be there tomorrow. I do this by limiting the time I spend watching TV, the news, using social media like Twitter and Facebook. I don't care what Brad Pitt is doing, I don't want to hear about recent car wrecks, abused children, or floods in Asia. I can't do anything about it. If it is bad, scary, if it is going to keep my eyeballs busy while I am trying to sleep–I prune it out. The world can move on without me.
Planned Ignoring
Planned ignoring is consciously making a decision to ignore certain things. Planned Ignoring gives me time to digest and analyze the information I already know. We need to allow ourselves to "see" and "not see" as we make our priorities. This will help us reduce the overwhelm. We can stop the racing eyeballs in our minds. We can allow ourselves the luxury of closing our eyes for a moment, and find our FOCUS.
Seeing with New Eyes of Inclusion
Long ago, I decided my "voyage of discovery" was to the land of inclusion. It meant learning new ideas, shifting my paradigm, and it is based on the principle of normalization, I want my son Aaron to have as normal a life as possible (period). I can make a difference for him by seeing with my new eyes of inclusion.
What do I see? What does my loved one see?
Is this moving toward inclusion?
I have to live in the real world, so I compromise a lot. But I try to keep my vision focused on the goal: Inclusion for Aaron and others. For instance, yesterday I again had a discussion about filling out a form when we picked Aaron up at his house. Because of the principles of inclusion and normalization, I will still make up my own form, rather than use the medical model form from the agency. Six month ago I was promised this would be changed, but Herbie still lives. Herbie bits the dust">Click here.
When I first confronted the agency six months ago, I was using "pruning." I would chop out the old policy. I made phone calls, was given assurances that it would be changed.
For the last five months, I've used "planned ignoring". I kept hoping they would keep their promise to change the form. I kept signing the form I made myself. (The house staff was also using planned ignoring–and just let me do my thing.)
But now, it's time to use my "new eyes" and make one change as we journey into our annual ISP (Individualized Service Plan–the adult service version of the IEP only without the due process).
I'm predicting: The EYES will have it!
Sweet Dreams Everyone.
Keep Climbing: Onward and Upward
All my best
Mary
COMMENTS:
What do your eyeballs see? What is your vision for the future? Do you think the concepts of "pruning," "planned ignoring" and "seeing with new eyes" are useful strategies? Are some people incapable of "seeing"?
This is Part 2 of a 3 part series:
Going to the family reunion, or not? Part 2: The Circles of Life

See Part 1: Going to the family reunion, or not?

See Part 3: Going to the family reunion? Shave your armpits.
The Circles of Life
We've all heard the quote about how the most important thing on our tombstone is NOT the date of our birth or the date of our death. The most important thing is the dash—what we did between the two dates. Our birth to death time-line is not just linear.
Our World View is Unique
We live in complex interrelated systems which give us a unique lens to view the world:
*the individual,
*our nuclear family, our extended family and friends
*our local community professionals (bus drivers, barber, doctor…)
*our organizations (churches, clubs, schools…)
*our beliefs, culture, government, and our world
Uncle Ed
My Uncle Ed was one of the most inspiring people I ever met. In our Archdiocese, he served as a priest in several of the poorer parishes. One Sunday he was actually robbed and shot for the money in the collection plate—definitely not the best neighborhood. When he could have retired, he became a missionary in Grenada where he built a school, a nursing home, and two churches. He loved everyone including those marginalized by society: people who were sick, poor, had disabilities, the young, elderly, prisoners… everyone. Always, he modeled commitment and used his special gifts of humor and basketball to spread the word of God. Another thing Uncle Ed did was lead the songfest at each family reunion.
In part one of "Going to the family reunion, or not?" I talked about preparing BEFORE going to the family reunion. Today, I want to talk about systems theory. I thought about going straight to chaos theory because if your family is anything like mine, chaos rules the day… but systems theory actually helped me make sense of the circles of life.
Bronfenbrenner's System Theory
In a systems theory perspective each individual is in a dynamic and interconnected relationship with other people and environments.

Resource: Bronfenbrenner, U. (1979). The ecology of human development. Cambridge, MA: Harvard University.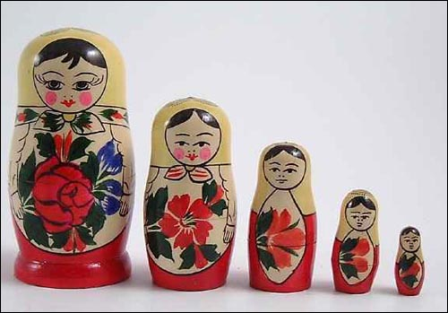 Picture nested Russian dolls where one fits inside the others. In Bronfenbrenner's social system theory the smallest system is an individual person. But everything is connected; what influences one circle influences all the others. The circle of our family's culture, traditions, likes, dislikes all influence who we are and what is valued. It is as important as the common blood or DNA.
The Micro System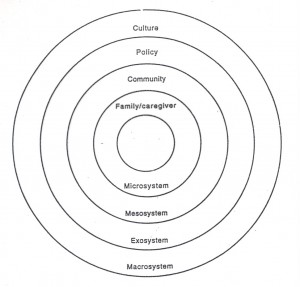 Each aunt, uncle, cousin, grandchild in my family has their own experiences and beliefs about people who are different. Based on their ages and backgrounds they could have few or many inclusive experiences. Fortunately, Aaron is a part of the family, because of his blood, he belongs. They try to see the good things in Aaron, my son who has the label of autism. When we get together for family gatherings, they each try to fit Aaron into the environments and accommodate his needs.
Some of my cousins are teachers, counselors, business owners, nurses… Some work with people with disabilities in a professional capacity while others have had personal experiences with people in their communities. My sister recently had some hip surgery and applied for a Handicapped Parking permit–as we are all aging, we are all starting to understand the ramifications of being "temporarily able bodied." Each individual and each family member shares those common experiences, but just as I am learning about growing older from my seniors and elderly relatives, many are learning about inclusion from Aaron.
Macro System
Considering people with severe disabilities have suffered abuse, neglect, and been ostracized from their family (tribe) being given the opportunity to participate with the family is a gift. I am thankful. I also hope we give positive modeling of what to do, how to act, how to accept others who are different.
Most of my relatives go out of their way to try and help Aaron in the swimming pool, bring him a drink, and help wipe up a mess if he spills something–instead of blaming him. I think some of this was learned from my Uncle Ed.
Uncle Ed always "Got it." He was a pioneer for inclusion before inclusion was a word. At our family reunions Uncle Ed always brought people from the neighborhoods where he was pastor. There would be kids of all different religions, races and cultures. He was teaching about diversity as we all got in line for the potato salad and hot-dogs, as sure as he was teaching about God and God's children. When Uncle Ed led the traditional singing, we didn't sing special religious songs only our family would know, we sang camp songs where everyone could join in: "The bear comes over the mountain" or "The food in the army, they say is mighty fine" and school fight songs.
Uncle Ed was teaching about inclusion, about belonging and the power of a face to face connection. And he lead the way to change attitudes through his embedded social systems.
The last song before the picnic ended was always, "He's got the whole world in His hands." Uncle Ed never offered to lay his hands on Aaron and ask for God's cure. He never tried to "counsel" our family about accepting God's will. He never gave a sermon on how Jesus cured the blind man. Never once did he tell me I was chosen.
But like Tom, Tommy and I were trying to model, Uncle Ed just accepted Aaron the way he is, saw his beauty and gifts. Didn't try to change him or us. In the many choruses of "He's got the whole world" we joined hands and sang about how "He's got the mothers and the fathers, the sisters and the brothers…He's got the little bitty children… and He's got Aar-on in His hands, He's got the whole world in His hands."
I know sharing pictures and snapshots of family reunions is boring as can be, but I hope this story shows why our family and extended family are such an important part of who we are. I am so thankful Uncle Ed was a part of my family, a part of my social system. I am hoping my family will also say the same about Aaron.
What about your Circles?
Does systems theory make sense to you? Who are the people/groups/clubs in your circles? How do these impact your life?
Tell us about your social systems, how is your family changing?
Keep climbing, onward and upward.
All the best,
Mary
"If you don't design your own life plan, chances are you'll fall into someone else's plan. And guess what they have planned for you? Not much." – Jim Rohn
I will soon be celebrating my 66th Birthday. I used to think 66 was old. Now I just think 66 is experienced with a lot of living yet to do.

I wonder what the world will be like when Aaron, Tommy, Ana and even little Isabella turn 66? When I blow out my candles, I'm wishing with all my heart the world will be inclusive. And, we'll all be part of a caring community who values diversity and individual contributions because together we are stronger.
In Part 1: 1981 Aaron was 6 years old and we outlined a vision of what a happy, successful quality of life would look like for Aaron as an adult. (click here).
In Part 2: 1989, Aaron was 14 years old and we were moving forward. The Plan was updated to take into account the changes in our family, but also the changes in special education, disability services and the world. (click here)
In Part 3: 1998 Aaron is 23 years old and moving out of his parent's house into his own place with a roommate and 24 hour assistance from caregivers. (Click here)
In Part 4: 2016:
How did we do?
All Dream Plans were built on the concepts of family, community, normalization and inclusion.
Original 1981 Dream Plan for Aaron
Aaron will be educated in a public school with his non-handicapped brother and neighbors. He will have a functional curriculum (see related post) which looks at his needs in his life spaces (vocational, leisure/recreation, domestic, general community functioning). His out-of-school activities will evolve around his family and his own friends, interests and talents. He will be in age-appropriate settings: elementary school ages 5-10; Jr. High ages 11-13, Sr. High ages 14-21, job in the community 21+. He will begin vocational training now, at age 6, so he will be able to perform the job. (If he isn't able to be a dishwasher, then he can be a dishwasher's helper, etc… there is some job he will be able to do with success.) At the appropriate time, Aaron will move to a group home to live with others his age. Though dependent in many ways, Aaron will have self-esteem and confidence in the things he does and be a contributor to his family, his extended family, and society.
Current 2010 Dream Plan for Aaron
Aaron was educated in a public school with his brother and the neighbors. After we won our lawsuit with Cincinnati Public Schools, the school district was vindictive and since Tom (Aaron and Tom's father) was a teacher in the district we decided to move to Lakota School District. Aaron rode the bus to school with the neighborhood kids, he received a functional community based program with some excellent teachers and therapists who used best practice. His out-of-school activities evolved around his family and his own friends, interests and talents. Aaron went to the prom with his friend Jenni, he was on the Jr. High Track and Cross Country team where he earned school letters, he rode horses, swam, went to camp and took summer vacations with his family. He went to family reunions, holiday parties and the high school basketball and football games. He was on an inclusive bowling team and made some friends with the Baseball Team players. He was in the Key Club and had a circle of friends. He received extended school year services. He attended graduation (see related article) and had a celebration for all his family and friends. Aaron went to age-appropriate schools and had a job coach to help him in his job at the police station (vacuuming) and amusement park (watering plants) when he left school. When Aaron was 23 he moved into a house with another person (though he was older) and they have lived together for over 12 years. Aaron is still totally dependent but he has self-esteem and confidence in the things he does. He is loved and is a contributor to his family which now includes a niece and sister-in-law as well as his extended family of grandma and cousins. Aaron votes and is a consumer in our society.
Each one of these sentences is filled with years of work and advocacy. There are a whole lot of buts, buts, and more buts that happened when Aaron turned 21 that we didn't foresee at age 6….
But considering the mountain we climbed to achieve all of the goals—WE DID IT!
1981 Dream Plan for Tommy
Tommy will be educated in a public school with his handicapped brother and neighbors. He will have a functional curriculum which looks at the needs in his life spaces, (academic, vocational, leisure/recreation, domestic, general community functioning). His out-of-school activities will evolve around his family, his own friends, interests, and talents. He will be in age-appropriate settings. He will make a career choice and pursue training (vocational, university, apprentice…). At a time he decides is appropriate, Tommy will move to his own home, probably marry and begin his own family. He will have self-esteem and confidence in the things he does and be a contributor to his family, his extended family and society.
Current 2010 Dream Plan for Tommy
Tommy went to school with his brother and neighbors. He had a functional curriculum that met his needs. He participated in wrestling, theater, cross-country and track, he went to all the school functions. He was in age-appropriate settings and shadowed adults in careers he was interested in. He began a couple career directions and graduated from Morehead State University with a job in the telecommunications field. He is now a Radio Frequency Engineer working on the new G4 systems. His work experience includes setting up the telecommunications for the Super Bowl and NASCAR events. His bride, Ana, is from Brazil and now they have a baby girl who is 18 months old. Tommy sees Aaron and his extended family every week. He is remodeling his house with his friend. He has self-esteem and confidence in the things he does and is a contributor to his family, his extended family and society.
Tommy is on his own. He has his own responsibilities and we help him every way we can. He is interdependent only because he wants to be. Now he makes his own dream plans for himself and his family. Here is a related article about Tommy and Aaron (Click here)
Aaron… well another post we'll talk about life after age 22 and adult services.
Comments:
How are Aaron and Tommy's dream plans different? At age 6 and age 22 and age 35? age 66? How did they turn out? Were they much different than the plans your parents made for you? Much different than you make for yourself? What would you say is the lesson?
Keep Climbing: Onward and Upward
All the best,
Mary
—
Check out the graduation pictures of my two sons.
What's the same? What's different?
BACK to SCHOOL Article 3

To celebrate the new school year here are some of my favorite posts:

Article 1: Why Do We Go to School?

Article 2: Back to School| A New Year of Learning
What is Inclusion?
The concept of INCLUSION is both simple and complex.
It means being able to go to the same school your brothers and sisters go to. The same school that is on the realtor's fact sheet, you know the one: "If you buy this house, here is the neighborhood school you go to." That's simple, right?
In 1980 in Ohio, when my son Aaron turned 5 and was eligible to go to school, because he had the label of autism and developmental disabilities, he and other children with IQs below 50 were legally excluded from public schools. That's complex.
It all changed because of Federal Legislation, yea those dang Government laws everyone hates.
When you suffer from exclusion and segregation, those Federal rules and regulations save the day.
History Lessons: Past
When new schools were built in the 50s-60s-70s-80s, the old white schools became "negro" schools. When even more new schools were built for the white children (think baby boomers), then the children with disabilities were moved up into the schools vacated by the "negroes."
Schools: White to Negro to Handicapped to Demolished
The Education for All Handicapped Children Act was passed in 1975 and gave parents the right to a free appropriate public education, zero reject, related services, due process and the "least restrictive environment."
At the time of the Neill Roncker and Aaron Ulrich due process hearings, the decrepit Dyer School was a handicapped-only school. Cincinnati Public Schools rented the school to the Hamilton County Board of Mental Retardation/Developmental Disabilities for $1.00 a year (Roncker hearing).
Parents and local Board of Mental Retardation officials were happy to be able to move out of church basements into the discarded school. They were also thrilled to be building new segregated facilities, handicapped only, with local levy dollars.
That was our court battle–to be able to ride the bus, go to school, eat lunch with typical kids… in our neighborhood school–not a "handicapped-only" school.
Inclusion is a civil right

"Inclusion is a right, not a special privilege for a select few." – Federal Court, Oberti vs Board of Education.
For information about the history of children with disabilities check out the Minnesota DD Planning council's excellent resource, Parallels in Time 2
History Lessons| Inclusion Today
Here is a recent video about a young woman with the label of autism. You will see her general education teacher, her parent, her inclusion facilitator, the general music teacher but most of all you will see the future citizens of our country.
Here is a picture of inclusion. A picture of hope. (Thanks to Donna Owens, OCALI)
Thaysa from Dan Habib on Vimeo.
Definition of Inclusion


Giangreco (see Resources) has defined the criteria for inclusion:

Students go to the same school as their brothers, sisters, and neighbors;

They participate in the same environments as their peers (lunchroom, bus, playground, classrooms);

According to their IEP, the student has the extra supports they need to be successful (therapy, adapted curriculum materials, an aide, teacher inservice);

There should be a natural proportion of children with/without disabilities, (if 10% of students are on IEPs in a school–no more than 10% of the students in any one class should be on IEPs).
An Inclusive Graduation Ceremony
So did you see any similiarities and differences in the graduation pictures above?
Almost everything about Tommy and Aaron's Graduation ceremonies were the same. At the time, Lakota High School was one of the largest high schools in the state. Tommy and Aaron both had HUGE graduating classes held at the University of Cincinnati. Both had cheering parents and friends.
The difference between Aaron's school experience and his typical brother Tommy's, is evidenced in their graduation pictures above.
Aaron didn't have to go through a segregated graduation ceremony and earn the right or prove he was ready to go to the inclusive celebration.
We did prepare by considering what would Aaron need to be added or subtracted from the typical graduation experience.
In his case, Aaron needed an extra support person, his wonderful teacher Mr. Mike Valdini. And, what needed to be subtracted–the mortar board hat!
I like to think our early battles for inclusion help the young children today—all of them, with and without disabilities.
Keep Climbing: Onward and Upward
All my best,
Mary
Comments:
It now seems like the concept of inclusion has been around forever. But like any civil rights movement, we often don't move forward in a straight line. What are some of your experiences?
Related Posts:
The Values of Inclusion from Down Under
–