Posts Tagged 'Ed Roberts'
How about you?
Is ADA a Part of your Life?
My parents, teachers and culture taught me to blend in, not cause trouble and certainly never ever draw attention to myself. That all changed when my son Aaron was born with autism and developmental disabilities. Aaron couldn't speak for himself, mom had to do it. HAD TO–not something I chose or wanted to do.
Advocacy (speaking for others) is learned–the same way we learn to run a race, or learn to read. Advocacy takes much practice and the trial-and-error of many mistakes and some successes.
So as the parent of a person with disabilities I learned to ask questions, read, research, go to workshops and meetings, meet with like-minded parents and professionals AND with people who were 180 degrees opposed to ideas like normalization, inclusion and civil rights for people with disabilities. I learned about making change with Bronfenbrenner's embedded systems: individual, local, state, national and world.
I learned to work with other parents, adults with disabilities and advocates. Our big successes were keeping IDEA alive when Pres. Reagan was trying to repeal it and helping pass the civil rights legislation: The Americans with Disabilities Act (ADA).
This month ADA celebrates its 23rd birthday. We have accomplished much. But there is still much to do:
The Arc and other advocacy organizations are trying to get the US to adopt the United Nations Resolution (this is just embarrassing for the US).
Almost on the anniversary of ADA, the justice department in Florida sues over children being forced to live in nursing homes.
A young woman with Down syndrome just won a lawsuit over her guardianship.
And in Africa, there is a course for people with disabilities on how to be effective beggars. Yep, couldn't make this up.
The Power of One
There is only one way to keep moving forward with civil rights—each of us has to make sure the law is enforced and vulnerable people have the same opportunities as others. One person. One situation at a time.
I am only one, but still I am one. I cannot do everything, but still I can do something; and because I cannot do everything, I will not refuse to do something that I can do. Helen Keller
Last year I talked about my ADA experience at our community center. And this year, I can show you the results:
–
An Example of Advocacy
I joined the local community center and went to the pool. There was a lift for a person in a wheelchair and an entrance where the water gradually increased in depth 1 inch at a time.
But almost all of the seniors went down one step and walked along a side wall to get in. I almost slipped and fell trying to get down that step. I noticed several other people had the same problem creating a potentially dangerous situation.
I'm thinking a simple railing would solve the problem and help everyone who gets in the pool: children, adults and seniors. Universal design, right?
Okay, now I had belonged to this community center for approximately 45 minutes. I had the cheapest membership. I was still using a damn walker from a recent surgery. What should I do? Did I really want to raise a fuss? 45 minutes—I hardly had the right to say anything.
Stating the Problem:
Script of Conversation

I started with the immediate supervisor, the head Lifeguard and "I" statements:

Me (smiling): "I almost fell getting into the pool."

Lifeguard: "There is a gradual entrance into the pool, it starts at 1 inch and gradually gets deeper."

Me: "Yes, but there is nothing to hold on to. And I can't walk without support. I'm having trouble putting any weight on my left leg."

Lifeguard: "We have a wheelchair lift. We have steps with railings on the other side of the pool."

Me: "Yes, but the concrete is slippery and it is far away from the locker room and main entrance. Everyone seems to be using this step and holding on the wall to get in, I saw several people almost fall."

Lifeguard: "Yes, I hold my breath every day. It's not a good situation."

Me: "So, how can we fix it? It seems to me a simple railing would solve the problem. So, who could make the railing happen?"

Lifeguard: "Well, they won't listen to me, so how about the director of the center."

Finding the Authority who can Make Change

Me: "Hi, I almost fell when I got into the pool. I watched other seniors also have trouble. I talked with the Life Guard and a simple railing would be a good solution."

Director: "This is the first time this has come to my attention. But we really don't have the funds to fix this."

Using the ADA Wildcard

Me: (I'm standing there with my walker) "I've noticed most of the seniors in the pool use canes or walkers. The concrete is very slippery even after the Life Guards sweep the excess water back into the pool. I've also seen the wheelchair lift and the showers with extra bars, seats and hand showers. So, I know you are trying to meet the requirements of ADA."

Director: "Oh yes, we are very aware of ADA."

Me: "Are you the compliance officer for ADA? I have been going to physical therapy in the rooms that adjoin the pool. They have an excellent staff and I'm sure they could give you good advice on the types of railings that would work the best."

Director: "We really don't have the funds to do this, and no one else has complained."

Me: "Have you talked with your Life Guards about this?"

Director: (squirming) "We meet the minimum requirements of ADA. We have the lift, which was very expensive and doesn't get much use. Thank you for coming, but I have another meeting to go to."

Me: "A railing is a safety issue; it is a reasonable accommodation for the seniors (and everyone). Could I have the complaint form for ADA?"

Director: (giving me the once over) "Of course."

Put it in Writing

I filled out the complaint form including not only the railing, but the lack of mats, hand showers some of which didn't work well, and the fact that the seniors had to somehow maneuver the heavy doors into the locker rooms with their walkers and canes (while they were wet). I also made sure the date was at the top and asked for a copy of the form.

I handed it to the director, let her read it, then looked her in the eye and said, "Do we really need to file an ADA complaint? This is such a wonderful community center; surely there must be a way to make this happen. Do you have a suggestion form or some other form where I could give this information and it would be addressed?"

Director: (giving a sigh) "Yes, we do have another form for suggestions. I am beginning to understand some of your concerns. I'll have my staff look at this and get back to you."

Me: "Terrific, I'm sure you'll see the problem. I'll stop back when I'm going to therapy."

The Slam Dunk

By the next week, the director had met with the Life Guards, checked out the locker room showers, watched some of the seniors and others who used wheelchairs, walkers and canes try and open the heavy doors to the locker room. She also consulted with the physical therapists who work in the pool.

She called and asked what kind of railing I wanted. I said whatever the professional team decided—they saw many people go into the pool, and I deferred to their judgment. She said in August, they drain the pool to do the necessary repairs. They could add the railing then.

I thanked her, again complimented her on the wonderful community center–and meant it.
ADA Works, IF You Use It
After I did a happy dance, I thought of Justin Dart, Ed Roberts, Bob Williams and all the other advocates who worked so hard to make ADA happen. I thought of ADAPT members getting hauled to jail. I thought of the public hearings, the many petitions, letters and phone calls we made. I thought of visits to the legislative offices of congress–Senators Harkin, Kennedy and Representative Coelho telling their personal stories. I thought of our local efforts to make ADA happen in our state.
ADA is our legacy. It is our gift to future generations. ADA has the power to make people listen. ADA impacts the present and the future—not just of people with disabilities, but all of us.
When I learned advocacy skills for Aaron, I never realized that one day I would "Cross the Yet" and be the one who needed modifications to my environment.
But, if I hadn't spoken up, the step would still have no railing and the locker rooms would not have electric door openers. Now, maybe no one would have gotten hurt. But, just maybe, I helped save someone from a serious accident—maybe even me.
As a battle-worn advocate, in the big picture this was an easy victory. Granted it was very small. Only a handful of people even knew what happened.
But every time I enter the pool, I watch children, adults, seniors go up and down the step—and I smile. I did this!
RESOURCES:

If you would like to learn more about the history of ADA and the civil rights movement for people with disabilities check out this information from DREDF.

If you are interested in learning more about becoming an advocate visit Partners in Policymaking.

Audio: "Solidarity Forever" – Justin Dart, with introduction and songs by Jeff Moyer

Video: "Storyville: The Personal Stories of Advocates of ADA"
Comments:
Has anyone else had a success story (or not) with ADA? With Advocacy? Anyone else have tapes running in your head about being a "good" boy or girl and just accept things as they are? Can you name a specific accomplishment?
I'd love to hear from you in the comments. If you liked this story I ask that you use your social media to spread the story. Thanks, as always, for being part of our Climbing Every Mountain community.
Keep Climbing: Onward and Upward
All my best,
Mary
Related Posts:
Thanks to everyone who Tweeted, Facebooked (is that a word?) and otherwise shared information about Ed Roberts and his first official memorial day in California
The Ed Roberts Campus at Berekley California is open. The campus uses Universal Design and is built for EVERYONE. Here is an article about how the architect had to think differently about successful design. It is across the street from a fully accessible transportation system. Win-Win.
Historical Videos for YouTube
We had a great response to reformating the historical videos into segments for YouTube. We are creating a plan for moving forword. As we get news, I'll pass it on. Thanks to everyone who so generously contributed in any way to this important project.
The Inclusion and Disability Rights Movement has come a long way, yet we have so much farther to go.
Adapting: Becoming a Star
Ed Roberts often joked that in the first 14 years of his life he was "just an ordinary kid." He was more interested in sports than in school work and wanted to be a professional baseball player when he grew up. That all changed.
In 1953, before the vaccine, Ed contracted polio. Overnight he became paralyzed from the neck down and required an iron lung, which he used the rest of his life.
One of Ed's greatest talents was being able to look at a situation, and ADAPT.
Ed decided a baseball career was out, and became a straight A student in High School.
When all the students stared at him, he decided this was an attitude problem. Instead of being embarrassed, this was how it must feel to be famous. In time, he reframed the whole experience, adapted, and decided he would pretend to become a famous movie star.
Indeed he did become a star. How fitting we are now trying to get his video on YouTube. I think he would get a bang out of that.
Stares into Stars
This would also be a good tip for people who are being stared out. Parents, Caregivers, Teachers could all adapt this strategy and help "reframe" those stares into stars!
Skype and Technology
I just saw a video (2010) where a teacher and class used Skype to help one of the students who had cancer keep up with what was happening at school.
When Ed Roberts got Polio, (1952) he was quarantined and had to listen to his classes over the telephone. Think of the differences.
Skype would have been amazing to him.
When Ed returned to school after missing almost two years of school, he felt like a stranger. Not only had he changed physically, he was now paralyzed, but he carried the stigma of "polio" and having a "Quarantined" sign on his front door.
At 16, Ed had to start his life and start making friends all over again. Plus, with the stigma of "polio" people were afraid of him and he looked so "different." If the students could have seen him over "Skype" they would have seen him evolve, and gradually they would have adjusted to his new learning style and physical appearance. It would have been a learning experience for all of them.
It's nice when students send get well cards, but including the student on Skype shows another dimension of caring.
BTW: home with Skype is the least restictive environment for this child at this time.
The new Technology Act will make other learning opportunities available for people of all ages. Who knows what the future may hold.
Your Turn
Any other tips for reframing embarrassing situations Stares into Stars? Any other uses of technology you would recommend? What would you want if you had to miss school for a long time?
Keep Climbing: Onward and Upward.
All the best,
Mary
In my class, "Introduction to Exceptionalities," we read an article by Paul Longmore about the social construction of disabilities. The point being that the traditional "medical paradigm" points the disability finger at the person– they are defective and need to be fixed. The new paradigm of "social construction" puts the focus on the culture/society as the ones who need the fixing.

We are the culture, we are the society. And, through the courts, the legislature and individual everyday advocacy we help move society toward inclusion or back toward segregation and the medical paradigm.

Paul, like Ed Roberts, also had polio as a child. Our class watched a video on YouTube where Paul praised Ed Roberts. It reminded me of this post I wrote on the first Ed Roberts Day in California and challenged me to be courageous and follow the examples of both Ed and Paul.

And for what it's worth, not one student in either of my classes had ever heard of Jerry Lewis. I thought that was a hoot!
Ed Roberts | "Be Extraordinary!"
In the United States we celebrate the birthdays of great civil rights leaders. Two of them are Martin Luther King and Ed Roberts. Most Americans know of Dr. King's achievements but few know of Ed Roberts, the "Father of the Independent Living Movement" for people with disabilities.
Ed Roberts Honored on his Birthday, Jan. 23.
California is the first state to officially designate January 23, 2011 as Ed Roberts' Day. This is an opportunity for the media, public and private citizens to learn about Ed Roberts and the 50 million Americans living with disabilities.
But this day is about more than celebrating the life of a great American and pioneer in the civil rights movement of people with disabilities. This is a day to embrace Ed Roberts' challenge to "Be Extraordinary!"
An Ordinary Kid Transforms
Ed Roberts often joked he started his life "just an ordinary kid" who was more interested in sports than school work. That all changed.
In 1953, when Ed was fourteen, he contracted polio. Overnight he became paralyzed from the neck down and required an iron lung, which he used the rest of his life.
One of Ed's greatest talents was being able to see the possibilities, and adapt. When Ed got comfortable with his new body, he figured a baseball career was out but he knew he could still use his mind.
Ed became an Advocate for Himself and Others.
His mother, Zona Roberts, listened and helped him advocate for his own rights. When a high school administrator threatened to deny him a diploma because he couldn't take physical education and driver's education, Ed appealed to the school board and won.
He learned sometimes you adapt, but other times you fight discrimination and stand up for justice and equality.
When he entered the University of California at Berkeley (UCB), the newspaper ran an article saying, "Helpless Cripple Enters UCB." Others might think he was a "helpless cripple," but Ed knew better.
When physical barriers, like steps, prevented him from entering buildings, and other students were losing critical support services, Ed helped organize a protest which established the first student-led disability support services program at a university.
Ed got his BA and MA in Political Science. He finished all the coursework for his Doctorate (ABD) and taught at UCB for six years.
Ed Roberts paved the way for thousands of students with disabilities to go into higher education.
Ed married his college sweetheart and despite the medical doctors saying it was impossible, they had a beautiful son who was the pride of Ed's life.
Ed Roberts the "Father of Independent Living"
Who Decides? The Birth of Self-Determination.
In Ed's life, the dominant cultural view of people with disabilities was based on pity, charity, "better off dead," and segregation. These attitudes marginalized the voices of people with disabilities and made them invisible in the culture. Ed met people who thought he belonged in an institution "with his own kind."
He believed people with disabilities were "People First" who could speak for themselves and tell you what they liked, disliked, wanted, and needed. Instead of discrediting their knowledge, Ed and the Disability Rights self-advocates raised their voices and demanded to be heard.
Ed Roberts created the paradigm shift from Pity and Charity to Dignity and Self-Determination.
As I talked about in another post, Ed challenged these core attitudes of What is charity? (click here)
Accessibility
Ed fought for the first curb cut. When the city bureaucrats asked, "Why do we need curb cuts when we never see people in wheelchairs on the streets?" Ed calmly explained that was circular logic. This conversation was repeated in cities all over the country until the passage of the American's with Disabilities Act (1990) required accessibility as a civil right.
Accessibility was more than just curb cuts. Ed worked for access to technology, transportation, jobs, voting, housing, inclusion in regular schools and every part of life. With Olmstead, he advocated to free people with disabilities from nursing homes and institutions.
Universal Design
Universal Design changes the attitude of charity. Accessible buildings, transportation systems, learning and education philosophies, communication and technology were NOT just for "poor cripples" they were for everyone.
Ed also understood basic dignity and civil rights were for everyone. After all, people with disabilities cross all ethnic, race, gender and class lines. He met with leaders in the Native American, African American, Women, Seniors, and Hispanic movements.
He created a common dialogue arguing, "All men (and women) are created equal"–including those who use breathing machines, wheelchairs, Braille and communication boards.
When those first curb cuts were made, all of a sudden it was easier for people with baby strollers, bikes, people who were elderly and people making deliveries….
Temporarily Able-Bodied or the Yets
In another post I talked about Ed's concept of the Temporarily Able-Bodied (click here).
This was controversial because many people don't like to consider they can join the ranks of the disabled in a moment. But again, Ed taught us having a disability is NOT the end of the world. Disability is just a part of the human condition.
Self-Determination
Ed helped create the nation's first Center for Independent Living (CIL) which became the model for the world.
People with disabilities were taught self-help skills and personal responsibility. They learned to not be victims or eternal children, but rather to be adults and take control of their lives.
Ed was the first speaker at the Partners in Policymaking program. Like his mother Zona, he encouraged the parents expect their children to grow into independent adults. Effective Strategies for Social Change: Video of Ed Roberts Speaking at the First Partners in Policymaking Session (May 1, 1987)
Gov. Jerry Brown appointed Ed Roberts Director of the Department of Rehabilitation for the state of California in 1975. Ed supported the passage of Section 504 of the Rehabilitation Act and saw many of his ideas implemented. He served until 1983 when he co-founded the World Institute on Disability. He traveled the globe and developed a world-wide movement of, with and for people with disabilities. Ed Roberts really did change the world (as well as many airlines).
Ed died in 1995 from natural causes but his legacy continues with his son, his friends and a thankful nation. The lives of people with disabilities and ALL of us are better because of his spirit, vision and life.
In Ed's Own Words:
Text of Remarks by Ed Roberts at Section 504 Sit-in Victory Rally in San Francisco on April 30, 1977.
"We have begun to ensure a future for ourselves, and a future for the millions of young people with disabilities, who I think will find a new world as they begin to grow up. Who may not have to suffer the kinds of discrimination we have suffered in our own lives. But that if they do suffer it, they'll be strong and they'll fight back.

And that's the greatest example, that we, who are considered the weakest, the most helpless people in our society, are the strongest, and will not tolerate segregation, will not tolerate a society which sees us as less than whole people. But that we will together, with our friends, will reshape the image that this society has of us.

We are no longer asking for charity, we are demanding our rights."
Summary:
Ed Roberts was a pioneer for the civil rights of people with disabilities.
Like Martin Luther King, he had a Dream that celebrates diversity for people of all races, and abilities.
He helped us see the stigma and segregation of disability as meaningless—we are all either "disabled, or the yet to be disabled." We are all part of the human family and while we need each other, we each want self-determination in our own lives.
The journey toward inclusion continues as we replace the physical and attitudianal barriers of discrimination, segregation and the charity model with inclusion, universal design and civil rights.
Ed was extraordinary.
Be Extraordinary!
Ed Roberts couldn't walk, couldn't feed himself, couldn't dress or shave himself. He couldn't even breathe by himself. Yet look what he accomplished.
Ed continues to challenge us to see ourselves as perfect –just the way we are. He continues to inspire us with his ideas to Be Extraordinary.
We really have no excuses.

What can YOU do today to spread the word about Ed Roberts and the civil rights movement of people with disabilities?

What can YOU do today to help change physical and attitudinal barriers for ALL people?

Will YOU accept his challenge to also Be Extraordinary ?
Keep Climbing: Onward and Upward
All the Best,
Mary
Comments:
Please share your thoughts. Big or small, each action you take will spread the word.
Please take a minute and visit the MN Governor's DD Planning Council's tribute to Ed Roberts. See videos of Ed's presentations.
Crossing the "yet"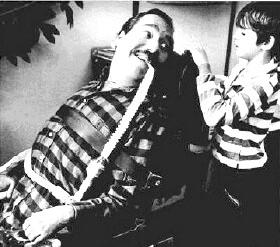 Ed Roberts was an amazing guy. We were both on the TASH board and I got to spend some time with he and his son (pictured). Click on his name and see his incredible accomplishments. Ed was into action, not words. He was asked to be one of President George Bush's "1000 points of light," which he declined calling it Bush's "1000 points of hype." When he died, his wheelchair was donated to the Smithsonian. One of Ed's quotes was:
There are only two kinds of people in the world: the disabled, and the yet-to-be-disabled.
This past year, my husband has had some heart issues and I've struggled with sciatica. Because my back pain's not going away (even though I've had the lumbar shots, physical therapy…) we decided we needed to move to a ranch house.
And true to Ed Roberts' prediction, I have crossed over the "yet" and am now starting to see the world from the "disabled" point of view.
Of course I've always seen what worked and didn't work for Aaron, my son with a severe disability. But even with that knowledge and experience, now it is more personal. It is me. And it is shocking.
Boomers and Housing "thought leaders"
First of all, the housing market is filled with two stories; split, tri and quad levels but few ranches. The ranches that are available were built in the 60s. So they have old plumbing, bathrooms the size of postage stamps, and some even have steps. Yep, steps to get to the one-floor plan.
As we boomers age there is a scarcity of accessible housing. Sure there are some new patio homes but they are pricey and often in "mature" neighborhoods. Sure there are condos and apartments with elevators in crowded senior high-rises. Sure there are retirement communities which are basically segregated facilities–beautiful, but still segregated. Isn't that what we have been fighting against for the last 30 years?
So, what to do?
Next week my husband and I are putting our multi-level condo up for sale. We figure in this market, it is wise to sell first and then buy. But as we go through potential houses, we are not finding anything appropriate. Where is the diversity? Where are the neighborhoods where ranches are mixed with multi-level houses? Where are the neighborhoods where seniors and young families can live together?
Universal Design
Universal Design has been around for a long time, where are the houses built with this concept? Why have the builders not used state-of-the-art thinking and technology?
I wish Ed were still here to make a joke and put things in perspective. I wish Ed were here to share his wisdom and spirit. Fact is, I just plain wish Ed were here.
And once again, I am reminded of my own aging and mortality. And that is another shock.
I never used to have friends who were dead.
In some ways I am lucky, I don't carry many of the fears and superstitions of the previous generationI know about the difference between having a disability and a handicap (see post). I know how to advocate for my needs.
As I think about my own passage into the world of disability, I feel more prepared. People with severe disabilities have led the way. They have taught us to strip away all the frills and find the core of what we need. They have helped us learn about interdependence, adaptations and accommodations, systems of support, circles of friends, partial participation and community involvement.
They have taught us what is important–to be surrounded with people who love and care about us.
So, Tom and I will figure it all out. We will use the advocacy and problem-solving skills Aaron and others have taught us.
I remember when one of our relatives had a stroke. He would complain verbally and non-verbally, "I've only been like this for a short time" (I used to be independent and able to walk.) He would explain to everyone who would listen, "I didn't use to be handicapped. I was an engineer." (I had worth.) "Aaron is too close he might step on my foot." (I'm damaged now, but I'm not like him, once I was whole.) He did not want to be near Aaron. He never put his prejudices into an actual discussion, he just always had this attitude about people with disabilities–and by god, he wasn't one of "them."
We have worked so hard to change people's attitudes about people with disabilities. The next generation of children has had personal experiences with people with disabilities in the schools and community. But maybe the bigger lesson is that learning to be more tolerant about others, will make it easier for us to be more tolerant of ourselves. Hopefully, part of our learning about differences will ease the process of getting older.
We are all the same on the inside. We all need to be loved, safe, happy and give to others. That doesn't depend on what our outer body looks like. That doesn't depend on what side of the "yet" we are on.
I think these lessons will serve me well.
ps. Anyone looking for a great condo?
Please share your thoughts in the comments.
Are you offended with Ed's quote, "There are only two kinds of people in the world: the disabled and the yet-to-be-disabled." Do you think this discussion will help us as we age?
Keep Climbing–Onward and Upward
All the best,

Mary