Posts Tagged 'mental retardation'
Love–NOT Labels
With families, "Love" is all that matters–no matter what, unconditionally.
The love we feel for our child, our baby, our sister, brother, son, daughter can never be replaced by a medical or psychological term some professional puts on a chart. So in isolation, it shouldn't matter if the diagnostic label is "retarded" or "intellectual disability."
As we spoke about in the post Circle of Life (click here) each person and family is part of a much larger system and what affects one part of the system affects all the parts of the system.
And that is where the chosen word and label does matter–big time.
Yesterday in the related post, "Retarded"–no more (click here) I briefly wrote about Rosa's Law and showed one of the press releases/alerts sent by parents and advocacy groups to change the words, "retarded" to "intellectual disability." Some of these advocates are professionals who make their living working with people with disabilities. But like most of the legislation of the last 60 years, Rosa's Law came about through the vision and hard work of families.
If you want more information on what parents have accomplished visit Parallels in Time I (click here) and II (click here)
I was going to summarize Senator Mikulski's Statement on the Introduction of Rosa's Law (below) but since her words still make me cry, I figured you'd want to see the "primary research document". Especially check out Nick Marcellino's comments. And get the Kleenex handy.
This is just one family who went to one more meeting, talked with one more politician–but this time, with a lot of hard work and uniting allies, they changed the system. Maybe it is just a small step in the scheme of things. There are still thousands of people with intellectual disabilities and their families who do not have the services they need. But, this small step gives us all hope that our democratic system works. An individual can make a difference.
It amazes me that in an election year when politicians can't agree on anything, they unanimously voted for this law. That alone makes it memorable.
Comments Please:
What do you think about Rosa and her family? Have you ever been an advocate for change? How, When, Why? How did it feel?
How is this press release different than the one in Retarded–no more?
Keep Climbing: Onward and Upward
All the best,
Mary
Rosa Marcellino and her family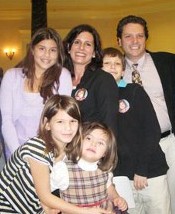 FOR IMMEDIATE RELEASE:
17-Nov-2009 CONTACT: Press Office
202-228-1122

Senator Mikulski's Statement on Introduction of Rosa's Law

WASHINGTON, D.C. – U.S. Senator Barbara A. Mikulski today introduced Rosa's Law, a bill that will eliminate the terms "mental retardation" and "mentally retarded" from the federal law books. U.S. Senator Michael B. Enzi (R-Wyo.), Ranking Member of the Health, Education, Labor and Pensions Committee, is the Republican sponsor of the bill.

Senator Mikulski's statement as delivered on the Senate floor follows:

"Today I rise to introduce legislation that I'm calling Rosa's Law. This bill began by listening to the people in my own state. It began when a mother told me a compelling story about her own daughter, her family's efforts to give her daughter an opportunity for an education and to be treated with respect and with dignity. And at the same time, it began with the advocacy of not only she and her husband, but of her entire family, including her 14 year old son Nick who testified at the Maryland General Assembly.

"As a result of their effort, I'm introducing Rosa's Law. Before I say more about the bill, I want to tell you about the family. I want to tell you about the Marcellinos, Joseph and Nina who are parents to four children – Nick, Madeleine, Gigi and Rosa. They're in the gallery now watching this and I wish you could have been with me in my office as I met with the parents and talked with the family.

"Last year, at a roundtable on special education, I met Nina Marcellino for the first time. She told me about her daughter Rosa who was labeled at her school some years ago as mentally retarded. She told me about the stigma, the pain, and the anguish it caused both Nina and her husband, Rosa's brother and sisters as well as the Rosa herself.

Nina and Joseph reached out to their local disability advocacy organization, The Arc, to see what could be done to change the law. They then reached out to a member of the Maryland General Assembly, a wonderful Representative named Ted Sophocleus. He introduced legislation in the General Assembly that would change the word 'mentally retarded' and substitute it with the phrase 'an individual with an intellectual disability.'

"That's why I stand on the Senate floor today to introduce, at the request of the family, a law on behalf of this little girl and on behalf of all of the children of the United States of America who are labeled, stigmatized and bear a burden the rest of their lives because of the language we use in the law books.

"My law changes the phrase 'mentally retarded' to 'an individual with an intellectual disability' We did this in health, education and labor policy without in any way negatively impinging upon either the educational or other benefits that these children are entitled to.

"When it came time to bring the bill before the General Assembly, the family was there. And who spoke up for Rosa? Well, her mom and dad had been speaking up for her. Her brother Nick and sisters Madeline and Gigi had been speaking up for her. This wonderful young boy, Nick, at the time 13, this is what he said to the Maryland General Assembly,

'What you call people is how you treat them. What you call my sister is how you will treat her. If you believe she's 'retarded' it invites taunting, stigma. It invites bullying and it also invites the slammed doors of being treated with respect and dignity.'

"Nick's words were far more eloquent that day than mine are today. I want to salute Nick for standing up for his sister, but I think we need to stand up for all because in changing the language, we believe that it will be start of new attitudes towards people with intellectual disabilities. Hopefully, people will associate new words with the very able and valuable people that go to school, work, play soccer or live next door.

"Eunice Shriver believed in this when she created the Special Olympics. She knew that special needs children need special attention but they can do very special things, and look what she started. I had the opportunity to talk to Rosa's mom Nina while this bill was under consideration by the Maryland General Assembly. I promised her then that if that bill passed the Maryland legislature, I would bring it to the floor of the United States Senate.

"Well, it passed unanimously. Governor O'Malley has signed it and today I stand before you introducing the legislation. It makes nominal changes to policy in federal education, health and labor law. It simply substitutes 'intellectual disability' for 'mental retardation.' This bill will neither expand nor diminish services, rights or educational opportunities. We vetted it with legal counsel. We reached out to the very wonderful advocacy groups in this field and they concur that this legislation would be acceptable.

"This is not the first time we've updated this terminology. Our laws once referred to boys and girls as 'feeble minded.' We thought we were being advanced when we changed it to 'mentally retarded' in the 1960s. Now, 40 years later, let's take another big step and change it to 'intellectual disability.'

"This bill makes language used in the federal government consistent. The President's Committee on Mental Retardation was changed by executive order so it is now the Committee on Individuals with Intellectual Disabilities. The CDC uses 'intellectual disability,' the World Health Organization uses 'intellectual disability,' so my law makes the language consistent within the federal government.

"I've always said that the best ideas come from the people. Rosa's Law is the perfect example of effective citizen advocacy. A family that pulled together for their own and in pulling together they're pulling us all along to a new way of thinking. I want to recognize the Marcellino family who is with me in the gallery and the namesake of the law Rosa's Law pictured behind me. She is also up there today.

"I also want to take the opportunity to thank my colleagues. It was indeed an honor to represent this family. I believe that in our country people have the right to be heard and that we should listen. They have a right to be represented, which I've tried to do. And now, let's try to change the law.

"It was a pleasure to work with Senators Harkin and Enzi, the Chair and Ranking Member of the HELP Committee. I have their wholehearted support. This is going to be a nonpartisan bill. We're going to check our party hats at the door and move ahead and tip our hat to these boys and girls.

"This bill is driven by a passion for social justice and a compassion for the human condition. We've done a lot to come out of the dark ages of institutionalization and exclusion when it comes to people with intellectual disabilities. I urge my colleagues to join me in a step further. Help sponsor the legislation that I offer on a bipartisan basis. Help me pass the law and know that each and every one of us makes a difference. When we work together, we can make change."
Our House of Cards|Disability Style (Part 2)
Introduction:

I am going to try to describe what happened to Aaron, my son, when he was 36 years old. Aaron has the labels of autism and developmental disabilities. It is a complicated story. In the comments, let me know if this makes sense.

Click on the Following Articles for Additional Background:


Our House of Cards|Disability Style (Part 1)

Attack by Friendly Fire| People with Disabilities and their families
Have you ever rented a house or apartment?
If you answered "yes" you are like the majority of us. It is a typical, normal experience, right?
Normal World
You sign a lease.
You pay your rent on time.
You take good care of the inside of the house, providing the furnishings.
You pick up the sticks and papers in the yard.
You pull weeds, mulch and plant flowers.
You don't put the garbage out until after 6 PM.
You get along great with your housemate and the neighbors.
Everything's great, right?
Disability World
In Aaron's case, he follows all the above, and has lived there for over 9 years.
In addition, since we figured he'd be living there the rest of his life (possibly 60 years) Aaron paid $1000 to build a patio on the back of the house.
Aaron got a HUD rent subsidy so he would only need one other housemate to help pay the rent. With his family, he even showed the owners of the house (a non-profit) how to get HUD approval.
Perfect tenant, right?
But, things are not perfect.
Because of his severe disabilities Aaron and his housemate need 24/7 support staff.
The company that manages the support staff has organizational, financial, and other issues (not unlike most residential companies).
So, though we love and trust Annie, our terrific head staff person, the company can't ever seem to get additional staff to help–especially on the weekends.
The company continually blames Aaron saying his autism and intellectual disabilities are more difficult than other "clients," so no staff want to work with him.
So we are stuck.
The county also says all the people who live in a house have to have the same residential provider.
So Aaron, Jack (his housemate/guardians) have to agree before we could change providers.
The county also tells us all the providers have the same issues, so it wouldn't really make much difference.
So we suck it up, but NOT quietly
With tremendous effort and lots of positive thinking, we keep working to make things better, and fall into an okay routine.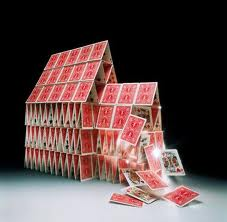 The Plot Thickens
What would you think if one day your landlord calls and says, you have a vacant bedroom in the house and there is a homeless person with severe disabilties who needs a place to live?
Further, the county is short on money and passed a regulation saying all empty bedrooms will be filled.
And oh, since you don't own the house–tough shit!
Oh, and by the way, the residential company you endure will now be in charge of three people. So if you want to change companies you will need not two–but all three people/guardians to agree before you can change.
They do promise additional quality staff for a couple hours in the morning and evening to help get everyone dressed, bathed, toileted, fed, and groomed. But we have been with this company for over 9 years and know they often make promises they can't keep.
Again, these are not evil people, they just don't have the support system THEY need.
The Perfect Storm
If this was a Stephen King novel, at this point in the story there would have to be some unforseen twists to really make things interesting.
Since, being a person with a severe disability isn't drama enough, sure enough The Perfect Storm overturns the barely floating status-quo boat.
1. We still have trouble finding adequate staff.
2. Jack, Aaron's housemate, "falls," breaks his leg and is now using a walker (with great difficulty).
3. The replacement staff are "trained" by the supervisor over the phone. (Yep, couldn't make this up.)
4. Aaron's behaviors are increasing and when switching to new medications, the new staff (trained over the phone) accidently gives an overdose of Zoloft.
5. The county, like all government agencies, is desperate for funds.
6. The visit for the NEW housemate is set up for Tuesday night. Like it or not. (another post)
7. Make up a couple more dramas and they are probably true.
Discussion
Since the county and the residential provider both profess they follow the principles of normalization, inclusion, self-determination and John McGee's Gentle Teaching…. let's start there.
Normalization:
A normal person rents a house or apartment:
Unless they violate the terms of the lease, the landlord doesn't care what you do with the rooms in the house. In fact, they would only care if you brought in an extra person.
A person with a disability rents a house or apartment:
The landlord can demand you put a perfect stranger, with severe disabilities, in one of the rooms.
Even if you say, "These houses aren't private"– can you imagine going to any other group of people in HUD owned homes, people in the projects, people who are poor, elderly, unemployed, needy and telling them they HAD to add a stranger to their household?
Hey, most people don't even want to have relatives and people they know move in. Strangers, I don't think so.
Inclusion:
The house is in a residential neighborhood of single family homes. The houses is small and not zoned for a group home.
Adding one or two more housemates will mean there are twice as many cars, twice the number of staff, twice the number of pick up and deliveries.
One of the reasons the neighbors have been so nice, is they got to know Aaron and Jack. Our efforts to blend into the neighborhood and keep the house looking good has brought a level of acceptance. There is a delicate balance for inclusion in the neighborhood.
Self-Determination:
It seems when there are budget cuts–self-determination and individual choices are scratched off the books.
Aaron
There is no way adding a new housemate is in Aaron's best interests.
Aaron and Jack have had a terrible time getting quality staff, period.
Few will take them into the community. As Aaron's behaviors have deteriorated in the last year and he is on more medication, there is less incentive to take him even for walks in the neighborhood, as well as into neighborhood stores…. Aaron is already isolated. Adding a third housemate will make this even more difficult.
Gentle Teaching:
Dang, let's not even go there.
Summary:
This isn't all a surprise. In 2009, my husband and I challenged the county board's authority to do this. Earlier this year, we were alerted this might be happening. See above related posts.
I keep hoping there is some sort of HUD requirement saying the government can't just bring strangers to live in your house. (There is that constitutional protection against the government forcing people to house soldiers.)
I keep hoping some sort of civil rights, or just human compassion will prevail.
I keep hoping the fact that there have been two MUIs in the house in the last couple months (broken foot and overdose) will give people a clue that the house is in crisis.
I keep hoping the history of lack of adequate staff will also tell people that poorly paid and trained staff taking care of two men who need total care is a difficult job. Adding a third person is ridiculous.
I keep hoping that SOMEONE will notice the company in charge is filling for bankruptcy–duh! Do we really think it is safe to put MORE people in their charge?
Strategy:
We are using every avenue to fight this forced placement.
We are also trying to get the county to think outside the traditional funding box.
For years, we have heard about micro-boards, foster care, private providers, HUD houses, community initiatives, pairing people with disabilities with people who are poor, displaced, out of work….
Where are the creative thinkers who used to work with us? Where are the professionals who are being paid to problem-solve? Where are my friends who I trusted and gave years of volunteer time?
God knows I cry for the poor man who needs a home. If we weren't in such turmoil, I'd personally offer to help him.
God knows I also hear from my relatives and neighbors that the government is too big and needs to be cut.
God knows I even hear some people tell me, "You created this defective child, it is your responsibility to take care of him."
Please Comment:
Anyone have any ACES up their sleeves? Any trump or wild cards? Hey, I'll even consider some creative card tricks *wink wink*.
Thanks to everyone who has sent such kind notes of encouragement. We will survive. Aaron will survive.
But, geez louise… I figured out the Medicaid Waiver, I figured out the HUD rent subsidy and now people all over the area are using those supports. I'm exhausted.
We've taken Aaron home with us 15 of the last 30 days because of the turmoil in the house…And that was before the notice this week of the new housemate.  Share your thoughts.
Keep Climbing: Onward and Upward
All my best, Mary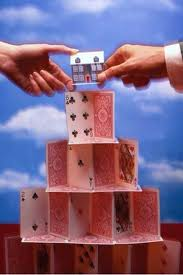 Living in a House of Cards| Non-Profits, HUD, Medicaid Waivers (Part 1)
My friend Debbie Wetzel always said the human service system was a house of cards.
As parents of people with severe disabilities, we need many agencies, many people working together to get basic services.
The right cards are usually hidden from sight. The agencies hope you don't need them, won't use them for a long time, and won't mind their card tricks.
When your child is in school, the ace up your sleeve is the opportunity to go due process, that brings some accountability. However, there are no mandates for residential or adult day services. There is no due process.
It takes a Herculean effort to hold a house of cards together. One piece falls–the whole house tumbles down.
And yet families need all the different agencies and services to try and create a decent quality of life for their vulnerable children.
Even with great transition and long range planning it is difficult to know what to do. Here is Aaron's Dream Plan number 4. (click here)
Right now Aaron's house of cards is falling down. Aaron has autism and other developmental disabilities. He is 36 years old. He has been living in a residence for almost 11 years.
It is complex and has taken a TON of work to make every card fit in place. I thought I would start Part One describing some of the pieces of our house of cards. I'm hoping someone will have ideas on how to solve our crisis.
Resident Home
Aaron and his housemate, Jack, rent the house from Resident Home, a non-profit. They have lived there for over 10 years and I think the Resident Home does a good job of keeping the house in good repair.
The house was acquired with a $10,000 grant from the state (for the down payment). Aaron qualified as the person with a developmental disability that needed a home, so it was because of Aaron that Resident Home got the grant. The house had to be located in the city limits of Hamilton, Ohio and there were other restrictions. But, it was the timing, and Aaron's eligibility that got the initial money.
Aaron signed the lease in his name.
Aaron also put $1000 of his own money into building a patio in the back yard. Tom and I take great pride in keeping the yard clean of trash, tree limbs (the lawn service won't pick them up) planting flowers, mulching, trimming shrubs….
Zoning
The house met the current zoning laws. Because there were only two people and one staff person living as a single family unit, there was no need for public hearings or zoning changes.
HUD Approval and Inspections
Resident Home had to get the house HUD approved and meet inspections a couple times a year.
I liked the idea of inspections for safety and hazards by an independent inspector. Since Aaron can't talk or tell us what is going on in the house, and the staff might not have the expertise–or the will, this provides another layer of protection to Aaron. Plus, if the resident was abusing the house, it provides a layer of protection to Resident Home.
Since Aaron will probably live in this house for the rest of his life, Resident Home has a steady tenant, almost no turnover, and guaranteed rental payment for their property investment.
When Aaron and Jack moved in, we had a room created by taking the back part of the two car garage (obviously, Aaron was never going to drive). This converted room became the permanent address for Jared, our full time caregiver. He stayed for over two years. When he moved, part-time staff slept and had an office in the room. The room has no closet (so technically isn't a bedroom according to building code) and because it was an addition, the heating and air conditioning doesn't work well. It's hot in the summer, cold in the winter. The little air conditioning unit fills the window that was added. There is no outside exit.
HUD
It took me over 3 years to figure out the HUD funding eligibility for Aaron. My brother rents HUD houses, so he helped.
Aaron was the first person with a significant disability in the state of OH. to get the subsidy. It took many meetings, and finding loopholes in the fine print. Up until Aaron got the subsidy, there were issues of two non-related people living in the same home (thanks gay rights advocates) and the fact that there was a caregiver staying in the house (thanks senior and elder care advocates).
We were told parents could own the house because there was such discrimination against people with disabilities and housing shortages. But, we were also warned that this could get tricky. Not sure where it stands in 2011. Also, initially we were told that if there were 2 people with disabilities in the house and a full time caregiver, they could apply for 3 bedrooms. Since I wasn't able to work for pay most of my life, we were grateful Resident Home was willing to buy the house.
Safety Issues–Staff Room
A bedroom with a door that locks was considered a safety issue since there have been caregivers (mostly women-some quite elderly) who are watching men (some of whom have abuse and labels of mental illness). Imagine, a woman sleeping on the living room couch with no where to go if one of the men got aggressive. Though rare, there have been some instances of abuse.
HUD Rent Formula
According to the HUD funding formula, Aaron and his housemate spend up to 1/3 of their income on rent and according to a formula (which only God could understand) HUD picks up the rest. The formula considers if it is a distressed neighborhood, county (urban, rural) whether there is a washer/dryer, stove… in the house.
The house has to be HUD approved and meet specifications like have a front door that locks and screens on the windows….
Aaron's portion of the rent comes from his HUD rent subsidy and his SSI.
SSI and SSDI
Social Security Income is a small monthly income given to people with disabilities. It depends on the person's work history and employment and other factors (known only to God) but I think Aaron's runs about $450 a month. Now, how anyone can live on $450 a month is also known only to God.
Social Security Disability Income is based on a person's work history and other requirements. It can also be based on the parent's eligability for SSI.
Amazingly, Aaron qualified for SSDI on his own. Which was good because as teachers, Tom and I didn't have social security. (I think teachers now have to pay into social security, but they didn't in the past.)
Work Study and Vocational Training
While Aaron was in Junior High and High School he participated in Work Study and summer, after-school work programs. He made a small wage plus learned great skills. He loaded pop machines, scraped gum off desks, watered flowers, cleaned windows, moved desks out of the classrooms for floor waxings, he folded towels, did laundry, picked up trash…. (He had a job coach with him.)
Because he had a disability at a young age, the number of quarters for eligibility were reduced. Every month I thank Aaron's great high school teacher for making these jobs available. Aaron gets an extra hundred dollars (I think) a month for SSDI.
Medicaid Waiver
It took me 4 years to figure out how to get Aaron a Medicaid Waiver. Aaron was one of the first people to get one in the state of Ohio and the first in Butler County. Ohio did not have the waiver until many years after other states like Minnesota.
Medicaid was set up for people in nursing homes. The "Waiver" was designed so people like Aaron wouldn't have to move into a nursing home–the money could follow them into their neighborhoods. At the time, it cost about $75,000 a year to keep Aaron in a nursing home or institution. It cost much less to be in his home community.
The Federal Government made a deal with the state of Ohio that they would pay 60% of the cost and the state would pick up 40%. Since the budget cuts, I think these formulas are changed and now the county board of developmental disabilities has to pick up most of these costs.
There are thousands of persons on the waiting lists for Medicaid Waivers. In my personal opinion, it is the strong nursing home industry lobby that is forcing Ohio to use most of its dollars for nursing homes and institutions, rather than the more economical community waivers.
If you are lucky enough to get a Medicaid waiver, you can transfer the money to another county in Ohio (if they approve it) but you CANNOT move out of state.
When we wanted to move to South Carolina or Tennessee to be closer to Aaron's brother (his future guardian), we learned we would lose Aaron's waiver and have to get on that state's waiting list.
We filled out all the paperwork for Tennessee, met with a young social worker who was just married. Basically we were told the only way we could get a waiver in Tennessee was to drop Aaron off at a street corner and say he was homeless. The interesting part of this story is that we checked back with this social worker two years later to see where Aaron was on the waiting list. She pointed to a pile of papers in her office that went floor to ceiling and said, Aaron's paperwork was somewhere in the pile. She also told us she was now divorced.
Aaron's name on the waiting list, lasted longer than the marriage of the social worker. We gave up and sold our property in Tennessee.
Too Complicated? Questions? Ideas? Comments?
If you were a parent or had a family member with a disability where would you go? What would you do? Please share your thoughts.
Keep Climbing: Onward and Upward.
All my best, Mary
People First Controversy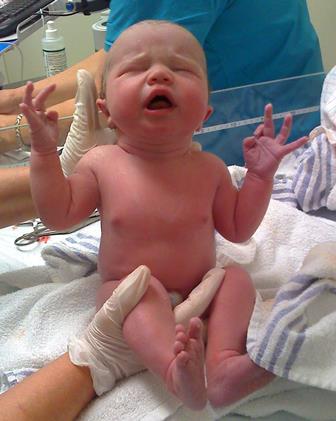 Background:

There is controversy in the disability community about the use of People First or Person First language.

I've written several posts about People First language:

*Stigma and segregation caused by labels like "mental retardation" and,

*Challenge to bloggers to use People First language.

Some self-advocates on the Autism Spectrum disagree They feel parents want to deny "autistics" and "aspies" their unique voices. They say parents only want to destroy autism and cure their children.

I am proud to support Rosa's Law and advocate for People First Language. Perhaps these personal stories will explain.

I'm going to start and end with "Wheelchair Becky" but also share some stories about the past history of people with disabilities, my son Aaron, myself, and my hope for the future.
Is People First Language important for "Wheelchair Becky"?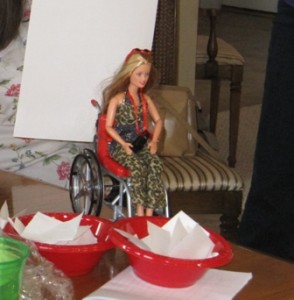 In a previous post: Building Community | Wheelchair Becky vs. Flat Stanley, I wrote about the way the Mattel Company thought "Wheelchair Becky" and "Black Barbie" would teach children about diversity and tolerance…and how it backfired.
I think People First language is part of the solution. If you disagree, that's okay. It's part of celebrating diversity.
Is People First language important for Aaron?
Aaron is my son's name.
He has been depersonalized, reified and labeled by doctors, psychologists and other professionals as autistic, cerebral palsied, DD, MR, sensory deficit, movement disorder, severe/profound….
In the precedent setting Roncker case, the school psychologist testified under oath that Neill Roncker and others (like Aaron) had such low IQs "they wouldn't know the difference between sitting next to a real person or sitting next to a rock." So segregating them in separate schools with their own kind would make no difference. She considered their education a waste of school resources. Many people still agree with her.
So, I feel strongly People First language is important. Aaron is a person first. Others can give him labels. Some are medical and diagnostic but others are cultural: brother, son, uncle, cousin, friend, neighbor, patient, consumer, ….
This has nothing to do with wishing Aaron was cured. This is not denying the "autistic" culture. This has nothing to do with "disability pride." It has everything to do with survival.

People First language reinforces the moral argument that people with severe disabilities are people and have a basic right to exist. A right to breathe, to be a member of the human race, to live with our families, go to neighborhood schools and community activities–rather than live in institutions.
Check out Parallels in Time history of people with disabilities It is filled with the abuse of those basic human rights. The more we know about our history, the more we understand the need to protect our rights to "life, liberty and the pursuit of happiness." This is a daily challenge as we fight for caring staff, decent living conditions, health care, opportunities to be safe and belong to our families and communities. There are many people who see only the disability–and think that means we don't need the same care and support–we are not really citizens, not really human.
Aaron is a "person" with wants, needs, likes and dislikes like everyone else. He is Aaron, that unique PERSON whom I love. He is Aaron a citizen with rights.
As I look at my life as a parent, advocate, teacher and friend to people with disabilities, I find I have excluded myself from my community. Yea, me–the advocate for inclusion.
Is Mary a Person First?
All mothers understand this conundrum. Especially when your child is so vulnerable. I've spent many years hanging around people working for the civil rights of people with disabilities i.e. Mothers of Special Children, Special Education Parent Groups, Arc, Autism National Committee, TASH…. I am a member of Disability World. Maybe not a primary consumer, but certainly a secondary consumer.
At some point, I realized I had to reclaim my own personhood. My personal resolution to rejoin the mainstream of my community included finding writers' groups.
OVRWA
Fortunately, I found the Ohio Valley Romance Writers of America (OVRWA) in my community. These talented women have become more than mentors, they have become friends. I learned almost every one of them has a PEN Name, some have more than one.
Men with Pens
Men with Pens has also been a terrific community for beginning writers and bloggers. I've met James Chartrand who also wrote about using Pen Names and Pseudonyms.
Positive Solution: Writer's Groups and Pen Names
So, it occurred to me: What if our stigmitized "Wheelchair Becky" started to include herself in these writing communities? After all, she'd graduated from the high school yearbook committee, right?
What if "Wheelchair Becky" chose her own Pen Name, became her own person, and like Flat Stanley started to integrate herself into the community?
Pen Names
Urban legend says one way to pick your Pen Name is to:
1. Write down the name of your first pet.
2. Write down the name of your street address when you
owned that pet.
I consulted with "Wheelchair Becky" and she agreed to make this into a community-building activity at the OVRWA holiday party.

Everyone wrote their pet's name and put the papers in one red dish.
Everyone wrote their street address and put the papers into another dish.

Then "Wheelchair Becky" with the help of a friend, chose one name from each dish and VOILA—

Smokey Woods was born.
How do we build an Inclusive Community?
In the tradition of Flat Stanley and many writers, Smokey Woods began to make friends and include herself into the community. Here (at the head of the table) she is toasting in the New Year with our family. (BTW: She doesn't eat much and is a cheap drunk.)
Here my precious granddaughter is playing with Smokey Woods the romance writer.
Smokey Woods is a doll, a toy. Smokey might use a wheelchair to get around, but she has a name.
My granddaughter represents the future. For Aaron, for me, for all people with disabilities. She will see people like Smokey in her classes and community. When she watches Glee on TV, she sees Artie singing and dancing. He also uses a wheelchair, but Artie has a name–and it doesn't start with "wheelchair."
Names matter. Aaron is Aaron. Mary is Mary.
I'm not promoting People First language because I am looking for a cure. I'm looking for survival and ways to prevent the abuse and segregation of the past. I'm looking for community inclusion.
For Aaron.
For myself and my family.
For all the next generation of little kids who will be learning about diversity by playing with dolls and watching TV.
I also think Mark Twain, Dr. Seuss and all the other writers who use Pen Names would approve.
Keep Climbing: Onward and Upward
All my best,
Mary and Smokey
Your Turn:
Did this make sense? Are there important reasons to use People First Language? Can we learn more about community inclusion and what it means to be a real person by looking at our language and the names we call each other? Do we need to study the past so we can move forward? In the comments please share your ideas.