Posts Tagged 'mental retardation'
People First Controversy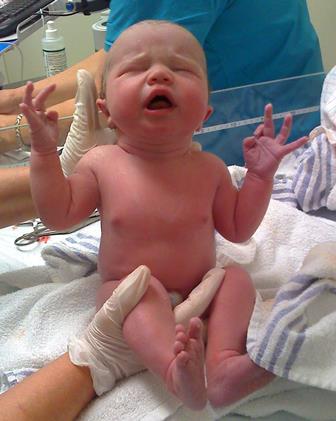 Background:

There is controversy in the disability community about the use of People First or Person First language.

I've written several posts about People First language:

*Stigma and segregation caused by labels like "mental retardation" and,

*Challenge to bloggers to use People First language.

Some self-advocates on the Autism Spectrum disagree They feel parents want to deny "autistics" and "aspies" their unique voices. They say parents only want to destroy autism and cure their children.

I am proud to support Rosa's Law and advocate for People First Language. Perhaps these personal stories will explain.

I'm going to start and end with "Wheelchair Becky" but also share some stories about the past history of people with disabilities, my son Aaron, myself, and my hope for the future.
Is People First Language important for "Wheelchair Becky"?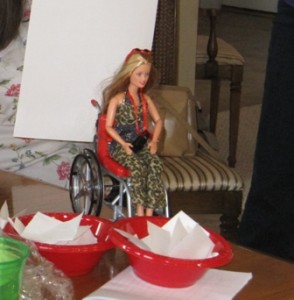 In a previous post: Building Community | Wheelchair Becky vs. Flat Stanley, I wrote about the way the Mattel Company thought "Wheelchair Becky" and "Black Barbie" would teach children about diversity and tolerance…and how it backfired.
I think People First language is part of the solution. If you disagree, that's okay. It's part of celebrating diversity.
Is People First language important for Aaron?
Aaron is my son's name.
He has been depersonalized, reified and labeled by doctors, psychologists and other professionals as autistic, cerebral palsied, DD, MR, sensory deficit, movement disorder, severe/profound….
In the precedent setting Roncker case, the school psychologist testified under oath that Neill Roncker and others (like Aaron) had such low IQs "they wouldn't know the difference between sitting next to a real person or sitting next to a rock." So segregating them in separate schools with their own kind would make no difference. She considered their education a waste of school resources. Many people still agree with her.
So, I feel strongly People First language is important. Aaron is a person first. Others can give him labels. Some are medical and diagnostic but others are cultural: brother, son, uncle, cousin, friend, neighbor, patient, consumer, ….
This has nothing to do with wishing Aaron was cured. This is not denying the "autistic" culture. This has nothing to do with "disability pride." It has everything to do with survival.

People First language reinforces the moral argument that people with severe disabilities are people and have a basic right to exist. A right to breathe, to be a member of the human race, to live with our families, go to neighborhood schools and community activities–rather than live in institutions.
Check out Parallels in Time history of people with disabilities It is filled with the abuse of those basic human rights. The more we know about our history, the more we understand the need to protect our rights to "life, liberty and the pursuit of happiness." This is a daily challenge as we fight for caring staff, decent living conditions, health care, opportunities to be safe and belong to our families and communities. There are many people who see only the disability–and think that means we don't need the same care and support–we are not really citizens, not really human.
Aaron is a "person" with wants, needs, likes and dislikes like everyone else. He is Aaron, that unique PERSON whom I love. He is Aaron a citizen with rights.
As I look at my life as a parent, advocate, teacher and friend to people with disabilities, I find I have excluded myself from my community. Yea, me–the advocate for inclusion.
Is Mary a Person First?
All mothers understand this conundrum. Especially when your child is so vulnerable. I've spent many years hanging around people working for the civil rights of people with disabilities i.e. Mothers of Special Children, Special Education Parent Groups, Arc, Autism National Committee, TASH…. I am a member of Disability World. Maybe not a primary consumer, but certainly a secondary consumer.
At some point, I realized I had to reclaim my own personhood. My personal resolution to rejoin the mainstream of my community included finding writers' groups.
OVRWA
Fortunately, I found the Ohio Valley Romance Writers of America (OVRWA) in my community. These talented women have become more than mentors, they have become friends. I learned almost every one of them has a PEN Name, some have more than one.
Men with Pens
Men with Pens has also been a terrific community for beginning writers and bloggers. I've met James Chartrand who also wrote about using Pen Names and Pseudonyms.
Positive Solution: Writer's Groups and Pen Names
So, it occurred to me: What if our stigmitized "Wheelchair Becky" started to include herself in these writing communities? After all, she'd graduated from the high school yearbook committee, right?
What if "Wheelchair Becky" chose her own Pen Name, became her own person, and like Flat Stanley started to integrate herself into the community?
Pen Names
Urban legend says one way to pick your Pen Name is to:
1. Write down the name of your first pet.
2. Write down the name of your street address when you
owned that pet.
I consulted with "Wheelchair Becky" and she agreed to make this into a community-building activity at the OVRWA holiday party.

Everyone wrote their pet's name and put the papers in one red dish.
Everyone wrote their street address and put the papers into another dish.

Then "Wheelchair Becky" with the help of a friend, chose one name from each dish and VOILA—

Smokey Woods was born.
How do we build an Inclusive Community?
In the tradition of Flat Stanley and many writers, Smokey Woods began to make friends and include herself into the community. Here (at the head of the table) she is toasting in the New Year with our family. (BTW: She doesn't eat much and is a cheap drunk.)
Here my precious granddaughter is playing with Smokey Woods the romance writer.
Smokey Woods is a doll, a toy. Smokey might use a wheelchair to get around, but she has a name.
My granddaughter represents the future. For Aaron, for me, for all people with disabilities. She will see people like Smokey in her classes and community. When she watches Glee on TV, she sees Artie singing and dancing. He also uses a wheelchair, but Artie has a name–and it doesn't start with "wheelchair."
Names matter. Aaron is Aaron. Mary is Mary.
I'm not promoting People First language because I am looking for a cure. I'm looking for survival and ways to prevent the abuse and segregation of the past. I'm looking for community inclusion.
For Aaron.
For myself and my family.
For all the next generation of little kids who will be learning about diversity by playing with dolls and watching TV.
I also think Mark Twain, Dr. Seuss and all the other writers who use Pen Names would approve.
Keep Climbing: Onward and Upward
All my best,
Mary and Smokey
Your Turn:
Did this make sense? Are there important reasons to use People First Language? Can we learn more about community inclusion and what it means to be a real person by looking at our language and the names we call each other? Do we need to study the past so we can move forward? In the comments please share your ideas.
Love–NOT Labels
With families, "Love" is all that matters–no matter what, unconditionally.
The love we feel for our child, our baby, our sister, brother, son, daughter can never be replaced by a medical or psychological term some professional puts on a chart. So in isolation, it shouldn't matter if the diagnostic label is "retarded" or "intellectual disability."
As we spoke about in the post Circle of Life (click here) each person and family is part of a much larger system and what affects one part of the system affects all the parts of the system.
And that is where the chosen word and label does matter–big time.
Yesterday in the related post, "Retarded"–no more (click here) I briefly wrote about Rosa's Law and showed one of the press releases/alerts sent by parents and advocacy groups to change the words, "retarded" to "intellectual disability." Some of these advocates are professionals who make their living working with people with disabilities. But like most of the legislation of the last 60 years, Rosa's Law came about through the vision and hard work of families.
If you want more information on what parents have accomplished visit Parallels in Time I (click here) and II (click here)
I was going to summarize Senator Mikulski's Statement on the Introduction of Rosa's Law (below) but since her words still make me cry, I figured you'd want to see the "primary research document". Especially check out Nick Marcellino's comments. And get the Kleenex handy.
This is just one family who went to one more meeting, talked with one more politician–but this time, with a lot of hard work and uniting allies, they changed the system. Maybe it is just a small step in the scheme of things. There are still thousands of people with intellectual disabilities and their families who do not have the services they need. But, this small step gives us all hope that our democratic system works. An individual can make a difference.
It amazes me that in an election year when politicians can't agree on anything, they unanimously voted for this law. That alone makes it memorable.
Comments Please:
What do you think about Rosa and her family? Have you ever been an advocate for change? How, When, Why? How did it feel?
How is this press release different than the one in Retarded–no more?
Keep Climbing: Onward and Upward
All the best,
Mary
Rosa Marcellino and her family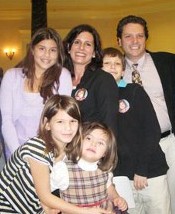 FOR IMMEDIATE RELEASE:
17-Nov-2009 CONTACT: Press Office
202-228-1122

Senator Mikulski's Statement on Introduction of Rosa's Law

WASHINGTON, D.C. – U.S. Senator Barbara A. Mikulski today introduced Rosa's Law, a bill that will eliminate the terms "mental retardation" and "mentally retarded" from the federal law books. U.S. Senator Michael B. Enzi (R-Wyo.), Ranking Member of the Health, Education, Labor and Pensions Committee, is the Republican sponsor of the bill.

Senator Mikulski's statement as delivered on the Senate floor follows:

"Today I rise to introduce legislation that I'm calling Rosa's Law. This bill began by listening to the people in my own state. It began when a mother told me a compelling story about her own daughter, her family's efforts to give her daughter an opportunity for an education and to be treated with respect and with dignity. And at the same time, it began with the advocacy of not only she and her husband, but of her entire family, including her 14 year old son Nick who testified at the Maryland General Assembly.

"As a result of their effort, I'm introducing Rosa's Law. Before I say more about the bill, I want to tell you about the family. I want to tell you about the Marcellinos, Joseph and Nina who are parents to four children – Nick, Madeleine, Gigi and Rosa. They're in the gallery now watching this and I wish you could have been with me in my office as I met with the parents and talked with the family.

"Last year, at a roundtable on special education, I met Nina Marcellino for the first time. She told me about her daughter Rosa who was labeled at her school some years ago as mentally retarded. She told me about the stigma, the pain, and the anguish it caused both Nina and her husband, Rosa's brother and sisters as well as the Rosa herself.

Nina and Joseph reached out to their local disability advocacy organization, The Arc, to see what could be done to change the law. They then reached out to a member of the Maryland General Assembly, a wonderful Representative named Ted Sophocleus. He introduced legislation in the General Assembly that would change the word 'mentally retarded' and substitute it with the phrase 'an individual with an intellectual disability.'

"That's why I stand on the Senate floor today to introduce, at the request of the family, a law on behalf of this little girl and on behalf of all of the children of the United States of America who are labeled, stigmatized and bear a burden the rest of their lives because of the language we use in the law books.

"My law changes the phrase 'mentally retarded' to 'an individual with an intellectual disability' We did this in health, education and labor policy without in any way negatively impinging upon either the educational or other benefits that these children are entitled to.

"When it came time to bring the bill before the General Assembly, the family was there. And who spoke up for Rosa? Well, her mom and dad had been speaking up for her. Her brother Nick and sisters Madeline and Gigi had been speaking up for her. This wonderful young boy, Nick, at the time 13, this is what he said to the Maryland General Assembly,

'What you call people is how you treat them. What you call my sister is how you will treat her. If you believe she's 'retarded' it invites taunting, stigma. It invites bullying and it also invites the slammed doors of being treated with respect and dignity.'

"Nick's words were far more eloquent that day than mine are today. I want to salute Nick for standing up for his sister, but I think we need to stand up for all because in changing the language, we believe that it will be start of new attitudes towards people with intellectual disabilities. Hopefully, people will associate new words with the very able and valuable people that go to school, work, play soccer or live next door.

"Eunice Shriver believed in this when she created the Special Olympics. She knew that special needs children need special attention but they can do very special things, and look what she started. I had the opportunity to talk to Rosa's mom Nina while this bill was under consideration by the Maryland General Assembly. I promised her then that if that bill passed the Maryland legislature, I would bring it to the floor of the United States Senate.

"Well, it passed unanimously. Governor O'Malley has signed it and today I stand before you introducing the legislation. It makes nominal changes to policy in federal education, health and labor law. It simply substitutes 'intellectual disability' for 'mental retardation.' This bill will neither expand nor diminish services, rights or educational opportunities. We vetted it with legal counsel. We reached out to the very wonderful advocacy groups in this field and they concur that this legislation would be acceptable.

"This is not the first time we've updated this terminology. Our laws once referred to boys and girls as 'feeble minded.' We thought we were being advanced when we changed it to 'mentally retarded' in the 1960s. Now, 40 years later, let's take another big step and change it to 'intellectual disability.'

"This bill makes language used in the federal government consistent. The President's Committee on Mental Retardation was changed by executive order so it is now the Committee on Individuals with Intellectual Disabilities. The CDC uses 'intellectual disability,' the World Health Organization uses 'intellectual disability,' so my law makes the language consistent within the federal government.

"I've always said that the best ideas come from the people. Rosa's Law is the perfect example of effective citizen advocacy. A family that pulled together for their own and in pulling together they're pulling us all along to a new way of thinking. I want to recognize the Marcellino family who is with me in the gallery and the namesake of the law Rosa's Law pictured behind me. She is also up there today.

"I also want to take the opportunity to thank my colleagues. It was indeed an honor to represent this family. I believe that in our country people have the right to be heard and that we should listen. They have a right to be represented, which I've tried to do. And now, let's try to change the law.

"It was a pleasure to work with Senators Harkin and Enzi, the Chair and Ranking Member of the HELP Committee. I have their wholehearted support. This is going to be a nonpartisan bill. We're going to check our party hats at the door and move ahead and tip our hat to these boys and girls.

"This bill is driven by a passion for social justice and a compassion for the human condition. We've done a lot to come out of the dark ages of institutionalization and exclusion when it comes to people with intellectual disabilities. I urge my colleagues to join me in a step further. Help sponsor the legislation that I offer on a bipartisan basis. Help me pass the law and know that each and every one of us makes a difference. When we work together, we can make change."
photo credit: Okinawa Soba
Bulletin Board
Today and Everyday is "Stop the 'R' word" Day.
Parents, Advocates and Schools around the country are joining in.
Many people are always complaining that the world is too complex –there is nothing they can do.
Stop the "R" word Challenge

YOU can make a difference by choosing respectful language in your own conversations. Doable, Yea!
If you have a story, please share it in the comments.
Here are the articles I have posted on this topic as well as some information on Rosa's Law which was passed last year to take the words "retarded" out of all public documents. This is more than just being politically correct, it is a step toward seeing people with intellectual disabilities as being "human."
The "R" word| A Challenge to Bloggers
Definitions of the word "Retarded"
Building Community| Using People First Language
Father of Normalization and Citizen Advocacy
Wolf
Wolfensberger
On February 27, 2011 Wolf Wolfensberger died.
Since 1973, Dr. Wolfensberger had been a professor in the School of Education at Syracuse University. His enormous contributions to the disability community will be felt for generations to come.
Dr. Wolfensberger was the originator of Social Role Valorization, the Normalization Principle as well as Citizen Advocacy: major concepts that strongly influenced disability policy and practice in the US and Canada.
He was widely recognized as a major contributor to the field of intellectual and developmental disabilities in the 20th century had a reputation for being a stirring and controversial speaker.
He was the author and co-author of more than 40 books and monographs, and more than 250 chapters and articles. His writing has been translated into 11 languages.
His best known books were: Changing Patterns in Residential Services for the Mentally Retarded, The Principle of Normalization, PASS, and PASSING (Evaluation tools for programs to meet the principles of Normalization).
The "R" Word: A Challenge to Bloggers.
Stop the "R" Word
March 6, 2013 is designated "Stop the 'R' Word day. If you go to their website they have many ideas for activities and actions. If we each do one thing, we can make a difference for the future of our children. Please share your thoughts and actions in the comments.
David Hinsburger and the "R" word.
David Hinsburger is an award-winning author and advocate for people with disabilities. His article titled: The People who "ARE" the "R" Word is a must read classic for anyone who doesn't understand what the fuss is all about.
My Letter to a Major Blogger
As promised in my post "Definitions of "Retarded", this is the letter I wrote to a major blogger when he used the words "retarded" and "idiot" in one of his posts. It is edited for this post.
Hi _____,

I have followed your blog ____ for a long time and enjoy your stories, ideas and writing style. However, I have issues with your use of the words: "retarded, idiot, moron and imbecile."

You have made strong statements about using whatever words you want–even if they offend people and hit their hot buttons.

You can use words like "idiot, moron, imbecile, crip, tard…," but why?

I agree this is America and defend your right to freedom of speech. I agree people who find these words offensive can just unsubscribe. But… you are a smart and thoughtful person. Why would you want to purposely offend vulnerable people?

I would rather believe you don't understand how much these words hurt.

Mental Retardation–two words that matter.

My son has the label of "mental retardation" now called an "intellectual disability." Because of those two words, he was not allowed to go to public school.

Because of those two words we had to spend three years in court, costing thousands of dollars. We, along with other parents, had to prove our children were human and had the right to "life, liberty and the pursuit of happiness." We had to prove in court that our son would benefit from being around other people and his mere presence on the school grounds would not harm other children. Because of those two words he was not allowed to participate in swimming lessons with the other kids in our neighborhood PUBLIC park. Because of those two words our family has been refused to be served in a restaurant and a Doctor refused to have our son for a patient…need I go on?

But our problems were minor compared to people with the label of intellectual disability in the past.Parallels in Time: A History of People with Disabilities

Just a generation ago, because of those two words, people were treated as animals instead of humans. They were sterilized, given doses of radioactive materials in their oatmeal. They were taken from their families ("for their own good") and warehoused in inhuman institutions. Some were not given clothes and had to sleep on straw. They were denied even the most basic human rights–all because one psychologist in one situation gave them one test and labeled them those two words.

Most history books have made people with disabilities invisible. So, you probably aren't aware, but the words: "moron, idiot and imbecile" came straight from the medical manuals of less than 40 years ago.

There are still churches which will not allow people with the label of those two words to marry, some churches do not even allow "those" children to attend their services or receive the sacraments. Many private schools and churches legally still segregate and discriminate against our children with those two words.

There are many normal couples who joyfully want a baby–until they hear those two words, and then immediately abort. There are Baby Doe cases where if the baby has Down syndrome and is assumed to have mental retardation, the family refuses to take the baby home from the hospital and refuses to allow the baby to have food. There are cases of "wrongful birth" where the parents sue the Doctors for allowing their child with "mental retardation" for being born.

In 2012 we can add the case of baby Amelia Riveria who was refused a transplant because she had an intellectual disability. The hospital has recently apologized.

"Mental Retardation, retard, retarded" are not funny words"

In Ohio, the state legislature passed a bill in 2009 to remove the words "Mental Retardation" from state agencies and its documents. This was the work of numerous advocates and thousands of hours of public hearings.

This is a civil rights movement where we are fighting for the right of our children to live, work and recreate in the community. The right to be seen as human beings and citizens of this great country.

Sticks and Stones … and words can hurt.

When a label carries enough stigma that the label alone can cause discrimination–the label is a problem.

The civil rights movement of the 60's laid the ground work for Sec. 504 of the Rehabilitation Act and the Individuals with Disabilities Education Act…. and our civil rights legislation, The American with Disabilities Act (1990). If you look at the closing statements in Brown vs. Board of Education (1954) you will see the school district's argument, (paraphrased) "If you let negro children in the public schools, the next thing you know the school will have to educate retarded children and Indians."

In 2012, our children have the right to go to public schools, and restaurants cannot refuse to serve us, or ask us to leave because they don't like "the way we look".

This is NOT ancient history. This is NOT some group of radical parents and advocates who just want people to be politically correct.

Churches, non-public schools and organizations can still discriminate and decide who they allow in their churches but because so many of our children are going to school and living with their families in the communities, there is not the fear that once existed. And the medical professionals have dramatically changed their low expectations and acknowledge the limits of the IQ test and other measures they used to label people.

Sure this came about because of civil rights court cases and federal legislation, but mostly it happened as decent people decided to give people who were different a chance. I know it is unpopular to say that the Federal Government and Laws are important. Many people say there is too much government. I wish there was more protections and enforcement for vulnerable people.

Challenge to Bloggers

My challenge to all bloggers is:

Will you take cheap shots and continue hateful language which hurts people? Or, will you use respectful language and recognize people with intellectual disabilities are people and at least give us all a chance to build a better world.

Words have power. You have power.

Will you use your power to continue to hurt people, or for change?
I know you didn't mean to hurt anyone, but for those of us (like me) who have children with IQs below 50, children who were labeled "idiots" by our Doctors and medical professionals and who are struggling every day to try and make a better life for our children, the words: "retarded, idiot, moron, imbecile" are downright offensive. So forgive me that I rant today instead of ignoring it.

I know the words are used everywhere and people aren't particularly trying to hurt people with intellectual disabilities but I would appreciate your consideration.

Thanks. Mary
The blogger I sent this letter to agreed to not use the offensive language only asking that he remain anonymous. I consider that a victory for all of us, and it has made me a loyal fan.
Rosa's Law
Rosa's Law was passed and signed by President Obama in 2009 to use People First language in all Federal documents. Love, NOT Labels| Rosa's Law
I am hoping other bloggers will take up the challenge and use People First language and the words "intellectual disability" in a respectful way.
This is a fresh start. We can do it right this time.
What about you?
Will you take the challenge to remove the "R" word and other hurtful words from your vocabulary?
Will you help educate others who use the words?
Will you learn more about PEOPLE FIRST LANGUAGE?
Talk to me in the comments. Let me know what you are thinking.
Keep Climbing: Onward and Upward.
All the best,
Mary
Related Posts:
Remarkable Parents who Never Give Up
Happy Feet, Retarded Teeth and Carnival Goldfish
People First Language| Building Community, "Wheelchair Becky" and Smoky Woods