Posts Tagged 'normalization'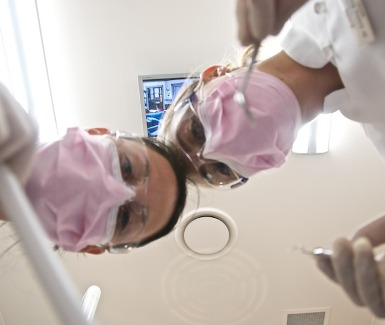 When Aaron was in high school he needed to get his wisdom teeth pulled. Sounds normal, right? You, me and most people get our wisdom teeth pulled.
The difference between you, me, most people and Aaron is Aaron has autism. That makes a huge difference in the choice of dentists, hygienists, insurance…pain, suffering and good oral hygiene.
Over the years, Aaron has had some great dentists and some not-so-great. Some great hygienists and…hygienists who refused to put their fingers in his mouth. One dentist wouldn't let Aaron in his waiting room. I've written about the "retarded teeth" episode.
Like most people I asked my friends for recommendations and was directed to Dr. G. for the wisdom teeth. We stuck.
Fifteen years later Aaron is still going to Dr. G., even though he is a pediatric dentist. The advantage of a pediatric dentist is he does not rely on the patient for any information and works quickly. Dentists and Doctors who work with adults usually ask their patients if they are having any trouble and expect them to participate in examinations. Young children and people with disabilities who don't use words are a lot alike.
Normalization–Yes; Age-appropriate–No.
Dr. G has a "normal" practice. He works with lots of children and a handful of people with disabilities. While this meets the definition of "normalization" or "social role valorization," this would not meet the definition of age-appropriate–Aaron is 36 years old.
How the Doctor Visit Works
Last week Aaron had his bi-yearly visit for a check-up and cleaning. Tom, my husband, takes Aaron (I'm too squeamish).
We have learned the best time for an appointment is the last appointment before lunch. This way, there are only a handful of other patients, the waiting room is less chaotic, and if Aaron runs over, there is some flexibility. We also schedule a day when Kathy, the dental hygienist, is working.
Full Circle
Kathy has worked with Aaron for many years but this year, a new hygienist was assisting her. Turns out this new hygienist was one of Dr. G and Kathy's former patients. She grew up watching Dr. G and Kathy, became a dental assistant and now is working in their office. Full Circle.
Inclusive Dental Care | Autistic Dental Care–NOT!
Kathy used the same techniques she uses with all her patients. The trick is she individualizes the care based on the individual needs of the patient.
Individualized Dental Plan
As Kathy worked she explained what she was doing to Aaron, Tom, and the new assistant—between verses of camp songs! So, "I'm using these cotton squares to absorb the fluid so Aaron doesn't swallow and gag…Eeeeye, eeeeye, Ohhh. And on his farm he had a cow…"
Kathy and everyone in the office, including the other hygienists, the patients and their parents all sing during the dental cleanings. She'll be comin' round the mountain, Wheels on the bus, If you're happy and you know it…
Aaron loves it. This helps him relax, plus it builds a community among all the people in the room.
This isn't the dreaded trip to the dentist I had when I was a kid, this is just a trip to the dentist with some fun people. And, the most interesting thing is ALL the other kids and parents love it too. Aaron often makes strange noises, somehow having a familiar song and such an accepting environment makes everything okay.
The amazing results are Kathy gets Aaron's teeth cleaned thoroughly, she even flosses his teeth.
This is ASTOUNDING!
If you polled a group of 50 school psychologists 100% of them would say flossing Aaron's teeth was impossible. You see this would NOT fit in any scientific venue. There would not be a big enough sample of patients, there would not be replication or any guarantee this would work in other dental offices. There would not be a lot of people just like Aaron, or like Kathy or Dr. G.. So, scientific methods are not applicable, this is not predictable. It just works.
Other tricks we learned from Dr. G, Kathy and the other people in the dentist's office:

1. Use a sealer on the teeth. Aaron got his first sealant applied when they first came out over 15 years ago. The sealant has held up. Aaron has had no cavities in all that time.

2. Aaron goes into the hospital and Dr. G does a deep cleaning when needed. In 15 years, Aaron has had this procedure two times. It requires him to be put under, so it is serious.

3. Dr. G especially looks for gum disease at each visit.

4. He does not recommend an electric toothbrush for Aaron.

5. He does give a report card to Aaron on his dental hygiene.

6. We take this report card to Aaron's ISP meeting and incorporate the teeth brushing into Aaron's goals. Now, we know Aaron doesn't brush his teeth—so this is mainly for the staff. But by incorporating it into the record keeping, there is some accountability for staff.

7. I'm sure Kathy and the others have all kinds of technical hints i.e. Because of Aaron's balance issues, they adjust the chair for Aaron's comfort—rather than theirs….
Dr. G.
As far as we know, Dr. G does not get paid for working with Aaron. We give the office staff Aaron's medical card, but Dr. G has shared it is not worth his time to file the paperwork.
Kathy and the other hygienists always tell us it is their pleasure to work with Aaron. And they make us believe it. They make us feel Aaron is an important member of their caring community.
They make us feel welcome. We feel no one could pay them for the love and extra attention they give to Aaron. It is a special gift indeed.
I think they use Aaron to train their staff. Who knows whether that new hygienist may one day be doing Aaron or someone else's teeth? I like to think Aaron is teaching them? Maybe they think, my god, if we can floss Aaron's teeth—we can do anyone! Or, maybe it is a point of pride that they are damn good hygienists!
I think it is because they are just good people who care about other people. They are good hygienists with everyone–not just Aaron.
In return, as Aaron's parents we cherish them and their gift.
State Cutbacks
When the state was going to reduce the dental visits from 2 times a year to once a year for people on medical cards, I wrote a letter to the state and called Ohio Legal Rights. The state cut back, reinstated, and then I think the current status is cut back again to one time a year.
Since Dr. G is so generous, we have had the luxury of taking Aaron twice a year. And we know we are blessed. Aaron has a great smile, his teeth and gums are healthy. We are lucky.
Tom and I also hassle the residential staff about brushing Aaron's teeth. I've written before about how the caregivers don't think this is necessary. So we make sure the staff knows this is a big deal and we will follow-through if Aaron's teeth are not clean.
Every office visit, we also always bring all the dental staff flowers or a plant, we send thank you cards and tell them how wonderful they are. Kathy always gives Aaron a hug. And it always chokes us up.
Bill F.
Wolf Wolfensberger wrote an article about Bill F. I will never forget. Wolfensberger is a professor at Syracuse University who is famous for his theory of Normalization, Social Role Valorization and Citizen Advocacy.
In his article, Bill F. is a man with an intellectual disability who actually died because he was not given dentures that fit. This started a cycle of him not being about to eat well, manage his diabetes, which led to him becoming frail, which led to him falling, which meant he was put into a nursing home and lost his apartment and independence…. And died—all because he didn't get the dental care he needed.
The other part of the Bill F story is about the role of advocates, friends, citizens who just cared about Bill and tried to get him help. These citizen advocates (here is an article from the MN Governor's DD Planning Council site) gave Bill the dignity of being a friend and person. Not a client, not a patient, not a person with mental retardation who they were going to save or offer their charity. These citizen advocates cared about Bill the person.
I like to think Dr. G, Kathy and the other staff are not just doing their jobs when they treat Aaron. They have proven, time and again, they care about Aaron. He is more than just the patient in the 11:00 slot.
I think Aaron gives them something rare, something that makes them feel proud and humbled that they can be with him.
So, AHHHHHH indeed. Dr. G, Kathy and all people who work to give good dental care and sooo much more–Thanks We Love You. You make our mouths and hearts smile!
Keep Climbing: Onward and Upward
All my best,
Mary
Comments:
If you liked this post, please add your thoughts, share it on Twitter, Facebook… and other social media.
What do you think about the government cutting back dental services for people with disabilities? Does it make a difference if they only get their teeth cleaned once a year? Would they have extra reasons for needing check-ups twice a year? Is this discrimination? Are dental services for people with disabilities a waste of taxpayer dollars?
PS. You are allowed to disagree with me, a different viewpoint, helps us learn and find solutions.
Wolfensberger, W. (1989, December). Bill F.: Signs of the times read from the life of one mentally retarded man. Mental Retardation, 27(6), 369-373.
The Race Toward Inclusion| Do you see it?
I love this picture. It reminds me of many of my favorite quotes:
"The real voyage of discovery is not in seeking new lands, but in seeing with new eyes." Proust

"No one's blinder, than s/he who will not see." Kenny Rodgers' song

"The race is not only to the swift, but to s/he who keeps on running." (unknown)

"It is only with the heart that one can see rightly; what is essential is invisible to the eye." Antoine de Saint-Exupéry

Eyeballs Running Everywhere
The racing eyeballs also remind me of late at night, lying in bed when my thoughts just keep galloping around in my head.
Our world is filled with a myriad of choices, distractions, good and bad news–all begging for our eyeballs and attention.
Parents of typical kids have trouble sorting out their priorities, and much of their intense parenting ends when their kids are 21. For parents of kids with disabilities, our hardest years are after graduation.
We are supposed to be experts on everything, autism, intellectual disabilities, developmental disabilities, govenment laws and departments on local, state and federal levels, advocacy organizations…. 
We are supposed to visualize our future, our children's future.
We are supposed to foresee what will happen, so we can be prepared to protect our vulnerable children.
It makes me dizzy.
I want my bloodshot eyeballs to stop racing around trying to keep up. I want to be able to look forward to a future where my son will be okay. I want to be able to trust the professionals to do their jobs…I want to sleep in peace–(well, not the eternal kind of peace, just restful, you know sleeping through one or two nights 🙂
What about you?
Can you see the good–and ignore the distractions of failed levies, government cutbacks, negative news?
Can you watch the media focus on new segregated programs and ignore inclusive programs?
Can you envision new inclusive services in the community?
Can you discover hopeful ideas and events?
Can you anticipate next week being better? Next month? Next year? 10 years from now?
Can you believe you will have the people and resources you need?
Do you also feel dizzy?
We need to narrow our focus and concentrate on "the essential": What can we do today to move toward the inclusion of our children in society?
We can't solve all the issues of the world. But we can exercise the Power of One and do one thing today to make a more inclusive world for the person we care about. One thing. Today.
But how do we decide on that one thing? How do we filter out all the choices?
Pruning
Just like a gardener or farmer prunes the dead wood from a rose bush or apple tree, we need to teach ourselves to prune the information that bombards us everyday. We can make the choice to throw out some information, ignoring potential goldmines. If it is really a goldmine–it will still be there tomorrow. I do this by limiting the time I spend watching TV, the news, using social media like Twitter and Facebook. I don't care what Brad Pitt is doing, I don't want to hear about recent car wrecks, abused children, or floods in Asia. I can't do anything about it. If it is bad, scary, if it is going to keep my eyeballs busy while I am trying to sleep–I prune it out. The world can move on without me.
Planned Ignoring
Planned ignoring is consciously making a decision to ignore certain things. Planned Ignoring gives me time to digest and analyze the information I already know. We need to allow ourselves to "see" and "not see" as we make our priorities. This will help us reduce the overwhelm. We can stop the racing eyeballs in our minds. We can allow ourselves the luxury of closing our eyes for a moment, and find our FOCUS.
Seeing with New Eyes of Inclusion
Long ago, I decided my "voyage of discovery" was to the land of inclusion. It meant learning new ideas, shifting my paradigm, and it is based on the principle of normalization, I want my son Aaron to have as normal a life as possible (period). I can make a difference for him by seeing with my new eyes of inclusion.
What do I see? What does my loved one see?
Is this moving toward inclusion?
I have to live in the real world, so I compromise a lot. But I try to keep my vision focused on the goal: Inclusion for Aaron and others. For instance, yesterday I again had a discussion about filling out a form when we picked Aaron up at his house. Because of the principles of inclusion and normalization, I will still make up my own form, rather than use the medical model form from the agency. Six month ago I was promised this would be changed, but Herbie still lives. Herbie bits the dust">Click here.
When I first confronted the agency six months ago, I was using "pruning." I would chop out the old policy. I made phone calls, was given assurances that it would be changed.
For the last five months, I've used "planned ignoring". I kept hoping they would keep their promise to change the form. I kept signing the form I made myself. (The house staff was also using planned ignoring–and just let me do my thing.)
But now, it's time to use my "new eyes" and make one change as we journey into our annual ISP (Individualized Service Plan–the adult service version of the IEP only without the due process).
I'm predicting: The EYES will have it!
Sweet Dreams Everyone.
Keep Climbing: Onward and Upward
All my best
Mary
COMMENTS:
What do your eyeballs see? What is your vision for the future? Do you think the concepts of "pruning," "planned ignoring" and "seeing with new eyes" are useful strategies? Are some people incapable of "seeing"?
"If you don't design your own life plan, chances are you'll fall into someone else's plan. And guess what they have planned for you? Not much." – Jim Rohn
I will soon be celebrating my 66th Birthday. I used to think 66 was old. Now I just think 66 is experienced with a lot of living yet to do.

I wonder what the world will be like when Aaron, Tommy, Ana and even little Isabella turn 66? When I blow out my candles, I'm wishing with all my heart the world will be inclusive. And, we'll all be part of a caring community who values diversity and individual contributions because together we are stronger.
In Part 1: 1981 Aaron was 6 years old and we outlined a vision of what a happy, successful quality of life would look like for Aaron as an adult. (click here).
In Part 2: 1989, Aaron was 14 years old and we were moving forward. The Plan was updated to take into account the changes in our family, but also the changes in special education, disability services and the world. (click here)
In Part 3: 1998 Aaron is 23 years old and moving out of his parent's house into his own place with a roommate and 24 hour assistance from caregivers. (Click here)
In Part 4: 2016:
How did we do?
All Dream Plans were built on the concepts of family, community, normalization and inclusion.
Original 1981 Dream Plan for Aaron
Aaron will be educated in a public school with his non-handicapped brother and neighbors. He will have a functional curriculum (see related post) which looks at his needs in his life spaces (vocational, leisure/recreation, domestic, general community functioning). His out-of-school activities will evolve around his family and his own friends, interests and talents. He will be in age-appropriate settings: elementary school ages 5-10; Jr. High ages 11-13, Sr. High ages 14-21, job in the community 21+. He will begin vocational training now, at age 6, so he will be able to perform the job. (If he isn't able to be a dishwasher, then he can be a dishwasher's helper, etc… there is some job he will be able to do with success.) At the appropriate time, Aaron will move to a group home to live with others his age. Though dependent in many ways, Aaron will have self-esteem and confidence in the things he does and be a contributor to his family, his extended family, and society.
Current 2010 Dream Plan for Aaron
Aaron was educated in a public school with his brother and the neighbors. After we won our lawsuit with Cincinnati Public Schools, the school district was vindictive and since Tom (Aaron and Tom's father) was a teacher in the district we decided to move to Lakota School District. Aaron rode the bus to school with the neighborhood kids, he received a functional community based program with some excellent teachers and therapists who used best practice. His out-of-school activities evolved around his family and his own friends, interests and talents. Aaron went to the prom with his friend Jenni, he was on the Jr. High Track and Cross Country team where he earned school letters, he rode horses, swam, went to camp and took summer vacations with his family. He went to family reunions, holiday parties and the high school basketball and football games. He was on an inclusive bowling team and made some friends with the Baseball Team players. He was in the Key Club and had a circle of friends. He received extended school year services. He attended graduation (see related article) and had a celebration for all his family and friends. Aaron went to age-appropriate schools and had a job coach to help him in his job at the police station (vacuuming) and amusement park (watering plants) when he left school. When Aaron was 23 he moved into a house with another person (though he was older) and they have lived together for over 12 years. Aaron is still totally dependent but he has self-esteem and confidence in the things he does. He is loved and is a contributor to his family which now includes a niece and sister-in-law as well as his extended family of grandma and cousins. Aaron votes and is a consumer in our society.
Each one of these sentences is filled with years of work and advocacy. There are a whole lot of buts, buts, and more buts that happened when Aaron turned 21 that we didn't foresee at age 6….
But considering the mountain we climbed to achieve all of the goals—WE DID IT!
1981 Dream Plan for Tommy
Tommy will be educated in a public school with his handicapped brother and neighbors. He will have a functional curriculum which looks at the needs in his life spaces, (academic, vocational, leisure/recreation, domestic, general community functioning). His out-of-school activities will evolve around his family, his own friends, interests, and talents. He will be in age-appropriate settings. He will make a career choice and pursue training (vocational, university, apprentice…). At a time he decides is appropriate, Tommy will move to his own home, probably marry and begin his own family. He will have self-esteem and confidence in the things he does and be a contributor to his family, his extended family and society.
Current 2010 Dream Plan for Tommy
Tommy went to school with his brother and neighbors. He had a functional curriculum that met his needs. He participated in wrestling, theater, cross-country and track, he went to all the school functions. He was in age-appropriate settings and shadowed adults in careers he was interested in. He began a couple career directions and graduated from Morehead State University with a job in the telecommunications field. He is now a Radio Frequency Engineer working on the new G4 systems. His work experience includes setting up the telecommunications for the Super Bowl and NASCAR events. His bride, Ana, is from Brazil and now they have a baby girl who is 18 months old. Tommy sees Aaron and his extended family every week. He is remodeling his house with his friend. He has self-esteem and confidence in the things he does and is a contributor to his family, his extended family and society.
Tommy is on his own. He has his own responsibilities and we help him every way we can. He is interdependent only because he wants to be. Now he makes his own dream plans for himself and his family. Here is a related article about Tommy and Aaron (Click here)
Aaron… well another post we'll talk about life after age 22 and adult services.
Comments:
How are Aaron and Tommy's dream plans different? At age 6 and age 22 and age 35? age 66? How did they turn out? Were they much different than the plans your parents made for you? Much different than you make for yourself? What would you say is the lesson?
Keep Climbing: Onward and Upward
All the best,
Mary
"Toyland, toyland, magical girl and boy land. Once you cross its borders, you can never return again." (Babes in Toyland)
There's No Santa
Aaron and Tommy got off the school bus and our world changed.
Tommy walked in the front door, threw his backpack in the corner and announced "There's no Santa Claus." Apparently, Billy and Josh minced no words on the bus ride home. And, they were third graders who knew these things.
Aaron, my son with the label of autism, went straight to the refridge.
But what is a mother to do?
I got Aaron settled with a snack and his music and then sat next to Tommy on the couch. We both were facing the Christmas tree and feeling pretty glum when he crawled into my lap. That action alone choked me with tears. Tommy was seven years old and seldom let me hold him on my lap any more–yet another reminder my baby was growing up.
His happy world was just turned upside-down.
Like all parents, I knew this moment would come. And, I wanted to send coal to Billy and Josh for ruining the fun.
I knew this was one of those rite-of-passages, a transformational moment in his young life–but darn. It seemed just yesterday he was three and running down the steps on Christmas morning, diving into the presents from Santa–darn, darn.
For a long time, we watched the reflection of the lights on the tree ornaments and didn't say anything.
It was a treasured moment but I was desperately trying to think of how to keep the magic. How could I patch up the hole of a Santa that no longer was real?
Sure we've had some close calls, i.e. St. Nick and the Batman socks. But this time, there was no going back.
Tommy finally started talking and asked some questions. He said he had suspicions because the whole Santa-goes-around-the-world-in-one-night is a little hard to believe. But, but, but.
There were the things he said: "So there's no Easter Bunny, or Tooth Fairy…?" "Was God real?"
And the things he didn't say: "Did all adults lie, trick kids and play games with them?" "Who could he now trust?"
I tried to put myself into his world and think of ways he might understand. My explanation that Santa was a make-believe superhero bombed. Later, I could talk about Jesus and the gifts of the Magi, but that seemed abstract for the current moment.
Changing Roles
I'm not sure what inspired me, but as Tommy sat in my arms with his chin on his chest, I suggested Santa was a tradition about giving.
"The Santa tradition" was a fun way for everyone to be an actor in a giant real life magic play. It didn't matter your age, it was about finding someone who needed cheering up, or needed help and giving it to them.
I told him little kids didn't understand this, but big kids like him, now got to be part of the fun by becoming a Secret Santa to others. This seemed to make sense to Tommy.
Okay, who could we surprise? Who needed some Christmas cheer?
Tommy's grandparents had just separated after a long and unhappy marriage. Grandpa had moved into a basement apartment in a not-so-great neighborhood and told the family, "This year I'm keeping it simple and not putting up a Christmas tree."
So that minute, Tommy started to plan a Christmas makeover for Grandpa's apartment. Tommy decided to become a Secret Santa.
Secret Santa
For the next few days, Tommy spent every minute making decorations, planning how to sneak into Grandpa's apartment, going shopping for supplies and a small tree….
He decided we needed cookies and put me and Aaron to work.
Age-Appropriate
Aaron was nine years old. If Tommy (two years younger) no longer believed in Santa, then it was no longer age-appropriate for Aaron to believe in Santa either. Tommy was always my measure of "normalization" for Aaron.
I know some parents who, when they are told their child has severe intellectual disabilities or Down syndrome or…console themselves, "Well, at least they will always believe in Santa Claus."
I know parents, special needs charity groups, care providers and teachers who take adults with disabilities to sit on Santa's lap at the mall. In groups. UGH!
I know some adults with disabilities who have flat-out refused to go saying it embarrassed them. I know others who do it just to please others. I know some adults with disabilities who just haven't had the guidance to know better.
The RULE for age-appropriate and normalization is: "Would a person without a disability do this?" "Will this activity add or subtract to a person's positive image in the community?"
In this case, an adult with a disability sitting on Santa's lap in the mall makes them seem like an "eternal child" not an adult who will live and work as a contributing member to the community.
This is a difficult concept for a lot of people. But this was the right move for Aaron and our family.
Grandpa's Surprise
On Christmas Eve Tommy, Aaron, Tom and I got the key to Grandpa's apartment and put on our red Santa hats. In under an hour, we decorated the tree, put holiday towels in the bathroom and kitchen, added colorful plants and pillows to his living room and his favorite snacks in the fridge. Tommy posted his drawings all over the apartment with a note next to a plate of sugar cookies:
Dear Al,

I heard you were a good boy this year.

Happy Christmas.

Love,

Secret Santa
Babes in Toyland
Tommy glowed as he locked Grandpa's door. As we got into the sleigh (er, car) we giggled, reviewed our Christmas caper, sang carols and drove out of sight.
When we stopped for burgers and fries (even Secret Santas have to eat) Tommy decided to continue wearing his Santa hat. Aaron–not so much. But my babes had transformed.
There was still Santa and giving and Christmas. But they were no longer the "Babes in Toyland."
From now on, Mom's IEP for the holidays would have to include our new roles as Secret Santas.
Over the next years, more innocence would be lost. There would be new lessons and transformations–but that is all part of growing and learning. It is all part of the magic of being a child. Being a parent. And, all part of the Santa Tradition.
Keep Climbing: Onward and Upward
All my best wishes. Ho-HO-HO. Have some fun this holiday and we'll see you next year.
Mary
Share your Santa story:
How did you find out about Santa Claus? What are some of the ways you continue the tradition of giving? Any Secret Santa stories? Any thoughts on normalization and age-appropriate?