Posts Tagged 'normalization'
Helen Otten, my mom, died April 3 at the age of almost 93. I'm posting this in her memory. I'm also reminded of the importance of family.
The twelfth day of Christmas is Jan. 6th–Little Christmas, The Feast of the Magi.
Actually, it's all the Magi's fault. They are the ones credited with giving the first gifts.
Based on the number of people in line at the return desks last week, I'd say many people had problems with their gifts. (Actually I could see Mary and Joseph thinking the gold was useful, they could buy a wagon or better donkey, but what were they supposed to do with Frankincense and Myrrh. Myrrh–really????)
I know it is supposed to be the "thought that counts," but it really is much more. Gifts are a whole cultural phenomenon.
My mother is 89.
Recently she's had hip replacement surgery and has trouble shopping for herself.
Two months before Christmas she told me she wanted slippers. Slippers it is. I don't have to guess her gift. And this is great…EXCEPT
Every day for the next month she would call me on the phone (usually at 6 AM because that is when she wakes up and is thinking about slippers) and define what kind of slippers. They had to have rubber soles so she could wear them outside if she wanted. And this is great…EXCEPT
She couldn't tell me her size. It seems some Large slippers are size 8-9, some Larges are size 9-10. And the manufacture, design, model, production all make a difference.
I went to three different stores and brought her "Pair number one" on Thanksgiving. She didn't even try them on. Which actually made it easier to exchange them, which is great…EXCEPT
She really wanted black. But none of the stores made black slippers. So, I picked out some navy size 8's and 9's and 10's, and some pink (everything she owns is pink) in a size 8-9, and 9-10. And I figured I'd give her a choice. Which was great…EXCEPT
She decided she wanted slippers that weren't slip-ons. "Only the devil would make slippers with open backs" and she has had slippers that covered her whole foot, well–her whole life. And, she thinks she has ugly toes, so–none of those slippers with toe cut-outs. So, I boxed up and returned the slippers. And it was great…EXCEPT
The next three stores didn't have black or whole foot slippers. But they did have navy.
You know where this is going, right?
Yep, I rebought her the same slippers (that she wouldn't even try on) from the first round. She opened them on Christmas and said they were perfect.
So, it makes you wonder.
Was the gift really about slippers at all?
Grandma and the Thong
The picture above is from a previous Christmas. My sister Martha worked in a lingerie store and gave each of the girl cousins a pair of thongs. They thought they were nice. Certainly something practical they could use. EXCEPT
She also gave one to Grandma.
The gift became an urban legend in our family. It brought down the house.
Even though mom didn't even recognize the thong as underwear—it was the shared experience with her grandkids that made it the perfect gift.
Which again makes me wonder about gifts.
Aaron's Christmas Gift and Charity
This Christmas Aaron went to a Christmas Party sponsored by a local non-profit. These are kind folks. Many of the people with severe disabilities are the poorest people in the county and don't even have family members who can give them gifts. So, this is not only a nice gesture, it is an opportunity for these poor souls to get a little something extra.
This year the non-profit got items donated by local businesses to give as gifts. Over 150 adults with disabilities came to the Christmas Party and Dance.
There are so few recreation opportunities, many of the people put on their best clothes and showed up early. Many more wanted to come, but there was little transportation and they depend on staff–who didn't want to bother.
At the party, even though they arrived early, there were only chairs for 100 people. So Aaron and Jack, his roommate, had to stand and hold their coats.
Since Aaron has balance problems, and couldn't understand why he couldn't sit down (people were guarding their chairs) he started biting his hand and pinching others. Not good behavior at a party.
Their staff person made the sensible decision to leave (even more people were coming in the already over-crowded room). Aaron and Jack were each given a "gift bag" at the exit. Which was nice… EXCEPT
The gift bag had a pair of donated slippers. Yea! I would be laughing too, slippers… EXCEPT
The slippers were size 11.
Aaron wears a size 9.
Now, no one with balance issues is safe wearing a pair of slippers two sizes too big. And, unlike my mother, these slippers were charity—donated. So there was no gift card or receipt, most people had no dutiful daughter, family or staff who cared to make an exchange.
And, Aaron couldn't understand why anyone would give him slippers he couldn't use. So he just carried the slippers around the house—making me crazy that good, kind people could be so dumb. After all who is the "intellectually challenged" person here? Did they think they wouldn't notice the slippers didn't fit? Or all people wear size 11?
Is "Just getting something to open" the point? Even if they can't use it?
What is Charity?

If you plan a charitable event and are giving gifts:

Don't

Don't just arbitrarily pass out slippers, or coats, or T-shirts with misspelled words.

Don't give radios with no batteries—because they want to use the radio that minute and staff often won't be bothered with batteries.

Don't give them things you couldn't sell or are broken.

Don't make your interaction a one-time-event.

Do

Do have a party with chairs and refreshments for everyone.

Do get to know people as individuals

Do think about what YOU would want to get

Do think about normalization, age-appropriate entertainment and gifts.

Do think about transportation and staff and family members
Do consider that the shared experience, like Grandma getting the Thong, may be the best gift ever—no excepts.
Keep Climbing: Onward and Upward
All my best,
Mary
Comments:
Okay, best/worst gift stories? Am I just being an ungrateful jerk? What is the role of charity? Is it appropriate to give broken, torn things to Goodwill/charity? Only 258 shopping days until Christmas????
Celebrating St. Nick and Two Special Sons
Family Traditions:
Because of our German heritage, St. Nicholas' Feast day on Dec. 6th was the start of the Christmas season. The tradition of putting out our socks (or shoes) was always great fun.
Aaron, our son with the label of autism, and Tommy, our son with the label of normal are now 36 and 35 years old. Last post I wrote about how our holiday celebrations are evolving: St. Nick meets Disney Princesses.
Old Traditions
The first year we were married, my mother-in-law Jean, hand-made Christmas stockings for our mantle. Of course, we were living in a small apartment with no fireplace or mantle, but it began a family tradition. You know this was a long time ago because while Tom's sock was a typical crew man-sock, mine was shaped like silk hose plus garter. (Do they even make those anymore?)
To personalize the stockings, Jean lovingly sewed small schoolhouses on both of our stockings because we were teachers, adding a felt wedding ring on mine and a felt set of golf clubs on Tom's. When I was pregnant, she made an "Our Grandbaby" sock for Aaron who was going to be born in December. Later I store-bought some Christmas stockings for both my sons but glued and sewed some Christmasy trim on the socks.
Now a generation later, I captured our family's own Norman Rockwell moment—Isabella pointing to the "Our Grandbaby" stocking on our mantle.
Making New Family Traditions
Lots of families put up Christmas stockings, some find stockings that are personalized with each person's name, or hobbies, or interests like socks for dog lovers, Barbie dolls, sports fans, or ….
But, our family made the old tradition our own by adding a token of some special moment each year on St. Nick's Feastday.
Adding a Memory a Year
Throughout each year, Tom and I look for small tokens and give them to each other on St. Nick's Day.
Vacations and trips were easy. There were always ready-made patches, pins, buttons we could pick up at souvenir shops. Scouts, school events, sporting ribbons and awards also were small and could be easily attached to the socks. We even added some mementos inside the socks, like Tommy's business cards for each new job and Aaron's first pay check. Now the front, back and inside of the socks carry magic moments to remember.
Our socks have become treasured scrapbooks of our lives.
What do you think? Does this tradition meet the test of inclusion+ normalization? Are Aaron and Tommy's socks alike? Age-appropriate? Do these socks also celebrate their individual gifts and interests?
You can see Aaron's Trolley Bus pin from our trips to the Smokies, the pin from Carlsbad Bat Cave, his school bus and Lakota Pin, his prom key chain, his Boy Scout patch from Woodland Trails, a horse pin from Cincinnati Riding for the Handicapped, National Park patches where he hiked with our family…
Tommy has Boy Scout pins, school patches from the cross-country team, buttons of him looking fierce in his junior high wrestling uniform. Tommy also hiked the same easy trails in the National Parks but those patches were not the same accomplishment they were for Aaron. Tommy was proud of his week in Philmont and the more difficult mountain hikes on the Appalachian Trail with his dad…
So both Aaron and Tommy had hiking patches. The difference was the intensity, duration and difficulty of the trails.
Both were proud accomplishments.
Transition
Tommy's wife, Ana, bought Christmas stockings for their first Christmas together. Each year I give them some token to add to their sock. This year, Ana became a United States Citizen. After the ceremony the Daughters of the American Revolution passed out little flag pins. I asked for an extra one, planning to add it to her sock.
Aaron just moved into his new house, I have stockings ready for his first house decorating party, he will get a house key on his sock.
And so the tradition continues:
"The stockings were hung by the chimney with care, in hope that St. Nicholas soon would be there." (Night before Christmas)
Wishing you many happy memories this holiday season.
Keep Climbing: Onward and Upward
Best,
Mary
Comments
I hope you'll share some of your family's holiday celebrations. Is this an idea your family can adapt? Does your family celebrate St. Nick's or have some unique tradition?
Other stories you might enjoy:
Tale of Two Brothers: Sibs of People with Disabilities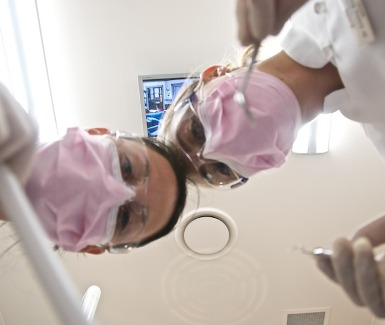 When Aaron was in high school he needed to get his wisdom teeth pulled. Sounds normal, right? You, me and most people get our wisdom teeth pulled.
The difference between you, me, most people and Aaron is Aaron has autism. That makes a huge difference in the choice of dentists, hygienists, insurance…pain, suffering and good oral hygiene.
Over the years, Aaron has had some great dentists and some not-so-great. Some great hygienists and…hygienists who refused to put their fingers in his mouth. One dentist wouldn't let Aaron in his waiting room. I've written about the "retarded teeth" episode.
Like most people I asked my friends for recommendations and was directed to Dr. G. for the wisdom teeth. We stuck.
Fifteen years later Aaron is still going to Dr. G., even though he is a pediatric dentist. The advantage of a pediatric dentist is he does not rely on the patient for any information and works quickly. Dentists and Doctors who work with adults usually ask their patients if they are having any trouble and expect them to participate in examinations. Young children and people with disabilities who don't use words are a lot alike.
Normalization–Yes; Age-appropriate–No.
Dr. G has a "normal" practice. He works with lots of children and a handful of people with disabilities. While this meets the definition of "normalization" or "social role valorization," this would not meet the definition of age-appropriate–Aaron is 36 years old.
How the Doctor Visit Works
Last week Aaron had his bi-yearly visit for a check-up and cleaning. Tom, my husband, takes Aaron (I'm too squeamish).
We have learned the best time for an appointment is the last appointment before lunch. This way, there are only a handful of other patients, the waiting room is less chaotic, and if Aaron runs over, there is some flexibility. We also schedule a day when Kathy, the dental hygienist, is working.
Full Circle
Kathy has worked with Aaron for many years but this year, a new hygienist was assisting her. Turns out this new hygienist was one of Dr. G and Kathy's former patients. She grew up watching Dr. G and Kathy, became a dental assistant and now is working in their office. Full Circle.
Inclusive Dental Care | Autistic Dental Care–NOT!
Kathy used the same techniques she uses with all her patients. The trick is she individualizes the care based on the individual needs of the patient.
Individualized Dental Plan
As Kathy worked she explained what she was doing to Aaron, Tom, and the new assistant—between verses of camp songs! So, "I'm using these cotton squares to absorb the fluid so Aaron doesn't swallow and gag…Eeeeye, eeeeye, Ohhh. And on his farm he had a cow…"
Kathy and everyone in the office, including the other hygienists, the patients and their parents all sing during the dental cleanings. She'll be comin' round the mountain, Wheels on the bus, If you're happy and you know it…
Aaron loves it. This helps him relax, plus it builds a community among all the people in the room.
This isn't the dreaded trip to the dentist I had when I was a kid, this is just a trip to the dentist with some fun people. And, the most interesting thing is ALL the other kids and parents love it too. Aaron often makes strange noises, somehow having a familiar song and such an accepting environment makes everything okay.
The amazing results are Kathy gets Aaron's teeth cleaned thoroughly, she even flosses his teeth.
This is ASTOUNDING!
If you polled a group of 50 school psychologists 100% of them would say flossing Aaron's teeth was impossible. You see this would NOT fit in any scientific venue. There would not be a big enough sample of patients, there would not be replication or any guarantee this would work in other dental offices. There would not be a lot of people just like Aaron, or like Kathy or Dr. G.. So, scientific methods are not applicable, this is not predictable. It just works.
Other tricks we learned from Dr. G, Kathy and the other people in the dentist's office:

1. Use a sealer on the teeth. Aaron got his first sealant applied when they first came out over 15 years ago. The sealant has held up. Aaron has had no cavities in all that time.

2. Aaron goes into the hospital and Dr. G does a deep cleaning when needed. In 15 years, Aaron has had this procedure two times. It requires him to be put under, so it is serious.

3. Dr. G especially looks for gum disease at each visit.

4. He does not recommend an electric toothbrush for Aaron.

5. He does give a report card to Aaron on his dental hygiene.

6. We take this report card to Aaron's ISP meeting and incorporate the teeth brushing into Aaron's goals. Now, we know Aaron doesn't brush his teeth—so this is mainly for the staff. But by incorporating it into the record keeping, there is some accountability for staff.

7. I'm sure Kathy and the others have all kinds of technical hints i.e. Because of Aaron's balance issues, they adjust the chair for Aaron's comfort—rather than theirs….
Dr. G.
As far as we know, Dr. G does not get paid for working with Aaron. We give the office staff Aaron's medical card, but Dr. G has shared it is not worth his time to file the paperwork.
Kathy and the other hygienists always tell us it is their pleasure to work with Aaron. And they make us believe it. They make us feel Aaron is an important member of their caring community.
They make us feel welcome. We feel no one could pay them for the love and extra attention they give to Aaron. It is a special gift indeed.
I think they use Aaron to train their staff. Who knows whether that new hygienist may one day be doing Aaron or someone else's teeth? I like to think Aaron is teaching them? Maybe they think, my god, if we can floss Aaron's teeth—we can do anyone! Or, maybe it is a point of pride that they are damn good hygienists!
I think it is because they are just good people who care about other people. They are good hygienists with everyone–not just Aaron.
In return, as Aaron's parents we cherish them and their gift.
State Cutbacks
When the state was going to reduce the dental visits from 2 times a year to once a year for people on medical cards, I wrote a letter to the state and called Ohio Legal Rights. The state cut back, reinstated, and then I think the current status is cut back again to one time a year.
Since Dr. G is so generous, we have had the luxury of taking Aaron twice a year. And we know we are blessed. Aaron has a great smile, his teeth and gums are healthy. We are lucky.
Tom and I also hassle the residential staff about brushing Aaron's teeth. I've written before about how the caregivers don't think this is necessary. So we make sure the staff knows this is a big deal and we will follow-through if Aaron's teeth are not clean.
Every office visit, we also always bring all the dental staff flowers or a plant, we send thank you cards and tell them how wonderful they are. Kathy always gives Aaron a hug. And it always chokes us up.
Bill F.
Wolf Wolfensberger wrote an article about Bill F. I will never forget. Wolfensberger is a professor at Syracuse University who is famous for his theory of Normalization, Social Role Valorization and Citizen Advocacy.
In his article, Bill F. is a man with an intellectual disability who actually died because he was not given dentures that fit. This started a cycle of him not being about to eat well, manage his diabetes, which led to him becoming frail, which led to him falling, which meant he was put into a nursing home and lost his apartment and independence…. And died—all because he didn't get the dental care he needed.
The other part of the Bill F story is about the role of advocates, friends, citizens who just cared about Bill and tried to get him help. These citizen advocates (here is an article from the MN Governor's DD Planning Council site) gave Bill the dignity of being a friend and person. Not a client, not a patient, not a person with mental retardation who they were going to save or offer their charity. These citizen advocates cared about Bill the person.
I like to think Dr. G, Kathy and the other staff are not just doing their jobs when they treat Aaron. They have proven, time and again, they care about Aaron. He is more than just the patient in the 11:00 slot.
I think Aaron gives them something rare, something that makes them feel proud and humbled that they can be with him.
So, AHHHHHH indeed. Dr. G, Kathy and all people who work to give good dental care and sooo much more–Thanks We Love You. You make our mouths and hearts smile!
Keep Climbing: Onward and Upward
All my best,
Mary
Comments:
If you liked this post, please add your thoughts, share it on Twitter, Facebook… and other social media.
What do you think about the government cutting back dental services for people with disabilities? Does it make a difference if they only get their teeth cleaned once a year? Would they have extra reasons for needing check-ups twice a year? Is this discrimination? Are dental services for people with disabilities a waste of taxpayer dollars?
PS. You are allowed to disagree with me, a different viewpoint, helps us learn and find solutions.
Wolfensberger, W. (1989, December). Bill F.: Signs of the times read from the life of one mentally retarded man. Mental Retardation, 27(6), 369-373.
The Race Toward Inclusion| Do you see it?
I love this picture. It reminds me of many of my favorite quotes:
"The real voyage of discovery is not in seeking new lands, but in seeing with new eyes." Proust

"No one's blinder, than s/he who will not see." Kenny Rodgers' song

"The race is not only to the swift, but to s/he who keeps on running." (unknown)

"It is only with the heart that one can see rightly; what is essential is invisible to the eye." Antoine de Saint-Exupéry

Eyeballs Running Everywhere
The racing eyeballs also remind me of late at night, lying in bed when my thoughts just keep galloping around in my head.
Our world is filled with a myriad of choices, distractions, good and bad news–all begging for our eyeballs and attention.
Parents of typical kids have trouble sorting out their priorities, and much of their intense parenting ends when their kids are 21. For parents of kids with disabilities, our hardest years are after graduation.
We are supposed to be experts on everything, autism, intellectual disabilities, developmental disabilities, govenment laws and departments on local, state and federal levels, advocacy organizations…. 
We are supposed to visualize our future, our children's future.
We are supposed to foresee what will happen, so we can be prepared to protect our vulnerable children.
It makes me dizzy.
I want my bloodshot eyeballs to stop racing around trying to keep up. I want to be able to look forward to a future where my son will be okay. I want to be able to trust the professionals to do their jobs…I want to sleep in peace–(well, not the eternal kind of peace, just restful, you know sleeping through one or two nights 🙂
What about you?
Can you see the good–and ignore the distractions of failed levies, government cutbacks, negative news?
Can you watch the media focus on new segregated programs and ignore inclusive programs?
Can you envision new inclusive services in the community?
Can you discover hopeful ideas and events?
Can you anticipate next week being better? Next month? Next year? 10 years from now?
Can you believe you will have the people and resources you need?
Do you also feel dizzy?
We need to narrow our focus and concentrate on "the essential": What can we do today to move toward the inclusion of our children in society?
We can't solve all the issues of the world. But we can exercise the Power of One and do one thing today to make a more inclusive world for the person we care about. One thing. Today.
But how do we decide on that one thing? How do we filter out all the choices?
Pruning
Just like a gardener or farmer prunes the dead wood from a rose bush or apple tree, we need to teach ourselves to prune the information that bombards us everyday. We can make the choice to throw out some information, ignoring potential goldmines. If it is really a goldmine–it will still be there tomorrow. I do this by limiting the time I spend watching TV, the news, using social media like Twitter and Facebook. I don't care what Brad Pitt is doing, I don't want to hear about recent car wrecks, abused children, or floods in Asia. I can't do anything about it. If it is bad, scary, if it is going to keep my eyeballs busy while I am trying to sleep–I prune it out. The world can move on without me.
Planned Ignoring
Planned ignoring is consciously making a decision to ignore certain things. Planned Ignoring gives me time to digest and analyze the information I already know. We need to allow ourselves to "see" and "not see" as we make our priorities. This will help us reduce the overwhelm. We can stop the racing eyeballs in our minds. We can allow ourselves the luxury of closing our eyes for a moment, and find our FOCUS.
Seeing with New Eyes of Inclusion
Long ago, I decided my "voyage of discovery" was to the land of inclusion. It meant learning new ideas, shifting my paradigm, and it is based on the principle of normalization, I want my son Aaron to have as normal a life as possible (period). I can make a difference for him by seeing with my new eyes of inclusion.
What do I see? What does my loved one see?
Is this moving toward inclusion?
I have to live in the real world, so I compromise a lot. But I try to keep my vision focused on the goal: Inclusion for Aaron and others. For instance, yesterday I again had a discussion about filling out a form when we picked Aaron up at his house. Because of the principles of inclusion and normalization, I will still make up my own form, rather than use the medical model form from the agency. Six month ago I was promised this would be changed, but Herbie still lives. Herbie bits the dust">Click here.
When I first confronted the agency six months ago, I was using "pruning." I would chop out the old policy. I made phone calls, was given assurances that it would be changed.
For the last five months, I've used "planned ignoring". I kept hoping they would keep their promise to change the form. I kept signing the form I made myself. (The house staff was also using planned ignoring–and just let me do my thing.)
But now, it's time to use my "new eyes" and make one change as we journey into our annual ISP (Individualized Service Plan–the adult service version of the IEP only without the due process).
I'm predicting: The EYES will have it!
Sweet Dreams Everyone.
Keep Climbing: Onward and Upward
All my best
Mary
COMMENTS:
What do your eyeballs see? What is your vision for the future? Do you think the concepts of "pruning," "planned ignoring" and "seeing with new eyes" are useful strategies? Are some people incapable of "seeing"?