Archive for the 'Parents' Category
Love–NOT Labels
With families, "Love" is all that matters–no matter what, unconditionally.
The love we feel for our child, our baby, our sister, brother, son, daughter can never be replaced by a medical or psychological term some professional puts on a chart. So in isolation, it shouldn't matter if the diagnostic label is "retarded" or "intellectual disability."
As we spoke about in the post Circle of Life (click here) each person and family is part of a much larger system and what affects one part of the system affects all the parts of the system.
And that is where the chosen word and label does matter–big time.
Yesterday in the related post, "Retarded"–no more (click here) I briefly wrote about Rosa's Law and showed one of the press releases/alerts sent by parents and advocacy groups to change the words, "retarded" to "intellectual disability." Some of these advocates are professionals who make their living working with people with disabilities. But like most of the legislation of the last 60 years, Rosa's Law came about through the vision and hard work of families.
If you want more information on what parents have accomplished visit Parallels in Time I (click here) and II (click here)
I was going to summarize Senator Mikulski's Statement on the Introduction of Rosa's Law (below) but since her words still make me cry, I figured you'd want to see the "primary research document". Especially check out Nick Marcellino's comments. And get the Kleenex handy.
This is just one family who went to one more meeting, talked with one more politician–but this time, with a lot of hard work and uniting allies, they changed the system. Maybe it is just a small step in the scheme of things. There are still thousands of people with intellectual disabilities and their families who do not have the services they need. But, this small step gives us all hope that our democratic system works. An individual can make a difference.
It amazes me that in an election year when politicians can't agree on anything, they unanimously voted for this law. That alone makes it memorable.
Comments Please:
What do you think about Rosa and her family? Have you ever been an advocate for change? How, When, Why? How did it feel?
How is this press release different than the one in Retarded–no more?
Keep Climbing: Onward and Upward
All the best,
Mary
Rosa Marcellino and her family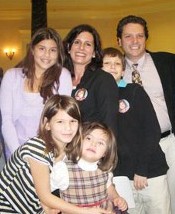 FOR IMMEDIATE RELEASE:
17-Nov-2009 CONTACT: Press Office
202-228-1122

Senator Mikulski's Statement on Introduction of Rosa's Law

WASHINGTON, D.C. – U.S. Senator Barbara A. Mikulski today introduced Rosa's Law, a bill that will eliminate the terms "mental retardation" and "mentally retarded" from the federal law books. U.S. Senator Michael B. Enzi (R-Wyo.), Ranking Member of the Health, Education, Labor and Pensions Committee, is the Republican sponsor of the bill.

Senator Mikulski's statement as delivered on the Senate floor follows:

"Today I rise to introduce legislation that I'm calling Rosa's Law. This bill began by listening to the people in my own state. It began when a mother told me a compelling story about her own daughter, her family's efforts to give her daughter an opportunity for an education and to be treated with respect and with dignity. And at the same time, it began with the advocacy of not only she and her husband, but of her entire family, including her 14 year old son Nick who testified at the Maryland General Assembly.

"As a result of their effort, I'm introducing Rosa's Law. Before I say more about the bill, I want to tell you about the family. I want to tell you about the Marcellinos, Joseph and Nina who are parents to four children – Nick, Madeleine, Gigi and Rosa. They're in the gallery now watching this and I wish you could have been with me in my office as I met with the parents and talked with the family.

"Last year, at a roundtable on special education, I met Nina Marcellino for the first time. She told me about her daughter Rosa who was labeled at her school some years ago as mentally retarded. She told me about the stigma, the pain, and the anguish it caused both Nina and her husband, Rosa's brother and sisters as well as the Rosa herself.

Nina and Joseph reached out to their local disability advocacy organization, The Arc, to see what could be done to change the law. They then reached out to a member of the Maryland General Assembly, a wonderful Representative named Ted Sophocleus. He introduced legislation in the General Assembly that would change the word 'mentally retarded' and substitute it with the phrase 'an individual with an intellectual disability.'

"That's why I stand on the Senate floor today to introduce, at the request of the family, a law on behalf of this little girl and on behalf of all of the children of the United States of America who are labeled, stigmatized and bear a burden the rest of their lives because of the language we use in the law books.

"My law changes the phrase 'mentally retarded' to 'an individual with an intellectual disability' We did this in health, education and labor policy without in any way negatively impinging upon either the educational or other benefits that these children are entitled to.

"When it came time to bring the bill before the General Assembly, the family was there. And who spoke up for Rosa? Well, her mom and dad had been speaking up for her. Her brother Nick and sisters Madeline and Gigi had been speaking up for her. This wonderful young boy, Nick, at the time 13, this is what he said to the Maryland General Assembly,

'What you call people is how you treat them. What you call my sister is how you will treat her. If you believe she's 'retarded' it invites taunting, stigma. It invites bullying and it also invites the slammed doors of being treated with respect and dignity.'

"Nick's words were far more eloquent that day than mine are today. I want to salute Nick for standing up for his sister, but I think we need to stand up for all because in changing the language, we believe that it will be start of new attitudes towards people with intellectual disabilities. Hopefully, people will associate new words with the very able and valuable people that go to school, work, play soccer or live next door.

"Eunice Shriver believed in this when she created the Special Olympics. She knew that special needs children need special attention but they can do very special things, and look what she started. I had the opportunity to talk to Rosa's mom Nina while this bill was under consideration by the Maryland General Assembly. I promised her then that if that bill passed the Maryland legislature, I would bring it to the floor of the United States Senate.

"Well, it passed unanimously. Governor O'Malley has signed it and today I stand before you introducing the legislation. It makes nominal changes to policy in federal education, health and labor law. It simply substitutes 'intellectual disability' for 'mental retardation.' This bill will neither expand nor diminish services, rights or educational opportunities. We vetted it with legal counsel. We reached out to the very wonderful advocacy groups in this field and they concur that this legislation would be acceptable.

"This is not the first time we've updated this terminology. Our laws once referred to boys and girls as 'feeble minded.' We thought we were being advanced when we changed it to 'mentally retarded' in the 1960s. Now, 40 years later, let's take another big step and change it to 'intellectual disability.'

"This bill makes language used in the federal government consistent. The President's Committee on Mental Retardation was changed by executive order so it is now the Committee on Individuals with Intellectual Disabilities. The CDC uses 'intellectual disability,' the World Health Organization uses 'intellectual disability,' so my law makes the language consistent within the federal government.

"I've always said that the best ideas come from the people. Rosa's Law is the perfect example of effective citizen advocacy. A family that pulled together for their own and in pulling together they're pulling us all along to a new way of thinking. I want to recognize the Marcellino family who is with me in the gallery and the namesake of the law Rosa's Law pictured behind me. She is also up there today.

"I also want to take the opportunity to thank my colleagues. It was indeed an honor to represent this family. I believe that in our country people have the right to be heard and that we should listen. They have a right to be represented, which I've tried to do. And now, let's try to change the law.

"It was a pleasure to work with Senators Harkin and Enzi, the Chair and Ranking Member of the HELP Committee. I have their wholehearted support. This is going to be a nonpartisan bill. We're going to check our party hats at the door and move ahead and tip our hat to these boys and girls.

"This bill is driven by a passion for social justice and a compassion for the human condition. We've done a lot to come out of the dark ages of institutionalization and exclusion when it comes to people with intellectual disabilities. I urge my colleagues to join me in a step further. Help sponsor the legislation that I offer on a bipartisan basis. Help me pass the law and know that each and every one of us makes a difference. When we work together, we can make change."
photo credit: qthomasbower
In the post: Caring Community| People First Language we talked about the power of labels, negative stereotypes and the paradigm shift of looking at all people as PEOPLE First!
Today, on Valentine's Day, I am asking you to think about how you use words:
Do my words cause Heartaches?
Do my words cause Heartsongs?
What are you doing?

WHAT are you doing?

What ARE you doing?

What are YOU doing?

WHAT THE HELL ARE YOU DOING!!!!
The same words can be said in anger or with gentle concern.
The speaker, the listener, the context of the communication, as well as the intent all make a difference.
Parents, Teachers, Coworkers, Friends, Enemies… We have all been misunderstood and misinterpreted. We have all wished we could swallow what came out of our mouths–take back our words. We have all been both aggressors and victims and have given heartaches as well as heartsongs.
HEARTACHES: "What's that mess on your shirt?"
HEARTSONGS: "I see you have paint on your shirt."
————————————————————-
HEARTACHES: "NO!"
HEARTSONGS: "Let's talk about this before you decide."
————————————————————
HEARTACHES: "Get over here right now!"
HEARTSONGS: "I need you with me."
————————————————————-
HEARTACHES: "I told you so."
HEARTSONGS: "That was harder than you thought."
—————————————————————
In the comment section, let's share some ideas on how you could make each of the following examples into either a heartache, or a heartsong?
Scenarios: Heartaches or Heartsongs.
1. Sara is eating breakfast. The bus is coming in 5 minutes. She spills her juice while reaching for the cereal.
What could you say that would cause a heartache?
What could you say that would cause a heartsong?
2. Ken wants to help his friend wash the car. He accidentally squirts him with the hose.
What could you say that could cause a heartache?
What could you say that could cause a heartsong?
3. Emily comes home from work. When asked about her day, she begins to cry and says, "Jim doesn't like me."
What could you say that could cause a heartache?
What could you say that could cause a heartsong?
By speaking with your heart, you may be able to bring out the very best in people. Give them a chance to talk. Listen patiently.
And of course, there is always the quote: "I know that you believe you understand what you think I said, but I'm not sure you realize that what you heard is not what I meant." But we'll save that for another post.
I'm wishing you a day filled with heartsongs. May you have many opportunities to give them and to receive them. Spread the love.
Keep Climbing: Onward and Upward
All my love,
Mary
Comments:
Do you have any examples of heartaches, heartsongs?
Heartaches turned into heartsongs?
Use the examples above, or share some from your own experiences.
Adapted from Project Prepare, Ohio (1995)
photo credit: horizontal.integration
Today is Jan. 1
Could this be the year of the Power of One?
We can celebrate with fireworks, silly hats, black-eyed peas and sauerkraut. We can dress in yellow (for prosperity) or white (for peace) while throwing pomegranate seeds on the roof and making wishes. But, this new year will race forward–with or without us. In 365 days, it will become the next year, and then the next …. The cosmic universe doesn't care about individual civilizations who make their own calendars. It doesn't care about individual people.
Actually, that is a comfort. I don't want to be Atlas holding the world on my shoulders. I don't want the responsibility of saving the world, that's too much.
Systems Theory–Circles of Life
Bronfenbrenner's systems theory states that what affects one part of the system affects all the parts of the systems. In previous posts on the circle of life and family reunions I've talked about his embedded systems (like Russian Dolls). The individual is in the center circle, surrounded by the family, surrounded by the community and "systems."
Inner Circle: Aaron
When Aaron, my son with the labels of autism and developmental disabilities was growing up, I made specific dream plans and goals to include him in an inclusive community.
They were audacious plans. But we had IDEA and ADA and hope. And Aaron was young and had lots of years ahead of him. I thought the values of ALL people living and working in an inclusive community would keep evolving into a more accepting world. I thought I could count on the professionals, the local, state, national agencies and organizations to help.
But those systems don't exist for adults with disabilities and/or their families.
Aaron is 42 years old. For adults there is no mandate or law saying he can get services. So we have watched as his behavior and communication have deteriorated. And, frankly, I have even had trouble envisioning a new dream plan.
This past year has been a painful experience watching the residential and vocational companies NOT want Aaron–but want his Medicaid Waiver funds.
The opportunity of a new year is to dream again. It's time to use the Power of One.
The Power of One: For Aaron
Aaron recently started a day program with Goodwill/Easter Seals five days a week and they are providing him with a one-on-one staff person three days a week. That is the brightest hope we have had for years. So YEA!
Aaron still has a great roommate and one loving caregiver who has been with them for over 7 years. YEA YEA!
And Tommy (Aaron's brother) and his family are now living near us, so our family can get together more often. YEA YEA YEA!
That is three wins. As this year ends, those are the blessings I see and celebrate.
Dream plan for Aaron:

Aaron will be happy. He will have people around him who love him. He will have choices and do interesting things. Have friends. He will be able to communicate when he wants/doesn't want something. He will be safe.
Pretty basic. Nothing specific. But again, these are audacious goals.
So, maybe everything you and I do this year will not make much of a difference in the cosmic scheme of things. But using the Power of One, I can do something to make a difference in my son's life.
In the example of Goodwill/ES, it was the Power of One times 4. Aaron's Dad, me, our Support Coordinator, and the leadership of Goodwill/ES. We kept at it, and it happened.
The Power of One: For Community
Using the Power of One, I will continue my blog,ClimbingEveryMountain.com.
I will try to entertain, encourage and give information to grow a community that cares about adults with disabilities.
Thank you for being with me on this journey. It has been an amazing first six months for Climbing Every Mountain. Together we can build a better world and community–one person at a time.
Virtual Circles
Old Bronfenbrenner wouldn't recognize his embedded systems, but today we are using the social media tools (blog, Twitter, Facebook) and reinventing his circles of love and support that will ripple out to touch the future. The people in the circles are not our next door neighbors, they might live on the other side of the world.
Is social media and technology the solution?
Chris Brogan (ChrisBrogan.com) is a social media guru who suggests the future is going to include websites, blogs, forums, videos and online communities which help us connect with like-minded folks to get the information and emotional support we need.
His new company, 501 Mission Place, is helping non-profits use social media and become more effective. Perhaps you know of a non-profit that could use some social media help.
But I wonder if it is too late for many traditional organizations.
Virtual communities are already replacing many of the antiquated national organizations which have huge overhead and an inability to help individuals.
Virtual training is replacing the large conferences, meetings and university classes. Webinars and online courses like Partners in Policymaking are the new "best practice."
Do you use the traditional phone and agencies in your community, or do you search for people and information in the virtual world of Cable TV, iPods, www, Twitter, Facebook, YouTube and …?
Summary: In this new year, we can use our individual power, the Power of One, to make a difference for our children with disabilities. We can do it by advocating directly for the people we love, and we can do it by becoming part of a virtual community like Climbing Every Mountain or other online communities.
In 2017–We're Number One!
I hope you will sign up (top left) to get notices of new posts. I hope you will add your voice and stories to the comments. I hope you will use the social media of Twitter and Facebook to invite others to join us. The way we are going to build a better world for vulnerable people is to join together. And I hope you have an amazing 2017.
Keep Climbing: Onward and Upward
All my best for a fantastic year of ones,
Mary
Use Your Power: Comments Please
How can you use the Power of One? Do you think social media can help? Do you recommend other blogs and/or virtual communities?
I'd love to read your comments and know what you are planning this year.
For anyone who buys gifts for a person with autism or a disability, here is a fun twist on the classic poem which shares some of the reasons it is so difficult to find the perfect gift.
Cindy Waeltermann, is the founder of AutismLink and gives us permission to reprint her poem on behalf of her two children who are adults with autism.
Autism Night Before Christmas

by Cindy Waeltermann

Twas the Night Before Christmas
And all through the house
The creatures were stirring
Yes, even the mouse

We tried melatonin
And gave a hot bath
But the holiday jitters
They always distract

The children were finally
All nestled in bed
When nightmares of terror
Ran through my OWN head

Did I get the right gift
The right color
And style
Would there be a tantrum
Or even, maybe, a smile?

Our relatives come
But they don't understand
The pleasure he gets
Just from flapping his hands.

"He needs discipline," they say
"Just a well-needed smack,
You must learn to parent…"
And on goes the attack

We smile and nod
Because we know deep inside
The argument is moot
Let them all take a side

We know what it's like
To live with the spectrum
The struggles and triumphs
Achievements, regressions…

But what they don't know
And what they don't see
Is the joy that we feel
Over simplicity

He said "hello"
He ate something green!
He told his first lie!
He did not cause a scene!

He peed on the potty
Who cares if he's ten,
He stopped saying the same thing
Again and again!

Others don't realize
Just how we can cope
How we bravely hang on
At the end of our rope

But what they don't see
Is the joy we can't hide
When our children with autism
Make the tiniest stride

We may look at others
Without the problems we face
With jealousy, hatred
Or even distaste,

But what they don't know
Nor sometimes do we
Is that children with autism
Bring simplicity.

We don't get excited
Over expensive things
We jump for joy
With the progress work brings

Children with autism
Try hard every day
That they make us proud
More than words can say.

They work even harder
Than you or I
To achieve something small
To reach a star in the sky

So to those who don't get it
Or can't get a clue
Take a walk in my shoes
And I'll assure you

That even 10 minutes
Into the walk
You'll look at me
With respect, even shock.

You will realize
What it is I go through
And the next time you judge
I can assure you

That you won't say a thing
You'll be quiet and learn,
Like the years that I did
When the tables were turned…….
Thanks to Trish Doerrler, a parent of a child with autism, for sharing this poem on her blog In so many words.
Hope you all have a fantastic Holiday, with lots of precious moments.
Aaron's Favorite Gifts
This year we are getting Aaron a tape/CD player because Aaron thinks listening to music is an active sport. He loves putting the tapes (yes, tapes) in and out. We can find tapes in used book stores. They are usually pretty cheap, but that is great because then when they only last a couple days, they can be replaced. The hardest part will be to get the staff to understand the batteries are rechargable and should not be thrown out.
Aaron also likes to lick and flip baseball cards. He especially likes the ones with cheerleaders:)
I wish we had a longer list. He really isn't impressed with new shirts and underwear.
Keep Climbing: Onward and Upward.
All my best,
Mary
Comments:
Which gifts work for your child? especially adults with autism or other disabilities? Are the gifts age-appropriate?