Posts Tagged 'people with disabilities'
The twelfth day of Christmas is Jan. 6th–Little Christmas, The Feast of the Magi.
Actually, it's all the Magi's fault. They are the ones credited with giving the first gifts.
Based on the number of people in line at the return desks last week, I'd say many people had problems with their gifts. (Actually I could see Mary and Joseph thinking the gold was useful, they could buy a wagon or better donkey, but what were they supposed to do with Frankincense and Myrrh. Myrrh–really????)
I know it is supposed to be the "thought that counts," but it really is much more. Gifts are a whole cultural phenomenon.
My mother is 89.
Recently she's had hip replacement surgery and has trouble shopping for herself.
Two months before Christmas she told me she wanted slippers. Slippers it is. I don't have to guess her gift. And this is great…EXCEPT
Every day for the next month she would call me on the phone (usually at 6 AM because that is when she wakes up and is thinking about slippers) and define what kind of slippers. They had to have rubber soles so she could wear them outside if she wanted. And this is great…EXCEPT
She couldn't tell me her size. It seems some Large slippers are size 8-9, some Larges are size 9-10. And the manufacture, design, model, production all make a difference.
I went to three different stores and brought her "Pair number one" on Thanksgiving. She didn't even try them on. Which actually made it easier to exchange them, which is great…EXCEPT
She really wanted black. But none of the stores made black slippers. So, I picked out some navy size 8′s and 9′s and 10′s, and some pink (everything she owns is pink) in a size 8-9, and 9-10. And I figured I'd give her a choice. Which was great…EXCEPT
She decided she wanted slippers that weren't slip-ons. "Only the devil would make slippers with open backs" and she has had slippers that covered her whole foot, well–her whole life. And, she thinks she has ugly toes, so–none of those slippers with toe cut-outs. So, I boxed up and returned the slippers. And it was great…EXCEPT
The next three stores didn't have black or whole foot slippers. But they did have navy.
You know where this is going, right?
Yep, I rebought her the same slippers (that she wouldn't even try on) from the first round. She opened them on Christmas and said they were perfect.
So, it makes you wonder.
Was the gift really about slippers at all?
Grandma and the Thong
The picture above is from a previous Christmas. My sister Martha worked in a lingerie store and gave each of the girl cousins a pair of thongs. They thought they were nice. Certainly something practical they could use. EXCEPT
She also gave one to Grandma.
The gift became an urban legend in our family. It brought down the house.
Even though mom didn't even recognize the thong as underwear—it was the shared experience with her grandkids that made it the perfect gift.
Which again makes me wonder about gifts.
Aaron's Christmas Gift and Charity
This Christmas Aaron went to a Christmas Party sponsored by a local non-profit. These are kind folks. Many of the people with severe disabilities are the poorest people in the county and don't even have family members who can give them gifts. So, this is not only a nice gesture, it is an opportunity for these poor souls to get a little something extra.
This year the non-profit got items donated by local businesses to give as gifts. Over 150 adults with disabilities came to the Christmas Party and Dance.
There are so few recreation opportunities, many of the people put on their best clothes and showed up early. Many more wanted to come, but there was little transportation and they depend on staff–who didn't want to bother.
At the party, even though they arrived early, there were only chairs for 100 people. So Aaron and Jack, his roommate, had to stand and hold their coats.
Since Aaron has balance problems, and couldn't understand why he couldn't sit down (people were guarding their chairs) he started biting his hand and pinching others. Not good behavior at a party.
Their staff person made the sensible decision to leave (even more people were coming in the already over-crowded room). Aaron and Jack were each given a "gift bag" at the exit. Which was nice… EXCEPT
The gift bag had a pair of donated slippers. Yea! I would be laughing too, slippers… EXCEPT
The slippers were size 11.
Aaron wears a size 9.
Now, no one with balance issues is safe wearing a pair of slippers two sizes too big. And, unlike my mother, these slippers were charity—donated. So there was no gift card or receipt, most people had no dutiful daughter, family or staff who cared to make an exchange.
And, Aaron couldn't understand why anyone would give him slippers he couldn't use. So he just carried the slippers around the house—making me crazy that good, kind people could be so dumb. After all who is the "intellectually challenged" person here? Did they think they wouldn't notice the slippers didn't fit? Or all people wear size 11?
Is "Just getting something to open" the point? Even if they can't use it?
What is Charity?

If you plan a charitable event and are giving gifts:

Don't

Don't just arbitrarily pass out slippers, or coats, or T-shirts with misspelled words.

Don't give radios with no batteries—because they want to use the radio that minute and staff often won't be bothered with batteries.

Don't give them things you couldn't sell or are broken.

Don't make your interaction a one-time-event.

Do

Do have a party with chairs and refreshments for everyone.

Do get to know people as individuals

Do think about what YOU would want to get

Do think about normalization, age-appropriate entertainment and gifts.

Do think about transportation and staff and family members
Do consider that the shared experience, like Grandma getting the Thong, may be the best gift ever—no excepts.
Keep Climbing: Onward and Upward
All my best,
Mary
Comments:
Okay, best/worst gift stories? Am I just being an ungrateful jerk? What is the role of charity? Is it appropriate to give broken, torn things to Goodwill/charity? Only 258 shopping days until Christmas????
Every day people challenge me:
Why do I believe what I believe?
What's wrong with the Medical Model?
What's wrong with the Charity Model?
What's the big deal about "normalization" and "inclusion"?
Why is "special" not special?
Most times the conversations are stressful–the whole paradigm shift thingy. Most people don't want to take the time to understand or learn a whole new way of looking at the world. They think their view of the world is just fine, thank you very much.
As parents, we have been learning for 30-40 years, our child's whole lifetime. Our child demands we still learn every day.
For the next couple days, I'm going to be sharing some of the people who shaped my beliefs. Here is Norm Kunc.
I am hoping they can deliver the message of "normalization" far better than I ever could.
Norm Kunc changes lives.
I would spend the whole year teaching university students and teachers about the need for inclusion, normalization, self-advocacy, people first… and they would nod their heads (or scratch their heads at the crazy lady), pass their tests, and go on with the way they always did things.
Norm Kunc came to campus, spoke to these same students and in fifteen minutes–he rocked their world.
That quick–his message is that powerful.
Here is Norm and Emma Kunc's website. I'll write more about them in another post, but if you get a chance book them or attend one of their presentations. It will change your life.
Here is Norm's Credo of Support. It is not the same as hearing him in person, but the video message shows the power of words and the talents of self-advocates. When Norm introduces the video he says the words just poured out of his heart.
Here's hoping it touches your heart too.
Keep Climbing: Onward and Upward
All my best,
Mary
Talk about it!
What did you think of the Credo of Support? Do you think the message is stronger coming from self-advocates? What is your personal credo? Can you think of ways people with disabilities can give their own message?
Would you like to hear more about Norm and his wife Emma's work?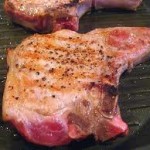 The Case of the Bleeding Pork Chop
This week I received an "incident report" from my son's adult day program–they are the ones who take care of Aaron from 9-4 each day.
The residential staff, who prepared Aaron's lunch, were written up for: "safety issue—undercooked pork leftovers in lunch."
The report read:
"For the second day in a row, Aaron was sent in with pieces of pork chops that were undercooked. The insides were pink and bleeding.

Pork must be cooked all the way through or it can make you very ill. Our concern is that these are leftovers. So he was served this raw the first time.

We cooked the pork to completely done before serving it to Aaron to insure his health and safety."
What to do?
Since Aaron is 37 years old, as his parents and guardians, over the years we have had scores of "incident reports" since he moved into a supported living home with another young man. So, no panic–but certainly there is concern. Aaron has autism and can't speak for himself, he is totally dependent on others.
The day care staff solved the immediate health and safety issue. Thankfully, they took the extra time to cook the pork chop for Aaron's lunch and he didn't go hungry or get sick.
Now, the issue becomes one of communication and prevention.
How can we get everyone to work together so this and other safety and health issues don't happen again?
Calling in the Team: Making the System Work
I called our case manager and asked her to set up a meeting to talk about pork chops, transportation, personal care and communication. The pork chop "unusual incident report" is just one of several items of concern: late arrivals, communication charts not filled out….
No one wants to go to meetings, no one wants confrontation–and everyone seems to want to point fingers.
Safety is More than Just about Cooking
It used to be illegal for one company to provide the house that Aaron rented, the residential support staff that took care of him from 4PM to 9AM and the day program staff who support him from 9AM to 4PM.
Because of current "anti-government" feelings, those restrictions were changed. Now one company can have the contracts on all three services: rent, residential and day care services–Sort of like the institutional model of old.
Fortunately, Aaron has three different companies and I think this gives him a better system of checks and balances and the day program could report the residential company and vice versa. Aaron can't be dismissed or forced to move out if the only company decides there is a problem or the parents ask too many questions.
The real health and safety issue in this story is that Aaron, and other vulnerable people, need caring professionals who are willing to advocate for him and file incident reports and communicate problems.
Separate companies make this more feasible.
The real bleeding only happens when professionals keep quiet and don't report problems and help make the system work.
HOLIDAY BONUS for Independence Day
Check out Mike Korins singing "Up to the Mountain" (a Martin Luther King song). He is an 18 year old man with the label of autism.
I agree with him that this song could also describe those of us living in a segregated and "special" Disability World who want to find an inclusive free world and go "Up to the Mountain."
P.S. Yes, some people with autism can not only talk, they can sing!
Up To The Mountain (MLK Song) Lyrics

I went up to the mountain
Because you asked me to
Up over the clouds
To where the sky was blue
I could see all around me
Everywhere
I could see all around me
Everywhere

Sometimes I feel like
I've never been nothing but tired
And I'll be walking
Till the day I expire
Sometimes I lay down
No more can I do
But then I go on again
Because you ask me to

Some days I look down
Afraid I will fall
And though the sun shines
I see nothing at all
Then I hear your sweet voice, oh
Oh, come and then go, come and then go
Telling me softly
You love me so

The peaceful valley
Just over the mountain
The peaceful valley
Few come to know
I may never get there
Ever in this lifetime
But sooner or later
It's there I will go
Sooner or later
It's there I will go
Share your thoughts:
Do you have any similiar stories? Isn't Mike Korins terrific? Do you think there are adequate checks and balances? Should one company be allowed to do all three services (rent, residential and day supports)?
Keep Climbing: Onward and Upward
All my best,
Mary
Related Posts:
America the Beautiful| Through the Autism Family Car Window
Partners in Policymaking| 25 years of Making our Government Work
Is summer different for kids with and without disabilities?
As parents of children with disabilities, it is difficult to know "What is realistic?" "What goals do I want?". I have always found it helpful to measure "normalization" by comparing the life of my son Tommy with his brother Aaron. Below are my thoughts about summer activities when the boys were young teens. The lessons I learned helped me cherish the final "inclusive" story below. Hope you'll share your thoughts and success stories.
Tommy, my 13 year old son, with the label of "normal":
Went to 2 weeks of Boy Scout camp, an experience which included a hike on the Appalachian Trail.
Had to choose between participating in baseball or soccer which included 2 practices a week and a game. In August he began daily training for the school cross-country team.
Was active in a neighborhood network of five boys who decided to start a Gaming Exchange Club. His friends called him the minute he arrived home from activities, played games until supper.
Was invited to stay overnight with a friend or cousin 3 times and his friends 5 times.
Had a season's pass to a nearby amusement park and spent at least one day there each week with friends.
The days of summer flew by for Tommy. He had individual activities with friends, but also family activities which included a camping vacation and travel to a National Park. His major frustrations were either the lack of time for pursuing all of his interests, or his Mom's suggesting he do something "dumb" like reading a book or practicing his clarinet.
Aaron, age 14, with the label of autism, intellectual and developmental disability:
Aaron went to two weeks of "special" camp: Easter Seals and Stepping Stones.
Aaron's major activity was watching Tommy play baseball, video games…and riding in the carpool to drop off Tommy and his friends.
Aaron also has a pass to the amusement park, but can only go with an adult (his mother).
Aaron spends every morning saying, "bus, bus … ready, set, go." When the school bus doesn't come, he sometimes licks on the front window, bites his hands and puts on his coat and backpack. He can't figure out why his routine is different from the other 9 months of the year.
Aaron also can't figure out why we spend all winter telling him to keep the front door shut, and all summer telling him to keep the front door open (but that's another story). *smile*
He was not invited to overnights with cousins or friends.
What's the Difference?
As I contrast the lives of my two boys, I can't help thinking…
• …perhaps I wouldn't feel Aaron's isolation and lack of contact with any friends or same-age peers if Tommy had fewer friends.
• …perhaps I wouldn't worry about Aaron's behaviors, physical condition, weight and stamina if he were occasionally an active participant, rather than always an observer.
• …perhaps our family will adjust eventually to the sadness (and stress) we feel knowing Aaron's only opportunities come from mom, dad or brother…and realizing it may always be that way.
* …perhaps we wouldn't feel so trapped if we could get respite regularly.
* …perhaps we'll become accustomed to wearing a key around our necks so that the door can be locked with a deadbolt every time someone goes out or comes in (otherwise Aaron will run into the street or enter neighbors' homes).
* …perhaps we'll resign ourselves to our community's "special" camps and "special" recreation programs, which effectively exclude Aaron from almost everything that is typical, regular, easily available and low cost.
* …perhaps hope will sustain us that someday a "community support" agency professional from somewhere, anywhere, could adapt, modify and begin to open community activities for Aaron and others.
* …perhaps/…oh perhaps…some wonderful person will believe that a community is more that a group of houses, businesses and people.
Summary: "Separate is Inherently Unequal."
The tragedy of having a child with a disability has nothing to do with a syndrome, impairment or disease. Words such as autism, CP, and intellectual disabilities are just descriptors the same way hair color, height, race, sex and personality are descriptors. Children don't start out life knowing they are different. The tragedy is the reaction of families, neighbors and society, which emphasize differences.
The conflict for people with disabilities and for their families comes when the community limits opportunities, segregates and restricts individuals' choices (e.g. Handicap swim is Tuesday; 1:30-2:30 p.m. and General swim is Monday to Friday 8:00–5:00). If Aaron had an inclusive swim buddy, Aaron wouldn't have to go to "handicap swim" but rather the general swim with the other kids.
It doesn't matter that the limiting of opportunities appears, to have a good rationale or charitable intentions. Segregation limits freedom, limits choices, and limits development.
"Special" means segregated.
Our Olympic Moment of Inclusion

One hot July day, Tommy and his friends stopped by our house to make some peanut butter and jelly sandwiches for an impromptu picnic.

Unexpectedly, one of the boys asked if Aaron wanted to come along.

Five minutes later, all the kids were laughing, talking and riding their bikes to the park. One red-haired kid named Aaron was riding on his bike in tandem with his brother.

In about one hour the picnic ended and they brought Aaron back.

That was the highlight of Aaron's whole summer.

Our Olympic Moment–not, Special Olympic Moment

That moment for Aaron was sort of like the experience of an Olympic ice skater, gymnast, American Idol singer who practices day after day hoping to "bring it all together" for one magic performance or "big break."

It was a "victory" –a spontaneous, normalized recreation experience, without his mom! Ahhh (smile-sigh).

And now…back to work. But, perhaps, just perhaps…those wonderful, typical neighborhood kids will grow up more fully with the vision for and the experience of community integration and freedom. They are the next generation of soccer coaches, swim instructors, church and scout learners.

The change of inclusion has begun.
Keep Climbing: Onward and Upward
All my best,
Mary
Related Stories:
On the last day of Junior High School.
Dream Plan for Aaron–14 yrs old (Part 2).
America the Beautiful: A Family Vacation, Plus.
Share YOUR Thoughts:
Are summers different for kids with and without disabilities where you live? Can you think of anything you could do to help? Any way to include a child in the activities of your children? Any tips to share? Any stories from the 90s? 2012?