Love–NOT Labels
With families, "Love" is all that matters–no matter what, unconditionally.
The love we feel for our child, our baby, our sister, brother, son, daughter can never be replaced by a medical or psychological term some professional puts on a chart. So in isolation, it shouldn't matter if the diagnostic label is "retarded" or "intellectual disability."
As we spoke about in the post Circle of Life (click here) each person and family is part of a much larger system and what affects one part of the system affects all the parts of the system.
And that is where the chosen word and label does matter–big time.
Yesterday in the related post, "Retarded"–no more (click here) I briefly wrote about Rosa's Law and showed one of the press releases/alerts sent by parents and advocacy groups to change the words, "retarded" to "intellectual disability." Some of these advocates are professionals who make their living working with people with disabilities. But like most of the legislation of the last 60 years, Rosa's Law came about through the vision and hard work of families.
If you want more information on what parents have accomplished visit Parallels in Time I (click here) and II (click here)
I was going to summarize Senator Mikulski's Statement on the Introduction of Rosa's Law (below) but since her words still make me cry, I figured you'd want to see the "primary research document". Especially check out Nick Marcellino's comments. And get the Kleenex handy.
This is just one family who went to one more meeting, talked with one more politician–but this time, with a lot of hard work and uniting allies, they changed the system. Maybe it is just a small step in the scheme of things. There are still thousands of people with intellectual disabilities and their families who do not have the services they need. But, this small step gives us all hope that our democratic system works. An individual can make a difference.
It amazes me that in an election year when politicians can't agree on anything, they unanimously voted for this law. That alone makes it memorable.
Comments Please:
What do you think about Rosa and her family? Have you ever been an advocate for change? How, When, Why? How did it feel?
How is this press release different than the one in Retarded–no more?
Keep Climbing: Onward and Upward
All the best,
Mary
Rosa Marcellino and her family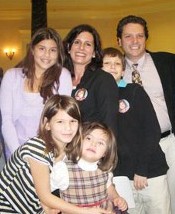 FOR IMMEDIATE RELEASE:
17-Nov-2009 CONTACT: Press Office
202-228-1122

Senator Mikulski's Statement on Introduction of Rosa's Law

WASHINGTON, D.C. – U.S. Senator Barbara A. Mikulski today introduced Rosa's Law, a bill that will eliminate the terms "mental retardation" and "mentally retarded" from the federal law books. U.S. Senator Michael B. Enzi (R-Wyo.), Ranking Member of the Health, Education, Labor and Pensions Committee, is the Republican sponsor of the bill.

Senator Mikulski's statement as delivered on the Senate floor follows:

"Today I rise to introduce legislation that I'm calling Rosa's Law. This bill began by listening to the people in my own state. It began when a mother told me a compelling story about her own daughter, her family's efforts to give her daughter an opportunity for an education and to be treated with respect and with dignity. And at the same time, it began with the advocacy of not only she and her husband, but of her entire family, including her 14 year old son Nick who testified at the Maryland General Assembly.

"As a result of their effort, I'm introducing Rosa's Law. Before I say more about the bill, I want to tell you about the family. I want to tell you about the Marcellinos, Joseph and Nina who are parents to four children – Nick, Madeleine, Gigi and Rosa. They're in the gallery now watching this and I wish you could have been with me in my office as I met with the parents and talked with the family.

"Last year, at a roundtable on special education, I met Nina Marcellino for the first time. She told me about her daughter Rosa who was labeled at her school some years ago as mentally retarded. She told me about the stigma, the pain, and the anguish it caused both Nina and her husband, Rosa's brother and sisters as well as the Rosa herself.

Nina and Joseph reached out to their local disability advocacy organization, The Arc, to see what could be done to change the law. They then reached out to a member of the Maryland General Assembly, a wonderful Representative named Ted Sophocleus. He introduced legislation in the General Assembly that would change the word 'mentally retarded' and substitute it with the phrase 'an individual with an intellectual disability.'

"That's why I stand on the Senate floor today to introduce, at the request of the family, a law on behalf of this little girl and on behalf of all of the children of the United States of America who are labeled, stigmatized and bear a burden the rest of their lives because of the language we use in the law books.

"My law changes the phrase 'mentally retarded' to 'an individual with an intellectual disability' We did this in health, education and labor policy without in any way negatively impinging upon either the educational or other benefits that these children are entitled to.

"When it came time to bring the bill before the General Assembly, the family was there. And who spoke up for Rosa? Well, her mom and dad had been speaking up for her. Her brother Nick and sisters Madeline and Gigi had been speaking up for her. This wonderful young boy, Nick, at the time 13, this is what he said to the Maryland General Assembly,

'What you call people is how you treat them. What you call my sister is how you will treat her. If you believe she's 'retarded' it invites taunting, stigma. It invites bullying and it also invites the slammed doors of being treated with respect and dignity.'

"Nick's words were far more eloquent that day than mine are today. I want to salute Nick for standing up for his sister, but I think we need to stand up for all because in changing the language, we believe that it will be start of new attitudes towards people with intellectual disabilities. Hopefully, people will associate new words with the very able and valuable people that go to school, work, play soccer or live next door.

"Eunice Shriver believed in this when she created the Special Olympics. She knew that special needs children need special attention but they can do very special things, and look what she started. I had the opportunity to talk to Rosa's mom Nina while this bill was under consideration by the Maryland General Assembly. I promised her then that if that bill passed the Maryland legislature, I would bring it to the floor of the United States Senate.

"Well, it passed unanimously. Governor O'Malley has signed it and today I stand before you introducing the legislation. It makes nominal changes to policy in federal education, health and labor law. It simply substitutes 'intellectual disability' for 'mental retardation.' This bill will neither expand nor diminish services, rights or educational opportunities. We vetted it with legal counsel. We reached out to the very wonderful advocacy groups in this field and they concur that this legislation would be acceptable.

"This is not the first time we've updated this terminology. Our laws once referred to boys and girls as 'feeble minded.' We thought we were being advanced when we changed it to 'mentally retarded' in the 1960s. Now, 40 years later, let's take another big step and change it to 'intellectual disability.'

"This bill makes language used in the federal government consistent. The President's Committee on Mental Retardation was changed by executive order so it is now the Committee on Individuals with Intellectual Disabilities. The CDC uses 'intellectual disability,' the World Health Organization uses 'intellectual disability,' so my law makes the language consistent within the federal government.

"I've always said that the best ideas come from the people. Rosa's Law is the perfect example of effective citizen advocacy. A family that pulled together for their own and in pulling together they're pulling us all along to a new way of thinking. I want to recognize the Marcellino family who is with me in the gallery and the namesake of the law Rosa's Law pictured behind me. She is also up there today.

"I also want to take the opportunity to thank my colleagues. It was indeed an honor to represent this family. I believe that in our country people have the right to be heard and that we should listen. They have a right to be represented, which I've tried to do. And now, let's try to change the law.

"It was a pleasure to work with Senators Harkin and Enzi, the Chair and Ranking Member of the HELP Committee. I have their wholehearted support. This is going to be a nonpartisan bill. We're going to check our party hats at the door and move ahead and tip our hat to these boys and girls.

"This bill is driven by a passion for social justice and a compassion for the human condition. We've done a lot to come out of the dark ages of institutionalization and exclusion when it comes to people with intellectual disabilities. I urge my colleagues to join me in a step further. Help sponsor the legislation that I offer on a bipartisan basis. Help me pass the law and know that each and every one of us makes a difference. When we work together, we can make change."
In Bob Perske's memory, I'm posting some of my favorite posts about him.
On January 7, 2011, Colorado Governor Bill Ritter, Jr. issued a "posthumous pardon" to Arridy, one of the five wrongly executed people with intellectual disabilities.
BOB PERSKE:
Pastor to People with Disabilities and their Families
Bob Perske is one of the most gentle and positive people I know. He lives God's message to care for the "least of my brethern."
It might surprise people to know Bob hangs out with criminals on death row.
In a previous post I shared his "history of people with disabilities and hope for families."
Because Bob understands the history of people with disabilties, he knows FEAR was one of the main reasons for removing people from their families and locking them up in institutions, away from society. Fear is still one of the main reason people are excluded from quality lives in the community.
The world in which we live is not always safe, secure, and predictable. It does not always say "please" or "excuse me." Everyday there is a possibility of being thrown up against a situation where we may have to risk everything, even our lives. This is the real world. We must work to develop every human resource within us in order to prepare for these days (Robert Perske: "The Dignity of Risk." 1972).
Bob is still hopeful for families, but he wanted to share his recent testimony about people with intellectual disabilities who have been convicted of serious crimes they didn't commit. Crimes they confessed to because they wanted to make the police officers happy or get them to stop the interrogations. Crimes they didn't even understand.
Everyone wants people who kill, steal and rape people behind bars. Everyone wants dangerous people off the streets. Everyone wants JUSTICE for the victims. And, Everyone wants the right person convicted.
But Bob Perske and others ask:
"What if the person who confesses to the crime is a person with an intellectual disability?"
Certainly, just because a person has the label of intellectual disability doesn't make them innocent–but it also shouldn't make them vulnerable to giving false testimony in our criminal justice system.
Bob writes:
Although I did a lot of writing about kids and families earlier, deep in my heart I think they also need to be aware of futures where they can be misunderstood by interrogators and they need to be alert and ready for these grim possibilities.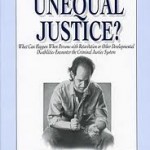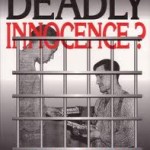 What can we do?
ELECTRONIC RECORDING OF CUSTODIAL INTERROGATIONS
Robert Perske, Citizen Advocate
Persons With Intellectual Disabilities
Rperske@aol.com; www.robertperske.com
www.friendsofrichardlapointe.com
www.friendsofjoearridy.com
CT: REGARDING SB NO. 954 AN ACT CONCERNING THE ELECTRONIC RECORDING OF CUSTODIAL INTERROGATIONS (March 9, 2011)

Dear Committee Members:

For the past 34 years, I have served as a worker and author on cases involving persons with intellectual disabilities who were coerced into confessing to major felonies they did not commit.

I am a member of The ARC of Connecticut and The ARC of the United States.

I am the author of "Perske's List: False Confessions from 75 Persons with Intellectual Disabilities."

It will be published in September's Intellectual and Developmental Disabilities, a journal of the American Association on Intellectual Disabilities. (AIIDD).

The article is 24 pages long. It shows that:

• 65 have been legally exonerated.
• 29 have been exonerated by DNA tests.
• 5 are now headed for court hearings thanks to "Innocent Project" groups.
• 5 have been so wrongly executed they will always be painful to justice-loving lawyers when they think about them.
• 1 of the five wrongly executed was Joe Arridy. On January 7, 2011, Colorado Governor Bill Ritter, Jr. issued a "posthumous pardon" to Arridy.
• I predict that Richard Lapointe of Connecticut will someday be added to this list.

The time has come when judges and juries should be helped by advanced video technology to see everything that went on in an interrogation room. Until they can do that, our justice system will be tainted.

Respectfully Submitted

Robert Perske
RESOURCES:
Check out Bob's articles, books, websites or give him a call.
Closing Thoughts:
As parents we worry about our children being victims. Few of us imagine our children as the aggressor.
What can be done to give them better protection, a more fair and equal justice? Because sometimes even the people who have confessed to being the aggressors–are Victims.
Electronic equipment seems like an easy answer to me. I would think it would help protect the rights of everyone, including the police officers.
Keep Climbing: Onward and Upward
All my best,
Mary
Discussion: These are life and death issues. Would video technology and electronic recordings of custodial hearings bring better justice to everyone? Is this worth the cost? What do you think of Bob's role as a pastor and "citizen advocate"? How can we make our children less vulnerable?
I am going to update some of the better articles I've written for my classes, parent newsletters and magazines. Hope you enjoy them.
Since Aaron was young, the language has evolved. When this story took place they used the words, "mental retardation," then the words become "developmental disabilities" now it would be "intellectual disabilities." I'm using the original words as I experienced them.
"Help the mentally retarded! Help the mentally retarded!"

I had just bought some 99 cent grapes, a pound of hamburger, loaf of bread and a couple other items to make dinner for my family when I was met at the door to the grocery by three older men wearing brightly-colored vests and hats with tassels. They were holding little cans and urging shoppers to "Help the mentally retarded!"
I grabbed my groceries and, not even looking up, hurried to my car. As I passed, one man said (in a very superior) voice, "Not all babies are born healthy."
I felt my face flush and when I paused, he went in for his killer argument, "We aren't ALL blessed with normal babies, you know!"
Well, that did it. Turning, I said, "I have a child who has the label of autism and I think it is very condescending to have to beg to raise money for quality services. He needs respect for his civil rights, not begging and charity."
Well, the men and their swinging tassels all stopped and circled me. They were aghast. "What do you mean?"
I thought about just grabbing my bags out of the cart and running to my car, but instead looked him right in the eye. "People who are retarded need real opportunities. They can be valuable workers and contribute to society. Retarded people as objects of the mercy of others reinforces the negative stereotypes of the past. In fact, now we call them people with intellectual challenges and don't even use the word retarded."
"But honey, last year we raised over $300,000 in our state." The man straightened his hat and looked like I had sucker-punched him in the gut. "One-third of that money is going toward adding a retarded adult wing onto Children's Hospital. Also we began a new women's group home. We stand here in the rain and cold to help. We are volunteers. We don't get anything out of this."
At the entrance of the store a crowd was now gathering. I knew he was probably a nice man only trying to do his Christian duty. He was sincere and dedicated, only ignorant of the principles of normalization and inclusion. The staring and frowning faces of the crowd told me they were on his side. I half expected flying can goods to start stoning me. After all, who takes on God's Knights right in front of Krogers?
I certainly didn't plan on making a scene. So, giving the man a smile, I just said, "Well, I serve people who have developmental disabilities in other ways" and tried to push my grocery cart around him.
He gently put his hand on my shoulder and assured me God would take care of me and my son. Then, to show no hard feelings, he put three Won't you give an extra inch? wooden rulers into my bag.
Well, once again I had done it. My husband is always telling me to lighten up and get a new hobby. For Pete's sake, here I was in a confrontation in front of the grocery store.
Perhaps next time I'll just drop a quarter in the cup and make the man happy… but… in the meantime, I'll work "inch by inch" to replace the poor helpless eternal child stereotype with an image of a citizen with real value, dignity and rights.
Share Your Thoughts
How would you handle this? Have you had similar experiences?
The kicker is that Children's hospital no longer even wants to serve adults with disabilities. Do you think that is a good or bad thing? Also, in 2012, the Knights would be saying, "Help the children with intellectual disabilities," right?
To those of us who care about people with disabilities, it is always shocking to hear about media personalities attacking the vulnerable people we love.
"R" Word Slips of the Tongue
NBA star LeBron James apologized for saying "that's retarded" during a post-game press conference.
That was bad. But he apologized, and hopefully learned to never use the "r" word again.
LeBron James Under Fire For 'Retarded' Comment (click here)
Some would argue this was an example of the Politically Correct Police censuring free speech. This would be true if there wasn't a long and recorded history of discrimination against people with intellectual disabilities. Check out the Parallels in Time website if you have any doubts.
With Rosa's Law and large organizations like Special Olympics actively challenging the media personalities who use the "R" word publicly, there is a gradual shift in the public's awareness. This is a giant step to improving the image of people with disabilities.
In another post, The 'R' word| A challenge to Bloggers I asked bloggers to not use words that insult people with intellectual disabilities and gave a sample letter which made a difference in one blog.
We all make mistakes, we all can learn to be more sensitive. Sometimes our letters need to educate good people who just haven't walked in our shoes.
Purposely Insulting People with Intellectual Disabilities
BUT…when public figures purposely insult and promote segregation and prejudice against people with intellectual disabilities and think it is funny or entertaining–that is another story.
Dennis McNulty, Director, Catholic Charities Disability Services in Cleveland, Ohio alerted the Arc of Ohio with this shocking story about a local radio station:
The Rover's Morning Glory radio show was talking about how people with disabilities, using the "r" word to refer to this group of people, cannot and should not hold jobs, are incapable of learning in school (specifically people with Down syndrome) and the disc jockey cringes whenever he hears or sees them out in public. He goes as far as saying when he sees them working in the grocery store, he is disgusted.

Even worse, the radio station chose to re-broadcast this particlular show.

Please use the link below and either call or email the radio station to express your displeasure with their choice of programming.

Mr. McNulty also advises:

The only way to do anything is by associating the advertisers and the radio station DIRECTLY with the insulting behavior.

That means calling the advertisers (and getting to the top person) and making it clear your organization and its supporters, AND its nationwide reach, will tell the public that Such-and-Such company supports the insulting, belittling, and marginalization of people who have disabilities. And that WMMS stands for the insulting, etc.

Nothing else will stick. Generally the advertisers could give two hoots about this, because they are reaching a large target audience through the Rover program. WMMS could give two hoots because it is precisely that kind of humor which draws the audience in the first place. So everybody profits at the horrible expense of those who are being ridiculed.

Again, the ONLY way to have an effect is to directly link the radio station and advertisers as being SUPPORTERS of ridicule, prejudice, insult, and marginalization.

Ask the advertiser, "do you support the ridicule, prejudice, insult, and marginalization of people who have mental disabilities? You don't? Well, we think you do, and we will tell the public. Why? Because you advertise on that radio station, which has now become an outlet for the ridicule of people who have disabilities. And we will directly link YOUR company to that degrading conduct. The only way out of it is to PUBLICLY pull your advertising from WMMS and stand with us. Period.

Take action as you feel appropriate…. Please share with others.

Dennis C. McNulty, D. Min.

Director, Catholic Charities Disability Services
Now it is easy to say, "let the big organizations, or the advocates, or the parents or … take the action."
But there is a power in one person–YOU–calling or writing an email to the station. Here is the link to the station information:
http://www.wmms.com/pages/contact/
ACTION ALERT: A challenge to those who care about people with disabilities
Below is my letter to the radio station in Ohio, I'll let you know if I get a response.
If you are as concerned as I am, I encourage you to also send your email to the radio station. Click here for the link to the radio station.
Here is my email to WMMS:
May, 11, 2011

I was shocked to learn WMMS was insulting people with disabilities and their families on the air.

Many people with Down syndrome and other intellectual disabilities can live, work and go to school in their communities and for your Rover's Morning Glory radio show to say otherwise is discriminatory.

There are only two kinds of people in the world: the disabled and the "yet-to-be-disabled." Each one of you and your family members are only one accident, one illness away from having a permanent disability.

Think about it, the insults you hurl not only reflect on you, but on the whole Cleveland community.

If you live long enough—you WILL have a disability. How many of your listeners have family and friends with intellectual and other disabilities?

How many of your sponsors have children or family members with disabilities?

When you target one group of people to degrade, ostracize and alienate as being different from you, you only make yourself look petty and ridiculous. You might think that by putting down people with intellectual disabilities, you are making yourself look better—but in fact, you are degrading yourselves.

I ask you to stop this segregation tactic. People with disabilities have the legal right, and the human right to be part of the community. We will not force them into the backwards of institutions and out of the public eye.

Instead we will celebrate their gifts to our common community. We will embrace them in our human family.

WMMS would not dare insult other minority groups. Why would you pick on these vulnerable people?

You are embarrassing yourselves.

Sincerely,
Mary E. Ulrich Ed.D. and mother of Aaron, a person with an intellectual disability
Summary:
Two scenerios:
A media person says the "R" word and then apologizes.
A media person says the "R" word to increase prejudice against people with intellectual disabilities.
I'm hoping you will want to be a part of the solution and take an action step.
Email, Call, Tweet and use your social media resources to spread the word that people with disabilities are just like everyone else and these attacks will not be tolerated.
Comments:
It will only take a minute. Will you write an email to the radio station?
http://www.wmms.com/pages/contact/">Click here
What do you think about this?
Keep Climbing: Onward and Upward
All my best,
Mary